The Legend | 2019 Revenue: $500 million
Harry Frisch started a small business in Jacksonville nearly 70 years ago. He took his entrepreneurial spirit, added decades of experience and today leads a $500 million international business.
Frisch is chairman of Beaver Street Fisheries Inc., one of the largest seafood and meat processors and distributors in the U.S.
Operating in a 300,000-square-foot facility at 1741 W. Beaver St. near Downtown, the company employs about 400 people who process, package and distribute more than 100 million pounds of product annually.
Its brands are the company's flagship Sea Best banner that includes frozen fish, shellfish and specialty retail products; Tropic Seafood, the largest lobster and seafood processor in the Bahamas; and HF's Outstanding, a line of premium beef, pork, poultry and lamb that's cut and packaged for the wholesale food service trade.
Frisch says what made Beaver Street Fisheries successful is the same philosophy he had when he opened a small auto repair shop next door to his mother's and stepfather's neighborhood fish market, the original Beaver Street Fisheries.
"Pay your bills on time, don't owe money and don't lie, cheat or steal," Frisch said.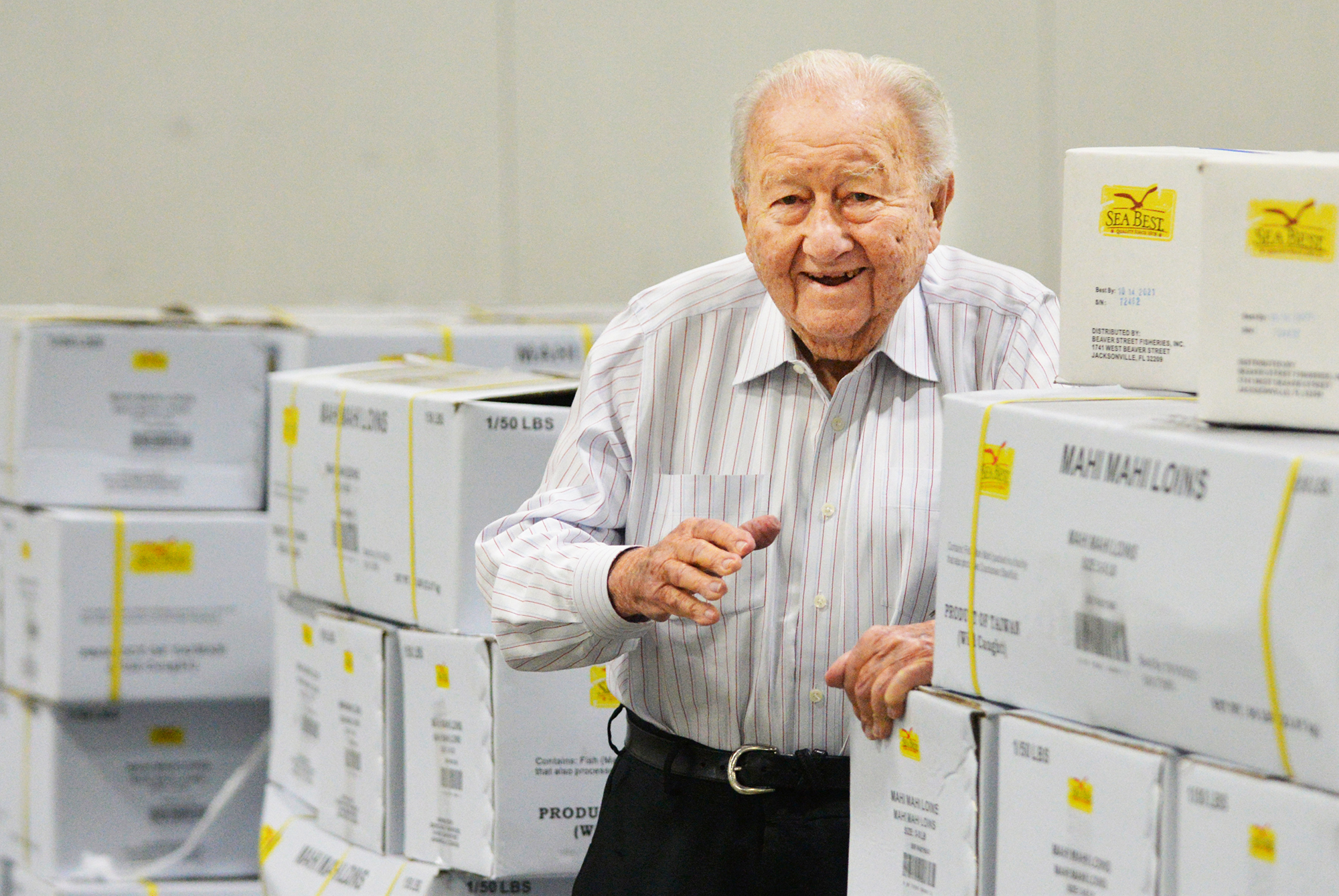 When his stepfather died, it left Frisch's mother alone with the business to run, so he traded his hand tools for a hand truck. He and his brother, Alfred, joined their mother to work in the market.
"If we didn't help her, she would have lost her investment. That's how I got into the fish business," Frisch said.
They soon expanded beyond retail and began selling fresh fish wholesale to local grocery stores.
They also began selling frozen shrimp and scallops and other items, like frozen pies and french fries, to restaurant accounts. 
"We knew we couldn't make a living on fresh product alone," Frisch said.
That put Beaver Street Fisheries into the cold storage business, expanding from its first 100-square-foot freezer at the fish market to the company's current more than 1 million square feet of cold storage space.
Launching competition with the other local and national food purveyors brought another of Frisch's keys to entrepreneurial success to the forefront: striving to do everything better than the other guys.
The Frisches worked seven days a week and never clocked out – they delivered seafood to railroad companies every morning for the dining cars and sometimes made midnight deliveries to accounts that needed food for breakfast patrons.
"You've got to do whatever it takes for your customers. When the customer needs it, they get it. If you can't handle the business, you don't need to be in the business," Frisch said.
He'll be 97 in July. Frisch remains active in the company's operations. He goes every day to the office, where he keeps printed copies of his keys to business success that he gives to visitors.
Frisch advises "always be punctual," "treat employees with respect," "don't criticize your competitors" and "be the best at any price."
His list includes "go out of your way to make a friend," "keep old people," "use your head, everything must make sense" and "don't make promises or commitments unless you are absolutely sure you can deliver."
Frisch inspires the people who work at Beaver Street Fisheries.
"I learn from him every day and he's always coming up with new ideas. He's never lost the entrepreneur spark and he never will," said Lathun Brigman, Beaver Street Fisheries general manager and an employee for more than 30 years.
Asked what kind of business he'd start were he to decide to leave Beaver Street Fisheries, Frisch said he'd move to the other side of the commercial provisions business, but he'd take his philosophy with him.
"I'd start a restaurant. I would enjoy that. And I'll tell you something – it would be the finest restaurant in Jacksonville – reasonable prices and way above the standard," Frisch said.