Finalist, $2 million to $15 million | 2019 Revenue: $2.5 million
In 2001, Jay Owen was running his 2-year-old web design business out of his University of Central Florida dorm room.
He'd been faxing his portfolio to the Jacksonville Symphony and was invited to meet.
"Halfway through the dinner, one of the guys looked at me and said, 'I hate to ask you this, but how old are you?' I was like, 'I'm 19. Does that bother you?' And he said, 'I guess not,'" Owen said.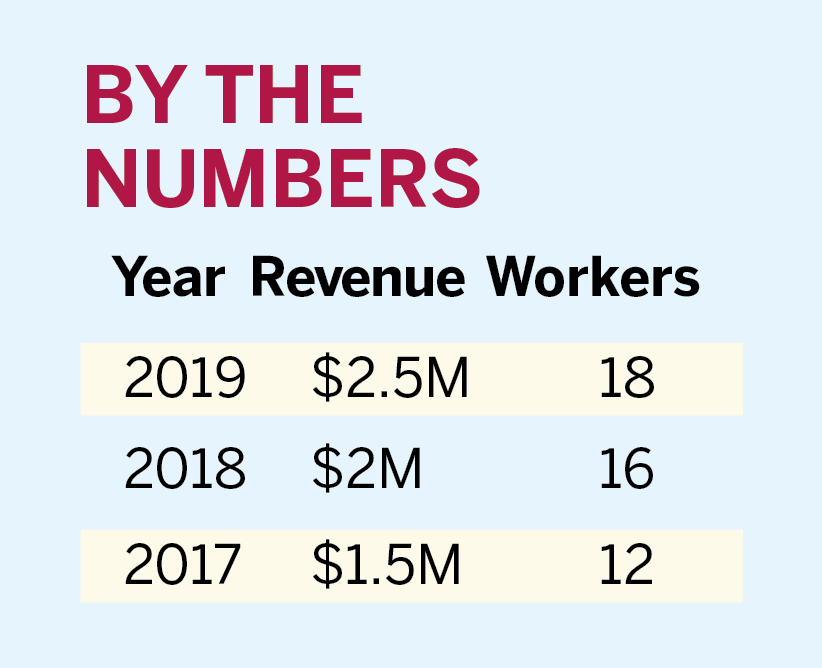 The Symphony executive then conceded that had he known Owen was a teenager, he likely would not have offered a contract.
The symphony remains a client of Design Extensions today.
Based in St. Augustine, Design Extensions has evolved into a full-service digital marketing company helping companies with branding, videography and application development in addition to web services. 
"We found that often companies get their messaging wrong from the very beginning, and if you don't know how to talk about yourself clearly, then you're not going to be successful," Owen, the CEO, said at the studio he opened four years ago at 701 Market St
Owen, 38, built his first website at 12 and began Design Extensions at 17. Using word-of-mouth, Owen said he did $5,000 in revenue his first year. It reached $2.5 million last year.
Tom Morrison, CEO of Metal Treating Institute Management, said Owen's ability to meet a client's budget and create a detailed digital project scope, even at the age of 17, is why he contracted him for the first trade association he managed.
"I trust the younger generation. I'll let (Owen) sink or swim by his skills," Morrison said.
Design Extensions targets small- and midsize businesses and has clients in California, New York and Texas, with 60% of his core business in Florida. 
Owen's staff is shifting to project management, guiding outside contractors working on Design Extension clients' multimedia projects.
Owen published "Building a Business that Lasts: Without Sacrificing Family" in 2017 and launched a podcast. He and his wife, Claire, have five children.
The COVID-19 pandemic did not impact his operations because most of the work can be done remotely.
Owen sees the next line of business in conferences and workshops to teach startups and small business owners about brand-building.
He deliberately decided not to limit his services to niches. "You live or die by the industry, so we're pretty diversified."