Winner, up to $2 million | 2019 Revenue: $600,000
Mary Lou Hughes's first wages were chicken feed.
Rather, they came from chicken feed, and horse feed and cow feed.
The Mandarin teenager, the oldest of four children, often ran her father's country feed store while he was working his day job in circulation at The Florida Times-Union.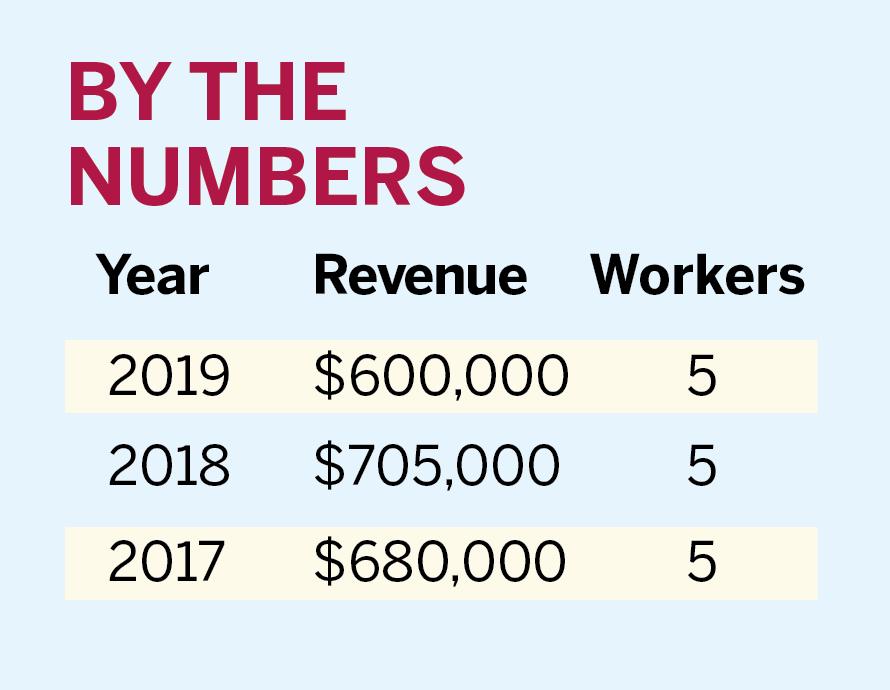 "It was my greatest delight when my dad came home to show him how much money I'd made. It was all cash," recalls Hughes, who turned 71 in April.
"That's pretty much what got me into wanting to have my own business."
That business is Nature Vue Skylights and she started it almost 39 years ago.
She takes pride that it's a longtime company that focuses solely on selling and installing skylights, and 70% of her business is repeat and referrals.
"That speaks to her strength and quality," said Ralph DeCicco, secretary and past president of the North Florida Roofing and Sheet Metal Contractors Association, which Hughes also led.
Hughes started Nature Vue Skylights after working her way up from receptionist at the age of 20 to controller of a local company, eventually running one of two operating divisions.
"I was the controller and they had this division that was always losing money. I raised my hand. 'I know how to fix it,'" she said. "'Put me in charge.'"
They did. Successfully.
Born in Maryland and raised in Jacksonville, Hughes is a 1968 graduate of Wolfson High School. She attended college but didn't earn a degree.
Her employer sent her to seminars, "everything that I could get where I learned how to run a company."
While her division was making money and the other wasn't, owners chose the guy as the next president.
Hughes considered starting "everything from a diaper service to a canoe outpost," but a marketer hired at the company suggested installing skylights, "because nobody does it."
"And sure enough, nobody did it and nobody still does it. I am the only company like myself in North Florida," she said. Hughes reported $600,000 in sales last year and a staff of five.
Roofers install skylights, but she has specialized in it since the age of 32.
Hughes started the business in October 1981 with her husband, Stephen Rogers.
She became sole owner in 2000 after Rogers, 45, died in an accident on the way to work when a tractor-trailer pulled out in front of him.
Hughes arrived but the police officer wouldn't allow her to see her husband. "I didn't argue with him. I could see in his eyes. He said, 'Please don't make me do this.'"
That was 20 years ago May 17. She had just turned 51.
Hughes drove to the office. "All my employees are standing there. And I look around. 'OK guys, I don't know how we're going to make it through this, but we are,'" she told them.
"And I need you to do this, this and this, and they all went around and started doing it. And somehow we're here."
Hughes learned: "Something is inside of all of us, sometimes you can find it and use it when you need it and sometimes you can't, but it was there when I needed it."
To generate another stream of revenue, she owns her property in the Phillips Highway South Business Park and leases out part of it for rental income.
The pandemic affected business but installations are resuming. "The home improvements are starting back up."
Hughes walks her talk with 14 skylights in her Fruit Cove home.
"If your bathroom is dark, and we leave it all bright and sparkly, you like us. You don't forget us," she said. "Every morning, it says 'hi.'"
Another lesson: "If you want to be the best, you can't be the cheapest. It's always been the best quality product and the best service," she said.
"If you're cutting a hole in somebody's roof, you really want to do it right. And they will love you, and that's why I've been in business for 38 years."