Winner, $15 million and up | 2018 Revenue: $58.3 million
As brothers Robin and Chris Sorensen opened their first Firehouse Subs restaurant on San Jose Boulevard, starting a business that would grow into a nationwide chain of 1,170 restaurants, it began with … a hot dog.
"On Firehouse Subs' opening day Oct. 10, 1994, our first order was for two hot dogs with everything added, which was about 10 ingredients," Robin Sorensen said by email.
"We were so focused on the subs, we weren't prepared for that order. Needless to say, it was a long ticket time."
Plenty of orders for sub sandwiches came in later, prompting the brothers and former firefighters to grow the business.
"Our initial thought was we would only have one store. It took everything Chris and I had to get that one store open," Sorensen said.
"We were convinced to open more by our customers. Our first location was well-received, which gave us even more confidence and the thought that perhaps a second location could work," he said.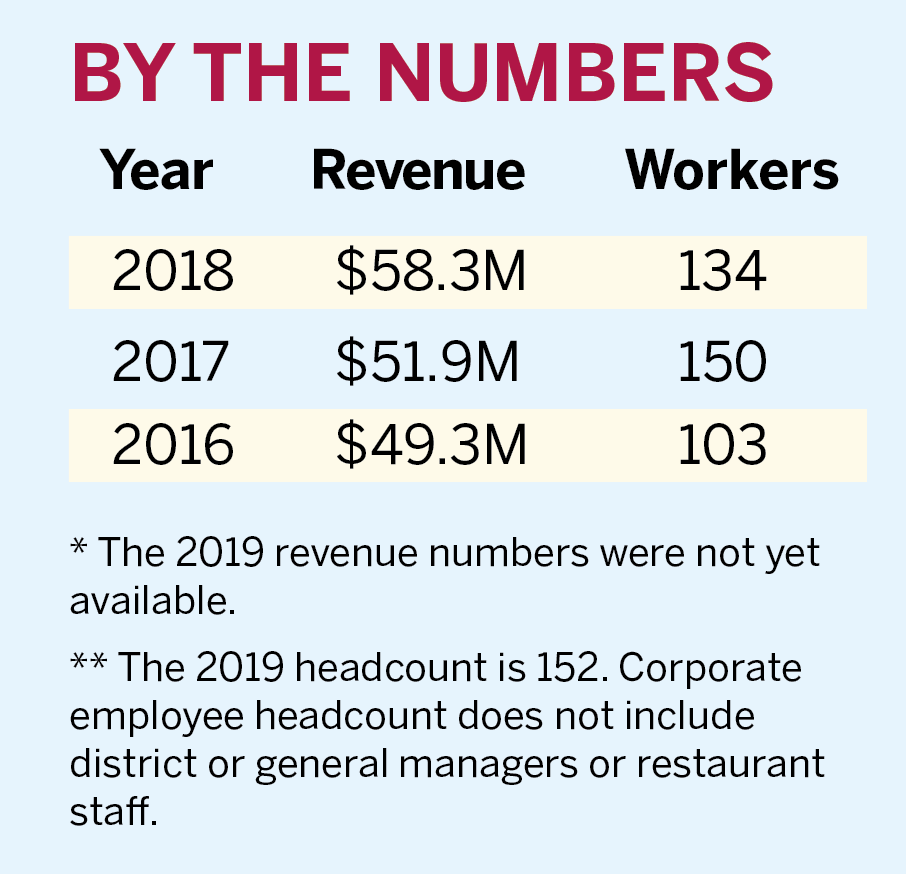 "At that point, we had a one-at-a-time strategy, and the 'chain' word didn't come up for years. Our growth happened in baby steps."
The decision to expand paid off. Firehouse consistently ranks among the top restaurant chains in consumer surveys, including its ranking this year as America's favorite fast-casual chain by Restaurant Business magazine.
Firehouse also is helping groom other entrepreneurs. It ranked 59th this year in Entrepreneur magazine's list of top 500 franchises.
Sorensen said there is no one lesson he can offer to other entrepreneurs.
"Reflecting back on Firehouse Subs' 25 years of business, our success can be attributed to our work ethic, our intuition, and our discipline and drive," he said.
Robin Sorensen is 52 and Chris Sorensen is 59.
There is some advice Robin Sorensen would give to his 21-year-old self.
"Get to work on finding your passion in life," Sorensen said.
"I knew that I loved cooking, food, and this business, as early as when I was a young teenager. Yet it took me until I was 26 years old to find my calling and open my own restaurant," he said.
Sorensen did work at restaurant jobs as a teenager but said he wished he had made it a full-time job.
"I could have used more knowledge and understanding of the business before we opened Firehouse Subs," he said.
Don Fox, who joined Firehouse in 2003 and has been the company's CEO for the past decade, attributes the Sorensens' success to putting the needs of the business and the customers first.
"They were frugal, kept their money in the business, and reinvested at every turn," Fox said by email. They lease office space in the Flagler Center business park.
"As they grew, they understood their limitations and built a team that could take them to the next level."
Fox said Firehouse has weathered the COVID-19 storm pretty well. While dine-in service was stopped at all restaurants in March, only 31 stores closed as the company offered takeout and curbside delivery.
Half of the closed restaurants have reopened and dine-in services have resumed at most locations, he said.
"We took a big hit in sales early on, but Firehouse Subs has done an incredible job on turning the corner after about the first four weeks of the pandemic," he said.
"At our lowest, we were down in the mid-40% range across our system, but now we are seeing slightly positive sales, comparable to where we were this time last year, which is encouraging."
When asked about his biggest fear for his business, Sorensen said it's been the pandemic.
"Effects on your business outside of your control are what's most difficult," he said.
But most of the past 25 years has been a success for the brothers.
"Considering where Chris and I started, armed with a dream to open our very own restaurant and less than $100 in our bank account, what Firehouse Subs has grown to today is shocking and surprising to us," Sorensen said.