Mayor Lenny Curry is asking Duval County commercial and residential landlords to temporarily stop evictions as part of the city's response to the new coronavirus.
Curry made the plea to area landlords during a 3 p.m. news conference March 17 at City Hall. 
The move is not an executive order, according to administration officials, but a request to "show compassion and work with tenants to prevent future hardships," Curry said.
Curry also used the briefing to clarify confusion from local businesses and the public on what businesses are impacted from his March 16 executive order to limit bars, restaurants, churches, movie theaters and "social gathering places" to a maximum capacity of 50 people.
"If you operate a socially driven business organization, restaurants, churches, gyms, arcades, nonessential shopping, movie theaters, coffee shops, you're given a maximum occupancy of 50 people at a time," Curry said.
He added that the limits apply to day cares and social and professional gatherings including conventions, large meetings, weddings and "any other large social gathering of people."
"I know these are tough circumstances, incredibly tough circumstances for a lot of people and they're going to be awful for the bottom line for citizens and for businesses," Curry said. "We're making these decisions based on official expert guidelines to protect people and prevent the spread of this disease."
How forcefully Curry's capacity limits affect area businesses compared to statewide limits introduced by Gov. Ron DeSantis on March 17 varied depending on the size of the facility.
DeSantis issued an executive order closing all bars and nightclubs statewide at 5 p.m. March 17 and remain closed for the next 30 days. 
The governor is limiting restaurants statewide to 50% of normal capacity. 
The executive order defines a bar as a business that receives more than 50% of its gross revenue from alcohol sales for consumption on the premises and suspends their alcohol sales for 30 days.
Curry said business owners should follow the more stringent regulation specific to their establishment.
In Duval County, the mayor's March 16 executive order prohibits alcohol sales from midnight to 8 a.m.
DeSantis said people cannot gather in groups of more than 10 people on Florida's beaches and must keep more than 6 feet of distance between groups.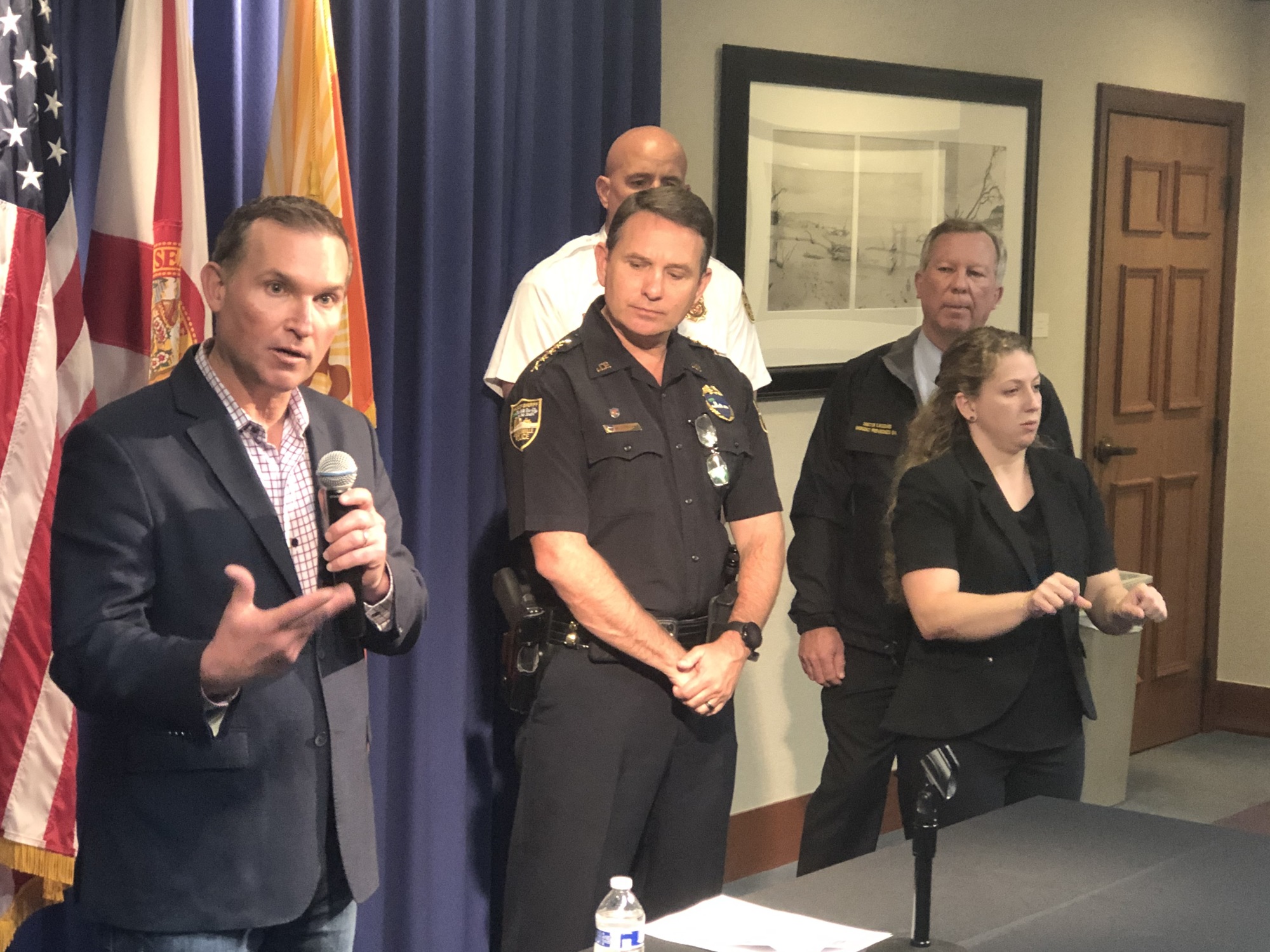 Enforcement
Jacksonville Sheriff Mike Williams said enforcement will be determined by the Florida Department of Business and Professional Regulation. 
He said DeSantis's order gives the Jacksonville Sheriff's Office an enforcement role when requested by city and state officials.
City code enforcement officers will be used to make sure businesses are compliant with the restrictions, and Williams said there could be civil penalties for establishments found in violation.
Williams said it's unclear if state officials will be patrolling to look for compliance issues or take call-in reports. But the sheriff said the community also has a social responsibility to ensure residents' safety.
 Curry asked businesses and people to self-regulate and reduce the number of attendees at private events or reschedule.
"If what's best for the community is closing that facility and closing that wedding, let's do that. You're not going to see police officers crashing in to close a wedding," Williams said. "But again, take some responsibility as a member of our community to not facilitate the spread of this virus that we're working so hard to contain." 
City Chief Administrative Officer Brian Hughes said in an interview after the news conference that city officials were receiving reports the morning of March 17 about businesses — specifically in the beach communities — being over capacity and disregarding the city regulations.
When asked by a reporter if the city has taken legal action against any businesses for violating the capacity rules, Hughes said they were issued warnings.
"We've suggested to a number of businesses that they evaluate what we've said and what the governor is saying today and make sure they understand the legal authority that is behind the orders," he said. 
"We would rather not send public officials to the front doors of private businesses," Hughes said. "We'll get to that if private businesses don't join the effort to do their part." 
The Florida Department of Health has recorded 173 Florida residents with confirmed cases of COVID-19 and a total of 192 cases in the state as of 11:58 a.m. March 17.
Steven Woodard, chief of the Jacksonville Fire and Rescue Department's  Emergency Preparedness Division said there are six confirmed cases in Duval County.