The Lexington Hotel & Conference Center on the Downtown Jacksonville Southbank will be rebranded as a Marriott.
The Lexington, which is operated by Real Hospitality Group, posted May 5 on Facebook that "Marriott lays anchor in downtown Jacksonville this summer as The Southbank Hotel at Jacksonville Riverwalk."
A "New hotel: Opening in June 2020," is shown on Marriott's Bonvoy website. Bonvoy is the loyalty program for the Marriott chain. 
"Set sail at our downtown Jacksonville hotel, The Southbank" the description headline reads.
The description continues:
"Discover the Southbank Hotel at Jacksonville Riverwalk: A downtown hotel drawing inspiration from the St. Johns River, ports, and area bridges – providing an authentic Northeast Florida experience. Our centrally located hotel is nestled on the Southbank of downtown Jacksonville near the trendy San Marco and Riverside historic districts," it says.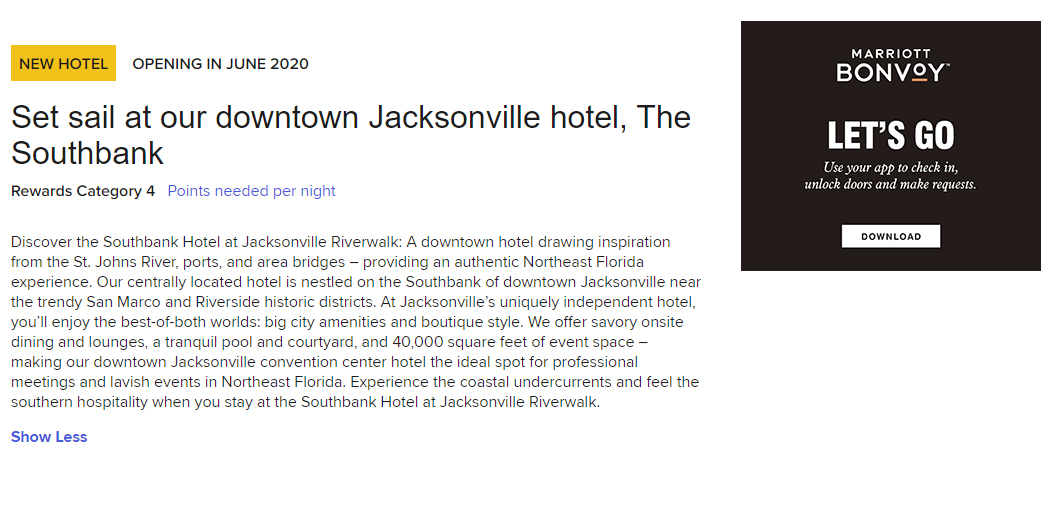 "At Jacksonville's uniquely independent hotel, you'll enjoy the best-of-both worlds: big city amenities and boutique style. We offer savory onsite dining and lounges, a tranquil pool and courtyard, and 40,000 square feet of event space – making our downtown Jacksonville convention center hotel the ideal spot for professional meetings and lavish events in Northeast Florida. Experience the coastal undercurrents and feel the southern hospitality when you stay at the Southbank Hotel at Jacksonville Riverwalk."
The address of the 39-year-old Southbank Hotel Jacksonville Riverwalk is 1515 Prudential Drive, the same as the Lexington.
 Marriott brands include The Ritz-Carlton, Sheraton, Springhill Suites, Aloft and others. The company says it operates 30 brands and more than 7,000 properties in 131 countries.
Another Marriott hotel brand, AC Hotel by Marriott, was announced for The District, a mixed-use development planned to the west.
Vantage Hospitality Group Inc. of Coral Springs paid $9 milllion for the hotel June 1, 2015, and renovated it. It changed the flag from Wyndham Jacksonville Riverwalk Hotel to the Lexington Hotel & Conference Center Jacksonville Riverwalk.
Lexington is a Vantage Hospitality brand.
The hotel was built in 1981 as a Sheraton. It also has operated as a Radisson.
A Vantage Hospitality owner could not be reached immediately for comment.