East San Marco appears to be back on track.
Regency Centers Corp. and England-Thims & Miller Inc. submitted plans to the city and St. Johns River Water Management District for the 3.25-acre project at southeast Hendricks Avenue and Atlantic Boulevard.
They filed civil engineering plans with the city May 7 and the St. Johns River Water Management District on May 15.
"Right now we're still moving forward with the city and our planning phase," said Eric Davidson, Regency Centers senior manager of communications, in an email May 18.
He said there was a slowdown from the impact of COVID-19, "but everything is still progressing and we hope to file for permits later this year." 
Regency said last fall it expected to start construction on the retail center in 2020 and the other parcels within five years of that. 
Stores could be open for business by the end of 2021.
"We're not sure on a specific timeline just yet, but we will have some specifics to share once we see how the reemergence effort lands," Davidson said.
The project is among three parcels at 1532 Atlantic Blvd. The shopping center is planned on Parcel A at Hendricks Avenue, Atlantic Boulevard, Mango Place and Alford Place. Parking is on the other two parcels.
Through East San Marco LLC, Jacksonville-based  Regency Centers owns and is developing the project.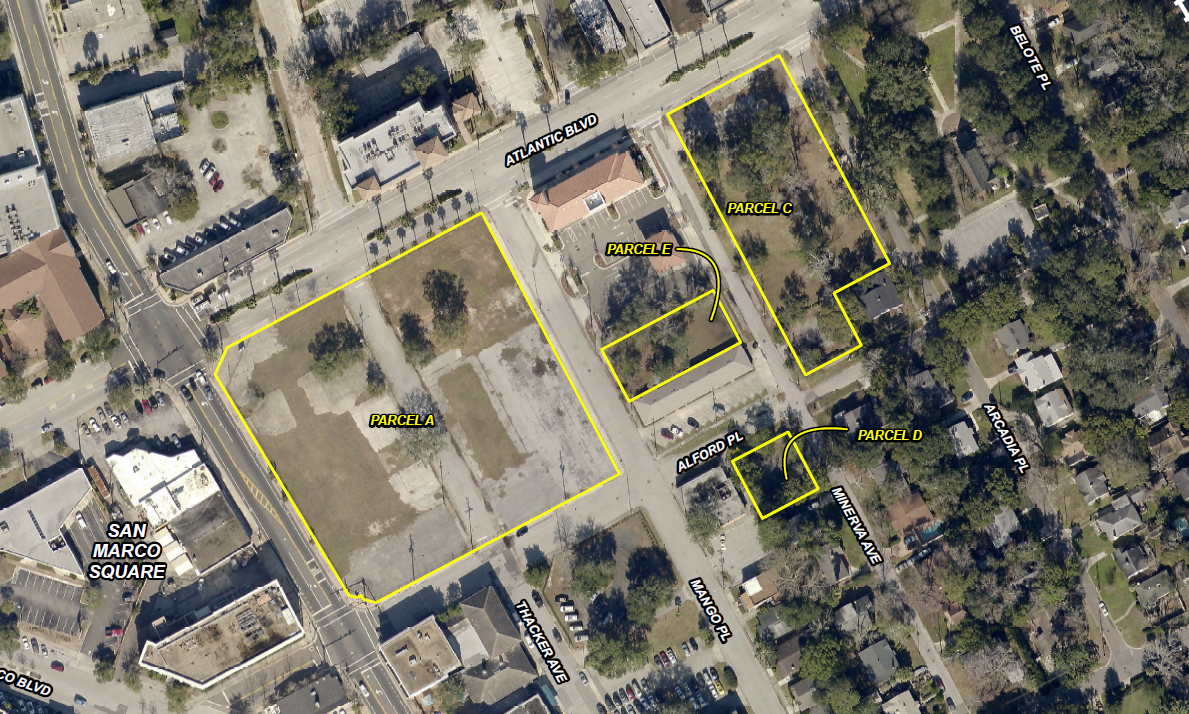 An aerial plan shows the 39,209-square-foot Publix that will be developed on the second floor with a parking garage beneath; a 1,400-square-foot liquor store; two retail stores of 8,210 square feet (two stories) and 10,110 square feet; and two additional parcels for parking.
The commercial and retail uses comprise about 59,000 square feet, the city plans show.
Plans show 243 parking spaces will be available, more than the 221 required. There are 73 garage parking spaces.
"It's still the same plan that we showcased previously to everyone," Davidson said.
In the Water Management District filing, the project is described as:
Parcel A: A 2.89-acre site bounded by Atlantic Boulevard, Hendricks Avenue, and Mango and Alford places. The Thacker Avenue right-of-way will be permanently closed between Alford Place and Atlantic Boulevard.
Parcel D: A 0.13-acre property at southwest Mango and Alford places east of Parcel A to be used as 12 surface parking spaces.
Parcel E: A 0.24-acre site east of Mango Place adjacent to Parcel A to provide 29 parking spaces.
After almost two decades of stops and starts for the project, Regency Centers disclosed the latest plans in the fall. 
In October, Regency and Publix announced the grocery store is designed on the second floor of a two-story building with parking on the ground level.
Renderings provided by Regency show an L-shaped center with retail stores facing Atlantic Boulevard and some facing Hendricks Avenue.
Lakeland-based Publix Super Markets Inc. has said for more than a decade it would lease at the center, which has been discussed for 18 years.
While types of tenants are indicated on the plans, Davidson said those are concepts.
He said May 18 there were no leasing updates.
In a letter April 28 to the city, England-Thims & Miller Inc. said the project was approved for verification of substantial compliance to its Planned Unit Development.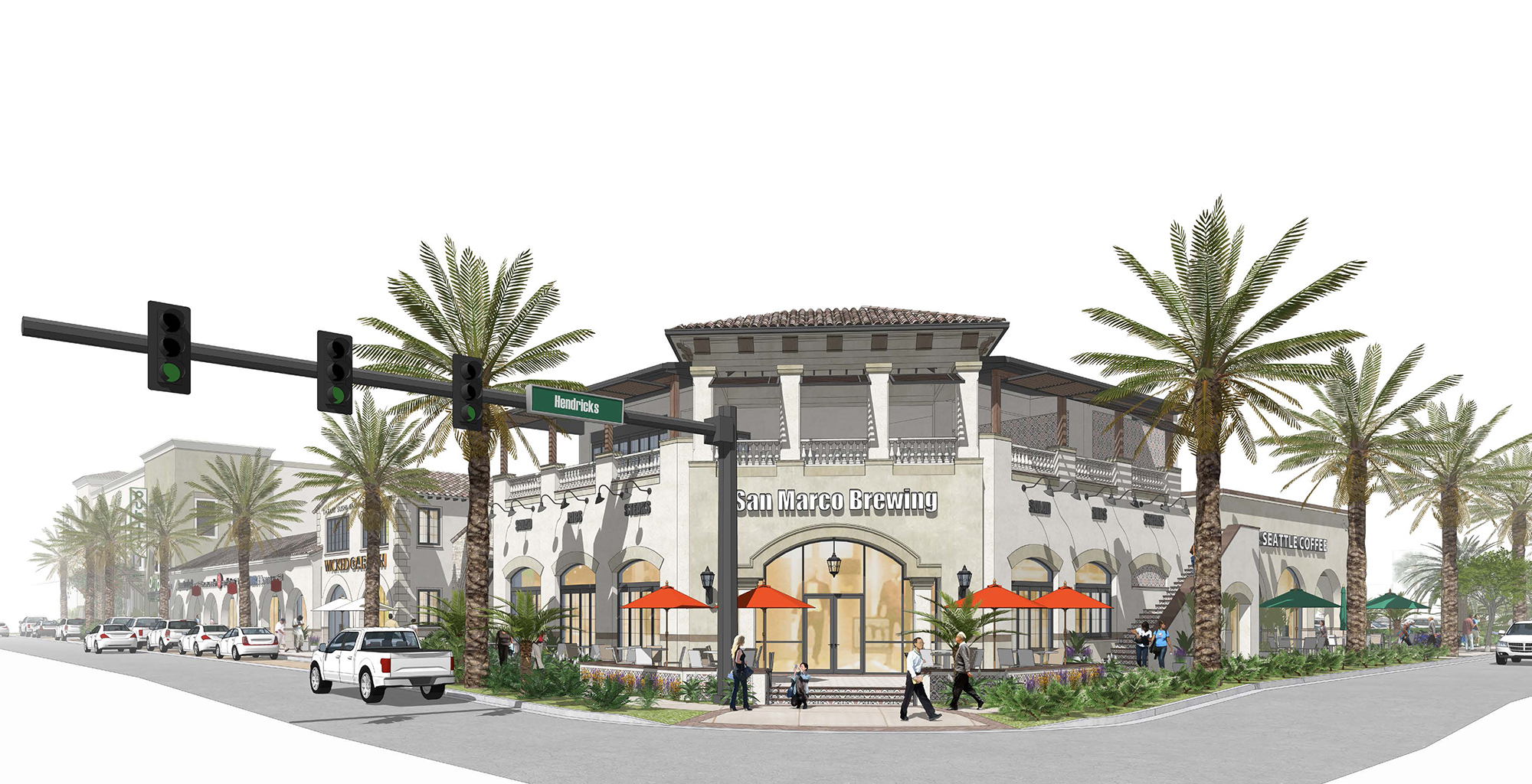 It referenced two items.
Regency Centers will start construction of a left-turn lane on Atlantic Boulevard at Mango Place when it begins site work on the Publix-anchored parcel.
And Regency will pay $10,000 to the city toward construction of an Atlantic Boulevard crosswalk between Mango and Arcadia places.
The city application includes demolition plans for fencing, power poles, bricks, signage and other elements.
The project was delayed by several factors, including the recession and a residential development partner that pulled out of the deal in 2017.
The city approved the previous designs, which included apartments and townhomes
In 2018, Regency Centers Chairman and CEO Martin E. "Hap" Stein Jr. said the project would continue, but with just the shopping center.
East San Marco will include residences, but far fewer than approved in 2014.
Regency Centers plans for 35 multifamily units, compared with 280 in previously approved plans that included a development partner.
The residences in the current plans are east of the main shopping center. Regency has said that parcel will be developed by a residential developer.
Davidson said the residential element is open for sale.