COVID-19 has delayed deals at Durbin Park East, the second phase to The Pavilion at Durbin Park in northern St. Johns County where Bass Pro Shops intends to open.
"We are on a complete hold until we can get back to normal so that we can resume negotiations," said developer Frank Gatlin, CEO of Gatlin Development Co., on May 19.
 Gatlin is developing the project with landowner Gate Petroleum Co. Both companies are based in Jacksonville. 
"Bass Pro was ready to go, but now they've got stores they have to reopen and they are not ready to focus on and complete our deal until they have all of their stores open," Gatlin said.
"Everyone needs time now to get through this pandemic and proceed from there," he said.
Durbin Park is 1,600 acres primarily between Florida 9B and Interstate 95 and south of Race Track Road.
The Pavilion at Durbin Park is the first phase. It comprises 80 useable acres and 700,000 square feet of retail and commercial space west along Florida 9B. It features Walmart, The Home Depot, Cinemark, Burlington, Ross Dress for Less and other stores and services.
Durbin Park East, the second phase, is between Florida 9B and I-95, with a mile of frontage along I-95. It is east of The Pavilion at Durbin Park.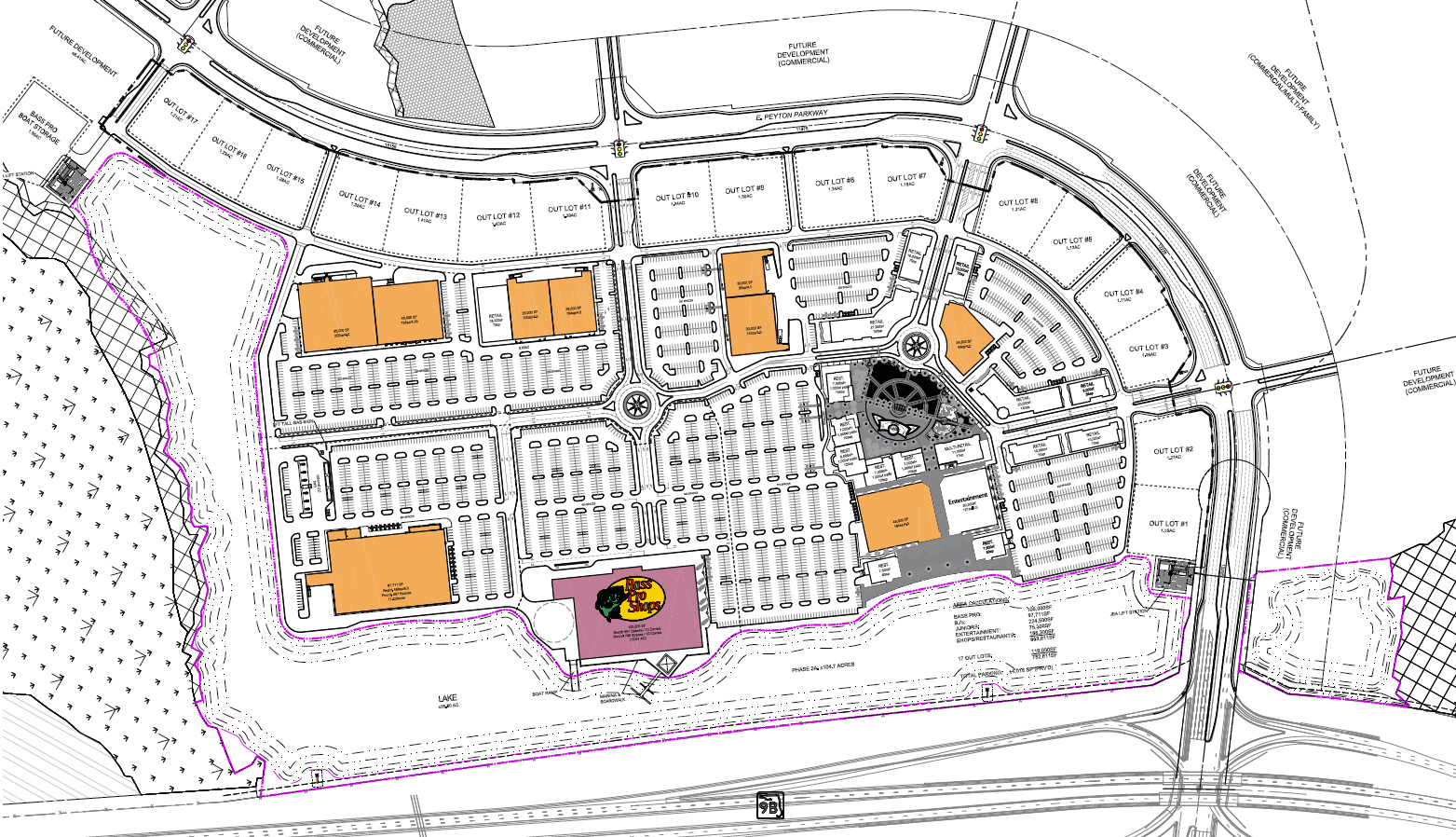 There are subsequent phases proposed.
"We still remain committed to phase two but we don't know how much of a delay," Gatlin said. Prospective tenants first are reopening the stores they closed for the pandemic.
A Durbin Park East leasing brochure created Jan. 31 and a flyer created March 3 that have been available on Gatlin's website indicated several more name-brand tenants might be coming to Durbin Park East, but Gatlin said those plans are outdated. Gatlin removed the documents from the site to minimize confusion.
He called a site plan in the leasing package "just one of many we generate on a weekly basis. It's just a wish list."
The flyer indicated that in addition to Bass Pro Shops, Gatlin Development was interested in courting BJ's Wholesale Club, Sprouts Farmers Market, Apple, Anthropologie and Ashley Furniture to Durbin Park East.
"The only thing that is real is Bass Pro Shops," Gatlin said. "They remain committed."
Bass Pro Shops is shown as a 100,000-square-foot store facing Florida 9B that will anchor Durbin Park East. The retailer announced in 2012 it would open a Bass Pro Shops Outdoor World by mid-2014, but that was delayed.
Gatlin said Gate and Gatlin remain committed to Durbin Park East, but they don't know the tenant timing.
"We are in a wait-and-see position," Gatlin said. "We don't know how long it is going to take."
Durbin Park East also will include the 40-acre site for Flagler Health+, a 150-bed hospital that will be part of a larger health village of medical providers, services and wellness offerings. 
St. Augustine-based Flagler Health+ announced June 24 that it entered into an agreement with Gate Lands, the real estate subsidiary of Gate Petroleum Co., to buy 40 acres in Durbin Park between I-95 and Florida 9B. It intends to develop in three phases. 
The St. Johns County Board of County Commissioners approved use of the land as a campus for Flagler Health+ on May 19.
The leasing package describes Durbin Park East as an upscale mixed-use project encompassing 2 million square feet of commercial space including office and retail uses; 2,000 residential units; and 350 hotel rooms.
There also are bike trails, lakes, entertainment venues and green space.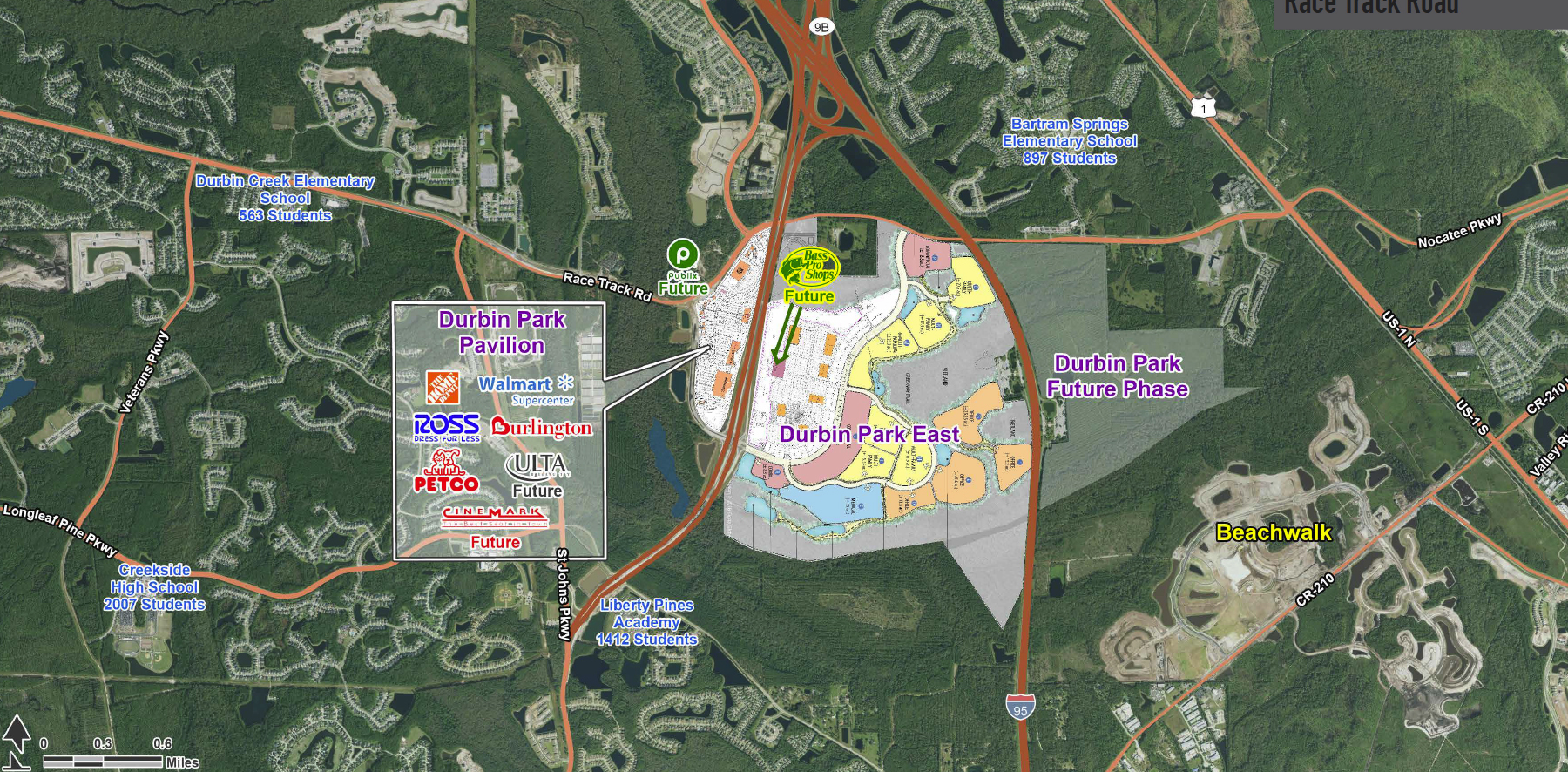 The county approved the larger Durbin Park area for almost 4 million square feet of retail and office uses; 2,265 multifamily units; and 350 hotel rooms.
A Durbin Park East site map shows 782,811 square feet of retail development anchored by Bass Pro Shops. It also shows a prospective 97,711-square-foot BJ's Wholesale Club nearby.
The map shows 224,500 square feet of junior anchors, 75,300 square feet of entertainment and 166,300 square feet of shops and restaurants.
There also are 17 outparcels, from 1.06 to 1.41 acres, to total 119,000 square feet of commercial development.
The map shows a central park area lined with restaurants and entertainment venues. 
The park area includes a show fountain, amphitheater, holiday skating rink, event lawn and play area.
It shows 4,016 parking spaces.
Gatlin said those plans are a work product that changes.
Stephanie McCullough and Kelly Pulignano of The Shopping Center Group are the leasing representatives for The Pavilion at Durbin Park and Durbin Park East.
Gate Petroleum and Gatlin Development unveiled plans in June 2016 for Durbin Park, to be built in phases.
As announced in 2016, the second and part of the third phases of Durbin Park will be a lifestyle center, retailers, restaurants, commercial space,  a hotel and multifamily development. The rest of the third phase and the fourth will be an office park.