Much has changed at the Duval County Courthouse since the COVID-19 pandemic began.
The building was closed to the public for more than three months beginning March 16.
The courthouse is historically Jacksonville's busiest public building. Nearly 1 million people walked freely through front doors in 2019. They went through one of several security screening stations and proceeded into the building to conduct their business with the courts or the Duval County Clerk of Courts.
Now, people are met on the steps and asked why they want to enter the building and only those with specific business are allowed to pass. 
They then have their temperature checked to ensure they don't have a fever and answer questions about whether they are experiencing any symptoms of the coronavirus.
After they pass through the single open security line, they are escorted to their destination, with social distancing in effect.
Only two people can enter an elevator and there are markers on the floors indicating the mandated 6-foot social distancing boundary.
Despite the pandemic, access to justice didn't end, although it's provided in different ways, often remotely to avoid person-to-person contact whenever possible.
"We continue our operations. We have changed, fundamentally, the ways things are accomplished. Some of them take a longer period of time. Some of them are delayed or slowed, but we're picking juries, at least in criminal cases," said 4th Circuit Chief Judge Mark Mahon.
"We're still handling divorce cases, domestic violence injunctions, juvenile and probate. That never stopped. It's been a little more cumbersome, but it's business as usual here."
Three-phase reopening
When the shutdown began, the state Supreme Court established a three-phase reopening policy for the state's courthouses.
Phase 1 closed the buildings to the public. Based on declining COVID-10 statistics, local courts entered Phase 2 on June 22. That allows limited in-person proceedings while following the safety guidelines established by the Centers for Disease Control and Prevention.
Mahon said proceedings that could be conducted remotely via telephone or videoconference transitioned to virtual in mid-March, such as many Duval County Court proceedings and hearings for civil actions in Circuit Court.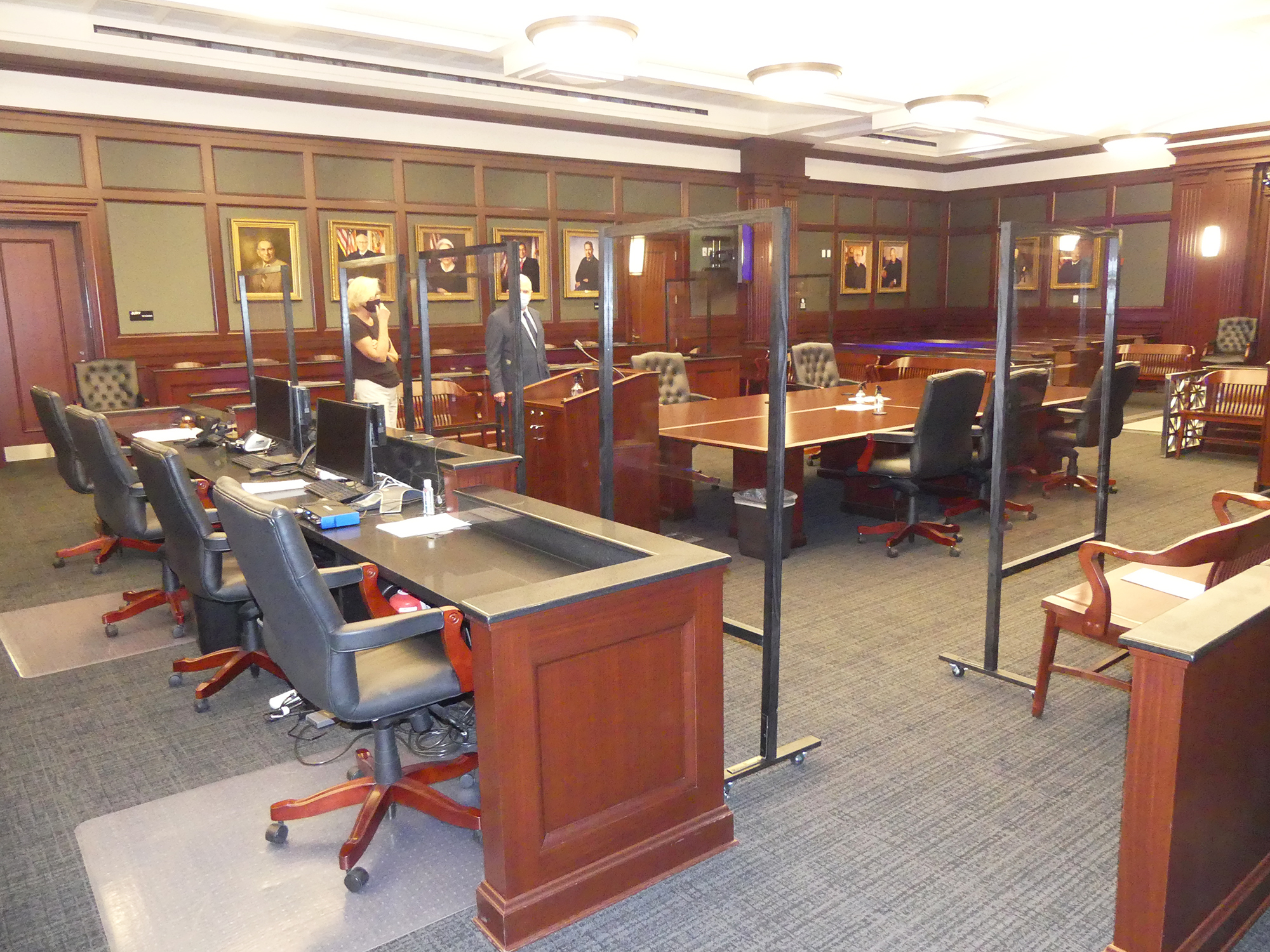 However, some business at the courthouse has to be conducted in person to assure due process under the law.
As part of the coronavirus response, the state Supreme Court has temporarily suspended a defendant in a criminal case's right to a speedy trial.
Under Phase 2, a limited number of felony criminal trials are being conducted in one courtroom with social distancing and using portable personal protection equipment, including clear plastic shields for the judge, jurors, attorneys, witnesses and court personnel.
After the trial concludes, the PPE is moved to another courtroom that's been sanitized to prepare for the next trial.
That process won't change until the court enters Phase 3, when more in-person proceedings, such as civil jury trials, could be allowed.
Jurors were summoned to the courthouse in Jacksonville on Oct. 5 for the first time since March.
Instead of the pre-COVID groups of about 400 people summoned each Monday morning as prospective jurors, about 100 now enter the jury assembly room to assure social distance between chairs.
"We're testing the limits of the system in Phase 2," Mahon said.
More jurors to come
The court will increase the number of jurors summoned each week to allow more jury trials to be scheduled. The current plan is to add a second group summoned Monday afternoon, then add more days.
"Our desire in December is to summon jurors in two sessions on Monday, Tuesday and Wednesday," Mahon said.
The court eventually will resume in-person civil jury trials, but civil trials require more complicated logistics than criminal trials, Mahon said.
That's because those proceedings often involve expert witnesses and defendants' attorneys who must travel to Jacksonville for the trial.
"Civil trials demand schedule certainty. It may be a while before we have that," Mahon said.
As pandemic conditions change and social distance restrictions are reduced, the courts will continue to adapt processes to return as much as possible to pre-COVID practices. Access to justice must be balanced with safety of the public.
"We want to move as rapidly as we can, but we want to make sure we're ready," Mahon said.