It was a low-tech start to high-tech businesses.
Christian Flowers bought Jacksonville-based Priority Transportation Group Inc. in 1991 because he saw an ad in the newspaper that it was for sale.
Then at The Suddath Companies, Flowers knew he wanted eventually to own his own venture. He was in his early 30s.
"I am an entrepreneur at heart," he said. "We could see the marketplace for logistics."
He and a cousin, Steve Lukenbach, own Priority 50-50, and Lukenbach ran it while Flowers remained at Jacksonville-based Suddath, a moving company.
Flowers left Suddath full-time in 2001, in his early 40s, to run Priority.
After the 2007-09 recession's impact on the company, he decided to reinvent the business.
"I was sitting in a chair on a Sunday night and a little voice said, 'Look in the back of the newspaper again,'" Flowers said. It was 2010; he was in his early 50s.
With the internet soaking up most of the classified listings by then, Flowers couldn't find the section and put the paper aside.
"The voice came back, 'Don't give up,'" he said.
He looked again, there it was under "business opportunities."
"Fulfillment company, great add-on."
He thought it had a great name, shipping-and-handling.com. It was a young e-commerce site as internet retailing was taking off thanks to a 16-year-old startup, Amazon.com.
He called the owner and they worked out a deal the next morning.
"We were the perfect match," said Flowers, now 61.
E-commerce drives growth
Today, Flowers and Lukenbach run Priority, which does business as Priority Couriers, and Flowers owns shipping-and-handling.com, whose corporate name is Fulfillment Shipping and Handling Inc.
Flowers said customers had been asking Priority to house equipment and deliver it within the Jacksonville area. "We thought we could complement our delivery system with warehousing, which set us up for the e-commerce business," he said.
Priority comprises three divisions – Priority Couriers for same-day courier services; Priority Logistics for warehousing, fulfillment and distribution; and Priority Delivery for heavy freight distribution.
It operates side-by-side with shipping-and-handling.com at 4344 Philips Highway, south of Emerson Street near Interstate 95.
Flowers is the 90% owner of shipping-and-handling.com, having sold 10% to an employee, Jennifer Garcia, director of customer care and logistics.
The site focuses on helping small businesses create and fulfill internet sales. It offers website design, integrates the online shopping cart, answers phones and brings in and ships out the products.
"We're a one-stop shop for e-commerce entrepreneurs," Flowers said. It also serves larger companies.
The Philips Highway warehouse is filled with rows, stacks and pallets of products, including tires, clothes, cellphones, cosmetics, sporting goods, nutritional supplements, lampshades, cigars and printing materials.
Customers include The First Tee, Leslie's Pool Supplies, Dealer Tire, Icemule Coolers and the Tim Tebow Foundation.
Orders are delivered and shipped through UPS, the U.S. Postal Service, DHL, FedEx and, of course, Priority.
"Amazon led the way for everybody to get into the e-commerce business. We are kind of like a mini-Amazon when you combine our fulfillment services with our delivery system to be the largest same-day delivery service in Jacksonville," Flowers said.
He declines to divulge sales, but says the e-commerce side of the business has been growing by 25% to 30% a year.
Half of his customers are national with the rest split between local and international clients.
It provides business-to-consumer, business-to-business and business-to-distribution-center services. "We prepare a lot of products to go to the distribution centers like Amazon," he said.
Shipping-and-handling.com and Priority together have almost 1,000 customers.
Priority has 100 contract drivers on the street making 800 deliveries a day within a 75-mile radius, Flowers said. 
Ten percent are national customers while 90% are local.
Overall employment for both companies, not counting the drivers, more than tripled from 14 in 2010 to 45 today, illustrating the reliance on technology.
'Excellent instincts'
The Suddath Companies Chairman Steve Suddath considers Flowers "a very smart businessman with excellent instincts."
"There was no doubt in my mind that when he left to focus on his own business he was going to be highly successful," Suddath said.
"He has a way of sorting through less important issues to focus on what it takes to be successful, to keep focused on the proper information. He is a numbers guy, he enjoys the fundamentals, and he's a great guy to be around."
Suddath Vice President Barbara "Babs" Suddath Strickland, a director and the corporate secretary, said Flowers "combined a cheerful temperament with intelligence and discipline and a strong drive to succeed."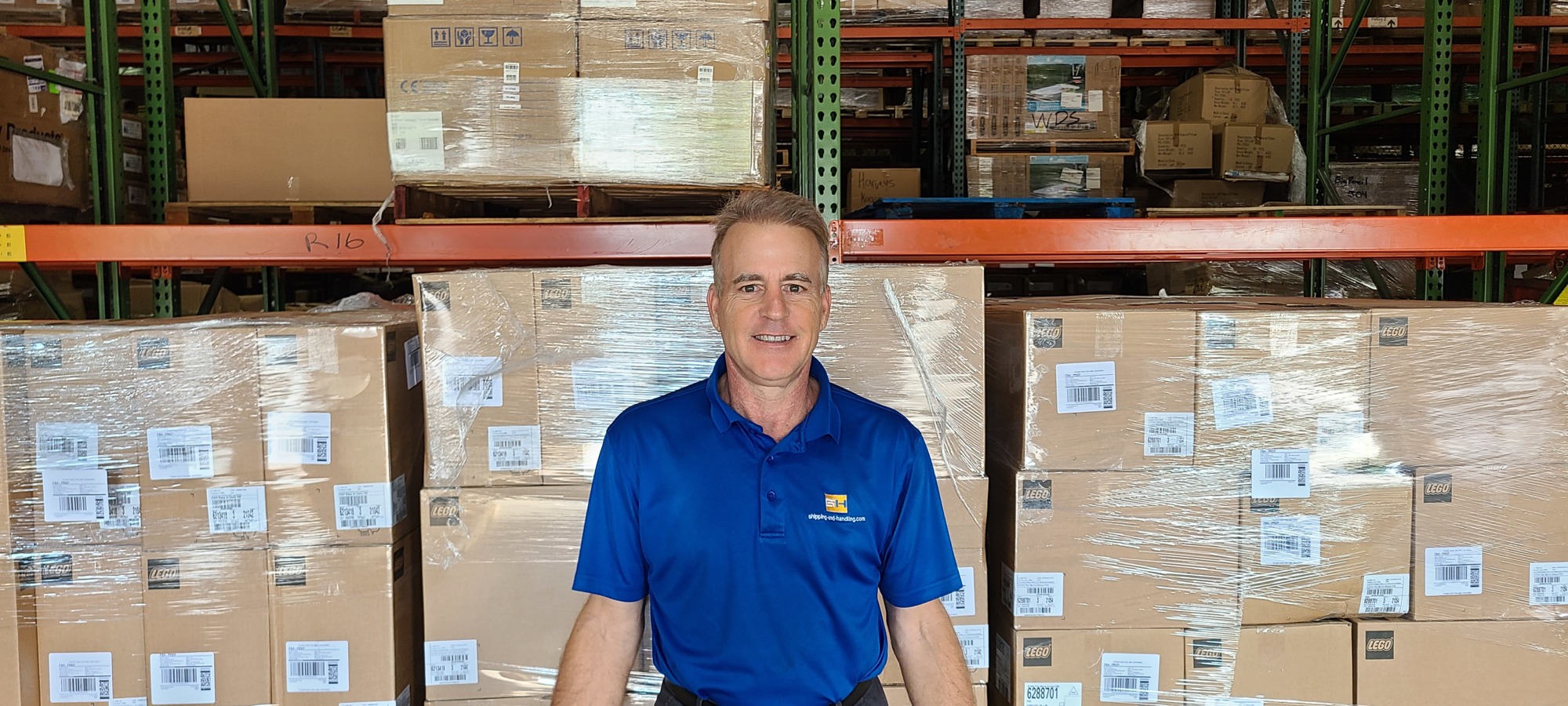 A new distribution center
The holiday shopping season historically starts today, the day after Thanksgiving, so Flowers and his team prepared.
New this year was accounting for the boom in internet retail business caused by the coronavirus that shut down the economy in March.
"The COVID problem that hit the country has catapulted our demand," Flowers said.
"We think the virus sped up the move to e-commerce by at least five years."
That means expansion.
Another of his companies owns the 40,000-square-foot Philips Highway location that he built in 2001 and five more warehouses he bought in the area, totaling 215,000 square feet of space.
"We saw pretty quickly we had to continue buying warehouses. Technology is moving fast, so we hired internal IT. We've had to change with the times," he said.
Next, he wants to buy 10-20 acres nearby for development of a 100,000- to 150,000-square-foot building within a year to 18 months. He estimates a $7 million to $12 million investment.
"We need more operating room," Flowers said.
Shipping-and-handling.com also has a warehouse in the Houston area that is owned by his brother.
Supporting entrepreneurs
Flowers grew up the son of a businessman in Madison, Wisconsin, with two brothers and two sisters.
He is the father of five – three adults, none in the company, and a 10-year-old son and 5-year-old daughter from a second marriage.
His father, now 90, was president and CEO of a company that made mufflers and silencers for "everything but cars."
The Flowers family held a percentage of the company, which sold in 1995.
"All we ever talked about at the kitchen table was business," Flowers said.
"It was natural for us to emulate what our father had accomplished."
The family deal was that his parents would pay for half the college tuition for the children who enrolled out of state – and none for those who stayed in Wisconsin.
"They didn't want us to go to a suitcase college," Flowers said, "where you bring your laundry home."
Flowers graduated with a business degree from private Baylor University in Waco, Texas. He joined an oil and gas CPA firm in Houston and three years later moved to a shipping line as CFO of its barge and shipping operation.
That company became Sea Star Line, now known as TOTE Maritime. That stint brought him to Northeast Florida.
Flowers then became CFO of the international logistics division of  Suddath, which started in 1919 as a moving company and has grown into a global transportation, relocation management and logistics company.
"I gained the necessary experience at Suddath to propel me in that direction," he said.
Flowers credits two mentors for his career: his father and Suddath President and CEO Quinn Bell.
His dad, he said, provided guidance, but didn't bankroll his venture.
Flowers and his surviving brother and sisters, in Texas, Indiana and Jacksonville, each distribute money from the Wisconsin-based Flowers Family Foundation. 
Flowers wants to set up an entrepreneurial institute to mentor business owners in accounting, banking and business models.
"My dream is to start a nonprofit that will help other entrepreneurs like the help I got from Quinn Bell and my father," he said.
"I am motivated to give other people the same opportunities that I got."