DashMart, part of the DoorDash food-delivery network, is considering a Jacksonville presence.
The city is reviewing a permit application for the new delivery service for household essentials to build-out a warehouse in EastPark Center West, Phase 3, at 11653 Central Parkway, No. 201.
RPC General Contractors Inc. is the contractor for the project to renovate 9,696 square feet in suites 201-205.
DoorDash posted job openings for operations manager and manager positions for Jacksonville.
San Francisco-based DoorDash, founded in 2013, said it has become the fastest-growing last-mile logistics company in the U.S. and is growing 250% year-over-year.
It works with top U.S. restaurant brands that offer on-demand delivery, expanding to more than 4,000 cities in the U.S. and Canada.
On Aug. 5, the company announced the launch of DashMart stores nationwide.
It described DashMart as a new type of convenience store, offering household essentials and local restaurant foods to customers' doorsteps.
"On DashMart, you'll find thousands of convenience, grocery, and restaurant items, from ice cream and chips, to cough medicine and dog food, to spice rubs and packaged desserts from the local restaurants you love on DoorDash." it said.
DashMart stores are owned, operated and curated by DoorDash. 
It calls DashMart, referred to on plans by a holding name of Door Dash Essentials, a new channel for local businesses to reach customers online, "transforming how our merchant partners can sell their retail products."
It said it expanded its partnerships with national brands like The Cheesecake Factory and local restaurants to sell retail products, like spices and other food products.
TechSpot.com said the stores are owned, operated and curated by DoorDash but populated with products sourced from local partners. 
It said in August that DashMart is in eight cities - Chicago, Minneapolis, Columbus, Ohio, Cincinnati, Dallas, Salt Lake City, Phoenix and Redwood City, California.
It said it would launch in more cities, including San Diego, Baltimore, Denver and Sacramento and Concord, California.
"We hope to inspire even more local businesses — from restaurants and bakeries to artisanal shops and home goods retailers — to sell with us on DashMart," it said.
Foxbusiness.com said DashMart's locations carry an average of 2,000 items. It said employees fulfill and pack the orders, which are then picked up by delivery workers — "Dashers" — to bring to customers.
It said DashMart also will provide local businesses — from restaurants to bakeshops —  an opportunity to sell their products from the store.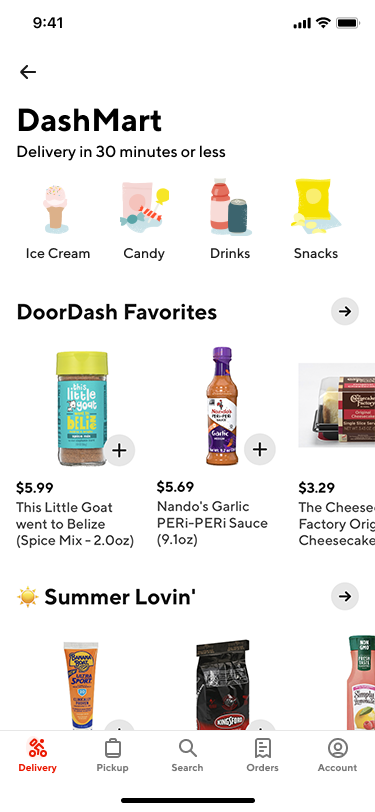 It said national chains like The Cheesecake Factory and Nando's, along with local restaurants like Corey's NYC Bagel Deli in Chicago, or Brother's BBQ in Denver, can sell retail products like bagels, or condiments like spice rubs, on the platform.
DoorDash hires the warehouse staff and the drivers are independent contractors.
In 2018, DoorDash introduced DashPass, a $9.99 monthly subscription service with no delivery fees on orders above $12. Without that, customers pay delivery fees.
DashMart is part of the DashPass service.
DoorDash has been expanding its delivery service to include convenience and grocery store items.
EastPark is at Beach Boulevard and St. Johns Bluff Road,. Cushman & Wakefield of Florida LLC represents the landlord in the building where DashMart is considering opening.
The service is similar to that of Philadelphia-based goPuff, which operates several warehouses in Jacksonville from which it delivers more than 2,500 products that include snacks, ice cream, dog treats, beverages, household goods, groceries, over-the-counter medications, school supplies, diapers, cleaning supplies, personal care items, beer, wine and more.
It started the Jacksonville service in November.
A goPuff spokesperson did not respond to a request for comment.