Jacksonville's industrial, office and retail markets are adjusting to the effects of the COVID-19 pandemic that led to shutdowns, capacity restrictions and other effects. Here is what Avison Young, CBRE, Colliers International, Cushman & Wakefield, JLL and NAI Hallmark are reporting about the market as of the 2020 third quarter, which ended Sept. 30.
Office: New projects on hold amid market uncertainty
Other than projects already started, developers of most proposed office buildings are sitting out the market.
A few speculative office buildings are available for tenants and three headquarters are under development – Fidelity National Information Services Inc. in Brooklyn; JEA Downtown; and the build-out for The CSI Companies along Baymeadows Road near Gate Parkway.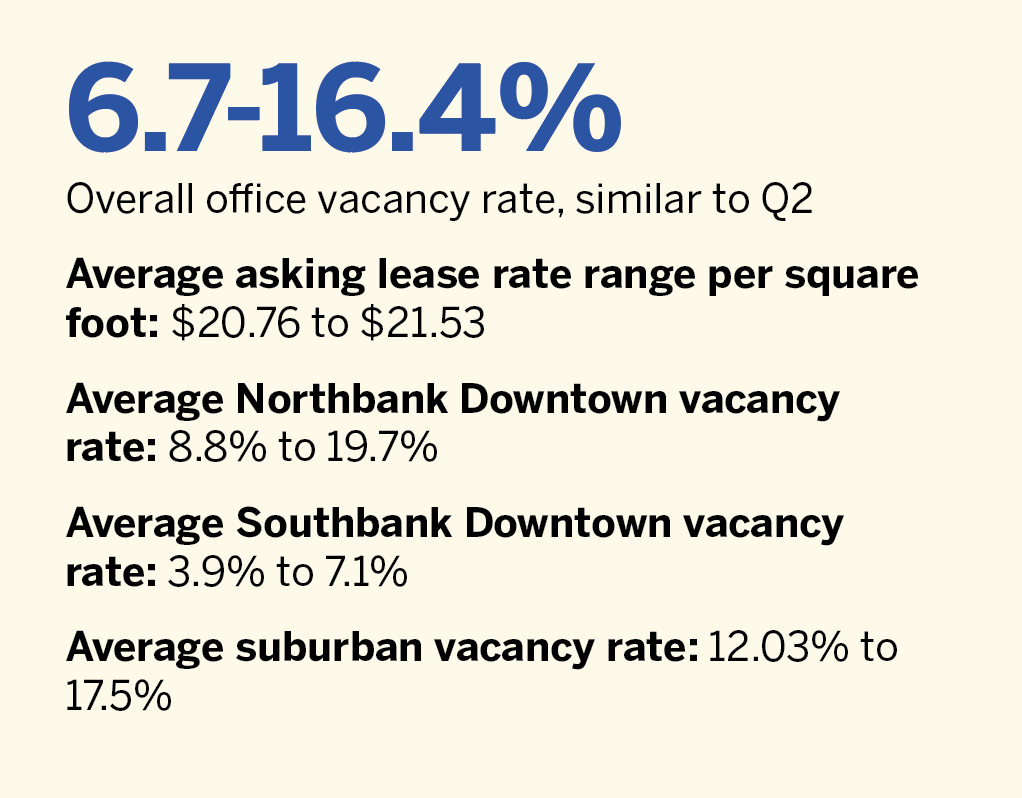 "Other new construction projects in the pipeline are on hold," said JLL in its Office Insight Q3 2020 report.
A lot of that is due to uncertainty.
Many office tenants sent employees home to work remotely during the pandemic and found they don't need all of their space, releasing some of it for sublease.
For example, Colliers International reported that insurer Florida Blue put 750,000 square feet of office space available for lease at its Downtown and Deerwood Park campuses.
Florida Blue Senior Media Relations Consultant Toni Woods said Oct. 12 that the onset of COVID-19 meant that ensuring the health and safety of its employees became a top priority
"We quickly evolved into a remotely working company with 95% of our more than 6,000 Jacksonville-based employees successfully working from home," she said.
"Given the uncertainty of what the future virtual vs. onsite experience might look like, we are exploring many different options. We will consider leasing inquiries on a case-by-case basis, with no particular size in mind," she said.
Colliers International said in its Market Snapshot Q3 2020 that office tenants are evaluating the next step.
"Businesses who were looking to expand their footprint are putting that effort on hold for now or retracting the idea," it said.
Colliers International said that many tenants in the market are requesting lower rental rates, concessions or short-term abatement or are downsizing their footprint.
It expects the trends to continue.
The active tenants in the market are those whose leases are expiring this year and early next year, reports CBRE in its Marketview Q3 2020 report.
"Several tenants with growth needs have decided to expand their space size and signed leases in other buildings," it said.
Landlords are holding rents steady and offering concessions, CBRE said.
Cushman & Wakefield said in its Jacksonville Office Q3 2020 Marketbeat report that the Butler/Baymeadows market captured more than 60% of leasing activity because of its higher diversity of space options.
Renewals and extensions picked up as the market softened for new deals.
JLL predicts that vacancy will continue to rise until a vaccine is developed for COVID-19 or until businesses feel confident returning to the office.
Yet employment levels among office users remained stable, indicating financial strength in the market "and the potential for recovery," JLL said.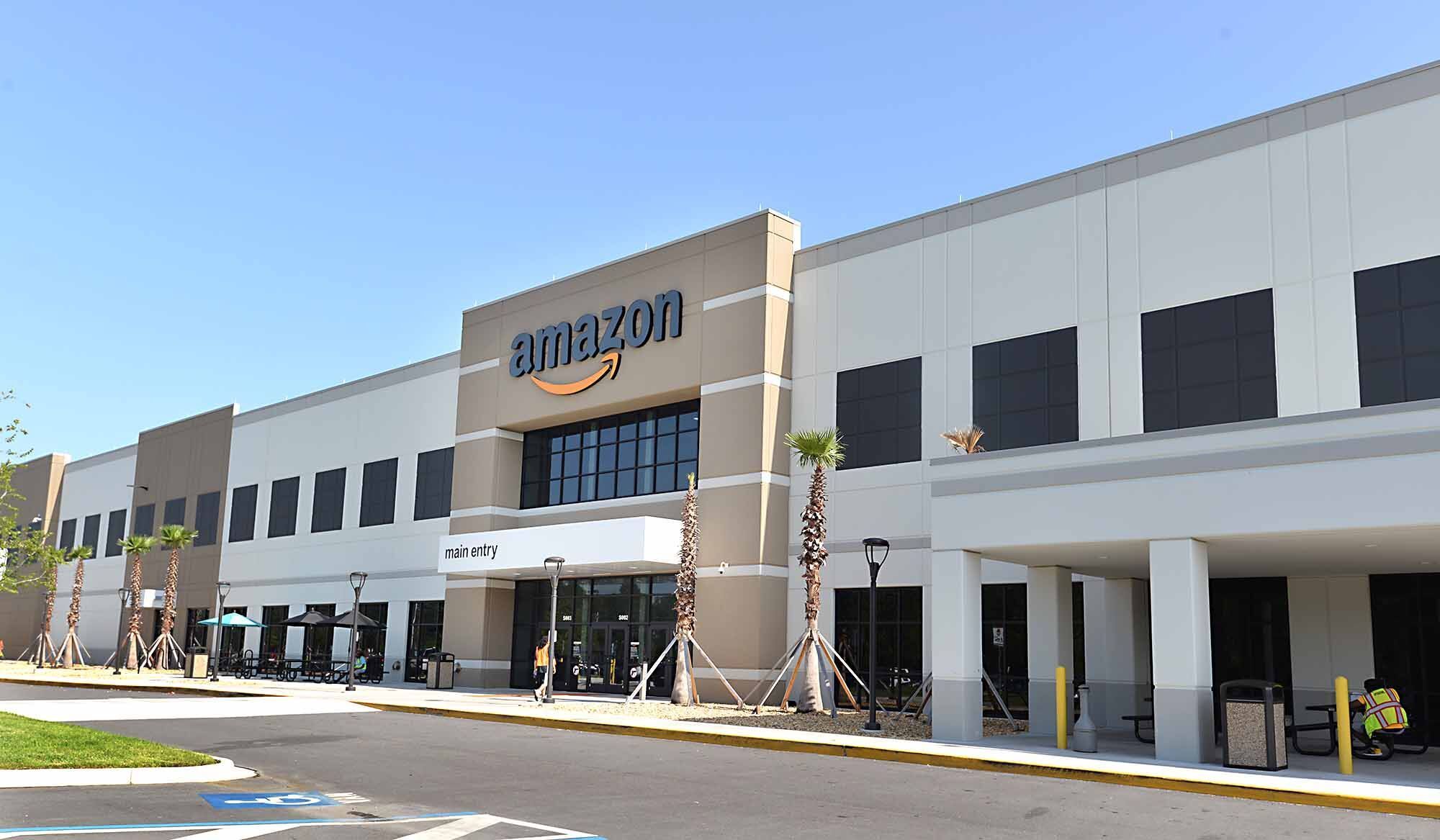 Industrial: The market in a word: e-commerce
More distribution centers are being built, and many are leased before construction.
The key word is e-commerce.
"Jacksonville continued to be a hot build-to-suit market," said Cushman & Wakefield in its Jacksonville Industrial Q3 2020 Marketbeat.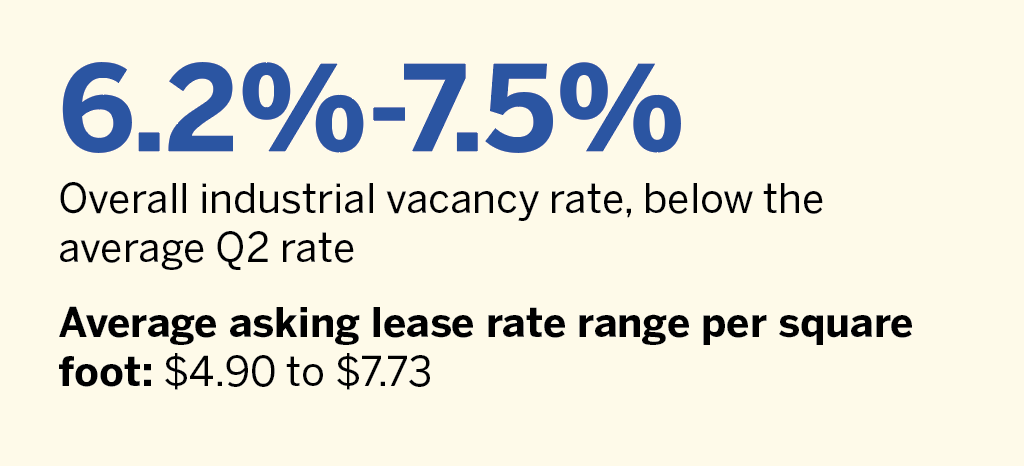 Wayfair Inc. moved into its 1 million-square-foot fulfillment center in AllianceFlorida at Cecil Commerce Center in West Jacksonville, and Amazon.com started development of its almost 1.1 million-square-foot fulfillment center in Imeson Park in North Jacksonville.
Wayfair's occupancy shifted momentum, which JLL described in its Industrial Insight Q3 2020 as "emblematic of the revitalization occurring in the market as COVID-19 implications on economic activity eases some."
JLL said that prospects are in the market for more than 5 million square feet of industrial space.
"Occupancy fundamentals point toward a healthy industrial market."
Colliers International said in its Market Snapshot Q3 2020 that the pandemic hastened the growth.
"E-commerce is performing exceptionally well due to the acceleration of online shopping during the pandemic," it wrote.
That demand means investors, retailers and wholesalers are buying, developing and leasing distribution and fulfillment centers.
"Jacksonville, with its abundance of land available and desirable location, is on the mind of most e-commerce tenants looking to serve Florida," said CBRE in its Q3 2020 Marketview.
Retail: Vacancy rate remains below the national average
Since March, the onset of the coronavirus pandemic, retail leases dropped significantly "and will likely continue with no major leases being signed," reported NAI Hallmark in its Jacksonville Metro Q3 2020 Market Report.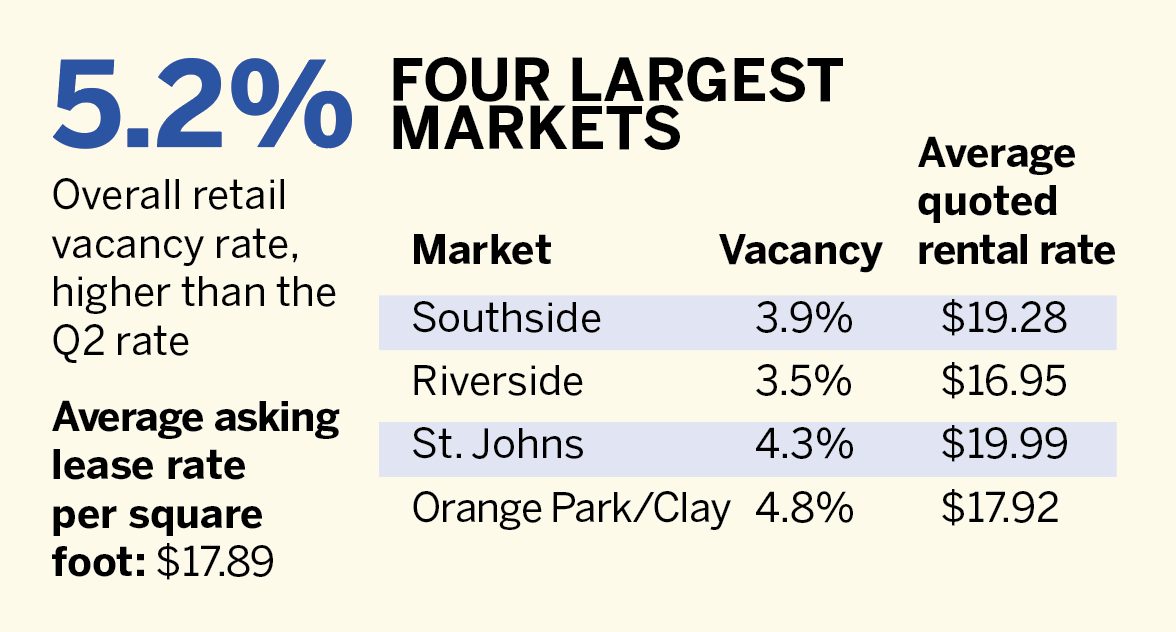 Still, the vacancy rate is below the national average and below the market's long-term average.
"While vacancies will likely rise, levels are expected to remain healthy," NAI Hallmark said, because more than 60 percent of the retail space under construction is pre-leased.
NAI Hallmark noted that major specialty and discount grocers leased or developed space – Sprouts Farmers Market and Whole Foods Market have opened stores, and Aldi is building a store at Philips Highway and Emerson Street.
"While virtually all of Jacksonville has seen some form of growth in the retail sector, the Southside, St. Johns County and Riverside submarkets have all seen the largest concentration of activity," it wrote.