The Jacksonville Planning Commission recommended approval Sept. 3 for The Julington, a 260-unit apartment community along the east side of San Jose Boulevard about a half-mile north of Julington Creek in Mandarin.
The developer, Rise: A Real Estate Co. from Valdosta, Georgia, applied to the city to amend the land use and rezone 8.98 acres at 12375, 12387 and 12421 San Jose Blvd., across from the HarborChase of Mandarin senior living facility and an office park.
Rise, with Ordinance 2020-0473, seeks a small-scale land use amendment to change from community/general commercial, about 0.39 acres and residential-professional-institutional, about 8.58 acres, to residential-professional-institutional with a site-specific land use policy to allow the proposed apartment use. Companion Ordinance 2020-0474 would rezone the property from commercial office and PUD 2005-0233-E, which approved the former San Jose Car Wash on the 0.39-acre portion of the mostly undeveloped property, to PUD.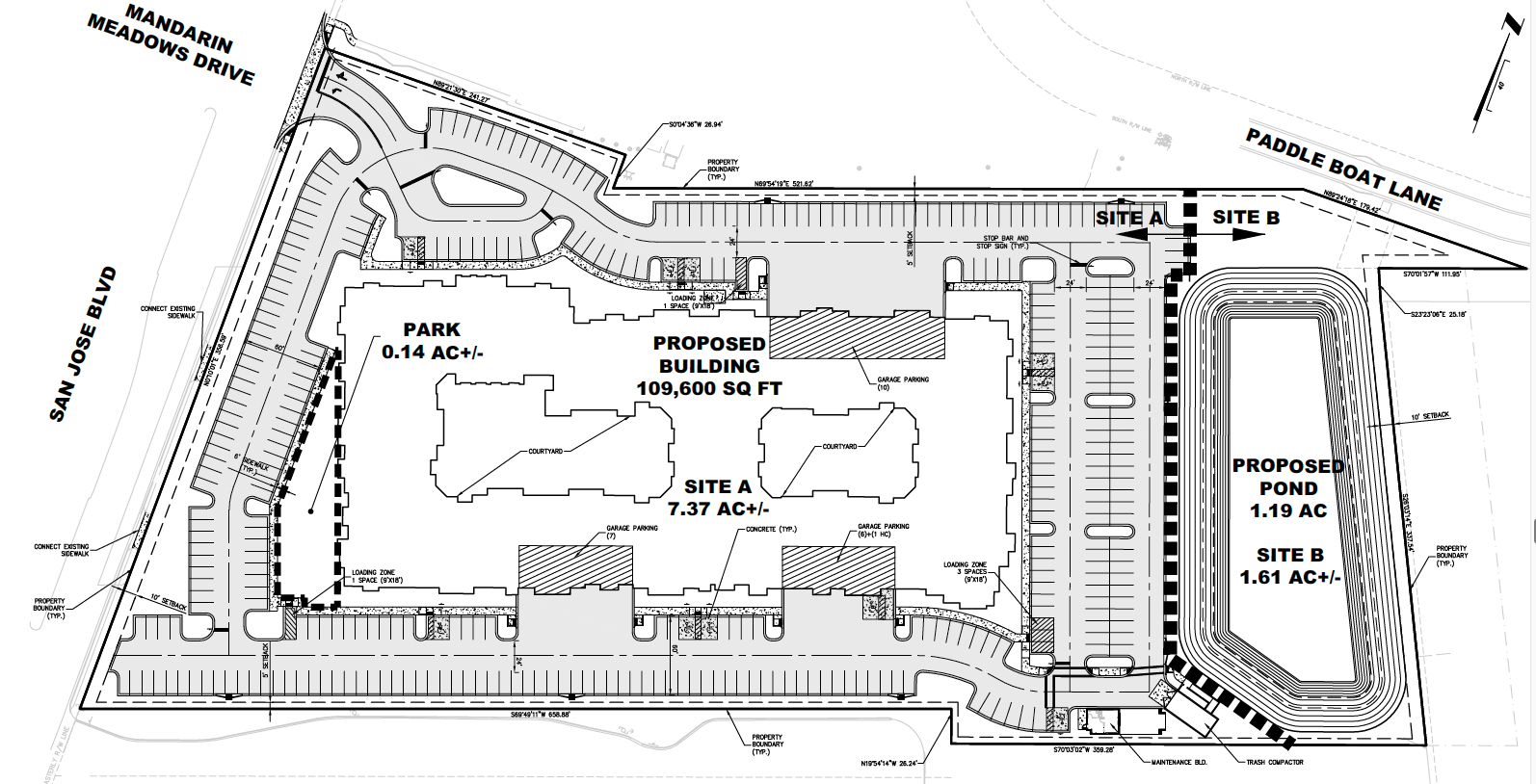 Plans for the community include a single four-story, 109,600-square-foot apartment building with 9,620 square feet of nonresidential area, 394 parking spaces and a stormwater pond between the development and the adjacent single-family homes. The Julington will comprise 122 one-bedroom; 123 two-bedroom; and 15 three-bedroom units in varying sizes along with a wellness center and pool amenities.
Rise said in a news release the development is a $47 million investment. It said The Julington is walkable to "120+ businesses within one mile" for shopping, restaurants and medical offices.
Leasing is expected to begin by fall 2021 and will be managed by Rise.
Mandarin Properties I LLC, an affiliate of Rise, applied in May to the St. Johns River Water Management District for an environmental resource permit, which is pending.
Rise: A Real Estate Co., founded in 1995, is a multifamily and student housing developer, manager and investment company formerly known as Ambling University Development Group. 
Rise, through Rise Properties LLC, is the developer of The Doro, a proposed 247-unit mixed-use project at 102 A. Philip Randolph Blvd. near VyStar Veterans Memorial Arena and 121 Financial Ballpark in Downtown Jacksonville.