The Jacksonville Transportation Authority board awarded two contracts Aug. 26 for the first phase of its Ultimate Urban Circulator program that will replace the Downtown Skyway.
The board voted 5-0 to allow JTA CEO Nat Ford to negotiate with Balfour Beatty V2R for design-build services for the U2C's 3-mile route along the Bay Street Innovation Corridor. 
The Balfour Beatty V2R is a consortium of five companies including Superior Construction Co. Southeast; Beep Inc.; WGI, Inc.; Stantec Consulting Services Inc.; Miller Electric; and Balfour Beatty. 
The Bay Street route is part of JTA's $379 million to $400 million plan to replace the elevated Skyway monorail system with a 10-mile automated vehicle network.
According to JTA officials, Balfour Beatty and its partners will oversee 60% design of the innovation corridor, an at-grade service along Bay Street that will run from Hogan Street to the Sports and Entertainment District near TIAA Bank Field, 121 Financial Field and VyStar Veterans Memorial Area.
According to board documents, Balfour Beatty VR2 was the only bidder.
The board also voted unanimously to negotiate an estimated $2 million contract with England-Thims & Miller for construction, engineering and inspection for the first phase of the project.
Board member Nicole Padgett was absent Aug. 26 for the vote.
Authority Vice President of Automation Bernard Schmidt said JTA executives will return to the board in the coming months with a negotiated contract and refined design.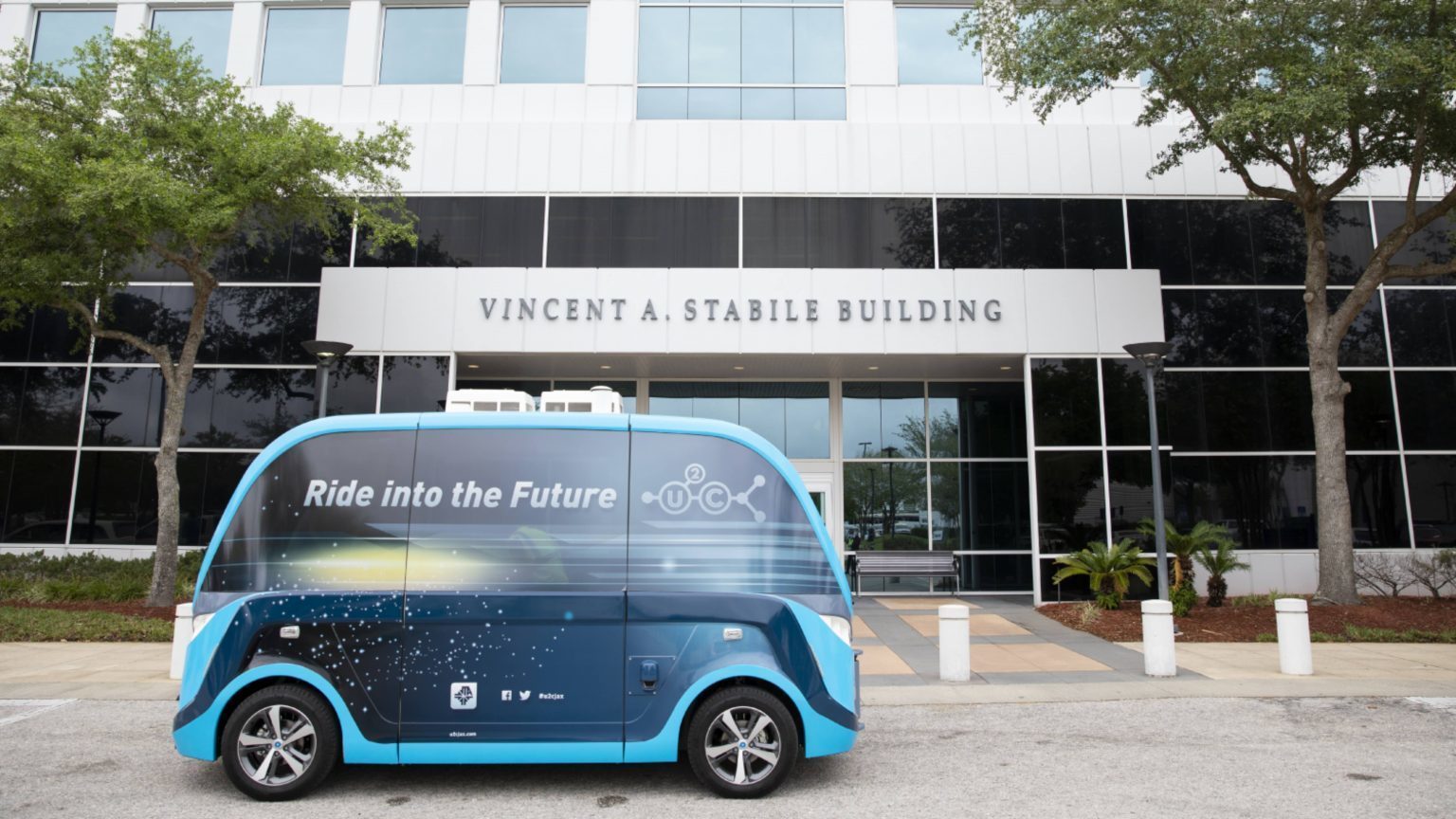 He said construction likely will start next year. 
Schmidt said there is no definite timetable, but he estimated automated vehicles will be operating on Bay Street in three to four years.
JTA says the Bay Street Innovation Corridor route will cost about $44 million and includes the removal of the Hart Bridge ramps and bring that interchange to grade, which began in April 2020.
That project was coordinated between the city and the Florida Department of Transportation. The work is being done by JB Coxwell Contracting Inc.
The ramp removal and Bay Street Innovation Corridor projects are fully funded and were partially paid for by two $12.5 million U.S. Department of Transportation BUILD grants. 
After the vote Aug. 26, Schmidt said taking the design from 30% to the 90% goal in the next year will refine the cost estimate, as JTA and Balfour Beatty selects technologies that will make the U2C function. 
"We have to make sure we're not picking the Blackberry but we're picking the iPhone," Ford said. 
"It's that kind of challenge that we have to walk through and negotiate that design with Balfour Beatty."
"We are honored to be selected by Jacksonville Transportation Authority to construct another successful project for the Jacksonville community," said John Harris, Balfour Beatty's buildings Florida senior vice president of operations, in a news release.
"To be a part of the Ultimate Urban Circulator program is an opportunity of a lifetime, and we look forward to remaining a relentless ally to our client, our partners and the community as we work to provide an innovative and revolutionary transportation network for the future of Jacksonville." 
Schmidt said JTA intends to return to the board for approval to negotiate and award separate contracts to outsource operations and maintenance of the U2C when it is up and running.
Schmidt said some but not all of the entities in the consortium have the expertise to operate and maintain the system.
The 10-mile U2C network will expand the people mover service out of Downtown into San Marco, Five Points in Riverside, Brooklyn and UF Health Jacksonville near Springfield. 
City Council approved $247 million in May for the Bay Street Innovation Corridor and Skyway elevated track conversion as part of a 6-cent per gallon increase and extension of Duval County's local option gas tax. 
Ford said at the time JTA would look for federal and private funding sources for the remaining costs, which could be $132 million to $153 million.