After acquiring a Texas homebuilder in October, Dream Finders Homes Inc. is in line to be Jacksonville's fifth Fortune 1000 company, according to financial documents filed by the company.
Dream Finders issued pro forma financial statements in a Dec. 14 Securities and Exchange Commission filing showing the homebuilder would have produced $2.04 billion in 2020 revenue had it owned McGuyer Homebuilders, Inc. last year.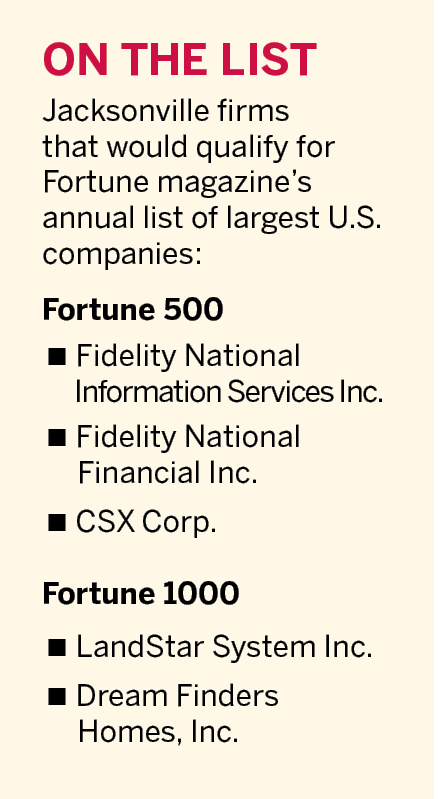 Jacksonville-based Dream Finders had $1.13 billion in revenue and McGuyer had $909 million as independent companies in 2020.
The combined company would have qualified for Fortune magazine's annual list of largest U.S. companies because the 1000th company on this year's list, billboard company Clear Channel Outdoor Holdings Inc., had $1.85 billion in 2020 revenue.
Dream Finders' revenue in the first half of 2021 would have been $1.09 billion if it owned McGuyer, according to the SEC filing.
The acquisition would have increased the company's earnings per diluted share by 5 cents to 54 cents in the first six months of the year. The financial statements did not have earnings per share data for 2020, when Dream Finders was still a private company. It became public with an initial public offering in January.
Jacksonville has three Fortune 500 companies that all had more than $10 billion in 2020 revenue: Fidelity National Information Services Inc., or FIS; Fidelity National Financial Inc., which spun off FIS: and CSX Corp.
The city is home to one other company on this year's Fortune 1000 list, Landstar System Inc., which ranked 606th with $4.1 billion in revenue last year.
Dream Finders is projected to continue growing in revenue. The average analyst's forecast for 2022, when it will own McGuyer for the full year, is $3.6 billion, according to Yahoo Finance.
Analyst sees more FIS growth
Financial technology company FIS, Jacksonville's largest company, also is projected to continue growing, according to a report by Loop Capital Markets analyst Hal Goetsch.
"We believe FIS enjoys a visible and durable long-term growth outlook driven by a combination of organic recurring revenue growth, growing backlogs, margin expansion, and to a lesser extent, acquisitions," Goetsch said as he initiated coverage with a "buy" rating.
FIS ranked 241st on Fortune's list with $12.552 billion in revenue in 2020. Goetsch projects it to reach $13.907 billion this year and $14.866 billion in 2022.
"FIS is positioned to benefit from a decade long shift in the market from banking systems and software on mainframe, mid-range, and historical programming languages to cloud-centric and open capabilities," he said.
"The company is winning with legacy customers, new customers, and fin tech disruptors to drive change."
Goetsch set a one-year price target of $139 for the stock, which was trading at $105 at the time of his Dec. 14 report.
LFTD calls off acquisitions
LFTD Partners Inc. said in a Dec. 17 SEC filing it called off two planned acquisitions that were expected to grow the company.
LFTD terminated a deal announced in June to buy Savage Enterprises and a deal announced in September to buy Fresh Farms E-Liquid LLC.
Both agreements involved a combination of cash and stock and were terminated mutually by the parties, the filing said.
No reasons were given for canceling the deals. When both deals were announced, LFTD said they were contingent on capital raises by the company.
The $44 million purchase price for Savage included $15.84 million in cash and the $45.6 million price for Fresh Farms included $14.2 million in cash.
LFTD moved its headquarters office to Jacksonville in January but its main business is a Kenosha, Wisconsin, company called Lifted Made, which makes hemp-derived cannabinoid products.
The company has said it is looking to grow with acquisitions of cannabinoid and e-liquid product companies.
LFTD reported revenue of $18.9 million and net income of $4.45 million, or 32 cents a share, in the first nine months of 2021.
Crypto assets boost Everything Blockchain
Fleming Island-based Everything Blockchain Inc. reported revenue of $4.9 million and earnings of 29 cents a share for the third quarter ended Oct. 31.
The company is engaged in development and consulting in the blockchain technology industry.
The results "reflect the strength of the crypto price cycle we entered in Q4 2020," the company said in its quarterly report filed Dec. 15 with the SEC.
"We saw many crypto assets reach all time high prices, high levels of volatility, and increased interest across the entire blockchain," it said.
Advantus acquires maker of desktop accessories
Jacksonville-based Advantus Corp. said Dec. 14 it acquired certain assets of Artistic Products LLC, a Hauppauge, New York, company that makes desktop accessories and desk pads.
Terms of the deal were not announced.
Advantus, which manufactures consumer, commercial and durable goods, said the deal will enhance its position in the office products market.