Regency Centers Corp. ceremonially broke ground Feb. 16 on the site of what will become the East San Marco shopping center, almost 20 years in the making.
Along with the previously announced Publix Super Markets Inc. anchor store, the center will include OrangeTheory Fitness. More tenants will be announced as development continues, Regency said in a news release.
Construction has begun at the southeast Atlantic Boulevard and Hendricks Avenue site and is slated to continue until mid-2022. 
Jacksonville-based Regency Centers said the two-story Publix will anchor 60,000 square feet of grocery, retail, and essential services in Jacksonville's historic San Marco neighborhood. 
Key members of Regency Centers and Publix along with city and San Marco community leaders attended the private groundbreaking.
"San Marco has deserved this project for a long time," said Patrick McKinley, vice president and market officer at Regency Centers.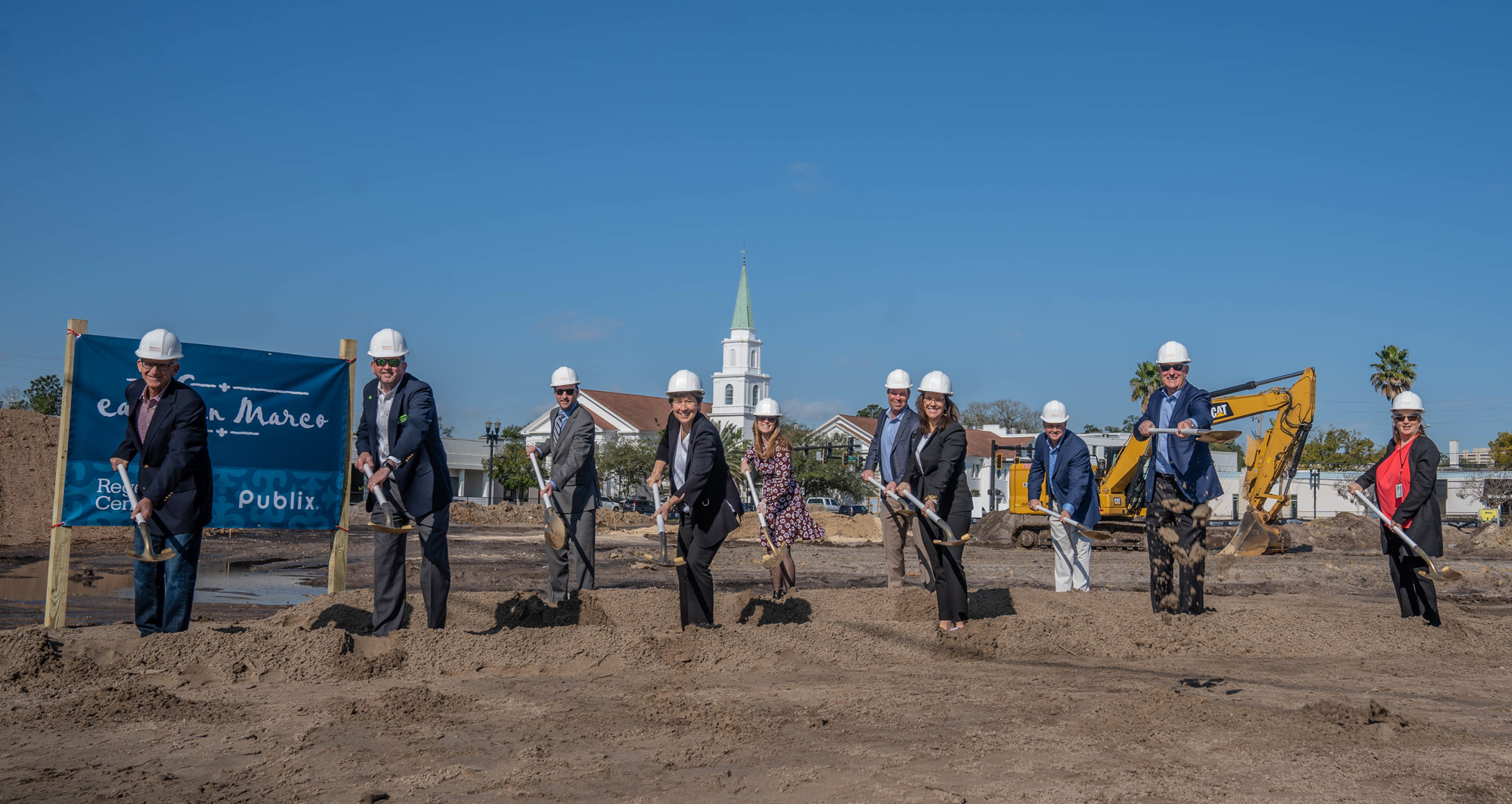 "There has been so much work behind the scenes to make this a reality for a number of years, that included invaluable feedback and assistance from our neighbors and stakeholders. East San Marco will become a great example of collaboration from a fantastic group of people, serving a community long overdue for a place like this," he said in a news release.
Steve Walker, regional director at Publix, said the location "will give Publix the opportunity to continue providing legendary service to our loyal customers."
District City Council member LeAnna Cumber said having a Publix as well as other stores and restaurants in the heart of San Marco "will continue to enhance the quality of life for all residents in the San Marco area including new residents on Philips Highway and along the South Bank."
Regency Centers is a national owner, operator and developer of shopping centers.
The city issued four permits Feb. 9 for J. Raymond Construction Corp. to build the retail center at total construction costs of $9.7 million.
The development cost will be higher when other work, including interior build-out, is approved.
East San Marco is at 2039 Hendricks Ave. The city issued the horizontal work permit in December for the 3.25-acre site.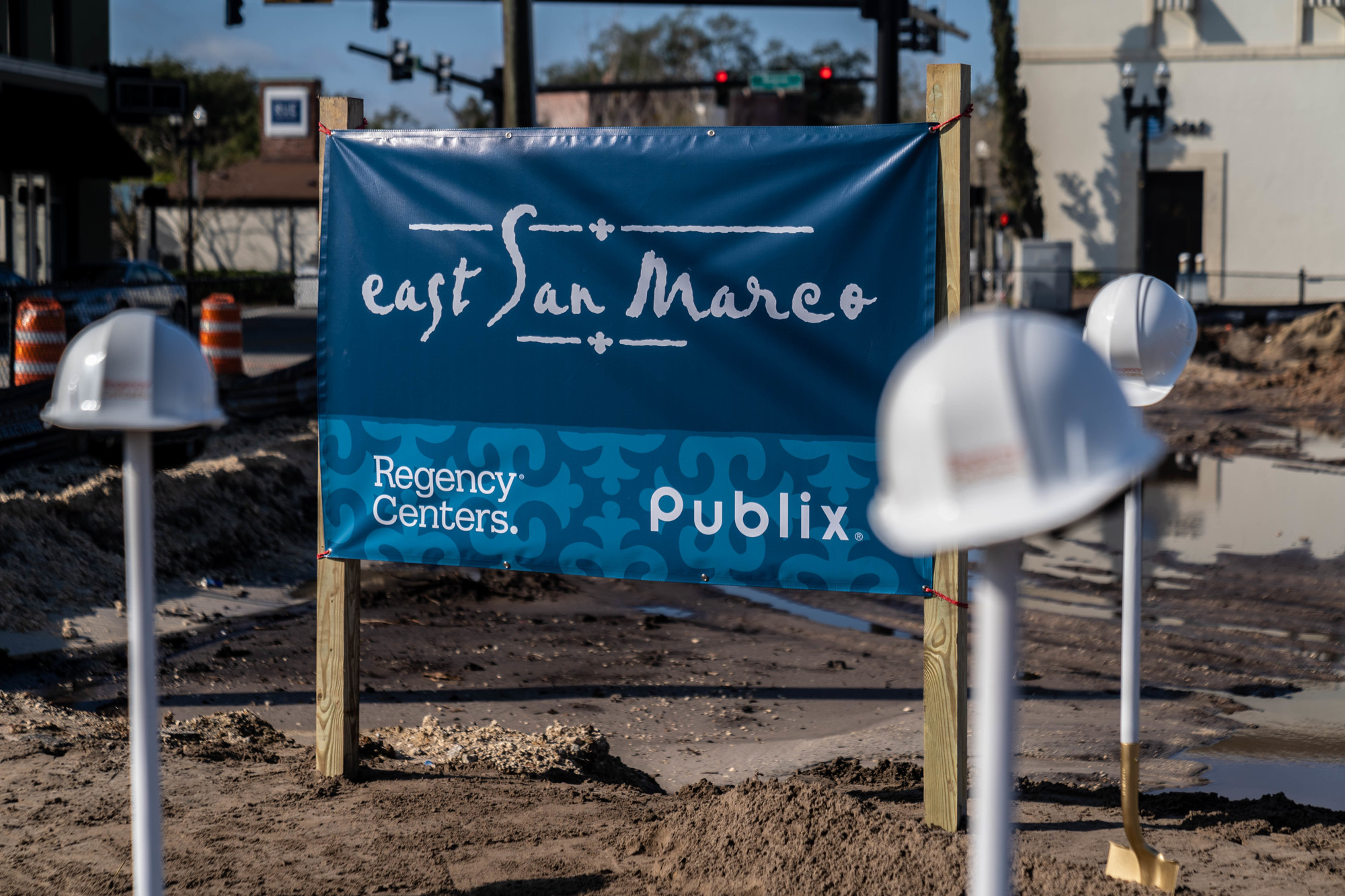 Permits issued Feb. 9 show:
• A two-story building totaling 76,588 square feet, topped by a 39,000-square-foot Publix on the top floor and parking on the bottom at a cost of $7 million.
• A two-story retail building totaling 8,665 square feet at $1.25 million.
• A one-story retail building of 9,951 square feet at $1.2 million.
• A one-story 1,430-square-foot Publix Liquors store at $250,000.
The site also has surface parking.
Regency Centers and England-Thims & Miller Inc. submitted civil engineering plans to the city and St. Johns River Water Management District in May for the project.
Initial discussions surfaced in 2002 about a Publix and mixed-use development on the site. In 2006, Regency Centers and The St. Joe Co. announced the project, including Publix and condominiums.
The project was delayed by several factors, including the recession and a residential development partner that pulled out of the deal in 2017.
The city approved previous designs that included apartments and town houses. In 2018, Regency Centers Chairman and CEO Martin E. "Hap" Stein Jr. said the project would continue but with just the shopping center.
There will be far fewer residences than approved in 2014. Luxury builder Toll Brothers filed plans Feb. 9 for a 27-unit town house community on 1.03 acres one block east of the East San Marco shopping center development.
McKinley said Nov. 11 construction on the Publix should be completed by summer 2022. He told the San Marco Merchants Association quarterly meeting via Zoom that Publix could open 30 to 60 days later after it outfits and prepares the space.
He said the six retail spaces adjacent to Publix would be ready for tenants to take over soon after.