Hotel occupancy in Duval County in January was 61.8%, which was 18% better than December, but a loss of 12.7% compared with January 2020, according to data released Feb. 19 by Visit Jacksonville.
The average room rate was $78.55, down nearly $20; revenue per room was $48.52, also a loss of $20; and total room revenue in the county was $27.2 million, $11 million less than in January 2020. 
The data indicates that while tourism in the areas continues to experience substantial negative impact from the COVID-19 pandemic, there are signs of improvement.
The Arlington and Westside areas continue to see the highest occupancy and smallest revenue per room losses. Arlington hotels were almost 73% occupied and Westside hotels were more than 68% booked in January.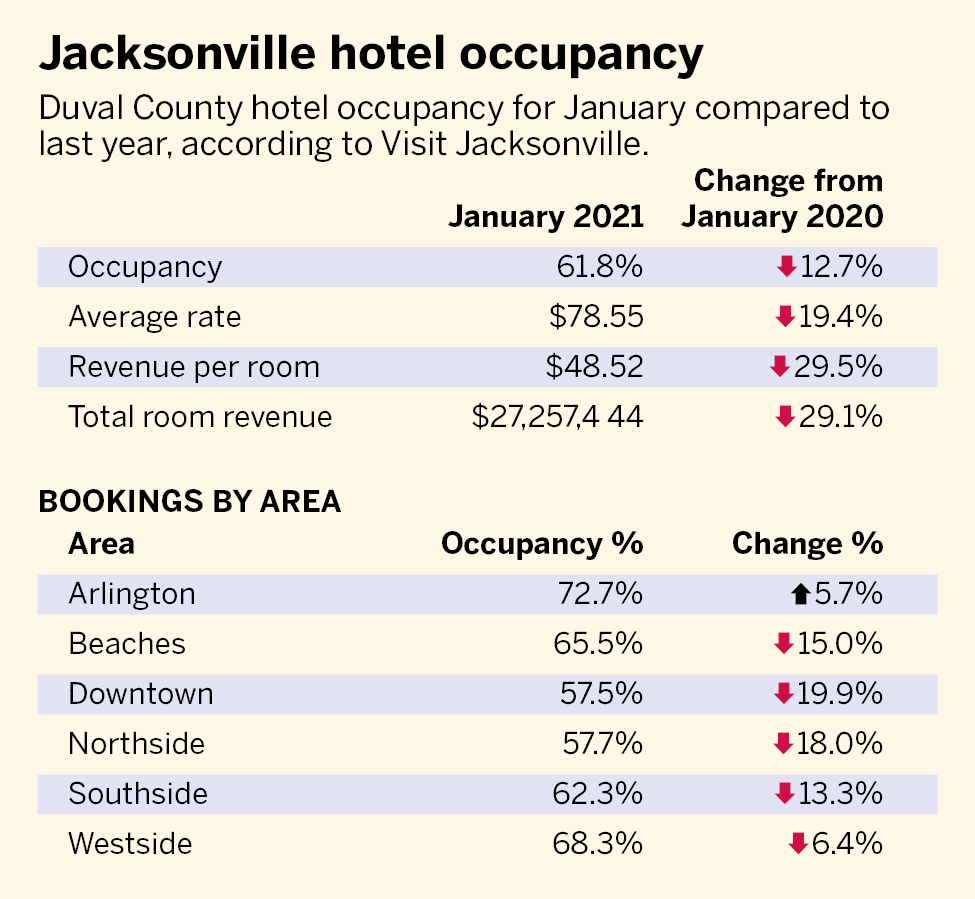 Downtown, with far less convention and other group business, still is showing the largest revenue per room loss at nearly 46%.
Occupancy Downtown is boosted by the Hyatt Regency Jacksonville Riverfront's more than 900 rooms being 100% occupied by U.S. Marine Corps recruits who are being quarantined for two weeks before they begin basic training.
Capt. Bryan McDonnell, a communications officer at Marine Corps Recruit Depot Parris Island, said in an email that at the onset of the pandemic, the Marines worked out of staging areas built at Parris Island, and then moved operations to The Citadel in May, and to Atlanta in July.
With the end of hurricane season, the quarantine moved to Jacksonville to increase logistical efficiency.
"Each adjustment to our quarantine process is carefully balanced between the safety and health of our poolees and staff while ensuring our mission of making Marines continues uninterrupted," McDonnell said.
A poolee is a recruit who has signed up for enlistment but has not begun an active service.
While in quarantine, recruits are screened and observed by medical care providers twice daily for the duration of the two-week period. After the isolation period, the recruits are transported to Parris Island, near Beaufort, South Carolina, to officially begin their training, he said.