Sleiman Enterprises said Feb. 24 that it will develop a Publix-anchored shopping center in Wildlight, the master-planned community's first grocery store.
The store will anchor Crossings at Wildlight at Florida 200 and William Burgess Boulevard, a news release said. The 90,000-square-foot shopping center will sit on about 17 acres. 
The center is between UF Health Wildlight and a parcel owned by Baptist Health. 
"The opening of this new and convenient location will give us the opportunity to continue providing legendary service to our wonderful customers both old and new," Chris Norberg, community relations manager for Publix's Jacksonville Division, said in the news release.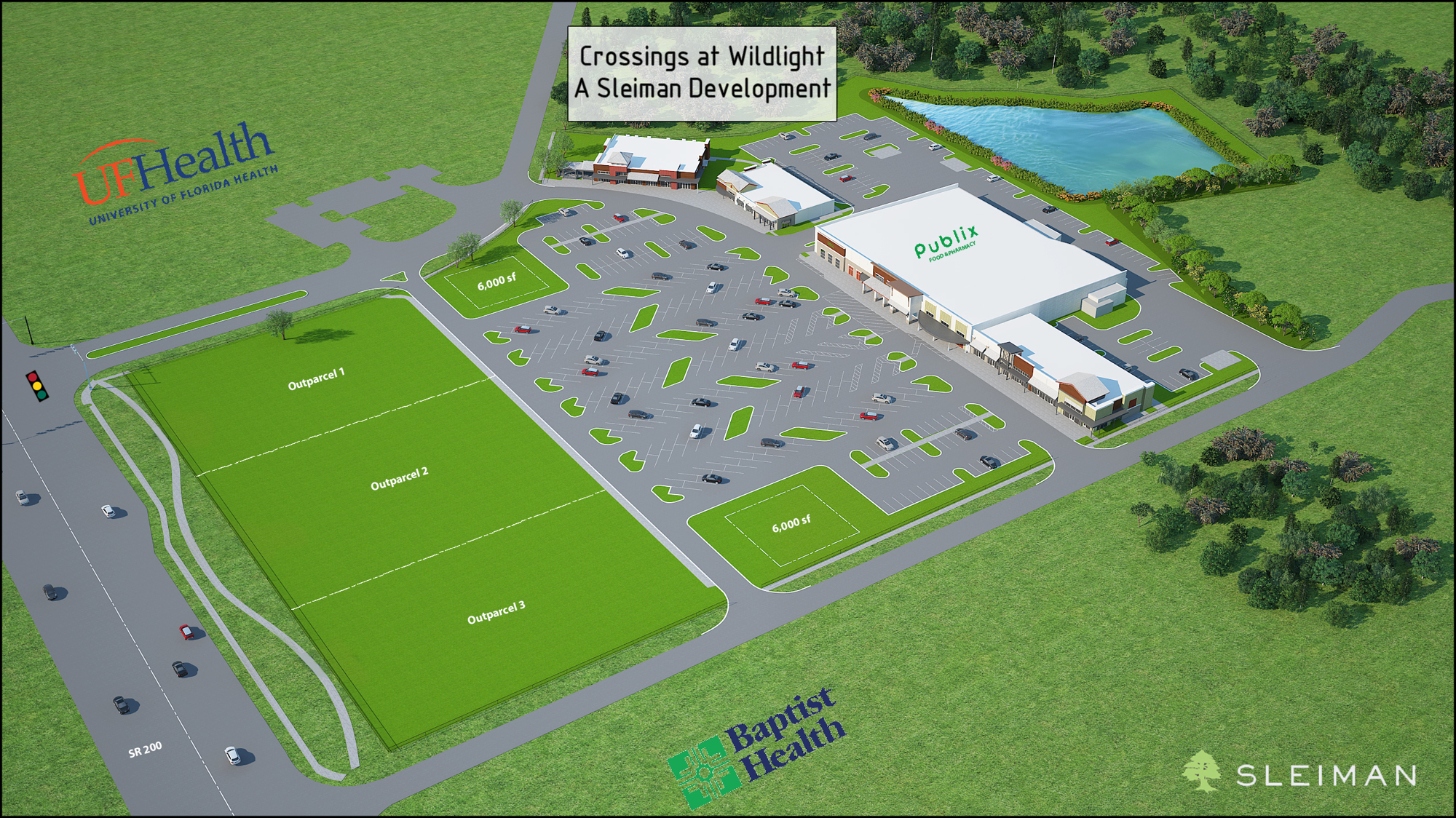 Construction is expected to begin in March and be completed next spring.
The Crossings will include three multitenant retail buildings, two single or multitenant buildings and up to three outparcels. 
A Sleiman leasing brochure shows the Publix will be 48,387 square feet. The three retail buildings will comprise one 12,000-square-foot space and two 8,400-square-foot buildings. Up to three outparcels would sit on 2.96 acres. 
"At the heart of our leasing strategy is to provide our communities with necessary and high-quality goods and services," said Michael McNaughton, Sleiman chief operating officer, in the release. 

"Grocery anchored neighborhood retail is the cornerstone to healthy vibrant communities and so important to sustain and, ultimately, strengthen them."
Wildlight is a master-planned 2,900-acre community in Nassau County along Florida 200 between Interstate 95 and U.S. 17. Raydient Places + Properties is the developer. 
"Adding an award-winning supermarket with quality products and legendary customer service has been at the top of our priority list. We know the new store and shopping center will greatly serve our residents and the larger community for years to come," Chris Corr, president of Raydient Places + Properties, said in the release.