Downtown Northbank
The COVID-19 pandemic slowed but did not stall retail, hotel and residential development and public infrastructure projects on Jacksonville's Downtown Northbank. 
Downtown Investment Authority CEO Lori Boyer expects work to begin this year adapting several roadways into two-way streets. Staff also plans to ask its board to issue a request for proposals seeking designs for a public riverfront park at the former Jacksonville Landing.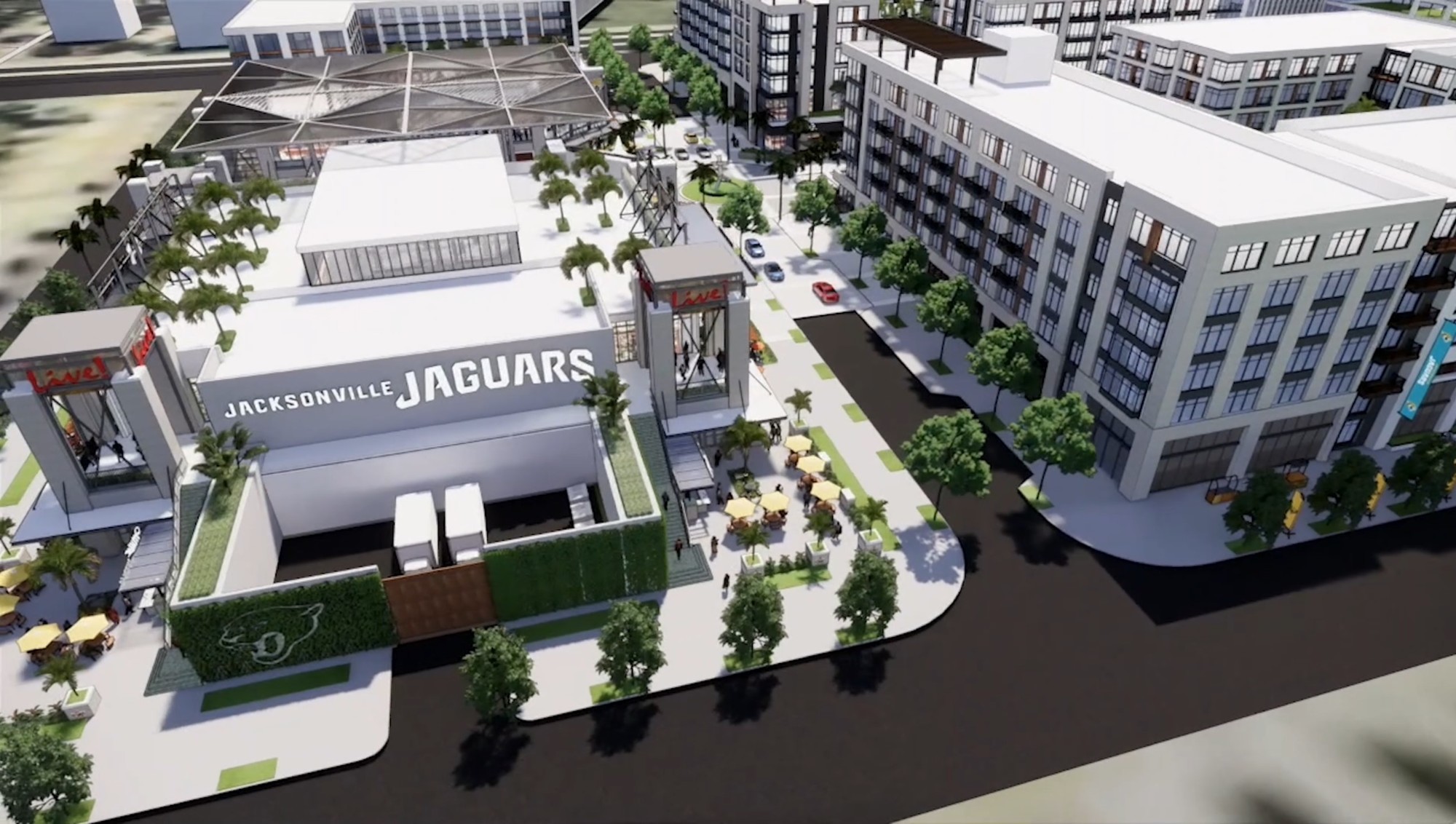 An expansion to the DIA's financial incentives for historic building renovations could close financial gaps in historic projects.
There's more uncertainty involved in larger and more expensive Northbank projects, including Jacksonville Jaguars owner Shad Khan's $450 million Lot J project and his desire to include a Four Seasons hotel in a $472.8 million development at Metropolitan Park.
Another Northbank riverfront site, The Ford on Bay, is in limbo.
The District
 The District, an estimated $600 million long-discussed Southbank mixed-use development, has the money to start site infrastructure work early this year. 
Dallas-based finance company Preston Hollow Capital LLC took control of The District landowner group Elements Development of Jacksonville LLC in October. It expects to announce vertical construction early this year.
Preston Hollow closed on $35.6 million in bonds Dec. 22 for private investment in an estimated $58.35 million in site infrastructure. The remaining $23 million will be covered by a Downtown Investment Authority grant approved as part of an economic development agreement with Elements. 
Preston Hollow is committed to 950 residential units; 200 hotel rooms; 200,000 square feet of office space; 121,600 square feet of retail; and a 125-slip marina.
River City Brewing Co.
Miami-based The Related Group waits for City Council to authorize its $92.34 million proposal to acquire and redevelop the Downtown Southbank River City Brewing Co. site into a 335-unit apartment building.
The Downtown Investment Authority board voted 8-0 in November to approve a 20-year, 75% Recapture Enhanced Value Grant capped at $11.9 million for what became a proposed mixed-used project after pressure from the public and officials to add a restaurant to the plans.
Related Group, a developer, has a contract to buy out River City owner Maritime Concepts' interest in the property and remaining 77-year land lease with the city.
The developer intends to close on the riverfront property by July 31 and complete the eight-story apartment building, 5,000-square-foot outdoor restaurant, public marina and 500-space parking garage by April 2025.
Regency Square Mall
Regency Square Mall enters 2021 with a "bad news, good news" story.
The bad news is the loss of the mall's last anchor tenant. J.C. Penney Co. closed its store in October, part of the national retailer's Chapter 11 bankruptcy, after more than 50 years in business at the shopping center.
That leaves only small independent retailers and a few national brands remaining open in the 1.4 million-square-foot center.
The good news is that Impact Church completed its $5 million renovation of the former Belk department store. Church members cut the ribbon Dec. 19 and had the first services in the new sanctuary Dec. 20.
The other major driver of foot traffic likely will remain in 2021, the COVID-19 public testing site in the former Sears space at the west end of the mall.
In other news of change: Jacksonville developer Rimrock Devlin has a contract and is in due diligence to buy and redevelop the property.
Fidelity National Information Services Inc.
As Jacksonville's largest construction project started in 2020, the $156 million headquarters for Fidelity National Information Services Inc., will reshape the St. Johns riverfront in the Brooklyn area of Downtown as it develops in 2021.
The 12-story, almost 380,000-square-foot headquarters tower and eight-story, almost 1,650-space parking garage at 347 Riverside Ave. are expected to be completed in June 2022. Gilbane Building Co. is the contractor. Hines is the developer.
The project will create an even bigger presence for FIS and related companies along Riverside Avenue. It adds to the office, apartment and retail redevelopment of the Brooklyn and Riverside neighborhoods.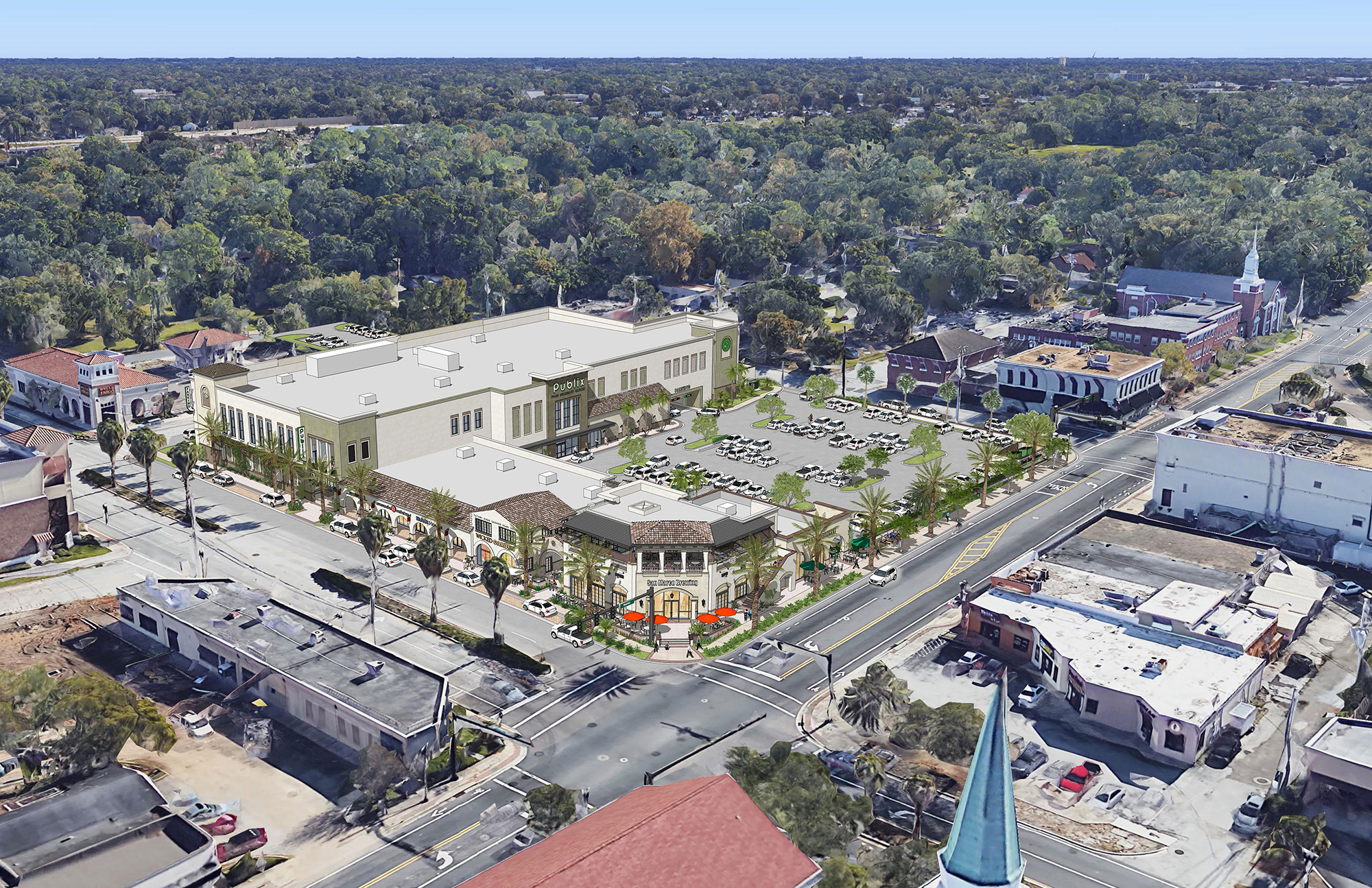 East San Marco
Will 2021 be the year?
Workers are preparing the East San Marco site for construction in the new year. 
The long-awaited project, which is expected to include a 39,000-square-foot Publix grocery store along with restaurant and retail space, looks like it may finally be underway this year with completion expected by summer 2022. 
The project has been in the works since 2002. In May, plans were filed with the city and the St. Johns River Water Management District, alerting that the project was back on track. 
While it saw some COVID-related delays, work began again at the site in 2020.
College Park
The transformation of the former Town & Country Shopping Center into College Park may begin by mid-2021.
JWB Real Estate Capital paid $5.08 million in August 2019 for the 200,000-square-foot center on 19 acres along University Boulevard north of the Arlington Expressway. The developer anticipates investing another $10 million to complete the project.
In addition to a mural already painted on a building along the expressway, plans include updating the existing retail facade, adding two apartment buildings and an outdoor food court and returning a grocery store to the property.
The site is within the Renew Arlington Community Redevelopment Area, established by City Council to promote economic development.
St. Johns Town Center
As shopping mall retailers continue to struggle with challenges created by COVID-19, there's construction underway at St. Johns Town Center in South Jacksonville.
An $18 million, three-story store with a rooftop bar and restaurant is being built at 4831 Village Shops Way for RH, formerly known as Restoration Hardware. It's near Tesla and Apple.
Ashco Inc. is building-out the former Thomasville furniture store near The Markets at Town Center for conversion into Town Center Medical Plaza.
The plaza is designed to be "medical retail transformed, capturing the current demand for a Class A medical and retail experience," Ashco said in August when it bought the 13,200-square-foot store at 4853 Big Island Drive for $2.3 million.
Amazon.com Inc.
Since Seattle-based Amazon.com Inc. opened its first Northeast Florida fulfillment center in September 2017, the online retailer has opened, announced or indicated plans for 11 area locations.
Apparently there will be more because at least one company representative said Amazon wants to set up more delivery stations to speed up customer service throughout the area.
Amazon's 11 sites – open or in development  – are in North, Northwest and West Jacksonville, and a delivery station is planned in St. Johns County.
They comprise three fulfillment centers; a sortation center; jka heavy bulk freight delivery center; five delivery stations; and another center with an unidentified function.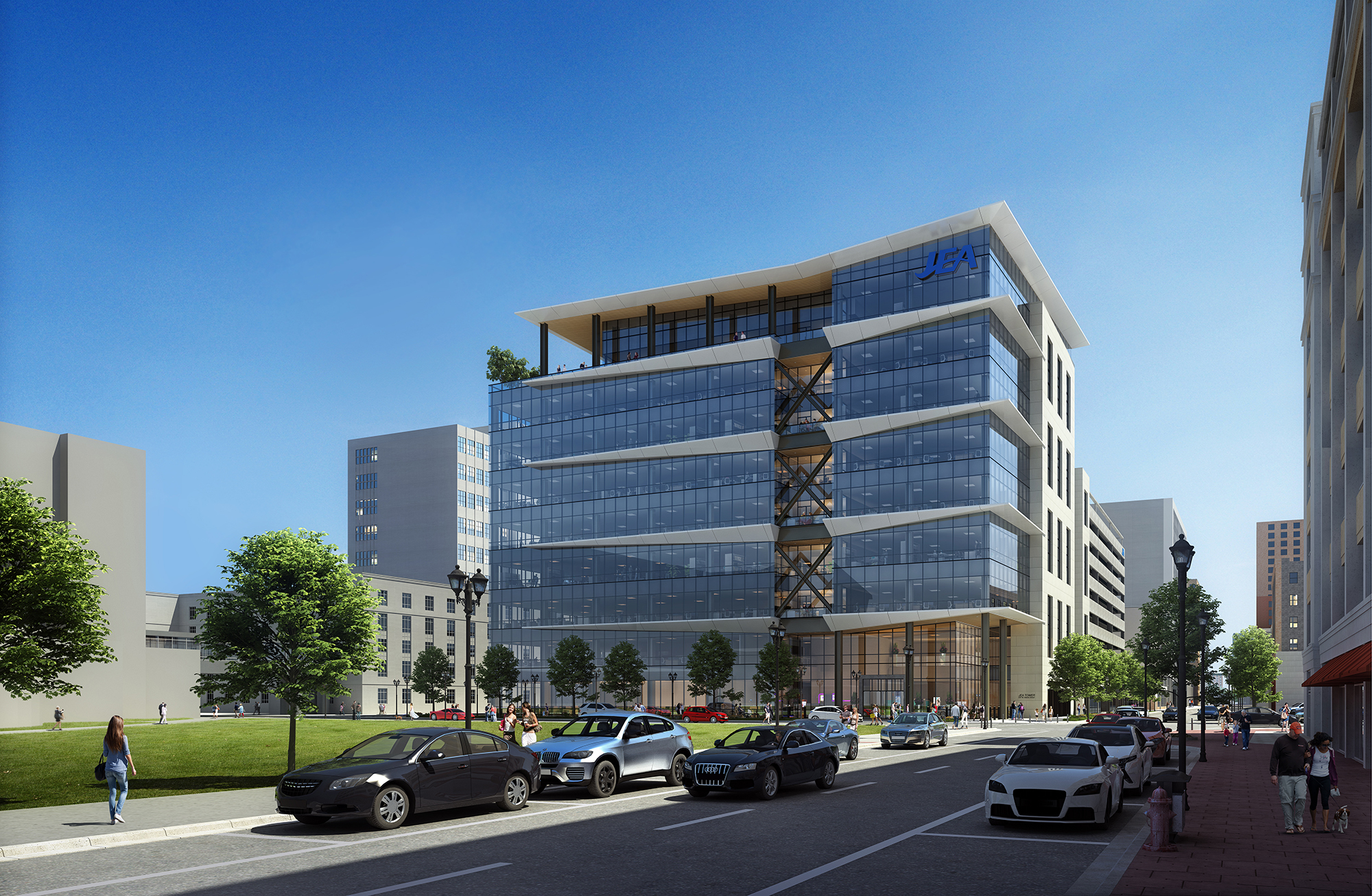 JEA's new headquarters
Construction of JEA's new headquarters near the State Attorney's Office and the Duval County Courthouse is underway with site work and a permit application for a $31.1 million construction project submitted to the city Dec. 7.
The Downtown building will replace the city-owned utility's current headquarters and customer service center at 21 W. Church St.
JEA's new building is designed at 162,741 square feet among eight floors with an adjacent 657-space parking garage. Completion is anticipated in early 2022.
The utility also intends to build a 40,000-square-foot emergency operations center designed to withstand severe weather and allow JEA to maintain operations during a catastrophic hurricane. It is near LaVilla School of the Arts.