North Core 
Four developers — JWB Real Estate Capital, Augustine Development Group, ACE JAX LLC and Jim and Ellen Wiss — have announced $116.1 million of investments in the historic area they've collectively branded the North Core.
The North Core is bordered by State, Broad, Church and Main streets.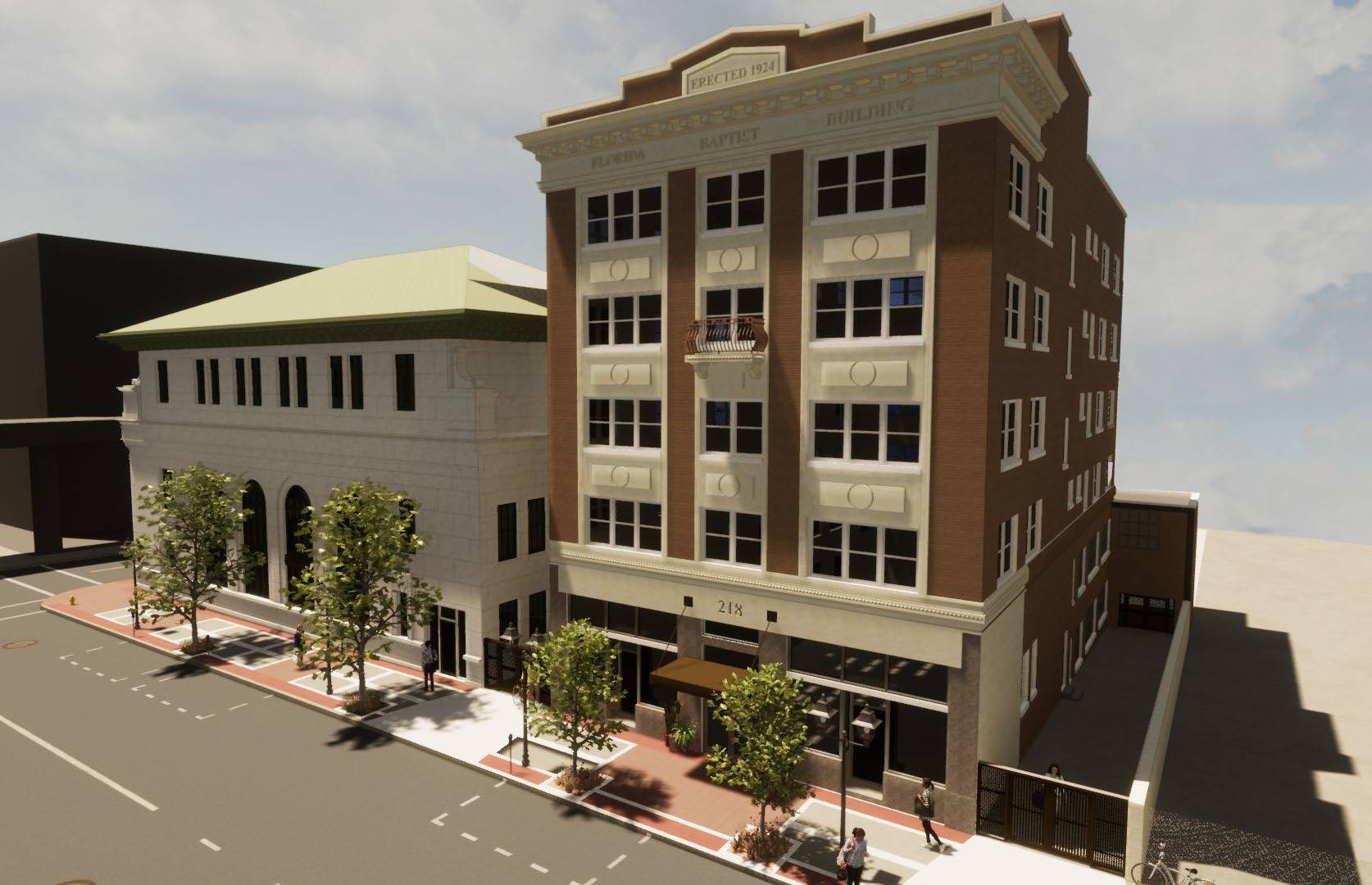 JWB, led by president Alex Sifakis, plans to invest $11.4 million to redevelop the Federal Reserve and Baptist Convention buildings.
The Wisses acquired from First Baptist Church nearly a full city block that they intend to redevelop.
Augustine Development's plans date back to July 2018. The St. Augustine-based company plans to tie three projects together. 
ACE JAX LLC, controlled by Petra Management Inc. Vice President Elias Hionides and Christian Allen of Atlantic Beach, bought the Jones Brothers Furniture Co. Building and the Western Union Building.
North Jacksonville
North Jacksonville, a vast area north of the Trout and St. Johns rivers and primarily east of Interstate 95, historically has been an area known for transportation and industry.
It encompasses Jacksonville International Airport, two JaxPort shipping terminals and access to the highway and railroad system that make it attractive for logistics.
In recent years, the availability and cost of land has lured thousands of homes and apartments as well as shopping centers and hotels. More are on the way.
Industry also continues to heat up, with hundreds of acres of business parks under development or proposed, including Amazon.com fulfillment and delivery centers.
eTown
East of Interstate 295 and Florida 9B
When Publix Super Markets Inc., Gate Petroleum Co., Baptist Health and a Jacksonville Fire Station are on the way, an area is up-and-coming.
Thousands of homes and apartments, a commercial center, amenities, nature trails and parks are under development at eTown, a 1,500-acre community generally east of Interstate 295 and Florida 9B in southern Duval County.
In March 2019, The PARC Group announced eTown, which is marketed as a smart-living community built around technology connections on land owned by the Davis family.
Neighborhoods are named after inventors.
Publix has not confirmed a store, but plans show a location that fits it. The city is reviewing the fire station.
Gate Parkway
Between Butler Boulevard and Interstate 295
The 2.5-mile stretch of Gate Parkway from Butler Boulevard to where it ends east of Interstate 295 is filling up – fast.
With St. Johns Town Center north of Butler Boulevard, the southern stretch of Gate Parkway benefits.
Developments include the Southside Quarter office, retail and residential community; the Gateway Village at Town Center retail and hotel project; two Deutsche Bank campuses; and office buildings, self-storage, furniture stores Ikea and Baer's Furniture, hotels and the FBI Jacksonville Division office.
More is on the way. Ash Properties plans a retail center and Culver's is building a restaurant.
More land is for sale.
St. Johns County
Development in St. Johns County, especially the northern part, shows no signs of stopping.
Hospitals, including Ascension St. Vincent's St. Johns County and Baptist Health, are popping up along Interstate 95 at County Road 210 and Florida 207. Mixed-use developments are underway, such as the Fountains at St. Johns and Durbin Park. 
A 2,782-acre master-planned community, Parrish Farms, led by MasterCraft Builder Group owner Chris Shee, likely will move forward with rezoning and permitting. 
Residential developments, such as Beachwalk and SilverLeaf, are filling in. Apartments and single-family homes are being built to keep up with an influx of residents. 
Nocatee
While housing has been expanding in the master-planned Nocatee community in St. Johns and Duval counties, the area is seeing more varied types of development, some of which will come online in 2021.
In 2020, Publix's GreenWise Market, First Watch, and Baptist HealthPlace and YMCA opened in Nocatee. 
Several others, like The Link innovation incubator, CVS Pharmacy, Fleet Landing and RangeWater Real Estate, announced their intent to build in the community. 
Newsweek magazine named it Florida's best place to live in 2020 and RCLCO Real Estate Advisors ranked it No. 8 among its Top 50 Master Planned Communities of 2020.
San Pablo Parkway
Mayo Clinic is the dominant fixture along San Pablo Parkway, and it is drawing development in the parcels up and down the 2.5-mile corridor from Atlantic Boulevard south to Pablo Creek Reserve.
The parkway already sports residential and office developments and is entitled for much more, including a planned Gate gas station and convenience store.
While additions to the Mayo Clinic campus, like the $65 million Mayo North building, account for some of the growth in the area, residential and mixed-use development also are on the rise.
A 304-unit multifamily development with space for more development is planned at San Pablo Parkway and San Pablo and Sam Yepez roads.
Wildlight
Planned community in Nassau County
The Wildlight mixed-use, master-planned community established by Rayonier Inc. in Nassau County 20 miles north of Jacksonville will continue implementing its Phase 1 plan in 2021.
About 700 single-family homes and townhomes and 300 apartments are being built on 291 acres of the 2,900-acre site. It also features parks, trails and 350 acres of preserved wetlands.
Wildlight Village, a 500,000-square-foot commercial development, includes retail, restaurants and offices.
Wildlight is at northeast Interstate 95 and Florida A1A.
"In 2021 we plan to release a number of announcements concerning new neighborhoods, amenities, restaurants, retail tenants and project phases," said Wildlight spokesman Alejandro Barbero.
"Project activity is high and the opportunity pipeline is robust as more people are understanding the higher quality of life, great schools and healthy outdoor amenities that are unique to Wildlight."
Springfield
North of Downtown Jacksonville
The historic Springfield neighborhood, anchored by Main Street north of State Street, will continue to redevelop in 2021.
Springfield Preservation and Revitalization Executive Director Kelly Rich said the population of the area increased by about 1,000 residents in the past three years and homes continue to sell as fast as they are listed.
"It's a great time to be a Realtor in Springfield," Rich said.
Commercial activity also is thriving. Two ice cream shops and a restaurant opened in 2020; in 2021, Reddi-Arts will open along Main Street; and the Rethreaded nonprofit, now in the Rail Yard District, will renovate a former industrial complex near Springfield.
The nonprofit, which helps survivors of human trafficking, plans to convert three buildings at 515 E. Ninth St. for office, retail, commercial, warehousing, light manufacturing, counseling services and vocational training.
SPAR, the nonprofit neighborhood advocacy organization, also will move into newly built-out offices at 1321 N. Main St. in February, Rich said.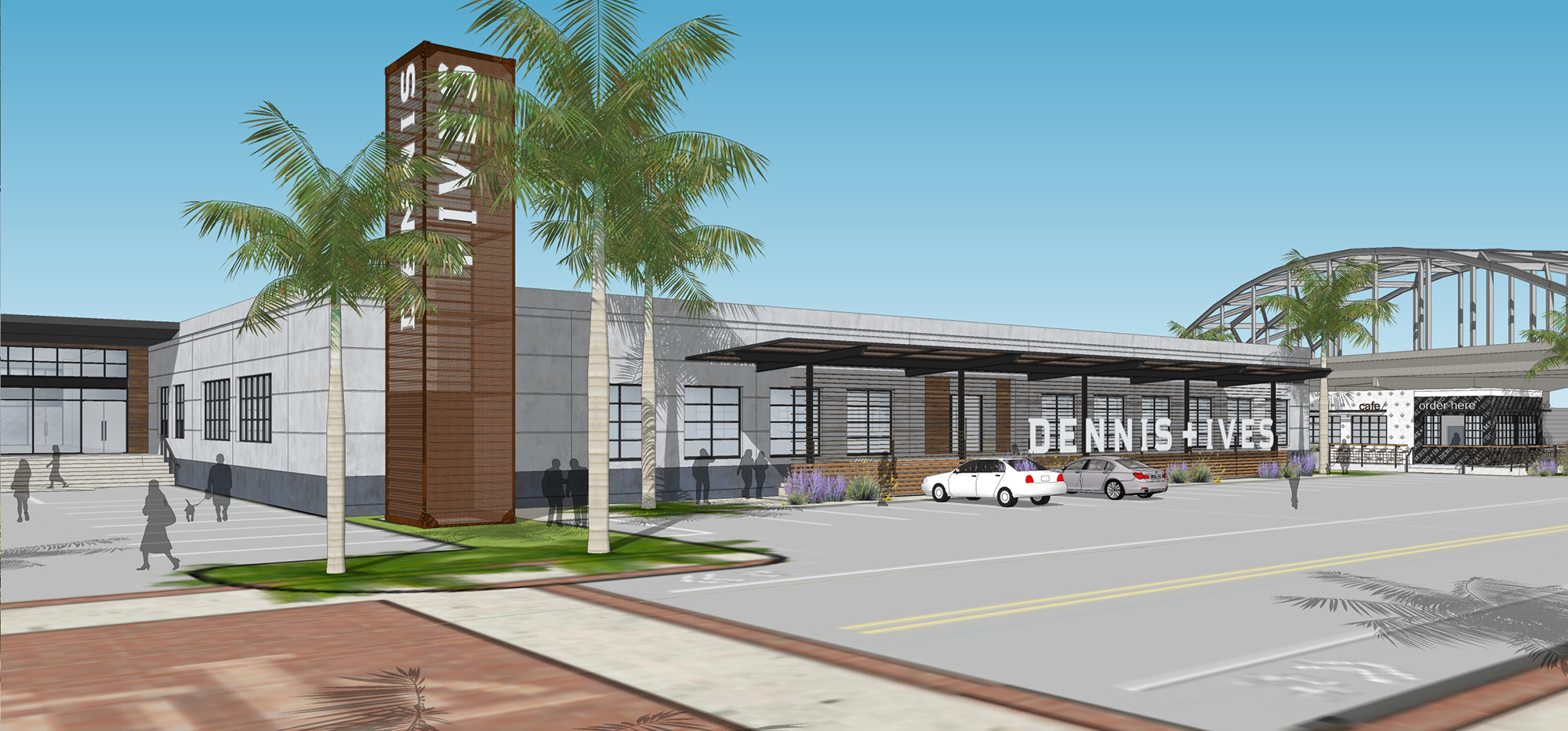 Rail Yard District
West of Downtown along Interstate 95
Dennis + Ives, a project designed to include a brewery, coffee shop, restaurant and lounge, social hall and office space is under development at 1505 Dennis St. in the Rail Yard District.
The city issued a permit Dec. 21 for the first step, demolition of a 42,500-square-foot building on the site.
That initial phase comprises converting part of the former Caribbean Cold Storage property on the site into nearly 28,000 square feet of office space. Demolition and removal of the refrigerant and rack systems is scheduled to be completed in early 2021. The space is expected to be ready for tenants by late 2021.
The next step will convert adjacent buildings into restaurant and beverage service spaces.
The development group, 95 Arch Partners QOZ Fund LLC, comprises Tom Finnegan of Charleston, South Carolina; Trip Stanly, managing member of Blackwater Capital LLC in Jacksonville; and former Jacksonville resident Ken Grimes, senior managing director and partner of Patterson Real Estate Advisory Group in Charleston.