JEA halted its search for a master developer for 2,000 acres, including the St. Johns River Power Park and surrounding parcels, as the utility's CEO plans to reengage JaxPort officials and other community leaders about redeveloping the property. 
Jacksonville's municipal electric and water utility issued a notice Jan. 21 formally rescinding a request for qualifications to solicit interest from companies internationally to determine the best use for the northern Duval County property.
JEA released the request Nov. 2. It includes 1,100 developable acres that housed a decommissioned coal-fired power plant, the St. Johns River Coal Terminal and other parcels. 
The property is northwest of JaxPort's Blount Island Marine Terminal and near the St. Johns River. 
According to the request, the property has a berth on the Jacksonville harbor channel as well as 6.2 miles of private on-site rail track with access to CSX Corp. Class I and Class II railroads.
JEA spokesperson Simone Garvey-Ewan said in a Jan. 22 email that utility CEO Jay Stowe plans to talk with JaxPort leadership.
This reengagement comes after the independent authorities stopped coordination on the property in September.
In a Sept. 21 letter, JaxPort board Chair Jamie Shelton said the port authority would consider acquiring the St. Johns River Power Park for redevelopment but was not interested in engaging in a joint RFQ.
"We recognize that JEA's primary function outlined in its charter is to operate utility services. Given our separate missions, we do not see a clear nexus for participating in a joint RFQ or how it might advance the charge from our Charter," Shelton wrote.
Former interim JEA CEO Paul McElroy announced in August he was speaking to JaxPort officials about the site.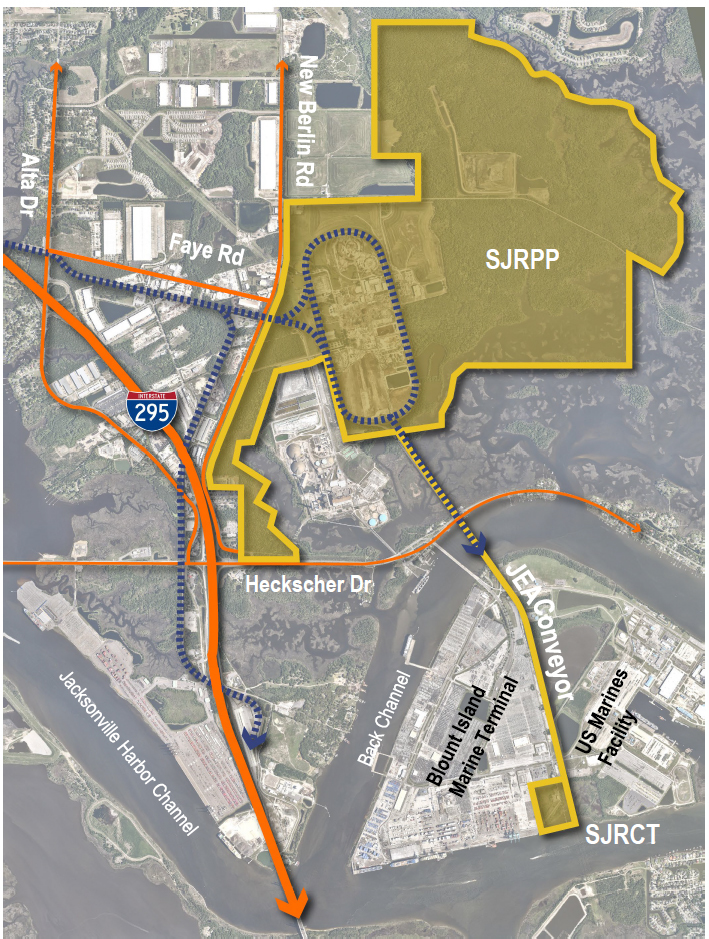 Garvey-Ewan said Jan. 22 the goal is to find the "best redevelopment opportunity for the citizens of Jacksonville."
JaxPort Public Information Officer Chelsea Kavanagh said port authority leadership declined to comment Jan. 22 about the possibility of reentering talks with JEA about the property. 
JEA is performing due diligence to prepare the site for redevelopment or a sale, according to Garvey-Ewan.
"This includes additional title, survey, permitting and inspection work," she said. 
Stowe and JEA's internal procurement team are exploring opportunities for the site, Garvey-Ewan said. 
"The mission is to release the SJRPP property for development or a potential sales transaction only if it results in the highest-and-best use for the community," the email states. "JEA will explore if this includes maritime use or another opportunity."
The request for qualifications was rescinded based on recommendations from a third-party consultant. JEA did not identify the consultant in the Jan. 22 email. 
"JEA will pursue the recommended entitlements for the property prior to release of the SJRPP property for development or a potential sales transaction — additional title, survey, permitting and inspection work," Garvey-Ewan said.
JEA completed implosions of the decommissioned 1,264-megawatt generating plant in July 2019 and expects demolition to be complete early this year.
The St. Johns River Power Park started producing electricity in March 1987. The plant, co-owned by JEA and Florida Power & Light Co., was shut down Jan. 5, 2018.
JEA said closing the plant, which consumed 4.5 million tons of coal a year, reduced its carbon footprint by 30%.