Jacksonville-based Hanania Automotive Group owner and CEO Jack Hanania has a contract to buy the former Stein Mart building on the Downtown Southbank for $20.6 million.
He intends to move his corporate headquarters there and put the Hanania name on the building.
"I have a lot of passion for our Downtown and our community," said Hanania, who grew up in Lakewood and lives in San Marco, both neighborhoods near the Southbank.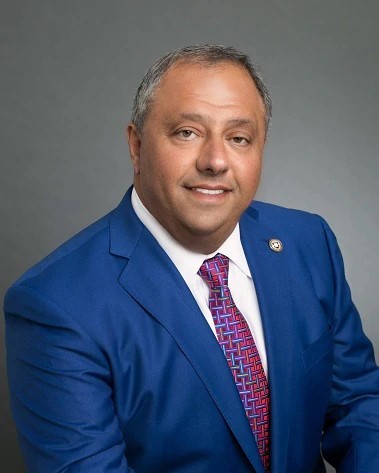 "I think Downtown is poised to explode."
It also is the first time in memory that a single individual has purchased a high-rise building Downtown to put a name on it.
Hanania said July 25 he hopes it encourages others to do the same, saying such investment indicates to outside companies that local investors are willing to put money into the community.
"It will help stimulate more Downtown projects," he said.
Hanania and investment partner Joe Hassan already own two Downtown Northbank buildings – the six-story historic Dyal-Upchurch Building at 6 E. Bay St., purchased in 2017, and the three-story Title & Trust Company of Florida Building at 200 E. Forsyth St., acquired late last year.
"I grew up in Jacksonville and I want to do my part to preserve Downtown Jacksonville," Hanania said when buying the Title & Trust building.
Hanania is buying the Stein Mart property on his own and intends to incorporate it. He said the purchase is scheduled to close by Aug. 31. 
The 10-story Class A building has 200,627 rentable square feet and an adjacent six-level, 525-space parking garage. The property comprises 1.92 acres at 1200 Riverplace Blvd.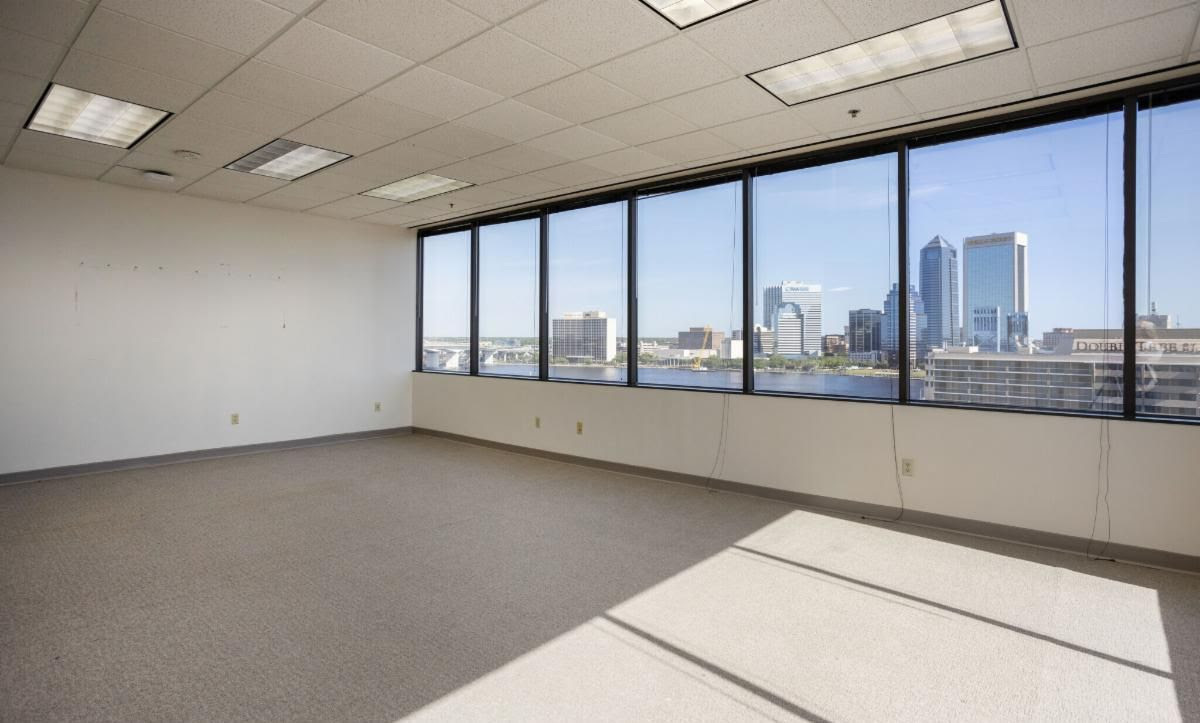 An affiliate of Virginia-based Lingerfelt CommonWealth Partners bought the garage and building, developed in 1985, for $23.625 million in 2016, according to Duval County property records. 
Jacksonville-based fashion retailer Stein Mart Inc. had its headquarters in the building, but the company filed for Chapter 11 bankruptcy in August and went out of business, vacating its offices. The Stein Mart name was removed from atop the building in November.
Lingerfelt CommonWealth Partners had scheduled the property for auction this week.
The TenX commercial real estate exchange company and Jacksonville-based Newmark Phoenix Realty Group announced the auction in May. The initial online listing said starting bids would be $7 million.
They scheduled the auction for June 14-16, postponed it a month and then another week. The building has been removed from the online site.
Hanania said the auction was postponed because of the conversation and negotiation.
Hanania said he began speaking with Lingerfelt CommonWealth Partners in May. They started at $25 million and negotiated to $20,650,000.
"It was a good decision for all parties," Hanania said.
Lingerfelt CommonWealth Partners issued a statement July 26 by email.
"We are happy that our sale of 1200 Riverplace to Hanania Automotive Group will bring additional jobs and investment into downtown Jacksonville," said Robert Valentine, vice president of investments and asset management.
Another Downtown HQ
Hanania will move the group's corporate headquarters into 10,000 to 12,000 square feet of the tower, to be called The Hanania Building, in the next six months.
Hanania Automotive Group now is based among its Blanding Boulevard dealerships.
He intends to put the Hanania name at the top of the structure.
"I want to connect the brand name with the community," he said.
Hanania will move 25 headquarters employees Downtown to start but has not decided on which floor of the building.
Downtown Investment Authority CEO Lori Boyer welcomed the purchase.
"I am delighted with Mr. Hanania's continued investment in Downtown and the potential relocation of his corporate headquarters," Boyer said by email July 26.
"Jack is a prudent investor and businessman and his ongoing commitment to Downtown speaks volumes about our progress in recent years and the bright future ahead. We are thrilled about the opportunity to backfill the former Stein Mart HQ with the headquarters of another growing local business."
The automotive group employs about 1,000 people total among the office and dealerships, including 600 in Jacksonville.
Hanania's group has 16 auto dealerships in Florida, Alabama, Pennsylvania and Tennessee.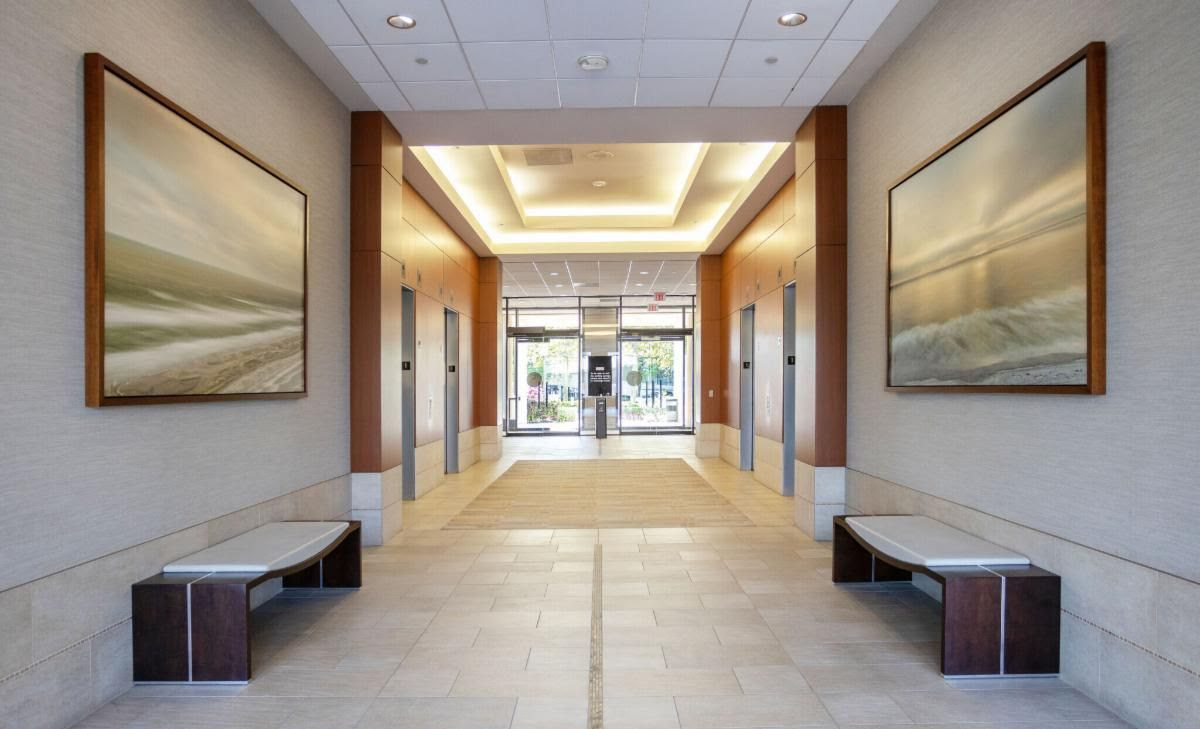 A 17th is scheduled for construction in Myrtle Beach, South Carolina, to open by the end of 2022.
Its dealerships include Acura, Audi, Honda, Hyundai, Genesis, Infiniti, Subaru, Volkswagen, Ford, Chevrolet, Mitsubishi and Buick GMC.
Hanania Automotive Group has three collision centers in Florida and Alabama.
Hanania said the Southbank location is centrally accessible to his dealerships along Blanding Boulevard in Southwest Jacksonville; Atlantic Boulevard in East Arlington; and in St. Augustine.
The Ten-X online auction listing said the building is 40.28% occupied. Stein Mart vacated about 109,000 square feet, including the top floor with views of the river, Northbank and along the neighboring Southbank.
"The Property offers qualified owner users and investors the opportunity to acquire a trophy asset with significant upside by filling vacant space and drive rental growth," says the auction materials.
"They will benefit from acquiring an asset well below replacement costs in a true urban infill location."
At a general rate of $600 per square foot, the construction cost of replacing the office building would be $120 million.
Hanania intends to invest in property upgrades and attract tenants to the structure. He said the parking garage and covered access into the building will help.
He said he will hire a real estate professional for representation and management but has not done so yet.
Redevelopment in view
The 1200 Riverplace property is in an area surrounded by redevelopment.
To the west are the continually expanding Baptist Health campus; the redeveloping River City Brewing site into apartments; and the Museum of Science and History, which intends to move to the Northbank and make its property available.
To the east are The District, now called  "RiversEdge: Life on the St. Johns;" the Duval County Public Schools headquarters building that is expected to be redeveloped; and the Kings Avenue and Hendricks Avenue corridors of investment and construction.
"We feel like it will be accessible for growth on the Southbank," Hanania said.
Across the St. Johns River on the Northbank, the riverfront is poised for redevelopment with the Shipyards area by Jacksonville Jaguars owner Shad Khan.
Also along the Northbank are the vacant former City Hall and Duval County Courthouse sites; the Jacksonville Landing/Riverfront Plaza property; and the One Riverside Avenue project proposed by Atlanta developer Jeff Fuqua.
Hanania also said the Laura Street Trio redevelopment and other projects in the Downtown core are encouraging.
"That would be a game-changer," he said.
He said Jacksonville-based VyStar Credit Union's investment into buying a tower and office building for a campus show local corporate commitment.
Hanania said his purchase also is an allegiance to the city and his company.
"It's going to add a lot to our ability to grow and support our team."