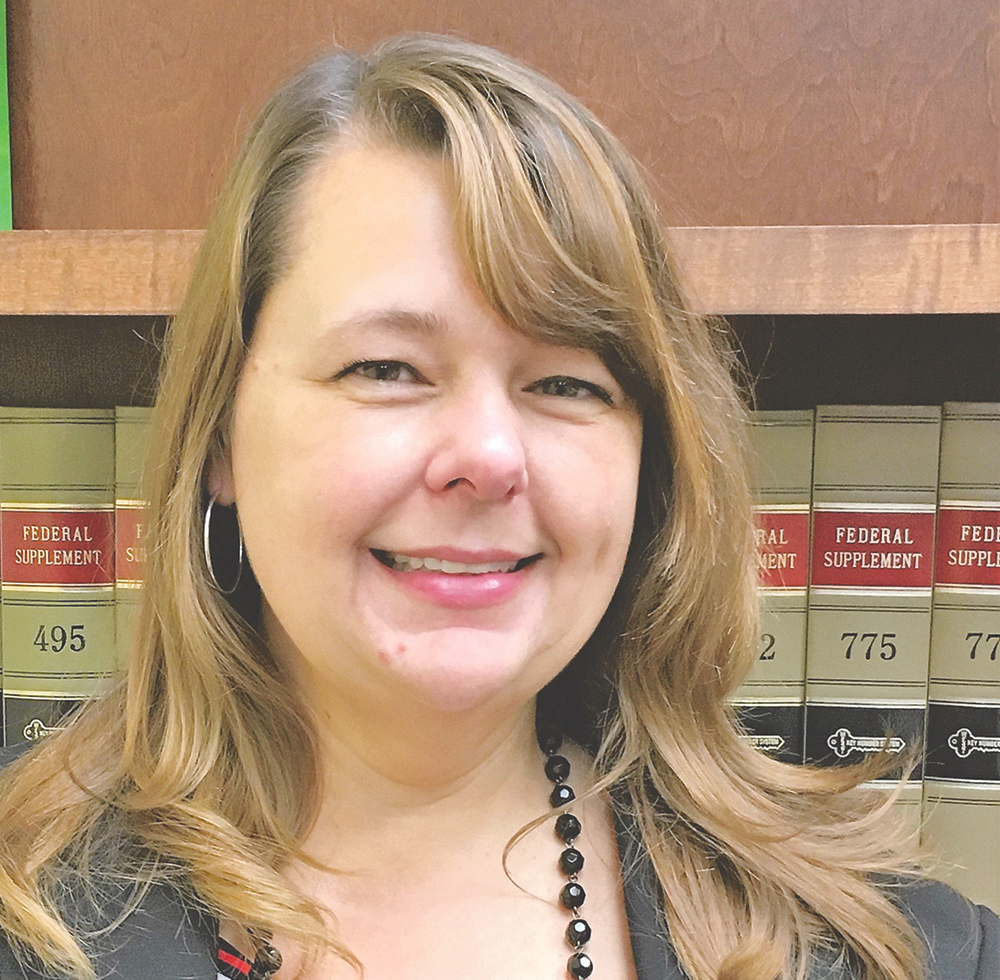 Missy Davenport • JBA Pro Bono Committee Chair
While there is a process for lawfully withholding rent when a landlord has not repaired unsafe conditions in a rental property, that does not always result in a satisfactory outcome for the tenant.
Christina McEuen recently faced such a situation. Luckily, she came to Jacksonville Area Legal Aid and attorney Nick Pulignano was willing to step in to volunteer his time to assist McEuen after several private firms declined her case.
Pulignano, whom McEuen describes as "amazing," details the case:
What were the basic facts of your case?
In 2017, Ms. McEuen signed a lease for a small home in Jacksonville. At that time, she had medically needy children.
After moving into the property, the tenant discovered the house had significant defective conditions including a leaking roof, leaking pipes and drains and a leaking water heater.
She promptly notified the landlord, who hired a handyman to make repairs. Despite attempts, the problems persisted and were not repaired. Those defects caused water damage and toxic mold contamination throughout the house, which rendered it dangerous and uninhabitable and put her and her children at risk. 
The client was forced to notify the city of Jacksonville Code Enforcement Department, which ordered the landlord to make the repairs.
After the landlord failed to make the necessary repairs, the client withheld the rent for two months resulting in an eviction lawsuit.
The client could not afford to relocate to another house because of lack of employment and living on a small, fixed income.
She attempted to represent herself, but after more than a year of litigation, and after paying more than $10,000 into the court registry for rent, leaving her nearly destitute, she contacted JALA.
By that time, many items of her furniture and furnishings were damaged or destroyed by water, mold and mildew.
What were you able to accomplish for your client?
Our initial efforts were to negotiate a settlement, asking that the landlord agree to release the court registry rent so the client could afford to move.
When those negotiations were not successful, we filed an amended answer, affirmative defenses and counterclaim, alleging the landlord breached the lease agreement by refusing to make repairs to the property necessary to make it safe and habitable as required by both the lease and by Section 83.51, Florida Statutes.
We then filed a motion to set the case for nonjury trial and asked the court to refer the case to County Court mediation. 
At mediation, the landlord agreed that the client would be paid $4,500 from the court registry, and the parties agreed that all claims and counterclaims would be dismissed with prejudice.  The mediator provided services at no cost to the parties. 
Why was the outcome important to your client?
The client had to borrow money to move out of the house The settlement funds allowed her to repay that debt, pay other moving expenses and replace some of her lost furniture.
Why was the experience important to you?
The satisfaction of seeing our justice system work and resolving the matter with a fair and appropriate outcome. 
What advice do you have for attorneys considering pro bono service?
Attorneys have an obligation to give something back to their communities, whether by public service or pro bono legal work. 
All of my pro bono work has been rewarding and memorable. The clients express unconditional gratitude for the help they received.
Nick Pulignano is the head of the Business Practice Group at Marks Gray. He serves as "outside general counsel" for many business owners and handles a variety of business and real estate-related matters. 
He was admitted to practice and joined Marks Gray in 1981 after attending the University of North Carolina at Chapel Hill on a Navy ROTC scholarship and receiving his law degree from the University of Florida Levin College of Law.
If you're licensed to practice law in Florida and would like to make a difference for someone who can't afford to retain an attorney, contact Missy Davenport at [email protected] for more information about pro bono opportunities.