Before Jacksonville Jaguars owner Shad Khan's Downtown development team brings his $441 million Shipyards and football performance center development to City Council this year, two key lawmakers say they are optimistic about the deal.  
Council members Randy DeFoor and Matt Carlucci voted against a $245.3 million public incentives package in January for Khan's proposed Lot J mixed-use entertainment complex, but both said they are encouraged that the Shipyards deal appears more transparent and will be vetted by the Downtown Investment Authority and Downtown Development Review Board. 
 "You have to be transparent if you go through the DIA process," Carlucci said. 
"I'm not saying that the Jaguars didn't want to be transparent before but somehow they got caught up in letting the mayor's office do the negotiations. No offense to the mayor's office, but the DIA is the sole agency to negotiate these types of things."
Khan, Jaguars President Mark Lamping and the team's affiliated real estate development entity Iguana Investments Florida LLC announced plans June 3 to build a Four Seasons Hotel and Residences, office building, marina and an orthopedic sports medicine campus in partnership with Baptist Health at the city-owned riverfront property. 
At the event, Khan added a city-owned football performance center near TIAA Bank Field to his Downtown development plans.
DIA CEO Lori Boyer said June 8 that a board committee could begin debate by the end of June on a term sheet for the Shipyards $321 million phase one, which includes the Four Seasons, office building and marina.
The DIA is treating the Shipyards like it would any property disposition, Boyer said, obtaining surveys, appraisals and other costs to make the city-owned land available for private development. 
DIA staff is evaluating the Jaguars' construction and operating budgets, she said.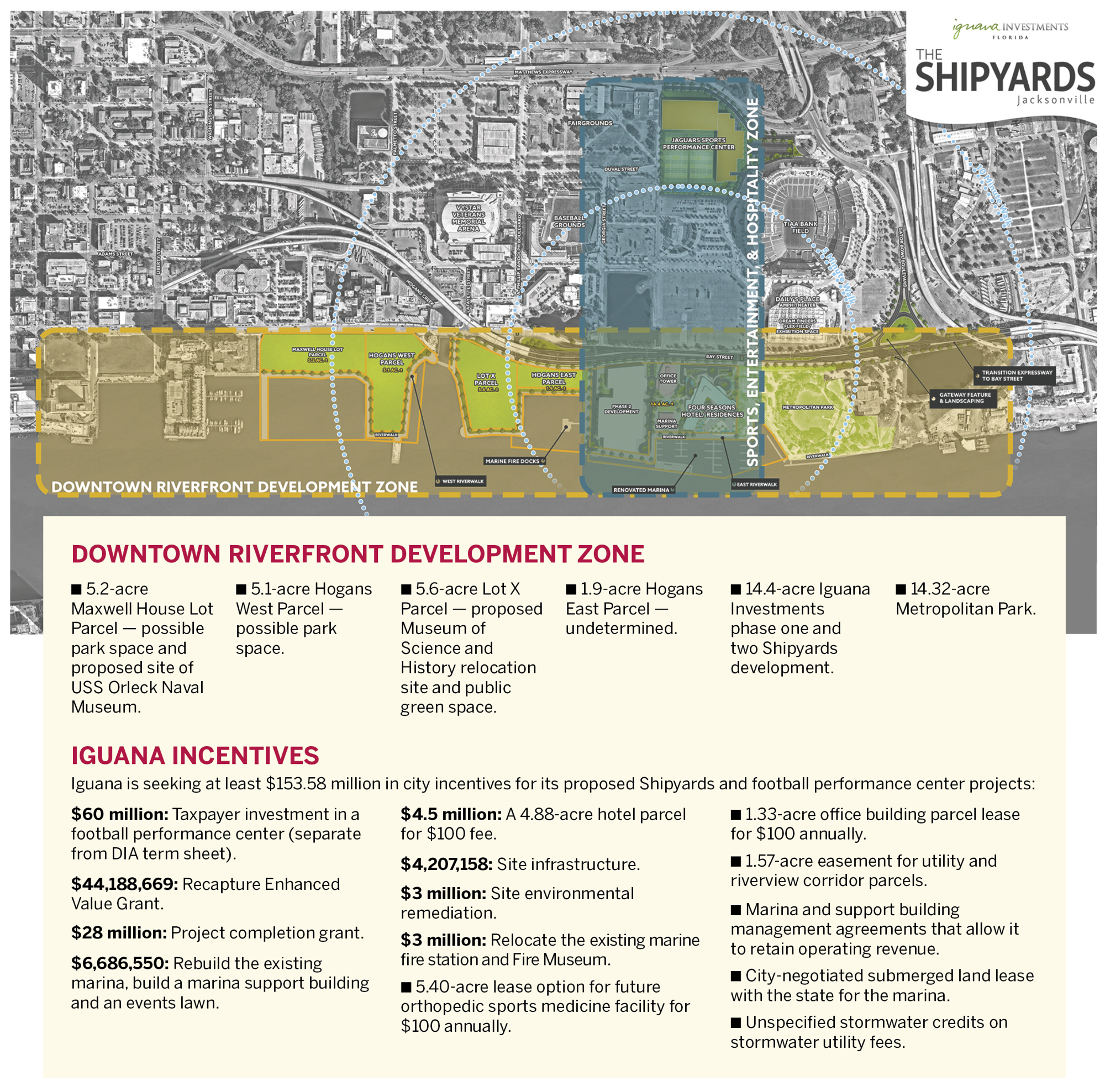 A DIA phase one draft term sheet shows $93.58 million in direct public incentives with a $1.20 return for every $1 the city invests.
Boyer said she wants to take the deal to the full DIA board in early July.
In the final weeks of the Lot J debate, Iguana's development partner, The Cordish Companies, declined DeFoor's requests to show its operating budgets and need for a $65.5 million "breadbox loan" from the city before she cast her no vote.
"I'm a lot more encouraged," DeFoor said.
"(The Jaguars) actually talked about ROI. The fact that they're talking in those terms and they're going through the DIA, I think this is going to be a much better deal," she said.
The Lot J deal required a 13-vote supermajority to pass, but only 12 Council members approved.
Mayor Lenny Curry said June 3 the Shipyards legislation likely will not have to reach that bar.
 "I'm grateful that we had 12 votes but in reality, it wasn't a win. Maybe if we had done some things a little bit differently, as this process has been, maybe (Lot J) would have passed. Who knows?" Curry told reporters after the Shipyards event at TIAA Bank Field. 
Iguana is not working with Cordish on the Shipyards or performance center. 
Lamping did not mention the Baltimore-based developer by name during the June 3 Shipyards presentation but he said "it's a lot easier if you only have one partner to deal with."
"You need to be more aggressive in telling your story. Perhaps your reliance on third parties to tell your story hasn't served you as well as it possibly could," Lamping said.
Iguana added real estate and land use law firm Driver, McAfee, Hawthorne & Diebenow to its Shipyards negotiating team, according to firm partner Steve Diebenow.
It will work with Council lobbyist and attorney Paul Harden, who represented Iguana in its Lot J effort.
Performance center negotiations
As of June 8, Boyer said the DIA has no role in negotiating the proposed public-private partnership for the 125,000-square-foot, $120 million football performance center. She said the Curry administration is leading those talks.
Curry said June 3 that negotiations with Iguana and the Jaguars are ongoing and his administration was not prepared to file legislation with Council.
Four Seasons and medical tourism
If Khan secures the Four Seasons flag as the Shipyards proposed five-star hotel, DeFoor says it will push higher standards for public park and private developments Downtown and could cement the Jaguars' future in Jacksonville.
Lamping said the Jaguars will commit $4 million over 20 years to help maintain the riverfront 14.32-acre Metropolitan Park. That piece of the deal stands out to DeFoor.
As the city prepares to negotiate stadium renovations in conjunction with a lease extension by the end of 2030, DeFoor said a Four Seasons next to TIAA Bank Field will give Khan another reason to keep the team in Jacksonville.
"If a Four Seasons is built, I don't think Shad Khan's going to want to walk away from his hotel," DeFoor said. 
Khan owns the Four Seasons hotel in Toronto, and Lamping said any deal with the city is contingent on the inclusion of a five-star hotel.
Costs and incentives for the phase two 42,000-square-foot orthopedic campus with Baptist are not included in the DIA term sheet.
DeFoor said it would bring further exposure to the city's effort to market Jacksonville as a national medical destination.
"If we can start bringing famous athletes here for treatment, it could be promising for medical tourism for Mayo (Clinic), Baptist (Health), (Ascension) St. Vincent's  and UF Health," she said.