2825 Mayport Road, Jacksonville
904-710-1411 | ELEV8Jax.com
Year founded: 2018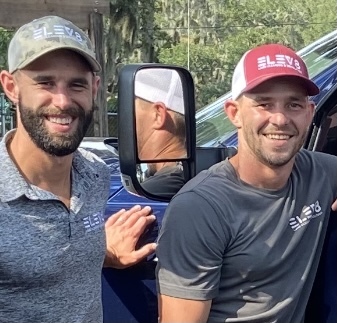 Principals: Owners Jon and Ben Pfotenhauer, brothers
Specialty: Demolition
Full-time employees: 7
2019 gross revenue: $1.8 milllion
2020 gross revenue: $3.8 million
Largest project started in 2020: Demolition of the former Bukkets Grill & Bar for $95,000
Portfolio Projects
Bukkets Grill & Bar. Demolition of a 25,000-square-foot oceanfront commercial building in Jacksonville Beach.
Kartouche Night Club. Demolition of the 15,000-square-foot commercial building in Downtown Jacksonville.
Cabana Club. Demolition of the 12,000-square-foot  oceanfront commercial building in Ponte Vedra Beach.
Forest Street church. Demolition of a 10,000-square-foot church in Downtown Jacksonville.
Bikini Beach. Demolition of a 5,000-square-foot building in Mayport.
Click here for Top Contractor No. 26