St. Louis-based Sugarfire Smoke House hopes to open its first Florida location in about eight weeks at 12959 Atlantic Blvd., east of Girvin Road.
Franchise owners for the Missouri-based barbecue chain estimate they are investing at least $600,000 in renovating a former Panera Bread restaurant at the end of a multitenant building in front of Lowe's.
The almost 4,880-square-foot location will seat 90, hire 30-40 employees and operate 11 a.m.- 9 p.m. daily, according to operating partner Shy Patel. It will serve beer and wine.
Sugarfire will offer the same menu as the chain's other locations, with some Florida touches that include what Juli Dharna, one of the four franchise partners, calls "a Florida vibe."
That includes a hanging fiberglass shark and a boat.
Anil and Juli Dharna are longtime friends with Sugarfire founder Mike Johnson, who was at the location March 11. The Dharnas moved to Daytona Beach five years ago from St. Louis and missed the food.
"Why don't we bring Sugarfire here?" Juli Dharna wondered.
With a franchise agreement, they and other franchise partners chose Jacksonville for the first site because of its demographics. 
Anil Dharna saw similarities between Jacksonville and St. Louis, plus "it has a beach."
Johnson said Jacksonville has great barbecue and he invites customers to try the Sugarfire fare, which combines several barbecue styles: Texas brisket, Memphis ribs and Kansas City ribs.
Plus, he said, "St. Louis is the barbecue sauce capital of the world."
Johnson said the Jacksonville restaurant will buy local, including seafood and meats, and also will hire a chef and a pastry chef. "We do a lot of pies," he said.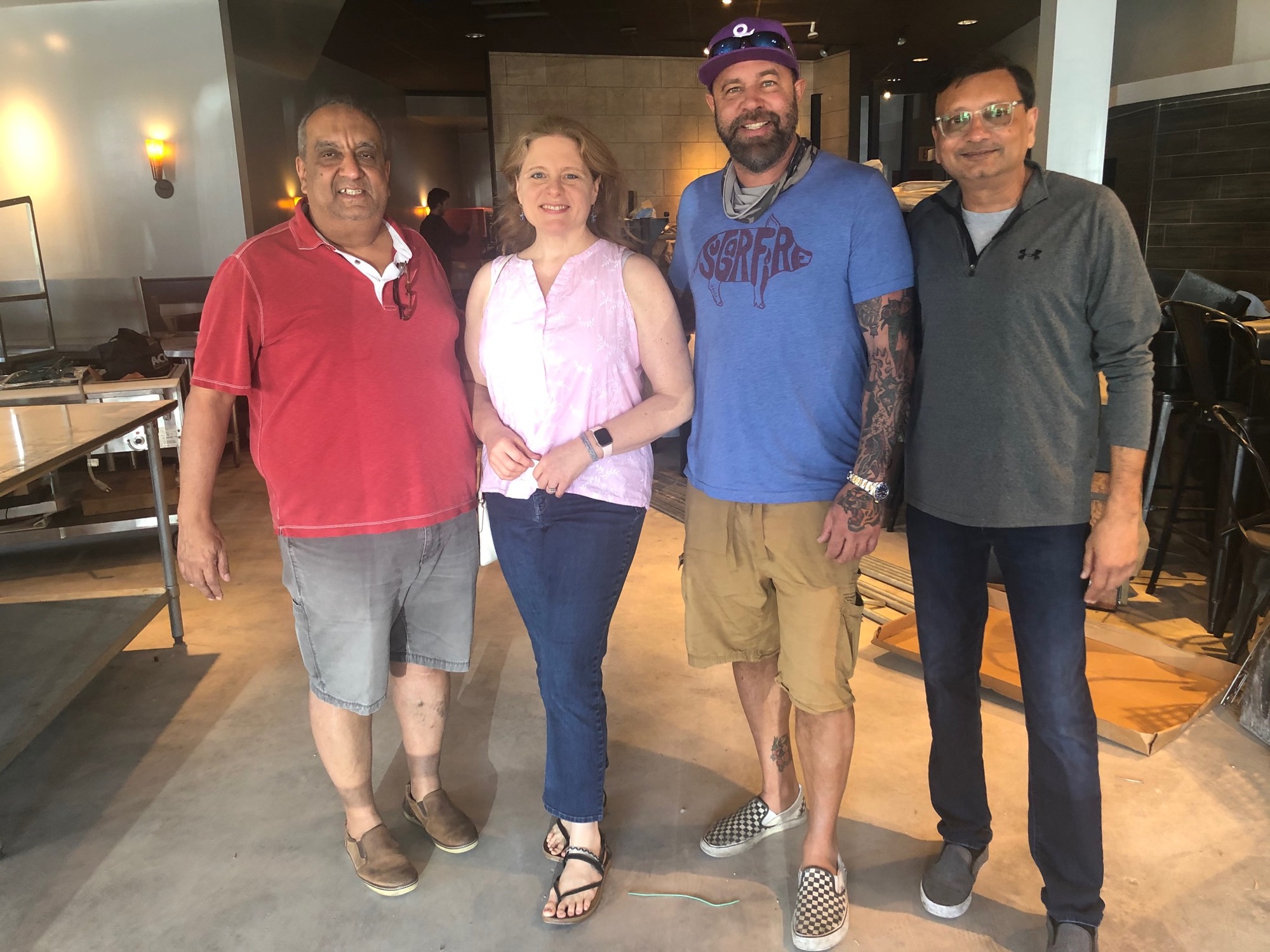 He said Sugarfire locations hire and train high-end chefs in the company's barbecue style and to produce local specialties.
Sugarfire's menu includes smoked ribs, brisket, pulled pork, turkey and sausage links, salmon, burgers, specialty sandwiches, salads, sides, desserts, shakes and floats, a kid's meal and more.
The Jacksonville restaurant will offer more seafood options, Patel said.
The restaurant offers dine-in counter service, carryout and delivery as well as catering.
The Dharnas and Patel said they will open more Sugarfire locations throughout Florida. "As many as we can," Johnson said.
They are considering Bartram Park and Mandarin for the next sites. Johnson said the franchise group, all from St. Louis, has the right of first refusal for development statewide.
Patel said previously his franchise group, BBQ Florida LLC, intends to open at least eight locations in Florida.
Johnson said Sugarfire prefers second-generation space, like the former Panera Bread. 
Those are more economical to retrofit than building new locations, although Sugarfire has developed ground-up restaurants, such as $4 million and $2.5 million new construction projects in the St. Louis area.
"I prefer second-generation ones," Johnson said. Those average $600,000 to $800,000.
The group began work toward the Jacksonville location almost a year ago, but the pandemic sidelined the timetable.
Johnson, Carolyn Downs and Charlie Downs opened the first Sugarfire in 2012. There now are 15 locations in six states. Johnson said four sites are company owned.
Sugarfiresmokehouse.com said Johnson has studied with Myron Mixon, cooked under Emeril Lagasse and Charlie Trotter, and has overseen the creation of six other restaurants. 
Carolyn Downs is a pastry chef, leading to the name, Sugarfire. All the locations use her recipes.
"Sugarfire has won so many awards it's hard to keep track. We were named Best Barbecue by the Travel Channel, St. Louis Magazine, Feast Magazine, and we've won awards at the Memphis in May World Barbecue Championships," says the website.
"We've been featured on Pitmasters, Beat Bobby Flay, and Burgers, Brew, and Que."