Two of the four new food concepts coming to the VyStar Credit Union campus Downtown will open May 27.
Bread & Burger will open in the breezeway between the 100 W. Bay St. building and parking garage. Estrella Cocina will open on the rooftop of 100 W. Bay St.
 Jonathan Cobbs and Dwayne Beliakoff, owners of The Bread & Board, founded the concepts.
"Expanding to downtown is the perfect place to support the economic growth of the city while the downtown urban core continues to grow and thrive as a vital place to live, eat, play and work," Cobbs said in a May 13 news release.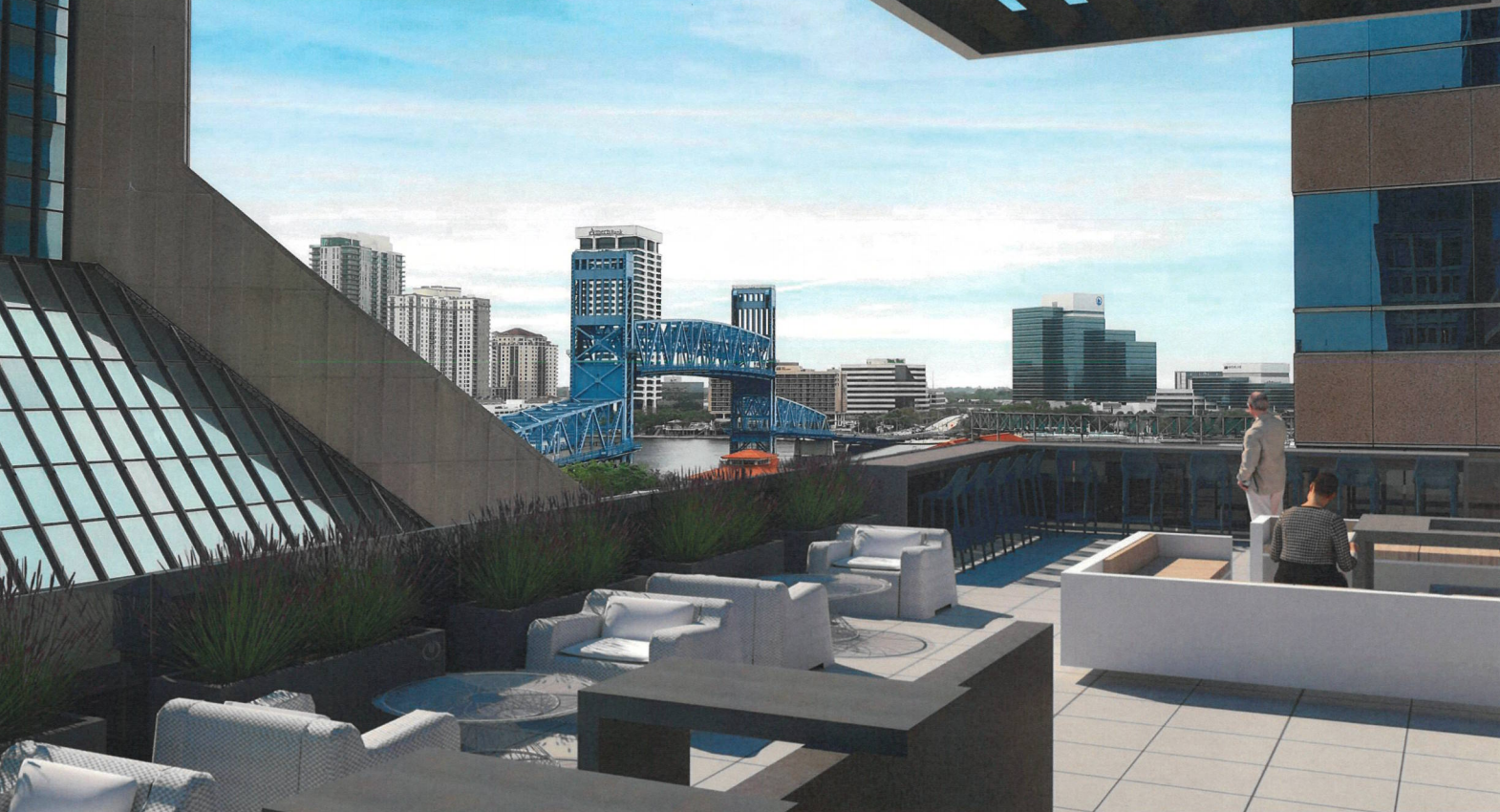 Bread & Burger will offer grass-fed beef burgers, herbed turkey burgers, crispy chicken breasts and spiced lentil patties on brioche buns. Also on the menu are hand-dipped one-quarter pound kosher beef corn dogs and fresh-cut french fries with toppings including garlic butter and herbs and Oregon white truffle oil. 
"Bread & Burger takes our expertise in preparing elevated hand-held fare to create over-the-top flavorful burgers and shakes sourced from local, fresh ingredients," Beliakoff said in the release.
The Estrella Cocina restaurant, bar and lounge is on the seventh-floor rooftop of 100 W. Bay St.
 "It features tastes of Baja coastal Mexican, Baja Mediterranean and SoCal-Mexican cuisines inspired by my travels and heritage." Beliakoff said.
Bread & Burger and Estrella Cocina will open to the public after a 10 a.m. ribbon-cutting ceremony for city leaders and guests. Hours are being finalized.
Two additional concepts for the VyStar campus, The Bread & Board restaurant and The Bread & Board Provisions marketplace, will open in June, according to the release.
The Bread & Board Provisions will offer take-and-go offerings and showcase local food and beverage producers.
There also will be a section featuring products from local vendors.
"We are creating a space that is authentic to who we are as a community," VyStar President and CEO Brian Wolfburg said in a news release.
"Supporting local small businesses is an ongoing focus for VyStar, and we are proud to be a part of an initiative that will bring people together and further ignite our downtown."