The Legend | 2020 Revenue: $250,000
For more than 50 years, the Edge City retail store has been a landmark in the Five Points shopping and entertainment district at 1017 Park St. between Riverside and Brooklyn.
A lot has changed in that time, but an icon remains after 45 years: Gunnel Humphreys, owner of Edge City.
The Swedish-born Humphreys and her business and life partner, the late Tom McCleery, bought the store from the original owners in 1975 for $3,000 – his severance pay from the office job that disenchanted him at Bethlehem Steel Corp.
"It was nothing we ever talked about. I think Tom didn't have another idea and the opportunity fell in our lap," Humphreys said.
Edge City opened in 1968 with three partners and became known for its selection of lifestyle-specific amenities like water beds, psychedelic posters, incense, cigarette-rolling papers and paraphernalia.
The idea to buy the small retail store in Five Points came from a friend and Riverside neighbor, Wayne Wood, who pitched the purchase to the couple soon after McCleery left his corporate job. 
Humphreys said at first glance, they didn't think the idea was worth considering.
"I think we threw him out of the apartment," she said.
"I remember they were a little upset that I'd suggest that," Wood recalls.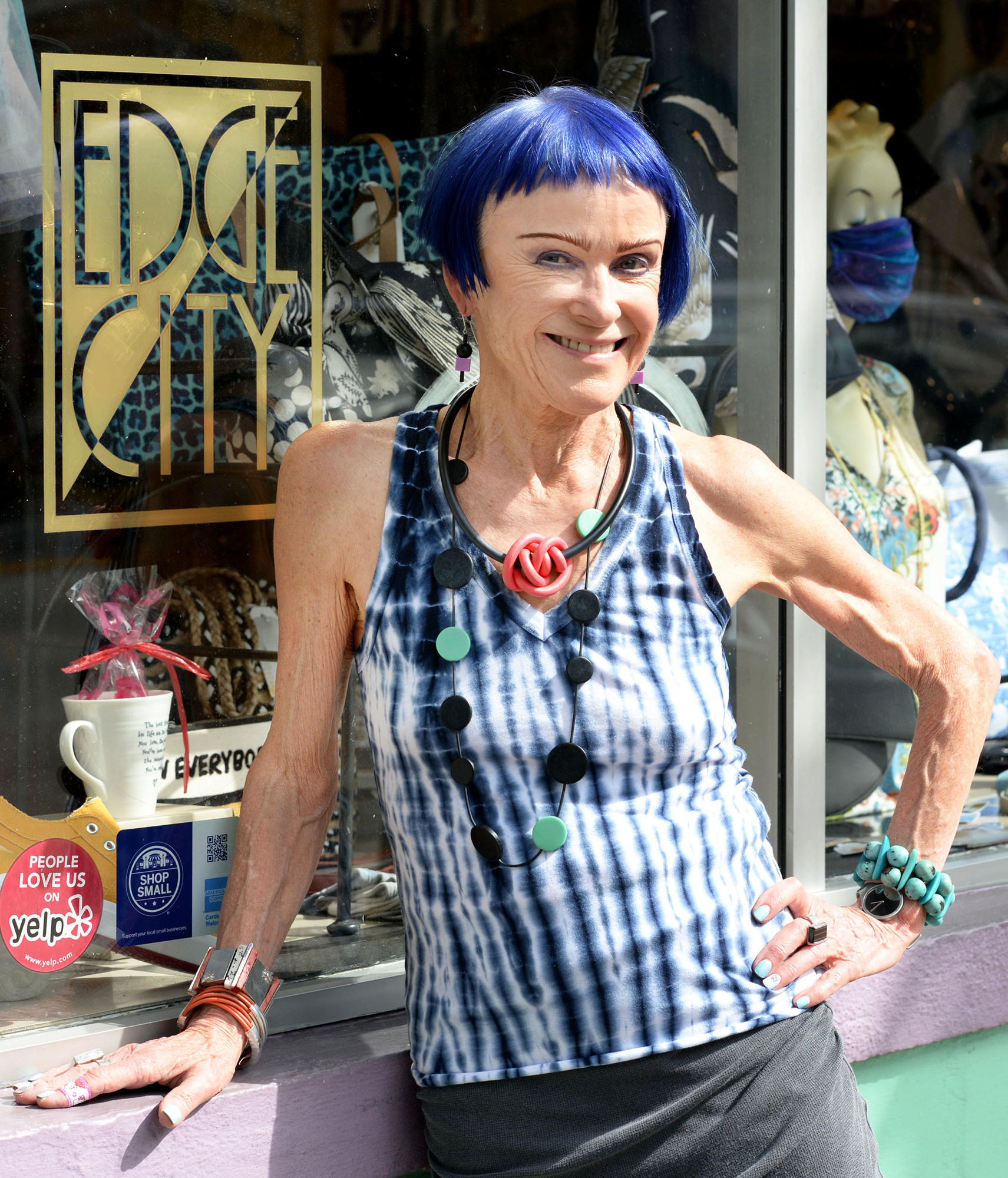 He is among the Riverside and Avondale neighbors and advocates who are glad about the change in ownership and that Humphreys still is running the store.
"Gunnel is an artist and her store is a work of art. Many people go to Edge City just to look at the store. Her style and flair make it an attraction," Wood said.
Kelly Pickard is co-owner of Alewife Bottleshop and Tasting Room a few doors from Edge City. A past president of the Five Points merchants association, she said Humphreys is a beloved member of the neighborhood. 
"Gunnel is Five Points. The way in which Edge City has for decades struck that balance of not only staying relevant, but continuing to thrive in an evolving neighborhood without ever losing the authenticity and unique character that defined it is truly amazing," Pickard said.
When Humphreys and McCleery changed their minds and took over the store on Jan. 12, 1976, Edge City's ambiance was depressing, she said. 
It was furnished with worn shag carpet and dusty cactus plants. There was a window air conditioning unit mounted over the front door that dripped onto customers as they came and went.
The transition into a clothing store began after they attended the boutique merchandise market in New York City, Humphreys said.
That's where they discovered that screen printing could be a good home-based business.
Humphreys, trained in graphic design and fashion merchandising, began creating signature Edge City T-shirts that flew off the racks, along with items they found at the market, like cloth sandals from China and military surplus clothing dyed in bright colors.
"There was nothing else like Edge City. We were the only unisex store in Jacksonville. We stocked what we liked and we never considered ourselves successful," Humphreys said.
When McCleery died in 2016, Humphreys became Edge City's sole proprietor. By then, the waterbeds and incense were long gone, replaced with designer fashions and accessories for women ages 30-70 who want to wear something unavailable elsewhere in Jacksonville.
"It's heartwarming to hear people tell stories about when they came to Edge City years ago. I like to tell my customers that I represent their youth. They shopped at Edge City when they were 14 and now they come to the store with their 14-year-old children," Humphreys said.
She no longer travels to the New York market. The vendors come to her in buses filled with the next season's samples.
Sales were $250,000 in 2020, down $5,000 a week during the almost three months she closed because of COVD-19.
Edge City is stocked with exclusive designer labels from Spain, Greece and Canada. 
Humphreys buys just three of each item – one size small, one medium and one large – to ensure that her customers are unlikely to "see themselves walking down the street."
A departure from modern retail, Edge City doesn't have a website. Humphreys tried it.
"I don't understand how that can work for somebody. I had to take pictures of the new merchandise and then remove them when the item sold. It took all of my free time and put me in the packing and shipping business."
The store's social media presence is limited to fivepointsedgecity on Instagram, where Humphreys posts photos of the newest dresses, blouses, shoes and accessories.
Humphreys, 77, walks or rides her bicycle from her Riverside apartment to open Edge City from noon to 4 p.m. six days a week.
She greets new customers and those who have been shopping at Edge City for years and changes the window display with new merchandise or when she has a better design in mind.
Her day off is Tuesday, when a part-time employee is in the store.
Even after 45 years with a routine, she is not considering retirement.
"Edge City is my home, my cozy living room. It's my social life. All I do at my apartment is eat, sleep, clean and feed my cat," she said.
"There is not one day that I haven't looked forward to going to the store. Maybe I'll be here when the building falls down."