By Karen Brune Mathis & Mark Basch • Staff Writers
New digital-based American Challenger Bank, based in Connecticut, will lease space in Brooklyn Downtown for a Jacksonville Customer Service Center, market reports and job postings show.
The Generation X-focused bank will lease a 17,449-square-foot floor of space at 532 Riverside Ave., the Blue Cross & Blue Shield of Florida campus, according to Colliers and NAI Hallmark in their third-quarter analyses.
Bank representatives could not be reached immediately for comment.
One local connection is an advisory board member.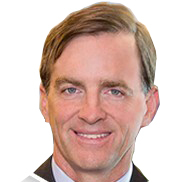 The American Challenger website lists an advisory board that includes Rob Clements, former chairman and CEO of Jacksonville-based EverBank Financial Corp.  He built and led EverBank as chairman and CEO through its IPO and until its 2017 acquisition by TIAA.
Aleizha Batson, Florida Blue North Florida senior regional communications lead, said American Challenger Bank is leasing one floor in the building's tower.
A job posting shows the Jacksonville Customer Service Center will open in late 2021.
Postings do not indicate how many employees will be needed in the office or remotely. The space leased typically can accommodate 90 to 110 employees, depending on the office configuration.
American Challenger Bank received conditional approval for its charter in December 2020 from the U.S. Office of the Comptroller of the Currency, which regulates national banks.
The company filed a strategic plan with the comptroller in November 2020 that said it would be a national bank headquartered in Fairfield, Connecticut.
"Bank's core business will be to deliver traditional banking products nationwide via a digital platform and provide a re-imagined customer experience," the application said.
"Bank will offer personalized, concierge-level customer experience for all clients via digital and call center channels," it said.
The bank said its focus will be on Generation X customers, aged 39 to 54, who are open to digital banking.
Generation X is usually defined as the post-baby boom generation born from 1965 to 1980, making them 41 to 56 years old.
"Bank's market research indicates that Gen Xers are motivated to build a better future for themselves and their families, balancing career pressures and complex family needs, and in search of current information to empower themselves rather than rely on 'black-box' solutions," the application said.
The company said its technological infrastructure will be cost-efficient and it expects to "pass a portion of those savings along to its customers."
American Challenger Bank projects to have more than $4 billion in assets at the end of its first year of operations and to become profitable in its second year, the application said.
Organizers of American Challenger Bank submitted an application with the Federal Deposit Insurance Corp. and also applied with the comptroller for a national bank charter in July.
According to the company's website, American Challenger was founded by Felix Scherzer, who previously was a financial institutions merger and acquisition executive at both Credit Suisse and Morgan Stanley. Scherzer is chairman and president of the company
CEO Raymond Quinlan is a former chairman and chief executive of student loan organization Sallie Mae.
Besides Scherzer and Quinlan, other members of the company's board of directors include former E*TRADE Financial Corp. CEO Karl Roessner; Sector Financial Inc. founder and CEO Dean Graham; Sunlight Financial LLC CEO Matthew Potere; and Six Trees Capital LLC Managing Partner Gary Zimmerman.
The website also lists the advisory board that includes Clements, who now is chairman and CEO of Covius Holdings Inc., which provides services and technology to financial companies. He operates out of Jacksonville.
The bank has been posting jobs since late August for Jacksonville, including positions as treasury analyst, mortgage appraisal manager, senior customer service specialist, customer service specialist and payment operations manager.
A post for manager of corporate accounting says it is looking for a vice president of corporate accounting that "will help bring this vision to life."
It describes itself:
"American Challenger Bank is building the bank for the future. We believe US banks have lost their way, becoming too focused on profits rather than the people they serve. That's why we are setting up a bank that has the customer champion spirit at its core.
"We're building a more personal digital bank, one that is tuned to our customers' needs and aspirations. We're taking on the banking landscape to reward those who work hard and pursue their ambitions. 
"The team at American Challenger Bank is looking to deliver banking the way it should be – a rewarding and personal experience that helps our customers thrive."
The posting says the accounting vice president will be responsible for managing highly automated finance processes on a state-of-the-art technology platform to support the accounting and reporting needs of the bank and its holding company, American Challenger Development Corp.
The role includes "monitoring and managing highly automated workflows related to the AR/AP (accounts receivable/accounts payable) payments cycle and fixed assets life cycle, supporting month-end close processes, and monitoring and managing the automated reconciliation routines."
It said the role will begin as remote work in the greater Jacksonville area and then transition to the Jacksonville Customer Service Center in late 2021.
An Oct. 28 job posting for a payment operations manager says the position will be responsible for developing, implementing, and administering all aspects of the bank's payment operations designed to ensure payments and money movement capabilities function efficiently and continuously.
SPGlobal.com, the website for the S&P Global credit-rating and analytics provider, reported in July 2020 that the proposed holding company is American Challenger Development Corp. 
It said American Challenger Bank will offer traditional deposit accounts, residential mortgages to prime consumers and senior-secured commercial lending products aimed at middle-market loan clients in "niche and well-diversified industry sectors."
It said American Challenger will be capitalized with $750 million from its holding company's capital-raising efforts. The bank also will raise $230 million in capital in the form of Tier 1-eligible noncumulative preferred stock.