The annual Florida-Georgia college football game at TIAA Bank Field ended a historic week for Jacksonville hoteliers.
Data from the STR hotel analytics firm provided by Visit Jacksonville shows record occupancy and revenue in Duval County from Oct. 29-30, the day before and of the game.
Countywide occupancy was 73.7% for the week and 90% for Friday and Saturday.
The average daily room rate for the week beginning Oct. 24 was $124; for Friday, $174; and Saturday, $176. More than 16,500 rooms were booked for those two nights.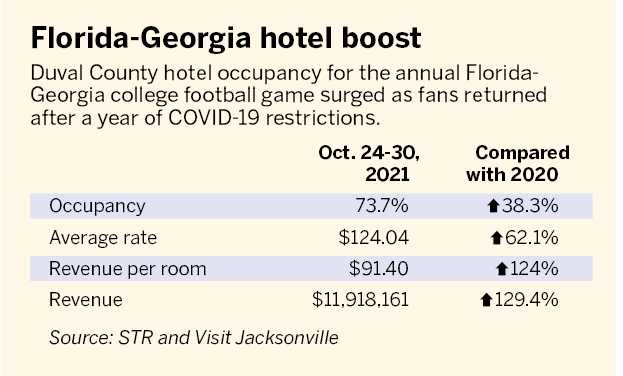 Revenue for the week was $11.9 million, with 96,084 rooms sold.
Three years ago, 81,960 rooms were sold for the game week; 92,112 rooms in 2019; and 67,888 rooms in 2020.
Downtown hotels showed the largest gains compared with 2020.
Occupancy for the week was 65.7%, a 127.8% increase over 2020, when game attendance was limited by COVID-19. The average rate was $207.32, a 100.1% increase.
Other events during the week at Downtown entertainment venues likely helped increase demand, including Thursday's performances by Michael Buble and Bert Kreisler, a Luke Combs concert on Friday and Chelsea Handler on Saturday, Visit Jacksonville said.
The No. 1 ranked Georgia Bulldogs defeated the Florida Gators 34-7. Attendance was 76,141.