The city issued a permit Nov. 12 for Jacksonville-based online furniture dealer Industry West to build-out its new headquarters in the historic 1001 Kings Ave. building on the Downtown Southbank. It also will be the office for Breeze Homes.
River City Contractors is the contractor for the almost $1.76 million project for interior alterations of the building at southeast Kings Avenue and Prudential Drive.
Bold Line Design LLC of Ponte Vedra is the architect.
Plans show the modification of a three-story historic landmark structure that was developed before 1912. It is one of the few remaining commercial buildings reflecting the old City of South Jacksonville of 1907-32.
The plans show alterations of 11,702 square feet, comprising 4,089 square feet on the first floor, about 3,644 square feet on the second level and 3,969 on the third floor. 
Industry West now is based at 1407 Atlantic Blvd. in nearby San Marco Square.
Industry West co-founders Jordan and Anne England and The Corner Lot Companies CEO Andy Allen and COO George Leone formed ALE Kings Holdings LLC to develop the project.
ALE Kings Holdings bought the Kings Avenue property July 6 for $2.25 million. South State Bank issued an almost $3.6 million mortgage Sept. 30.
"It will be an iconic building brought back to life and full of energy," Allen said by email Oct. 15.
After renovations, Industry West will occupy the first two floors with showroom, office and creative space.
Breeze Homes, one of The Corner Lot Companies, will occupy the third floor with 12 employees.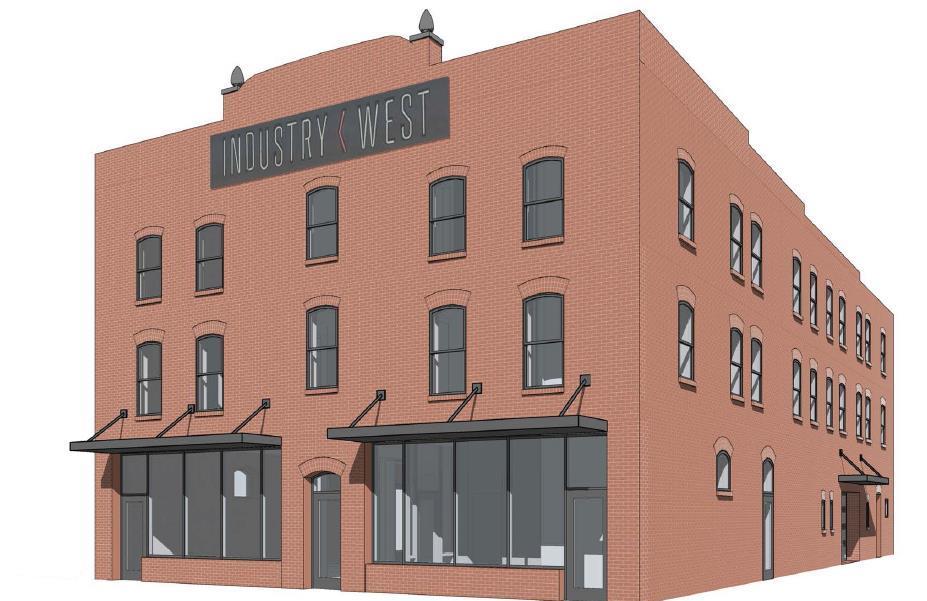 The Englands and Allen said they hope to move into the Kings Avenue building during summer 2022.
There eventually could be a retail coffee shop on the ground floor of the building as the Southbank continues to develop pedestrian traffic.
The Englands and Allen also own Industry West's current headquarters.
They bought the 4,300-square-foot San Marco Square building in 2017 and Industry West moved there in 2018 from a smaller leased space nearby.
Jordan and Anne England started the company as an e-commerce venture, moving from home to leased space and then to San Marco Square.
The Englands and Allen said a startup restaurant-entertainment concept will lease the San Marco Square building upon the move.
The 10-year-old Industry West has grown to 42 employees and sales this year of $35 million to $40 million.
The e-commerce company describes itself at industrywest.com.
It "curates modern, artisan-crafted furniture and decor, with an emphasis on high-design."
Industry West works with manufacturers worldwide for furniture such as tables, desks, chairs, sofas, barstools and other products and accessories.
It serves restaurants, hotels, high-tech startups and residences throughout North America. 
Its workforce comprises marketing, HR and leadership in San Marco, with others at a New York City showroom and a leased nearly 125,000-square-foot Cecil Commerce Center distribution center.
The Kings Avenue structure will provide room for 28 people, allowing the company to build-out more of its internal team.
The Jacksonville Historic Preservation Commission approved a Certificate of Appropriateness for the project in June for changes to the at least 109-year-old structure's exterior.
The building is not in a locally designated historic district but is a local landmark. The landmark status application shows the building was developed before 1912.