With consumers returning to in-store shopping, retail vacancies are down and rents are up.
Those conditions are turnarounds from immediately after lockdowns in March 2020 as COVID-19 was spreading.
"Overall, retailers seem to be encouraged by the healthy economy and robust population growth in North Florida, and many seem well positioned to continue expansion," said The Shopping Center Group.
NAI Hallmark said in its Q3 2021 Jacksonville Retail Market Report that Jacksonville's "strong economic rebound and general pandemic resiliency have allowed the market to avoid some of the negative retail impacts seen in other markets over the past year."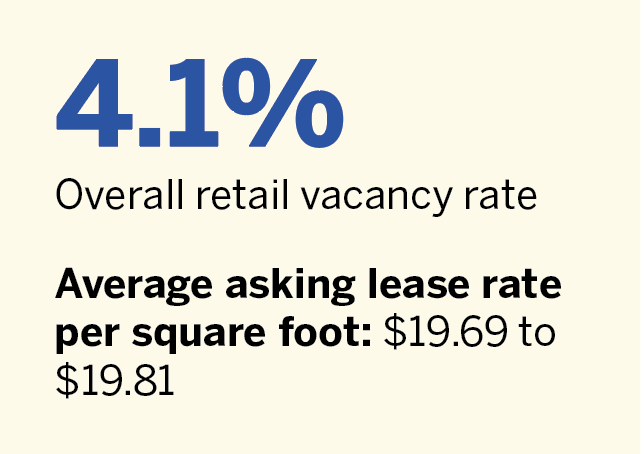 NAI Hallmark said retail demand remains high as established regional and national brands continue to chase strong population growth and increasing median income in the area.
Colliers said in its 21Q3 Retail report that since peaking after the pandemic onset, retail vacancy is back to 4.1%, a nearrecord low.
"Jacksonville's retail market is quietly on a roll," Colliers wrote.Rents are up 7% over the year. 
"Q3 2021 was a healthy and encouraging quarter for retail in North Florida," TSCG said.
With healthy demand, a limited supply of space, "rich construction pricing and measured financing for new construction, landlords are in the driver's seat," Colliers wrote.
Restaurants looking for second-generation space are facing "a needle in the haystack," it reports. 
Colliers sees interest from nearly all categories, but especially from quick-service restaurants; specialty fitness concepts; and auto-related uses like gas stations, car washes and others.
NAI Hallmark and Colliers found an area inventory of almost 98 million square feet of retail space.
New development is concentrated in submarkets like St. Johns and Nassau counties, Colliers reported.
"These areas have been historically underserved and recent housing growth has made retail development a must-have in these communities," Colliers wrote.
It said in-town projects are focused on infill projects, although the most notable are the RH store in St. Johns Town Center and the East San Marco shopping center.