Vacancy rates are down, asking rental rates are up and strong demand continues for industrial and warehouse space in Northeast Florida.
"The Jacksonville industrial market is on fire," says Colliers in its 21Q3 Industrial report.
"We see no reason that the Jacksonville industrial market should slow any time soon."
E-commerce, especially Amazon.com, is a major driver of tenants seeking warehouse space.
That demand is pushed further by supply-chain challenges as companies watch their shipments stuck at ports and prefer to have larger spaces to store more product when they get it.
Commercial real estate firms say they need more warehouse space to lease as soon as possible.
"Any new supply that has delivered has been rapidly leased, resulting in low vacancy and limited options," said JLL in its Q3 2021 Industrial Insight.
Firms vary in their totals, but the Northeast Florida market comprises up to 110 million square feet of industrial, warehouse and manufacturing space.
The largest concentrations are in Westside, with up to 49 million square feet; North Jacksonville, with at least 27 million; and South Jacksonville, at up to 22 million square feet of that space.
Reports show that up to 4 million square feet of space is under construction, and most of that will be fully leased by the end of the third quarter of 2022.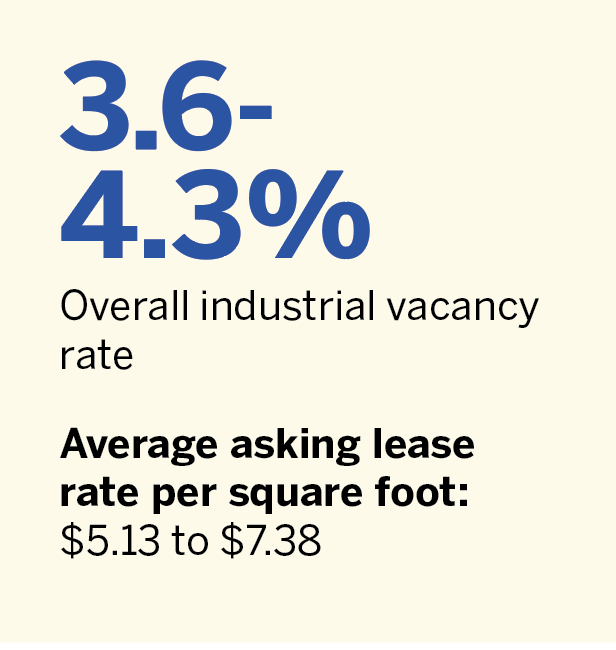 Developers are busy.
"Players like VanTrust, NorthPoint, Pattillo, CT Realty and Benderson plan to develop significant speculative projects," Colliers reported.
"From where we sit today, these projects cannot come soon enough," it said.
Cushman & Wakefield wrote in its Industrial 3Q 2021 Marketbeat that the main factor for the overall lower vacancy rate was the lack of speculative construction, which means that large companies seeking space do not have an inventory of choices for a quick occupancy.
Cushman & Wakefield said demand is strong in North Jacksonville, where the bulk of new construction is found because of available land for development and its location near JaxPort and interstate highways.
Demand overall is driving up rents.
CBRE said active tenants in the market total more than 5.9 million square feet of space, led by e-commerce and third-party logistics companies.
It said that during the third quarter, leasing totaled 2.3 million square feet among 57 transactions, led by 1.15 million square feet in North Jacksonville and almost 860,000 square feet in Westside.
"There is little reason to expect any significant weakening of market conditions over the near term," said NAI Hallmark in its Q3 Industrial Market Report.
It found that total available space declined by 3 million square feet over the past year while supply is up with 3.8 million square feet underway. Of that, about 75% has been pre-leased.
"Access to Jacksonville's improving infrastructure and its relative affordability has drawn expansion-minded companies (and) should continue to attract and fuel large increases in logistics and especially regional distribution centers," NAI Hallmark said.
Cushman & Wakefield Managing Director Tyler Newman and Senior Director Jacob Horsley reported that three more buildings totaling 790,000 square feet were set to deliver in 2021 and 25 buildings, totaling 5.76 million square feet, are due in 2022.
Their market summary:
Through the third quarter, leasing activity and absorption were at the full 2020 numbers; 6.7 million square feet of tenants are in the market; and there is room for rental growth.
What to do in 2022?
"Identify land positions & build."