Colliers is targeting a "new-to-market" operator for a park and riverfront restaurant linked to Related Group's proposed 326-unit Downtown Southbank apartment project, according to real estate firm senior director Matthew Clark. 
Colliers released leasing information Sept. 27 for Miami-based Related Group's proposed 5,000-square-foot Restaurant at Manor. 
City Council awarded Related Group a $500,000 completion grant in June to build the restaurant fronting St. Johns River Park and Friendship Fountain near the Southbank Riverwalk. 
The Downtown Investment Authority negotiated with Related Group to include the restaurant into its RD River City Brewery apartments proposal. It's a condition in the developer's $18.27 million tax incentives deal for the $99.16 million project.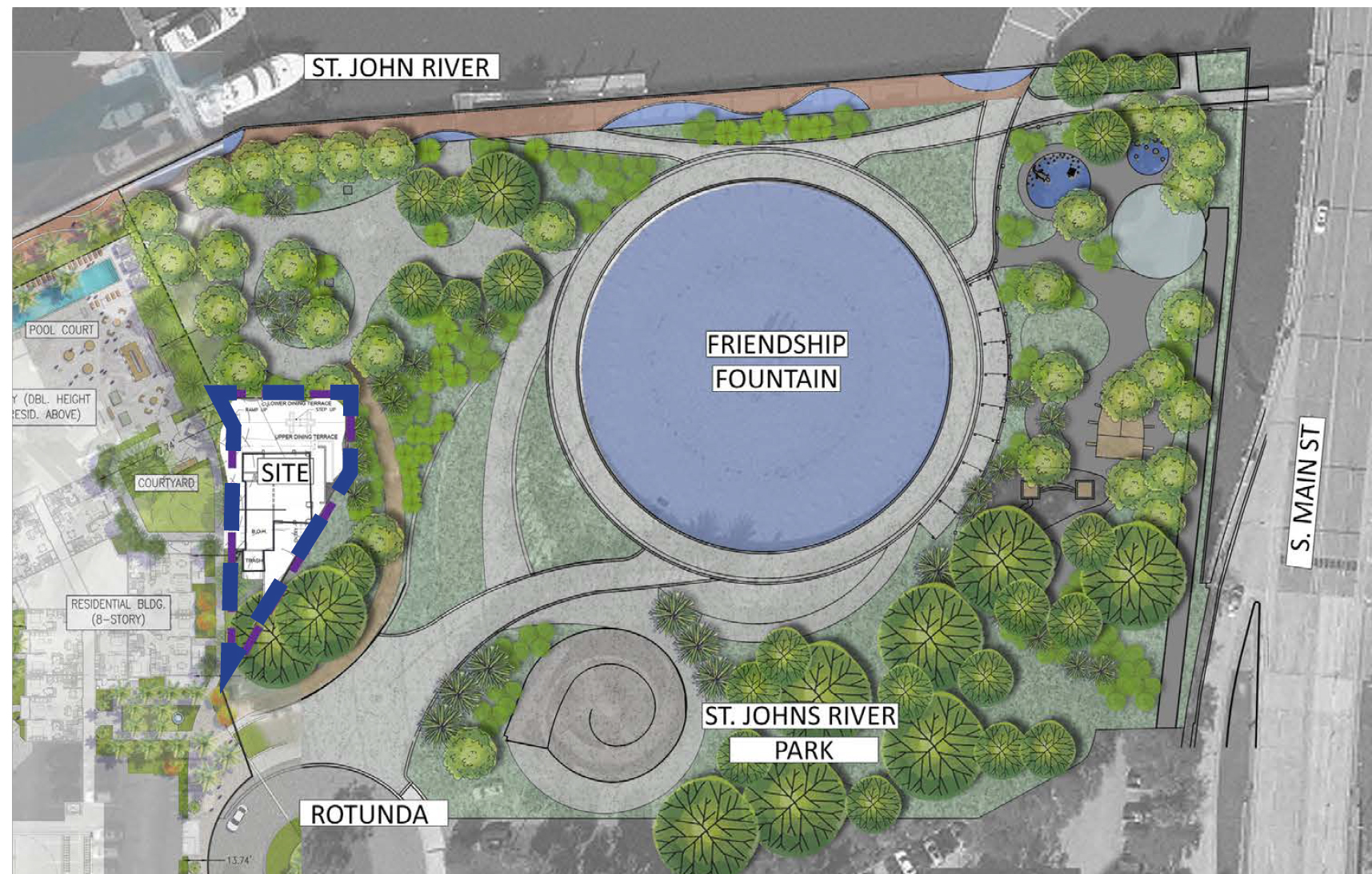 The multifamily building will replace the closed River City Brewing Co. at 835 Museum Circle. 
Colliers Senior Director Katy Figg, who also is working on the lease, said the firm plans to deliver the restaurant in the first quarter of 2024.
According to Colliers, there has been interest from restaurant groups throughout the U.S. since the ad went live Sept. 27.
"I think there are a lot of active restaurant groups coming out of South Florida, coming out of Tampa, that have had their eyes on Jacksonville and are just looking for something unique like this.," Figg said. 
"I think it's getting their attention, and I think we're going to have the opportunity to be selective and put something really cool and unique for Jacksonville here."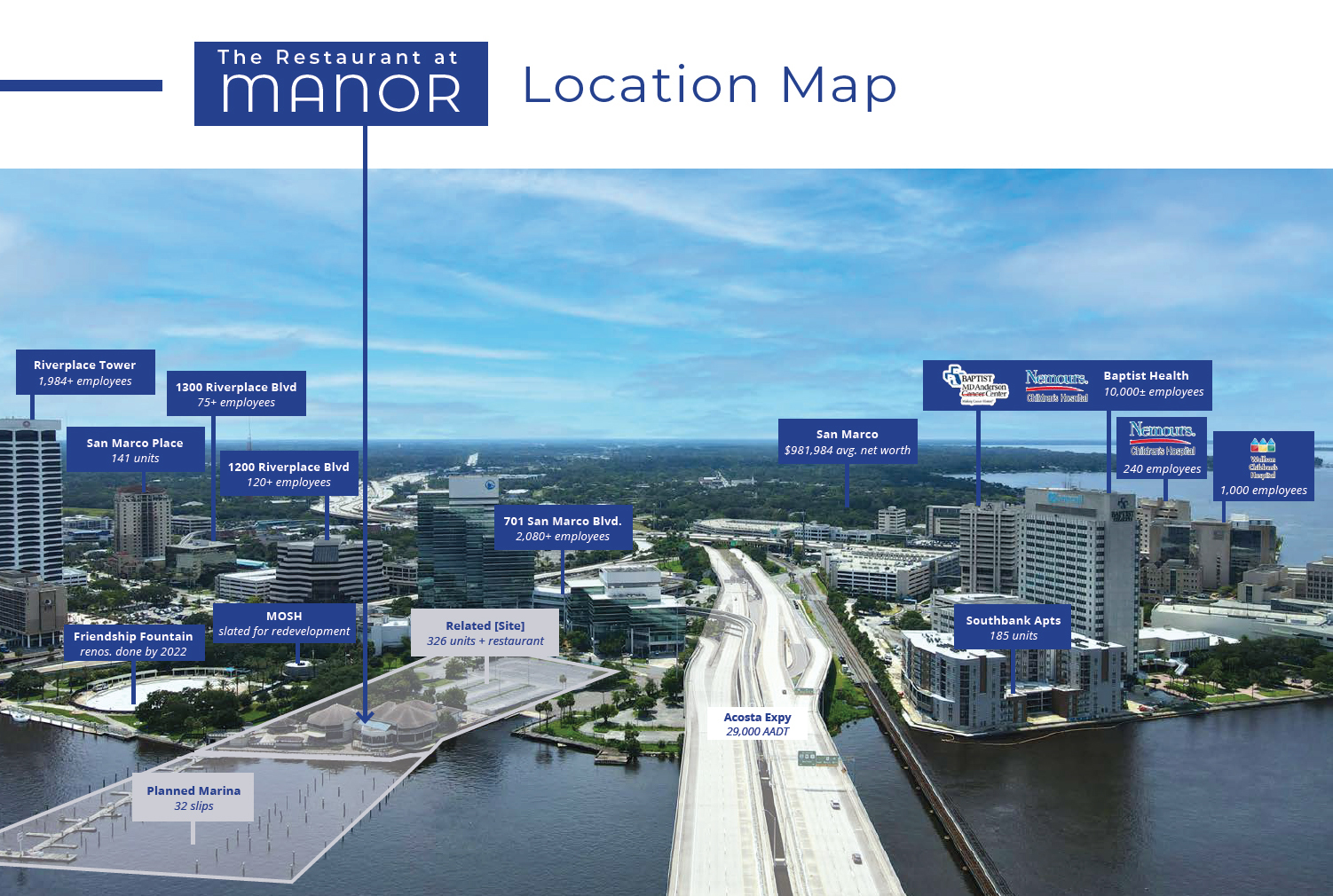 Figg said "Restaurant at Manor" is a placeholder and the final name will depend on the concept. She said there is flexibility on the size of the restaurant with a "large patio opportunity." 
The development agreement with the city calls for a restaurant/bar with not less than 1,800 square feet of indoor space and not less than 3,200 square feet of outdoor space.
The marketing flyer says there will be 32 boat slips available with a public ramp and a 535-spot parking garage with an available valet.
The flyer touts a surrounding daytime population of 151,679 and Baptist Health within a half-mile with more than 9,716 employees.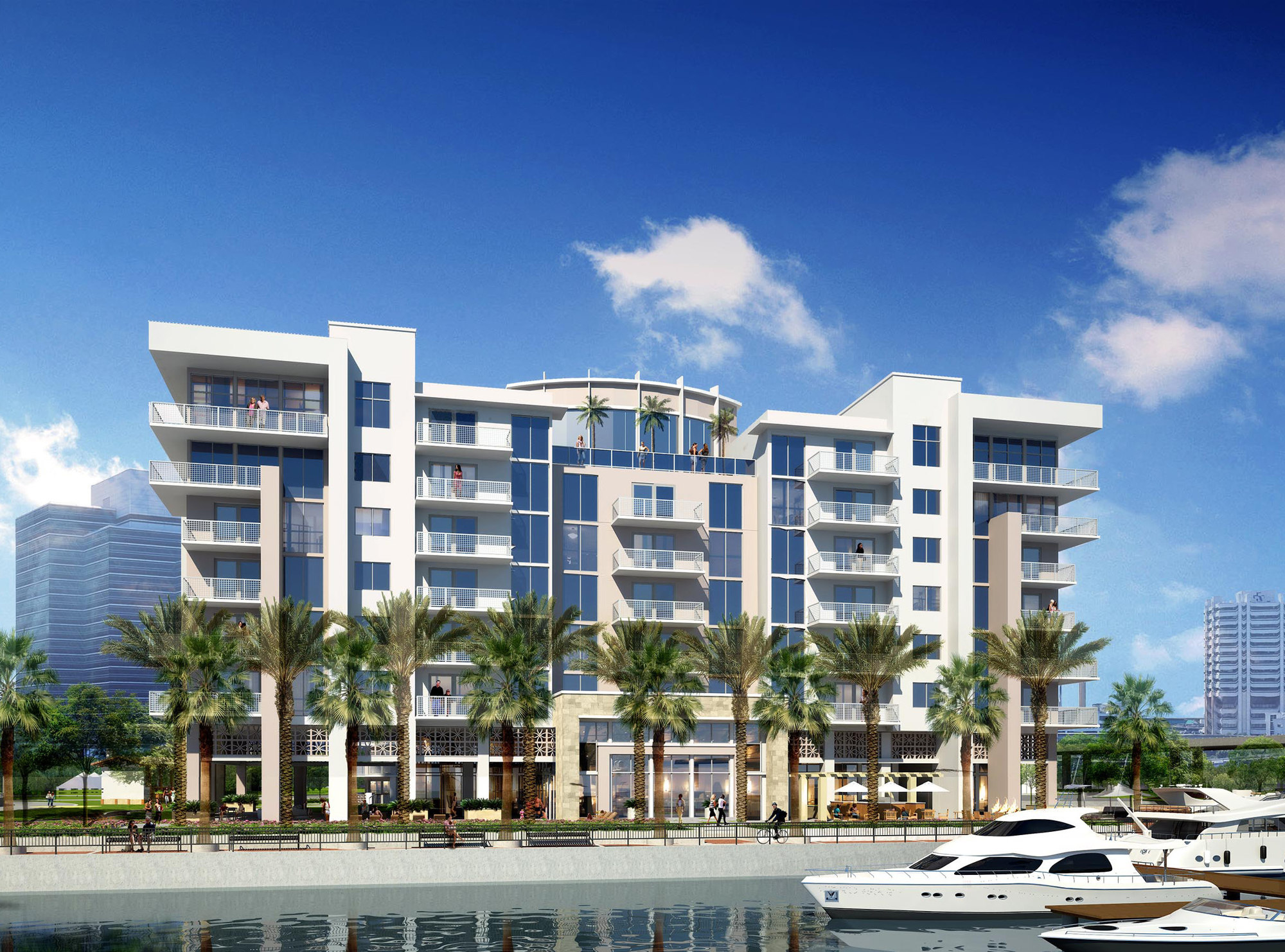 "I think the city is working very hard to redefine the riverwalk and the urban core," Clark said. 
"I think with a development with this caliber, we will want a restaurant that reflects that and adds to the experience when you're visiting Downtown Jacksonville." 
Related Group bought River City Brewing Co. parent Maritime Concept's leasehold on what was a city-owned property for $10 million, real estate firm CBRE announced Aug. 3.
Related Group Vice President of Development Jeff Robbins said June 25 that construction on the apartment project would take about 24 months and begin by the end of 2021.
"I would anticipate that by January, certainly first quarter of 2024, we should have the project open," Robbins said.