The new Winn-Dixie-anchored Grand Cypress shopping center is taking shape in St. Johns County, with more tenants and users shown on plans.
Developer Gatlin Development Co. and real estate firm Cantrell & Morgan are leasing out the center near Nocatee at southwest U.S. 1 and Race Track Road.
Winn-Dixie intends to open a 41,500-square-foot grocery store and a separate 2,000-square-foot liquor store to anchor the retail project.
The site plan shows six outparcels.
Winn-Dixie and adjacent shops anchor one of those outparcels.
Other show a Zaxby's restaurant; an unidentified national dental chain; and a set of shops anchored by a national bank with a drive-thru.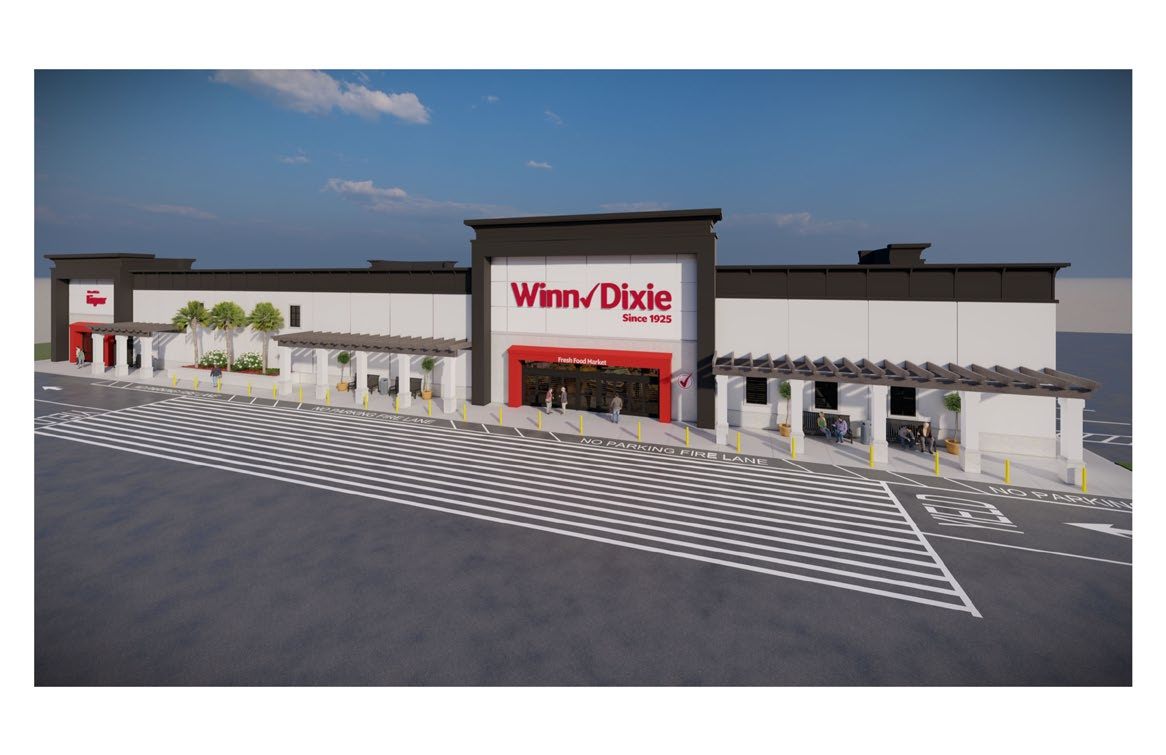 "Given that St. Johns County is one of the fastest growing markets in the Country, it's not surprising it has continued to be the epicenter of commercial growth in Northeast Florida," says the Cantrell & Morgan marketing brochure.
Jacksonville-based Gatlin Development said as it bought the property that it planned the $250 million mixed-use Grand Cypress development at the former greyhound racetrack and poker room.
Gatlin bought the nearly 100-acre property at 6256 and 6322 Race Track Road on May 26 for $16.5 million.
Bayard Raceways Inc. sold it. The racetrack and poker room closed in 2012. 
St. Johns County rezoned the property. Gatlin said it would demolish the existing structure. 
Cantrell & Morgan CEO Chris Morgan said Oct. 15 that site clearing and infrastructure work began in June.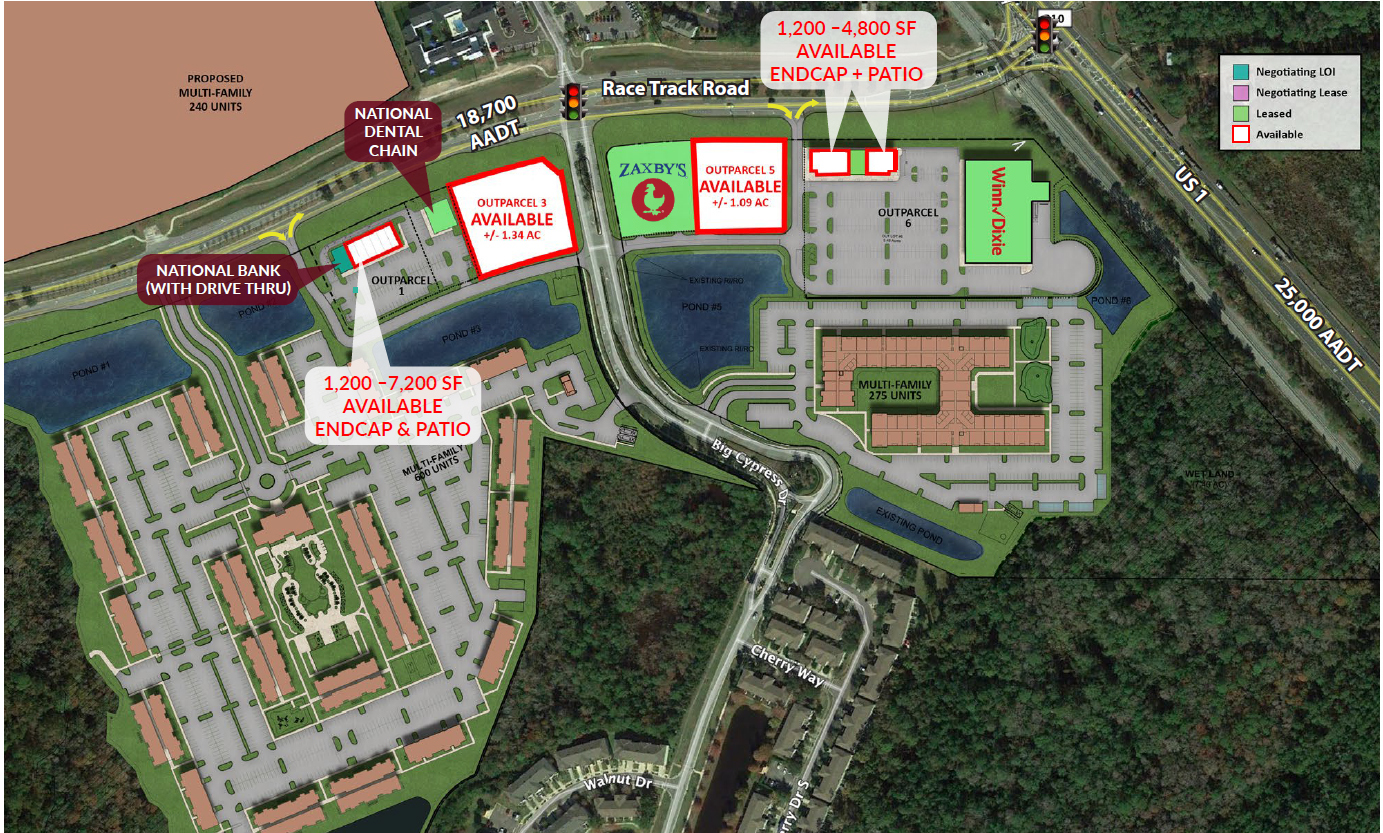 He said construction is scheduled to start  Dec. 1 on Winn-Dixie and the adjacent building of shops. Work on Zaxby's is scheduled to start by year-end.
Jacksonville-based Southeastern Grocers Inc. announced July 20 that it would open two new Winn-Dixie stores in St. Johns County.
It said the Winn-Dixie at Grand Cypress location will open next year.
The St. Augustine Shores Winn-Dixie at 181 Blackford Way in the Shores Village Plaza center will open by year-end.
The news release said the grocer will use a specialized approach at each location "to provide fresh concepts and extensive offerings, along with additional jobs and opportunities for local community members."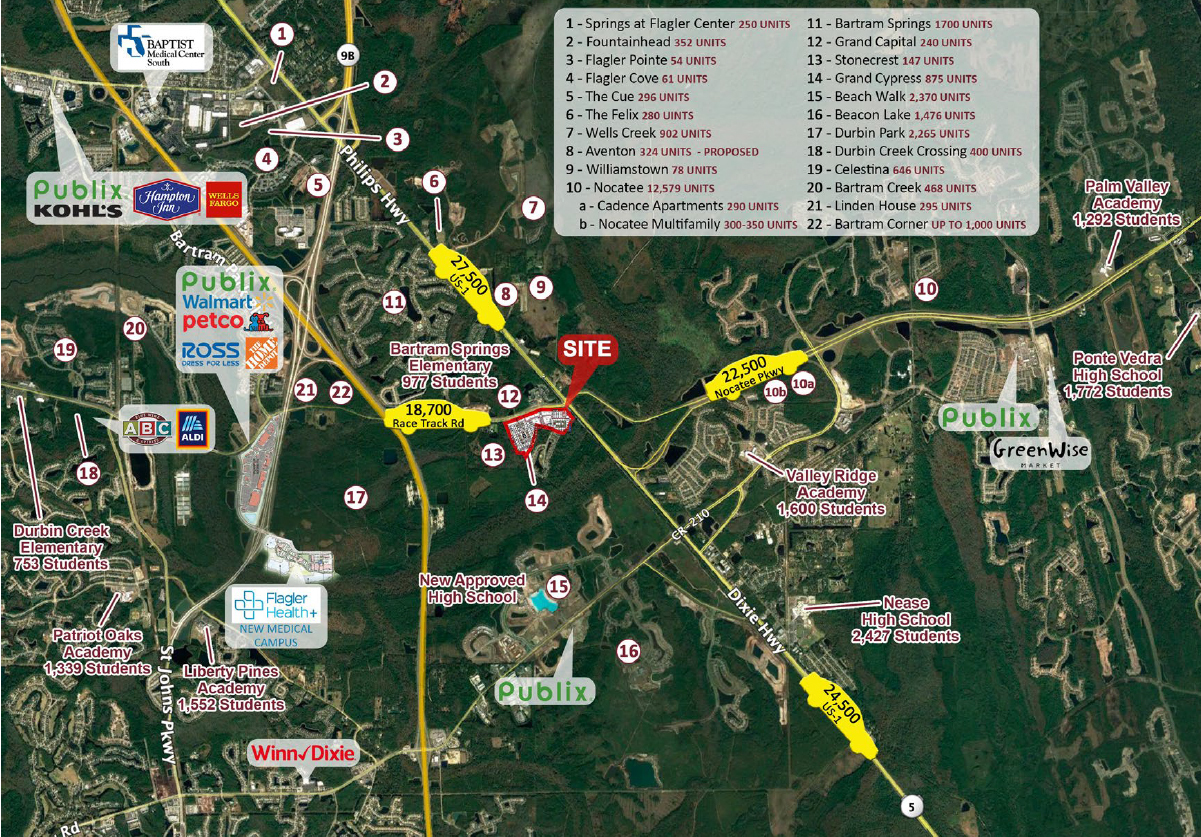 Grand Cypress is shown on the leasing brochure as a grocery-anchored retail, medical, office development with suites and outparcels for lease. Josh Spooner and Kayla Deguzman are the Cantrell & Morgan leasing agents for the property.
The development includes about 900 apartments.
Frankie Gatlin, principal of Gatlin Development, said June 3 the development will comprise a grocery store-anchored shopping center, retail and restaurant space, a 588-unit luxury multifamily community and a 256-unit upscale boutique multifamily complex.
Morgan said the larger Grand Cypress apartment building permits were issued in August and the upscale Palacio apartments permit was issued Oct. 6.
The multifamily developments will be built by Summit Contracting Group and are designed by Group 4 Design. EnVision Design Engineering is the civil engineer. 
Staff Writer Katie Garwood contributed to this report.