Sleiman Enterprises says the 14-screen Cinemark Jacksonville Atlantic North theater will open this month.
Cinemark posted on its website that it will open Sept. 16.
Contractors are completing construction of the project at 11567 Atlantic Blvd. in the second phase of Sleiman Enterprises' Atlantic North retail center at northwest Kernan and Atlantic boulevards.
"Anytime you can put a movie theater into a shopping center, it's good for night business. This is an extra boost for the whole shopping center," developer Toney Sleiman said Sept. 2.
The city approved site clearing Jan. 5, 2020, for almost 18 acres for the project. It issued the initial construction permit Oct. 9, 2020.
The city has issued permits since then for almost $11.63 million in project costs.
Cinemark Holdings Inc., based in Plano, Texas, announced in March 2019 that it would open the theater in summer of 2020. The pandemic shutdowns that started in March 2020 affected the timing while allowing the chain to make any revisions it needed to address COVID-19 protocols.
"It was COVID," Sleiman said of the delay. "Nobody knew where the industry was going to go."
Theaters began reopening about a year after the shutdowns.
Atlantic North is anchored by Belk, Academy Sports + Outdoors and LA Fitness as well as restaurants and a RaceTrac station that was built in front of the theater.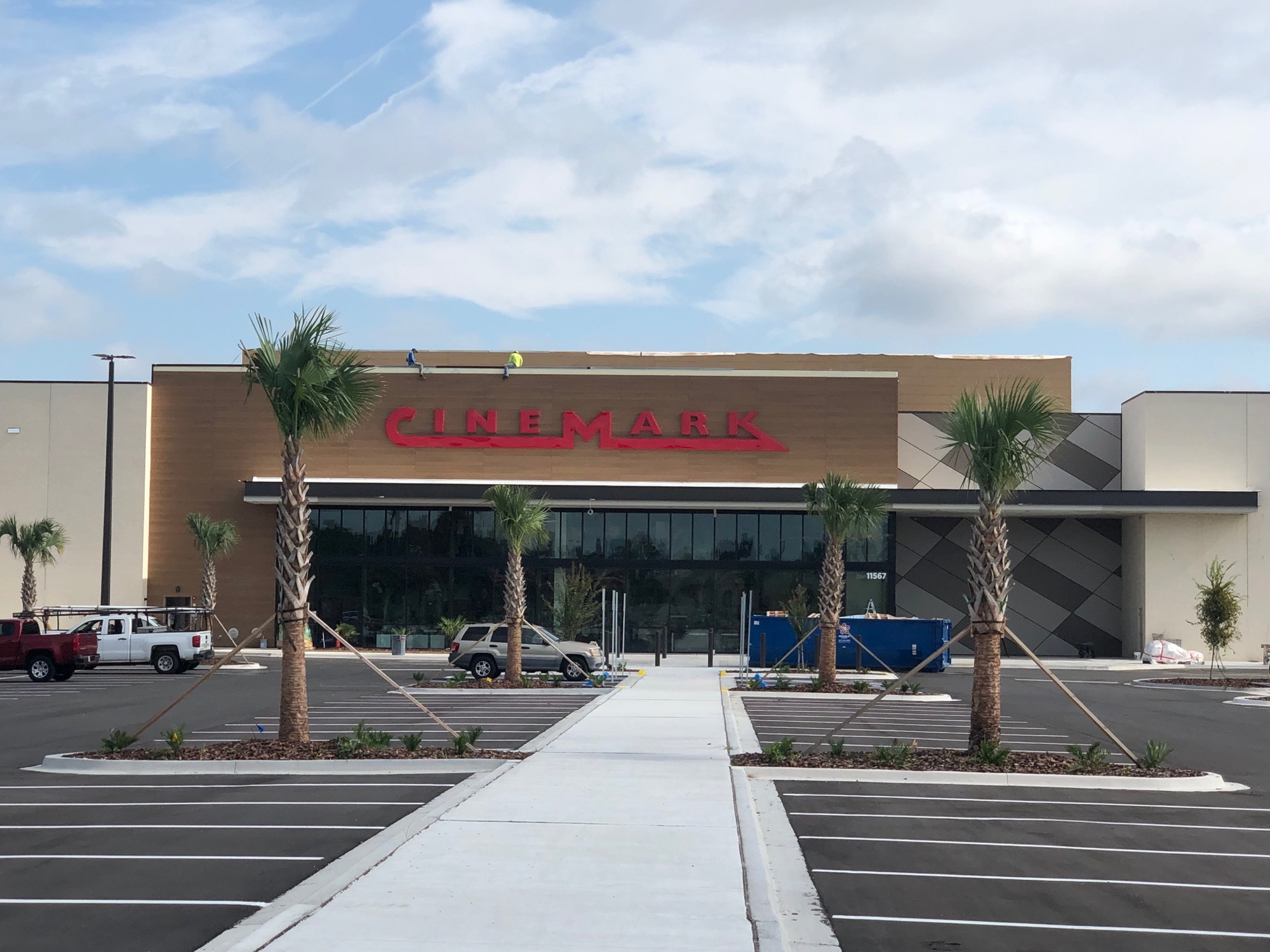 Sleiman Enterprises said in the March 2019 news release that Cinemark brings Atlantic North to 550,000 square feet of space.
Sleiman intends to further develop the shopping center with more buildings and tenants.
"We have a lot of announcements," Sleiman said. "Until leases are signed, I can't comment, but we are getting close."
He said that by next year this time, the center will be fully committed with tenants.
Sleiman said rising construction costs, which include labor shortages, are a factor in leases. 
"The cost is moving so fast that we are renegotiating deals I signed last year," he said.
"The economics of these deals are changing every day."
Cinemark said each of the 14 auditoriums will include advanced technology and customer-preferred amenities including loungers, reserved seating, kiosk ticketing, wall-to-wall screens and enhanced sound systems.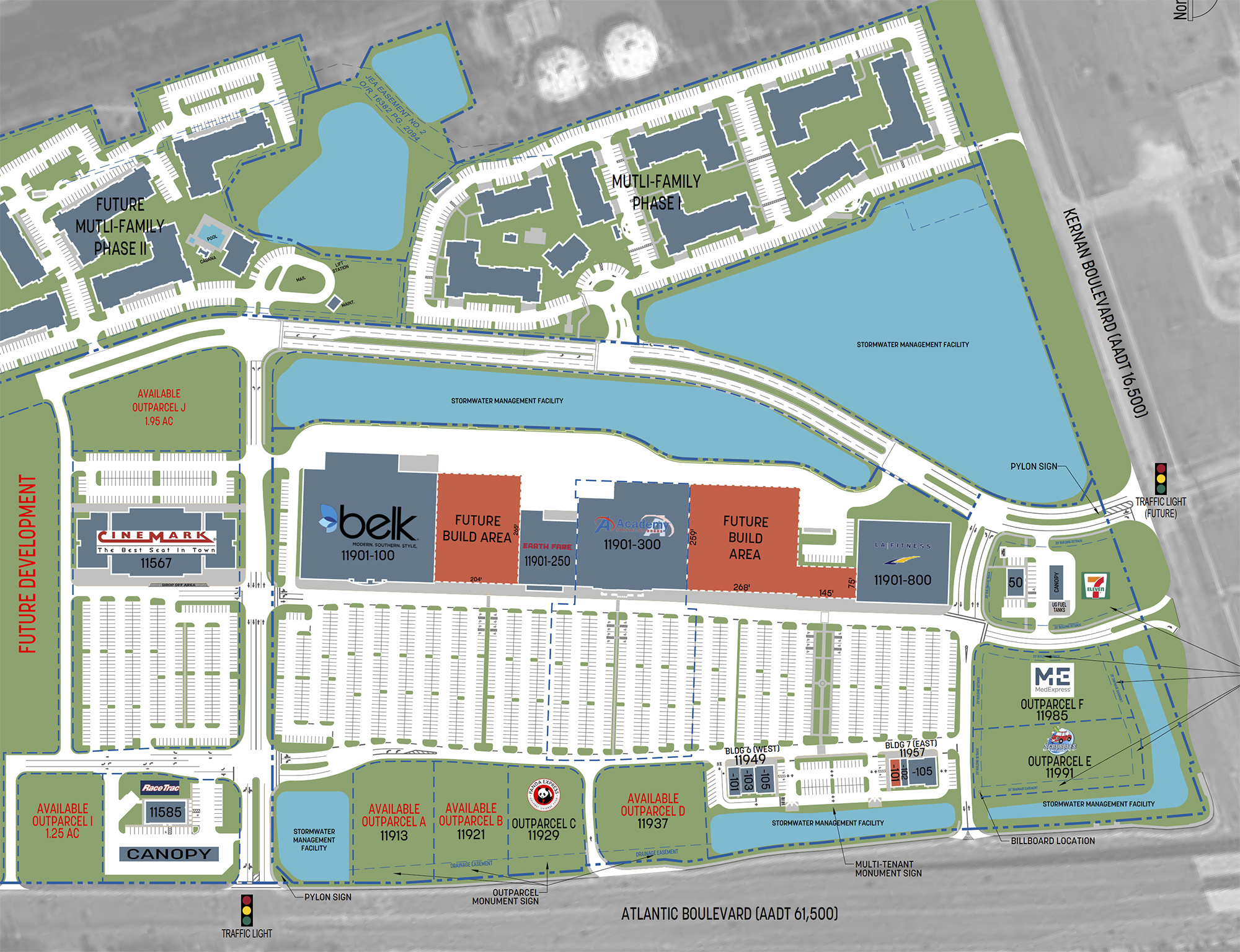 The release called the Cinemark XD auditorium "the No. 1 private-label Premium Large Format in the world."
Concessions include a menu with Pizza Hut pizza, chicken tenders, wings, mozzarella sticks and more.
The complex will be Cinemark's third in the area.
Cinemark operates the 20-screen Cinemark Tinseltown at 4535 Southside Blvd. and the 12-screen Cinemark Durbin Park at 435 Durbin Pavilion Drive at The Pavilion at Durbin Park in St. Johns County.
Plano, Texas-based Cinemark says that as of March 31, it had 523 theaters and 5,872 screens in the U.S. and Latin America. In the U.S., it operates 325 theaters and 4,436 screens in 42 states.
Sleiman began talking about the potential for a movie theater at the site in late 2014 when he said he was studying the option of building one, pending results of a competitive review to determine if the area could support it.
He said the Atlantic North site was between the two closest theaters at a distance agreeable in the industry.
It would be about 5 miles east of AMC Regency 24 at Regency Square Mall.
At the time, it was is little more than 5 miles northwest of Regal Beach Boulevard Stadium 18, but that location has closed and the property is in review for apartment development.