Treace Medical Concepts Inc. built its company on a bunion correction procedure called Lapiplasty. The potential market for it was enough for the Ponte Vedra-based company to launch a successful initial public offering in April.
With the IPO behind it, Treace Medical is expanding its business beyond bunions, which affect the big toe, to a procedure to correct mid-foot deformities.
"We do want to keep tight focus on that (bunion) opportunity," CEO John Treace said at a Sept. 14 investor conference sponsored by Morgan Stanley.
"But that said, we're going to not only advance our core Lapiplasty technology as we move forward but also look at new ancillary products that we can bring into the surgeon's theater targeting common pathologies that we see in high overlap with the bunion pathology, so we can be that total solution provider," he said.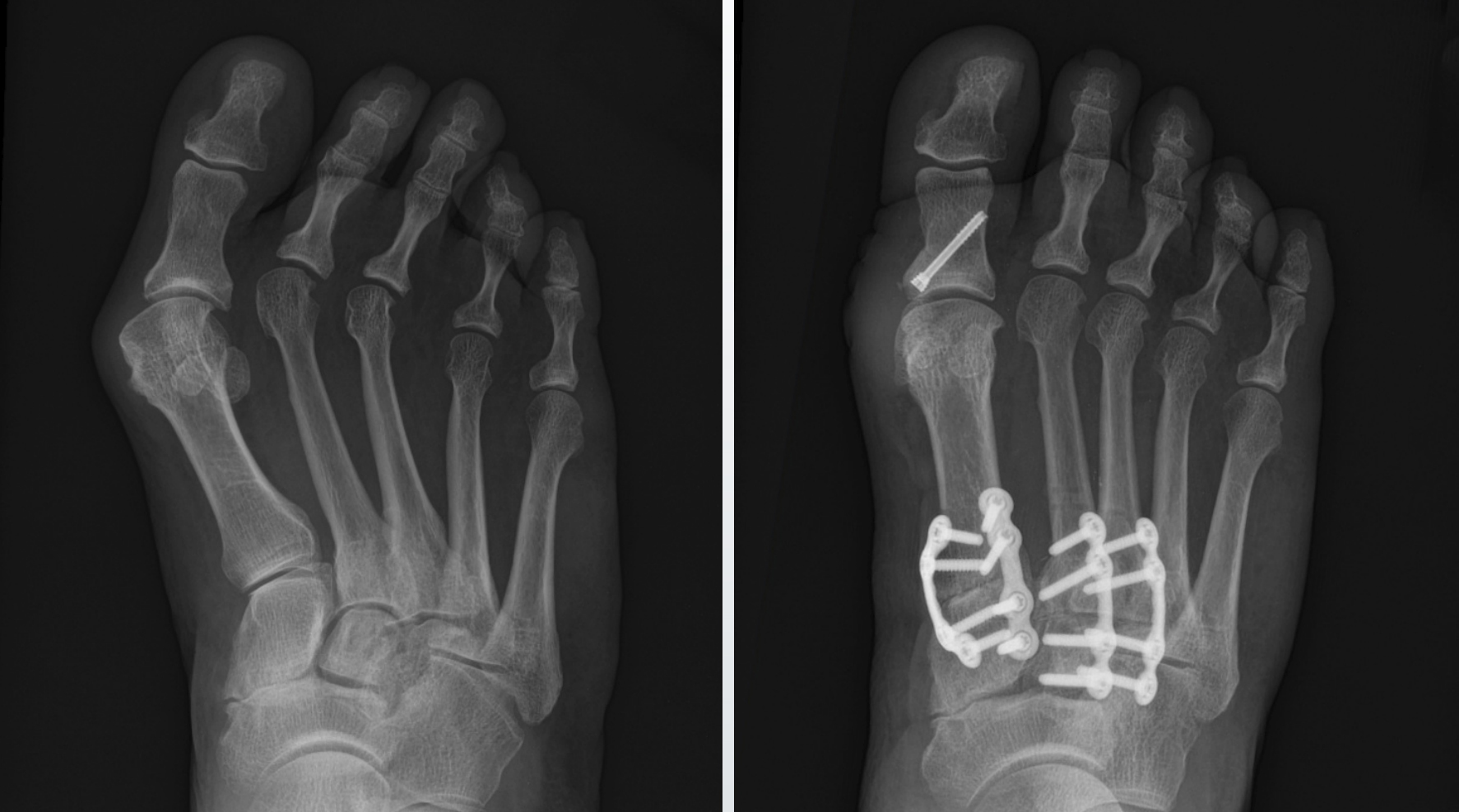 Treace spoke in a webcast a day after the company announced the commercial launch of its mid-foot procedure called Adductoplasty.
"Although there's a growing awareness of mid-foot deformities and their common coexistence with bunions, the surgeon community has lacked technology to correct it in a reproduceable manner," he said.
Treace said about 30% of bunion patients also are affected by mid-foot issues and the company has said the potential market for bunion correction in the U.S. is 1.1 million patients annually.
Bunion surgery is an elective procedure and as the U.S. health care system struggles to care for COVID-19 patients, some elective surgeries are being postponed.
"We have seen continued disruption with delta," Treace said, referrring to the coronovirus variant.
"But we continue to see strong underlying business trends and opportunities supporting us as we execute on our strategic objectives and commercial programs," he said.
"We don't really see these (postponed) procedures as lost procedures. We see them more as delays or pushouts."
Treace also said the company has not been hurt by supply chain disruptions that are affecting other technology manufacturers.
"Most of our vendors being U.S.-based, we're in pretty good shape," he said.
Analyst: Supply chain hurting CSX
While Treace Medical is not having issues, one analyst said last week supply chain problems likely will impact Jacksonville-based railroad company CSX Corp.
RBC Capital Markets analyst Walter Spracklin downgraded his rating on CSX from "outperform" to "sector perform."
"With estimates declining on supply chain congestion and the lack of any company-specific catalysts to reverse the trend, we see better opportunity on a relative return basis elsewhere in the sector," Spracklin said in his research note.
"We note that the entire rail sector is under pressure now as a result of supply chain disruption," he said.
Spracklin said evidence of emerging disruptions includes ships backed up at the ports of Los Angeles and Long Beach, California, and a shortage of trucks to move freight inland.
Spracklin lowered his price target on CSX's stock from $37 to $32, with the stock trading at $30.91 at the time of his Sept. 17 report.
Report: Fanatics talking to online casino firm
As sports merchandise company Fanatics expands into other businesses, reports last week said the Jacksonville-based company is in talks with an online gaming company.
Casino.org, an information site on online casinos and gambling, said Fanatics is in talks with Rush Street Interactive, a publicly traded internet casino company.
Chicago-based RSI operates in 10 states through brands BetRivers.com and PlaySugarHouse.com.
The speculation lifted RSI's stock by $3.41 to a close of $19.23 on Sept. 17.
Major financial news outlets have been reporting that Fanatics is interested in online sports gambling.
However, CNBC, which has followed Fanatics closely, reported Sept. 1 that its sources said Fanatics is not interested in RSI despite market rumors.
The CNBC story reiterated Wall Street talk that Fanatics is headed for an IPO.
"In sports betting circles, it's not a question of whether but of when Fanatics will go public," it said.
Business recovering at DoubleTree on the Southbank
The DoubleTree Hilton Jacksonville Riverfront suffered a significant loss of business in 2020 during the COVID-19 pandemic but is recovering this year, according to a Securities and Exchange Commission filing last week by its owner.
The 293-room hotel at 1201 Riverplace Blvd. on Jacksonville's Southbank had revenue of $7.3 million in 2020, less than half of its 2019 revenue of $15.7 million, according to the filing by Williamsburg, Virginia-based Sotherly Hotels Inc.
Hotel occupancy dropped from 78.5% in 2019 to 38.3% last year.
However, business is picking up this year, with revenue of $5.8 million in the first six months of 2021 and occupancy at 67.7%.
Sotherly bought the property for $22 million in 2005 and converted it from a Crowne Plaza to a DoubleTree after a $7.2 million renovation in 2015.
Sotherly, which owns 12 hotels in eight states, gave information on its hotels in a filing for a sale of unsecured notes.
The filing said the Jacksonville hotel is the only one of its properties with a unionized workforce, with 31 of its employees represented.
JinkoSolar results fall on supply issues
JinkoSolar Holding Co. Ltd. reported last week that sales and earnings fell in the second quarter, as the China-based maker of solar modules deals with supply chain issues.
Revenue fell 6.2% to $1.23 billion and adjusted earnings fell 27% to $42.5 million, or 22 cents a share.
"As prices along the supply chain remain high, but relatively stable, we see overall acceptance of price increases continuing well into the second half of the year," CEO Xiande Li said in a news release.
He said demand for modules is resuming and production has been increasing in the third quarter.
JinkoSolar serves the U.S. market through a solar panel manufacturing plant in AllianceFlorida at Cecil Commerce Center in West Jacksonville that opened in 2019. It is the company's only plant outside of Asia.
Li said the company has several new agreements with firms to supply materials for the Jacksonville plant.
"We are taking initiatives to strengthen our business for the long-term and increase the reliability of our services to the U.S market," he said.
Investment firm acquires control of IQ Fiber
SDC Capital Partners said last week it acquired a controlling interest in IQ Fiber LLC, a Jacksonville-based residential fiber-optic internet provider.
The investment from funds managed by New York-based SDC will help IQ Fiber complete the first phase of its network build-out and it hopes to expand its fiber network throughout Northeast Florida, the firm said.
SDC is a digital infrastructure investment firm.
Terms of the deal were not announced.
Tampa firm acquires Wimberly Claims
Tampa-based RYZE Claim Solutions said it acquired Jacksonville-based Wimberly Claims Service last week to enhance its insurance claims processing services.
Wimberly was established in 1973 and handled all lines of insurance adjustments throughout Florida and the Southeast, RYZE said.
Terms of the deal were not announced.
RumbleOn agrees to buy unnamed Jacksonville firm
RumbleOn Inc., a publicly traded retailer of powersports vehicles, said Sept. 20 it agreed to buy a Jacksonville-based powersports dealer.
However, Dallas-based RumbleOn did not identify the dealer.
RumbleOn said in a news release the Jacksonville business has "steady revenue growth and history of consistent profitability."
The company expects to close the acquisition early in the fourth quarter.