Black Knight Inc.'s stock jumped higher after a Bloomberg News report that the Jacksonville-based mortgage technology company is talking with private equity firms about a possible buyout.
But even after the stock rose $8 to $66.27 on Feb. 5, analysts think the company is worth more.
The average target price of 10 analysts following the stock is $82.60, according to Yahoo Finance.
Truist Securities analyst Andrew Jeffrey recommended buying more shares even after the Feb. 5 gain, saying Black Knight potentially is worth $80 to $85 a share in a buyout.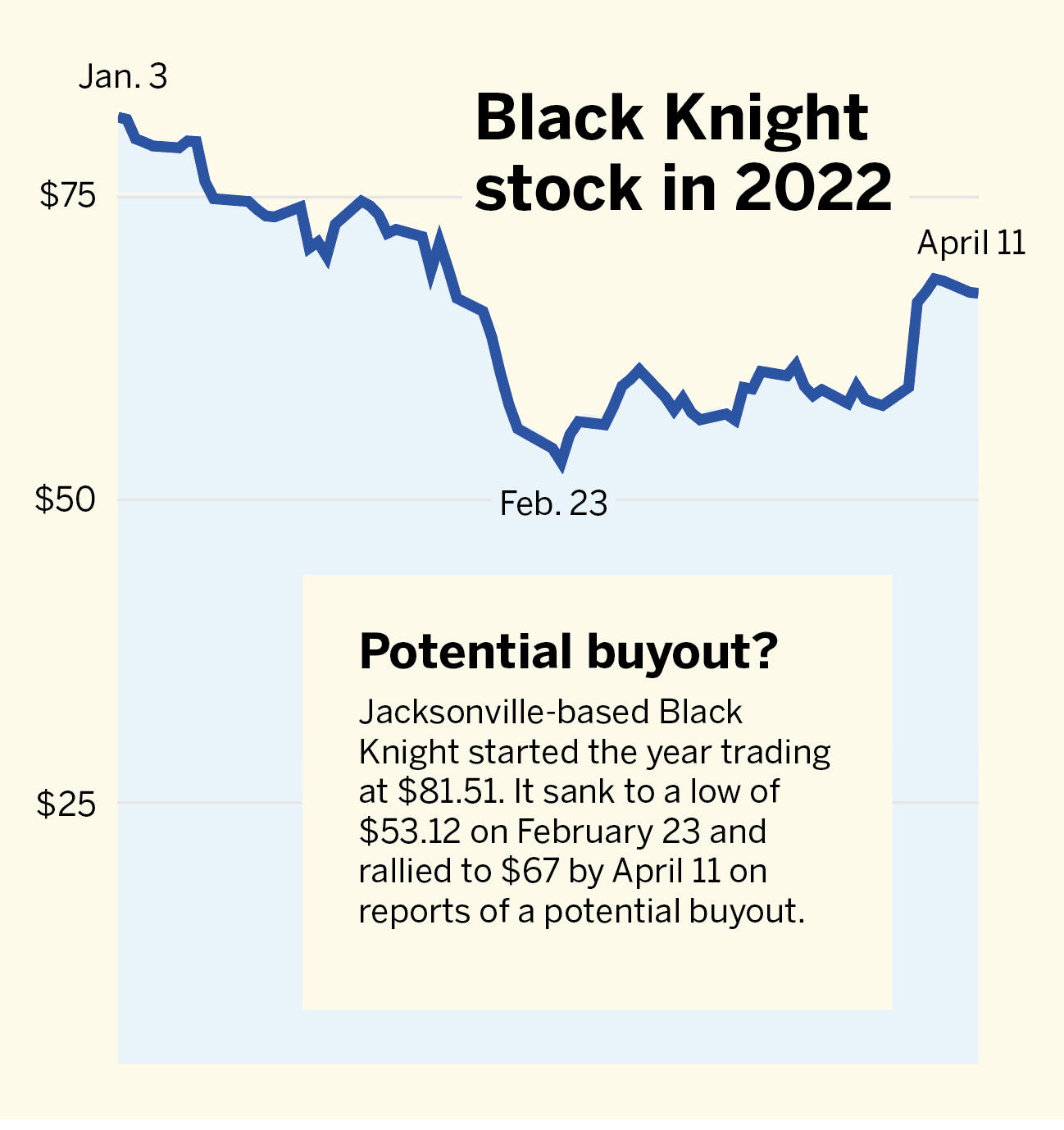 "This view is based on the company's leading competitive position and the scarcity value of mid-single (digit) percentage organic revenue growth" and a strong profit margin, Jeffrey said in a research note.
Black Knight is the dominant company in its main business, providing mortgage processing services for major lending companies.
Almost two-thirds of all U.S. first mortgage loans are processed through Black Knight's platform.
Black Knight's stock was trading in the $80s in December but the stock has declined this year with rising interest rates projected to slow mortgage activity.
The business has a 60-year history in Jacksonville and has changed hands several times in the past three decades.
The independent company, then known as Computer Power Inc., was acquired by Alltel Corp. in 1991. Twelve years later, title insurance company Fidelity National Financial Inc. bought Alltel's financial processing services business.
After the buyout, Fidelity moved its corporate headquarters from Santa Barbara, California, to Alltel's Jacksonville site on Riverside Avenue.
Fidelity spun off its financial processing businesses into a separate company called Fidelity National Information Services Inc., or FIS, in 2006. Two years after that, FIS spun off the mortgage processing business into a separate company called Lender Processing Services Inc.
Fidelity bought LPS back in 2014 but spun it off again as an independent company with an initial public offering in 2015.
Black Knight did not comment on the Bloomberg report, which said nothing is certain and the company could remain independent and publicly traded.
Jeffrey said if there is a buyout, Black Knight likely would remain independent under new ownership.
"It is our opinion that the most likely suitor would be private equity, as we do not see any obvious strategic partners," he said.
Landstar upgraded after stock drop
With Landstar System Inc.'s stock down sharply this year, Wolfe Research analyst Scott Group upgraded his rating on the Jacksonville-based trucking company from "underperform" to "peer perform."
But Group favors rail stocks over truckers and maintained an "outperform" rating on Jacksonville-based CSX Corp. in his freight industry outlook ahead of first-quarter earnings reports.
Group said after two years of outperformance, Wolfe's Freight Transport Index was down 15% for this year as of his April 4 report.
"Transports have been among the biggest beneficiaries from COVID and supply chain disruptions with the shift in consumer spending from services to goods, lots of inventory restocking, and record pricing power for most modes of transportation," he said in his report.
"While some transport stocks feel deeply over-sold in the near term, we believe freight demand is likely to slow from here, and pricing will likely follow."
Landstar's stock was down 20.3% for the year as of April 4 but remained 25.3% ahead of its year-end 2019 level, Group said.
He upgraded both Landstar and Seattle-based Expeditors International of Washington Inc., which is down 25% so far this year.
"Despite being two of the bigger COVID beneficiaries within our coverage, both stocks are now underperforming our Transport Index and the S&P 500 since year-end 2019. As a result, valuation for both companies has contracted significantly," Group said.
CSX's stock has fallen 5.3% this year but remains up 47.6% since the end of 2019, Group said. He said the company remains among his favorites in the railroad industry.
Both CSX and Landstar are scheduled to report their first-quarter earnings April 20.
Analyst downgrades Rayonier AM
With Rayonier Advanced Materials Inc. facing several challenges, RBC Capital Markets analyst Paul Quinn downgraded his rating on the Jacksonville-based cellulose specialties products company.
"We think that Rayonier Advanced has navigated challenging market conditions fairly well, but increased competition in dissolving pulp and activist pressure decrease our conviction in the company's shares given the increased potential for strategic/operational missteps," Quinn said in his research note.
He downgraded his rating from "outperform" to "sector perform" and lowered his price target from $8 to $6, with the stock trading at $5.87 at the time of his April 7 report.
Rayonier AM has come under pressure recently from activist hedge fund Chatham Asset Management, which is pushing the company to refinance its debt. Quinn said the company faces other challenges.
"Our valuation multiple reflects operational issues across the company's operations and weakening investor sentiment, and it is below the range in which we believe U.S. forest products companies should typically trade, reflecting challenging end-markets and relatively higher leverage," he said.
Dream Finders seeking acquisitions 
With its initial public offering and a major acquisition in Texas completed in 2021, Dream Finders Homes Inc. is looking for more opportunities to expand.
"While nothing is imminent, it is reasonable to assume we will be opportunistic with acquisitions in the future," CEO Patrick Zalupski said in an April 6 letter to shareholders.
"We believe DFH offers a very compelling partner for anyone looking to sell their homebuilding business. Having recently been a privately held business, we have the unique perspective of understanding the challenges of being private," he said.
Zalupski, who formed the Jacksonville-based homebuilder in 2008, said he's not going anywhere.
"You can sleep well at night knowing that I, your Founder, CEO and Chairman, am significantly aligned with shareholders, as I own approximately 65% of outstanding shares and have no intention of selling any of my shares for a long time," his letter said.
Dream Finders made one significant executive change, saying in a Securities and Exchange Commission filing that Anabel Fernandez was promoted to chief financial officer April 1.
Fernandez, who was the company's treasurer and vice president, had been serving as interim CFO since Rick Moyer resigned the position in October.
FRP adds to mining property portfolio
FRP Holdings Inc. said in an SEC filing it acquired a 1,549-acre mining royalty property in Astatula, Florida, for $11.6 million.
Jacksonville-based FRP is a real estate development company that develops commercial properties, focused largely in the Washington, D.C., market.
FRP, spun off from Florida Rock Industries Inc., also owns a portfolio of quarries in Florida, Georgia and Virginia that are leased to construction materials companies. The company had 13 quarries totaling about 15,000 acres at the end of 2021.
Mining royalties from FRP's quarries produced $9.5 million out of the company's total 2021 revenue of $31.2 million.
"This is very important addition to our mining royalties segment," CEO John Baker said in a statement in the SEC filing.
"We believe very strongly in the future of our aggregates assets and the markets that they serve. To be able to put our excess cash to use in a business segment where assets are hard to come by makes us doubly excited about this purchase."
The Astatula property is leased for mining to Vulcan Materials Co., which acquired Florida Rock in 2007.
TC Federal Bank expanding to Jacksonville
TC Federal Bank, a Thomasville, Georgia-based bank that went public last year, is expanding to Jacksonville.
The bank said April 7 it intends to open a commercial loan production office in Jacksonville and follow that with a retail banking branch.
This would be the third branch for the savings bank, which has a full-service branch in Tallahassee in addition to Thomasville. It also has a loan office in Savannah.
"Many of the community banks in the Jacksonville area have been acquired by much larger institutions. We feel the market is primed for a new community bank," CEO Greg Eiford said in a news release.
TC Federal opened in 1937. Its parent company, TC Bancshares Inc., went public in July 2021 with an IPO of 4.9 million shares sold for $10 each.
The company had $381 million in assets at the end of 2021.
Fortegra Group expands in Europe
Jacksonville-based specialty insurer Fortegra Group expanded its European operations by acquiring ITC Compliance GRP Ltd., a United Kingdom company that assists auto retailers in providing finance and insurance products.
Terms of the deal were not disclosed.
Fortegra attempted an IPO last year but parent company Tiptree Inc. canceled the stock sale in April 2021. Tiptree has said it may explore a Fortegra IPO again in the future.