Grafton "Duke" Addison III, as one of the senior real estate professionals in Jacksonville, knows what goes around likely will  come around some day.
The 62-year-old Addison, president and CEO of Addison Commercial Real Estate Inc., finds himself at the helm of leasing duties and resurrecting a once shining office complex in Jacksonville. 
Addison has taken over leasing for the Midtown Centre office park, formerly the Koger Center, between Beach Boulevard and Art Museum Drive near the Hart Bridge Expressway.
Owners put him in charge of reestablishing leasing deals for the complex, built in the 1960s. Oak Hill Management called to ask him to take over the leasing process for Midtown. 
"I said, absolutely, most definitely. Because it's not going to be just Duke, it's my team that will come to the table because it's an 850,000-square-foot office park," Addison said.
Addison is familiar with the property.
He established his company in 2002 after he bought out his partners in the former Shultz Foster Addison Real Estate firm. 
Addison had been the leasing agent for the Koger Center from 1987-90.
He said the complex was established in phases in the 1960s and was considered the first suburban office park in the city. 
Developer Ira Koger's vision was "to create a place where businesses could thrive without the cost, inconvenience, or limitations of traditional downtown office space in Jacksonville," says the property overview.
Addison said the center's location, between the St. Nicholas and Empire Point neighborhoods near Downtown, is a selling point.
An extensive renovation is underway.
"Right now, the project is 55% leased, so there's a lot of opportunity and we're working on new transactions and lease renewals," Addison said.
There are 29 multiple-unit buildings with the Schultz Center and federal, state and city government offices. Nonprofits and similar entities also lease there.
Addison said Midtown Centre is in an area that has been largely forgotten because of the Northbank and Southbank of Downtown and the office complexes in suburban office areas such as Deerwood and Baymeadows.
"It's kind of just been overlooked. It's changed ownership a handful of times," Addison said, noting North Carolina-based Oak Hill Management is eager to revitalize it.
He said the diversity of office space at Midtown Centre is ideal for tenants that don't need large amounts of office space or foot traffic from walk-in customers. 
That would be more appropriate in Downtown or a commercial retail center.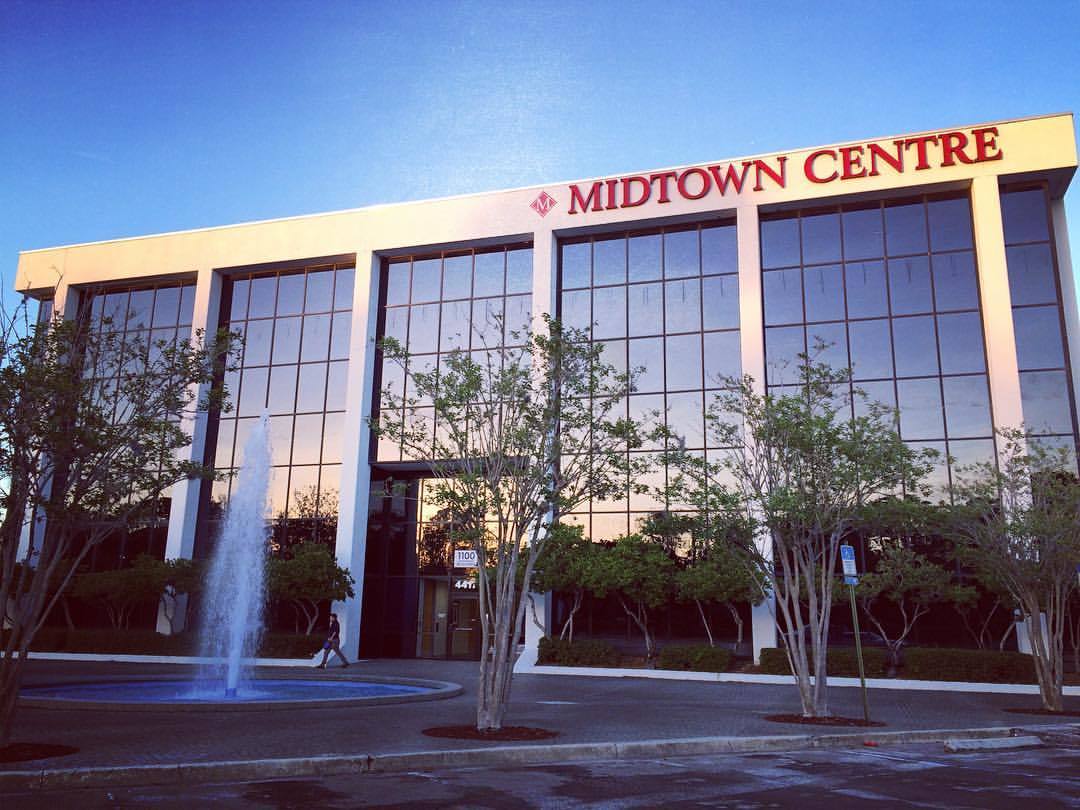 Midtown Centre is in the 4800 block of Beach Boulevard and it will target midlevel commercial companies and small businesses. 
"There's a fair amount of renovations going on, some exterior painting, some exterior landscaping. But the buildings have good bones. Some of the buildings have an art-deco-ish look to them," he said.
"The challenge, for us, is that it's so large that it's like this 10,000-pound gorilla and we're trying to get reacquainted with the nuances of each building and what's available," Addison said.
Two 20,000-square-foot structures will be built at the site for warehouse uses at $4 million combined.
Addison's offices are at 7899 Baymeadows Way,  Suite 100. The company provides leasing, brokerage, property management, development-syndication and consulting services.
Addison said that during the pandemic, he saw a big increase in deals with out-of-state clients.
"We're very bullish," he said. 
Vice President Jake Ammon is confident with Addison's leadership.
"I think he's one of the most personable people I've ever interacted with," Ammon said.
"He's got that reputation that he's built in this market. People just enjoy being around him."