A new venture hopes to give coffee drinkers and fans of noncarbonated cold beverages something to smile about in West Jacksonville.
 Smilies Coffee plans to open Aug. 19 at 7411 103rd St., about a third of a mile west of Interstate 295. 
The company is owned by former Portland, Oregon, residents Sam Mikhalets and Eli Kokoshin. The drive-thru-only coffee store is managed by Elizabeth, Kokoshin's wife. When fully operational they expect to have 10 employees.
Startup costs were about $150,000, Mikhalets said.
Supply chain issues delayed the installation of signage to make the store more visible from the busy street, they said.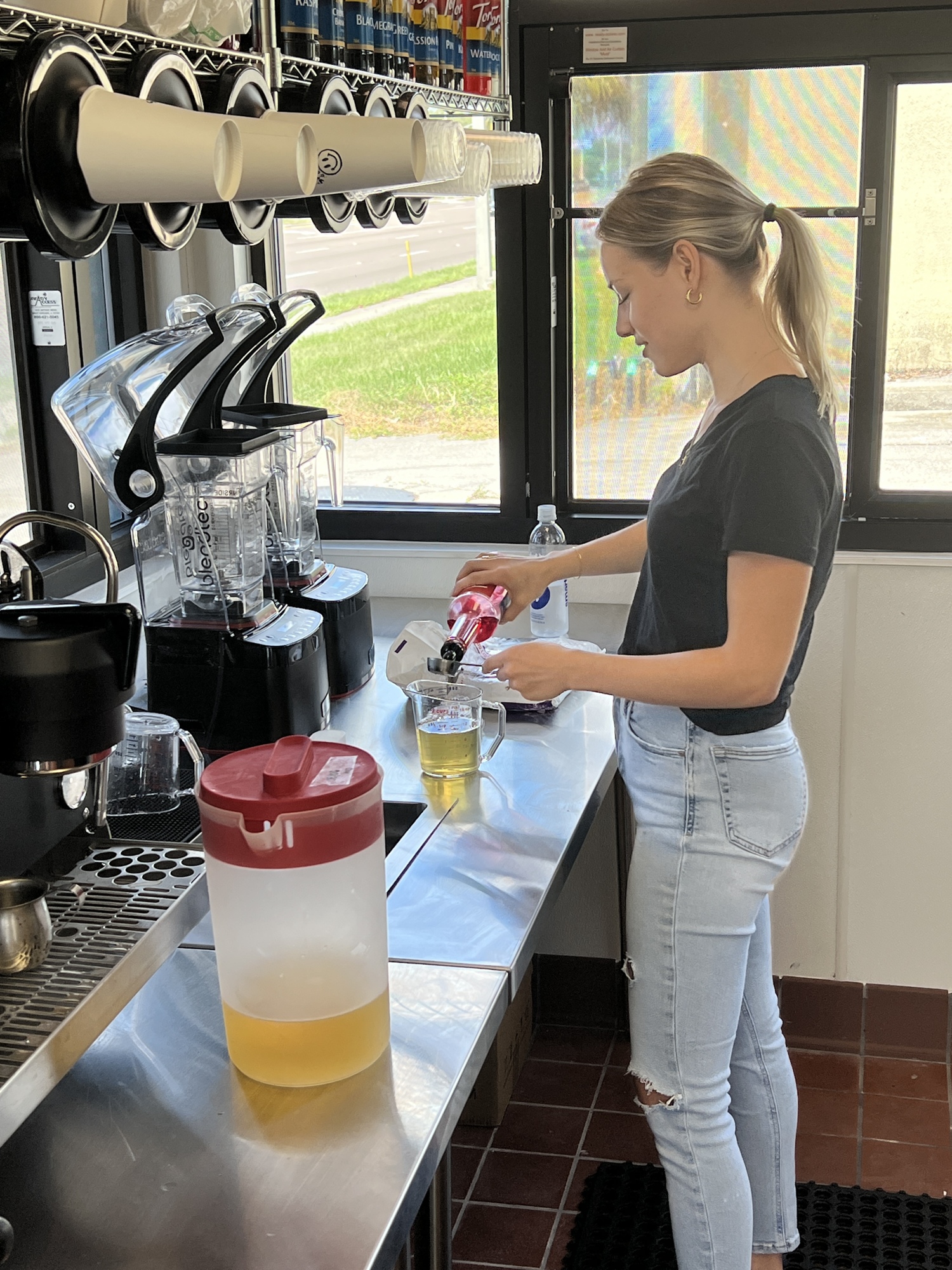 Several franchise drive-thru coffee shops are opening in the region, including Ellianos, 7Brew, The Human Bean and Scooters. 
The operators of the single Smilies Coffee said they will be able to prosper because it is a stand-alone building and their operating model will serve them well.
Smilies has no seating. Employees will greet drivers in line and take orders before the vehicle reaches the pickup window.
"We are going to be the Chick-fil-A of coffee," Mikhalets said.
Customer service will be a major part of the business model, Elizabeth Kokoshin said.
"If someone is taking time out of their day to treat themselves here we want to make it a special experience."
The Smilies concept is similar to many in the Pacific Northwest, Eli Kokoshin said, where it is common to see coffee shops every few blocks.
They chose Jacksonville after searching for a location in Daytona Beach, Fort Myers and Sarasota. They also chose the city for its weather and robust Slavic community.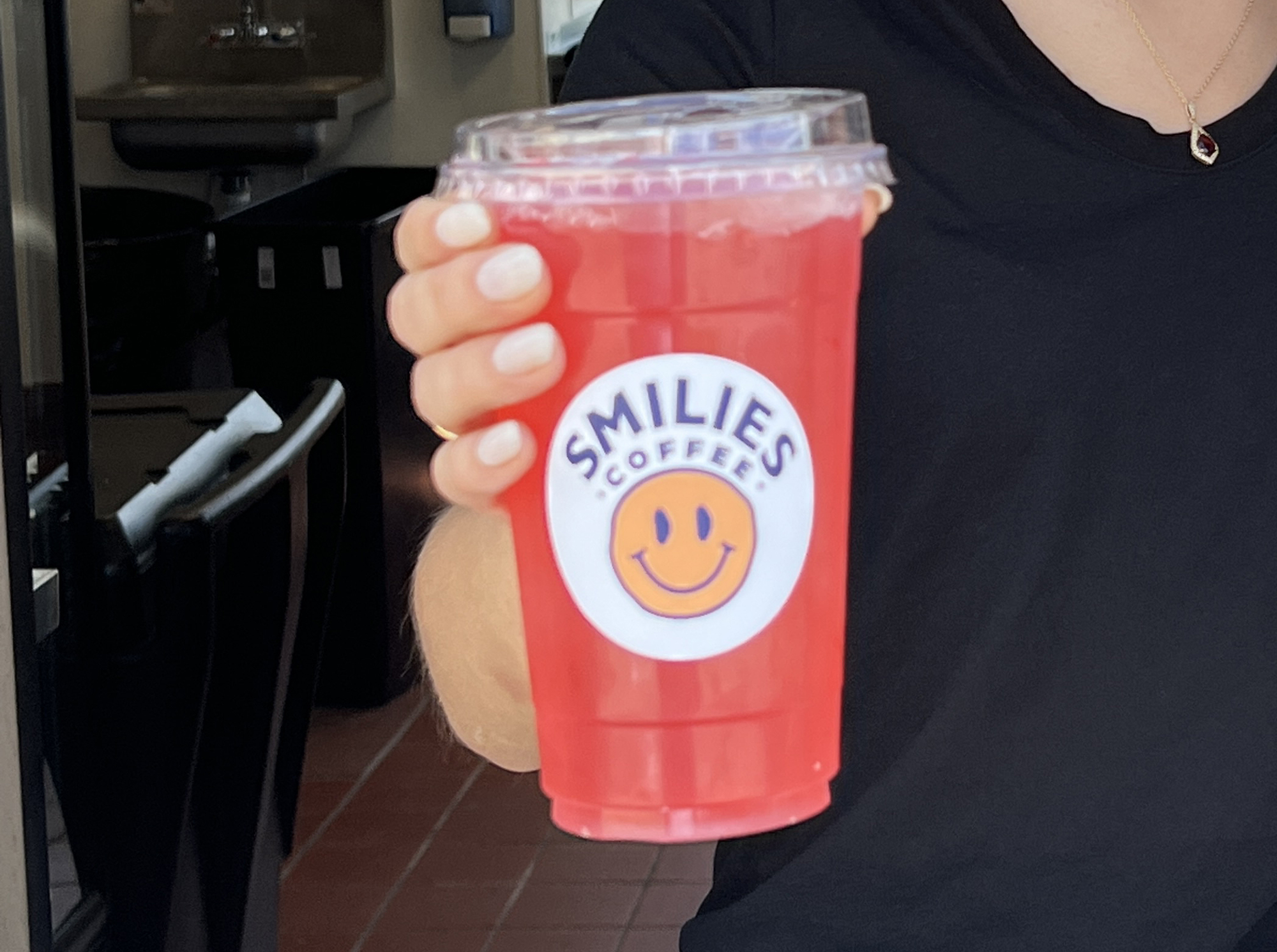 Smilies buys its beans from Brazil and Guatemala and has them roasted in Portland and shipped to Jacksonville. 
They want to move the roasting operation to Jacksonville as soon as possible.
Besides basic coffee drinks, Smilies serves smoothies, milkshakes, lemonades, teas and Italian sodas. Power Ups are four different teas boosted by a Red Bull energy drink.
Its specially drinks, called Originals, are blends of flavored syrups and coffee. The Dreamer is expected to become a signature drink, Mikhalets said. It combines espresso with half-and-half, vanilla syrup and caramel sauce.
The only food offered to start is a tiramisu dessert. Bagels and breakfast sandwiches will be added.
On Aug. 10 they are beginning a weeklong, unadvertised soft opening with the grand opening planned for 9 a.m. to 5 p.m. Aug. 19.
An assortment of 16-ounce drinks will be served free. Regular hours will be 6 a.m. to 9 p.m. Monday through Thursday, 6 a.m. to 10 p.m. on Friday, 7 a.m. to 10 p.m. Saturday and 7 a.m. to 7 p.m. on Sunday.
People can register at its Instagram page @smiliescoffee for giveaways that include an espresso machine. Winners will be announced Aug. 20.
The narrow white building was constructed in 1987. It is across the street from Enchanted Drive next to the ASAP Dental Care offices. It was last operated as LePoughs Barbecue Half N Half.