After 20 years in the making, Publix Super Markets Inc. opened its 39,209-square-foot store at 2039 Hendricks Ave. in East San Marco. Here is a look at the history of the project:
2002: Discussions surface for a mixed-use project, possibly with Publix, on the Hendricks Avenue and Atlantic Boulevard property owned by SouthTrust Bank.
2006: Regency Centers Corp. and The St. Joe Co. announce a mixed-use project for the site; Publix commits.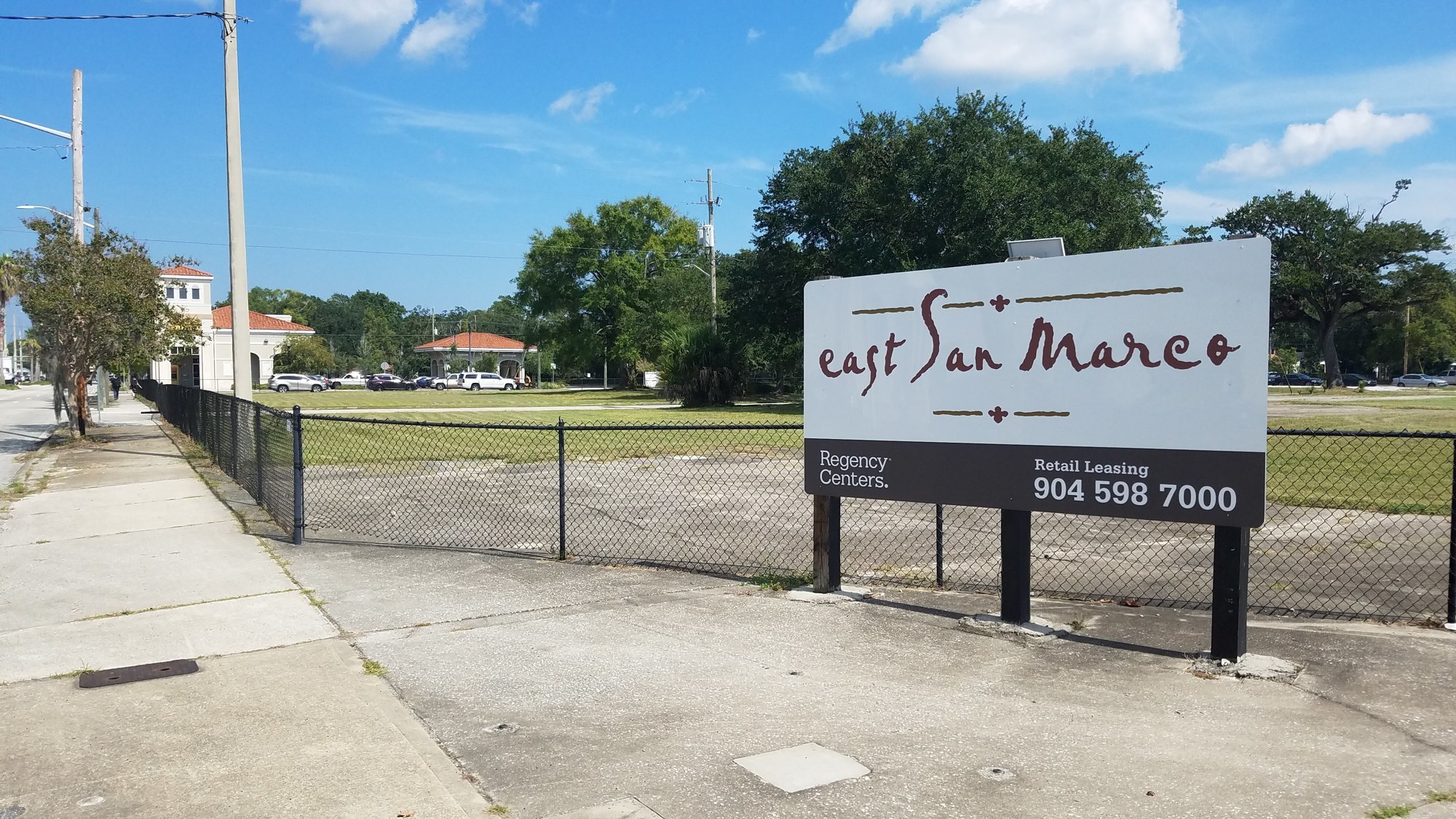 2007-08: Regency and St. Joe buy the property.
2008-09: The Great Recession stalls development projects and the effects linger.
2013: Whitehall Realty Partners joins the project as the residential partner but withdraws from the deal in 2014.
2014: Regency Centers buys out St. Joe's interest; City Council enacts ordinances to allow apartment and commercial development on the site.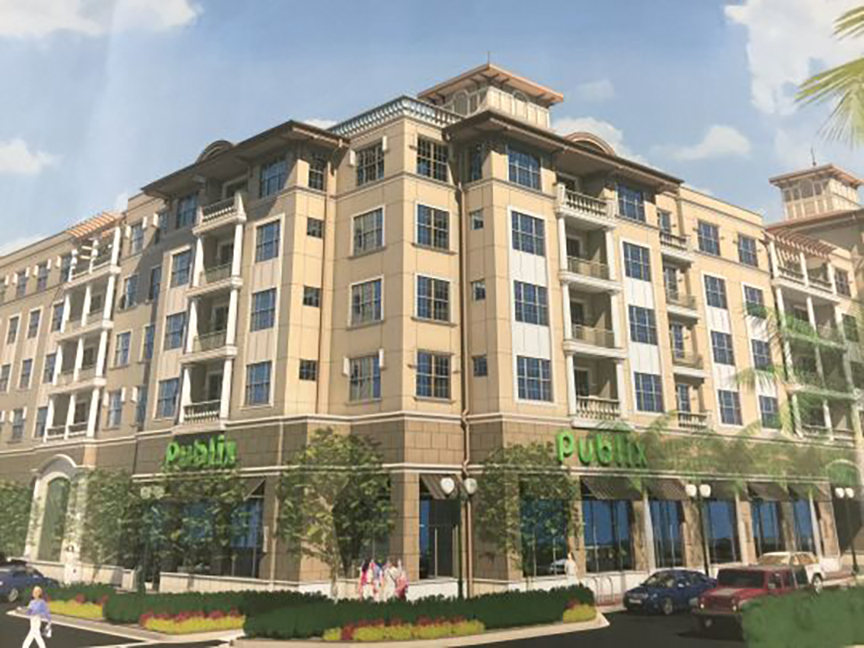 2015: ArchCo Residential LLC and Bluerock Residential Group REIT execute a purchase-and-sale agreement with Regency Centers; Whitehall Realty Partners remains involved as a local partner.
March 2016: Regency Centers announces ArchCo and Bluerock will buy the property, develop the project, and sell the retail space back to Regency. Groundbreaking expected in August.
Nov. 29, 2016: City issues a site-work permit.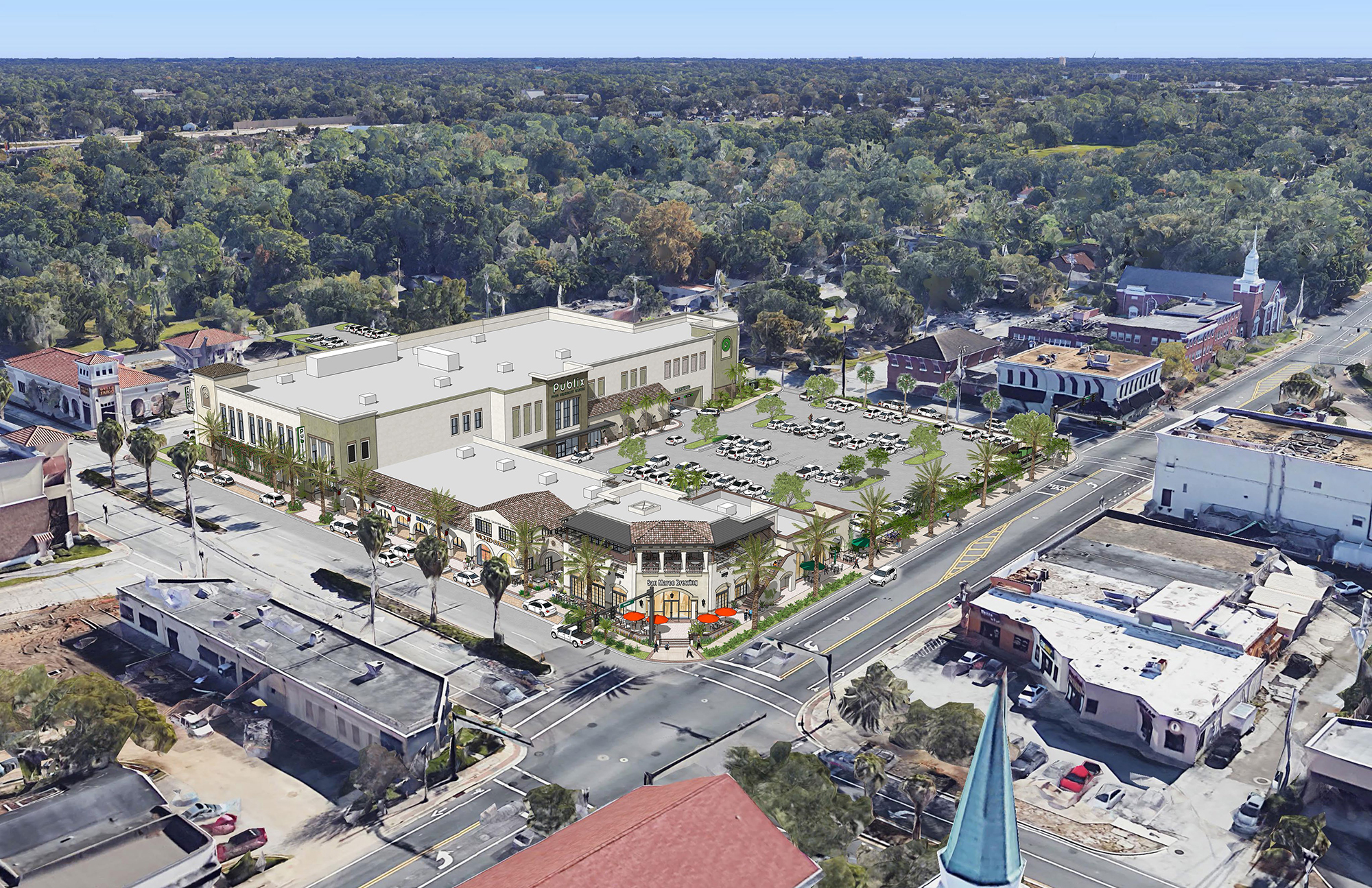 Dec. 29, 2016: City issues seven building permits for the project. ArchCo says it should buy the land in January and start work in April.
January 2017: ArchCo executive predicts work will start in April with completion in two years.
March 2017: ArchCo and Bluerock terminate the deal.
June 2017: Regency Centers says it remains committed to the project.
Sept. 27, 2019: Regency Centers applies to the Jacksonville Planning and Development Department to rezone 4.3 acres for 35 multifamily units, down from 280 in previously approved plans.That plan showed 245 apartments on top of the retail center.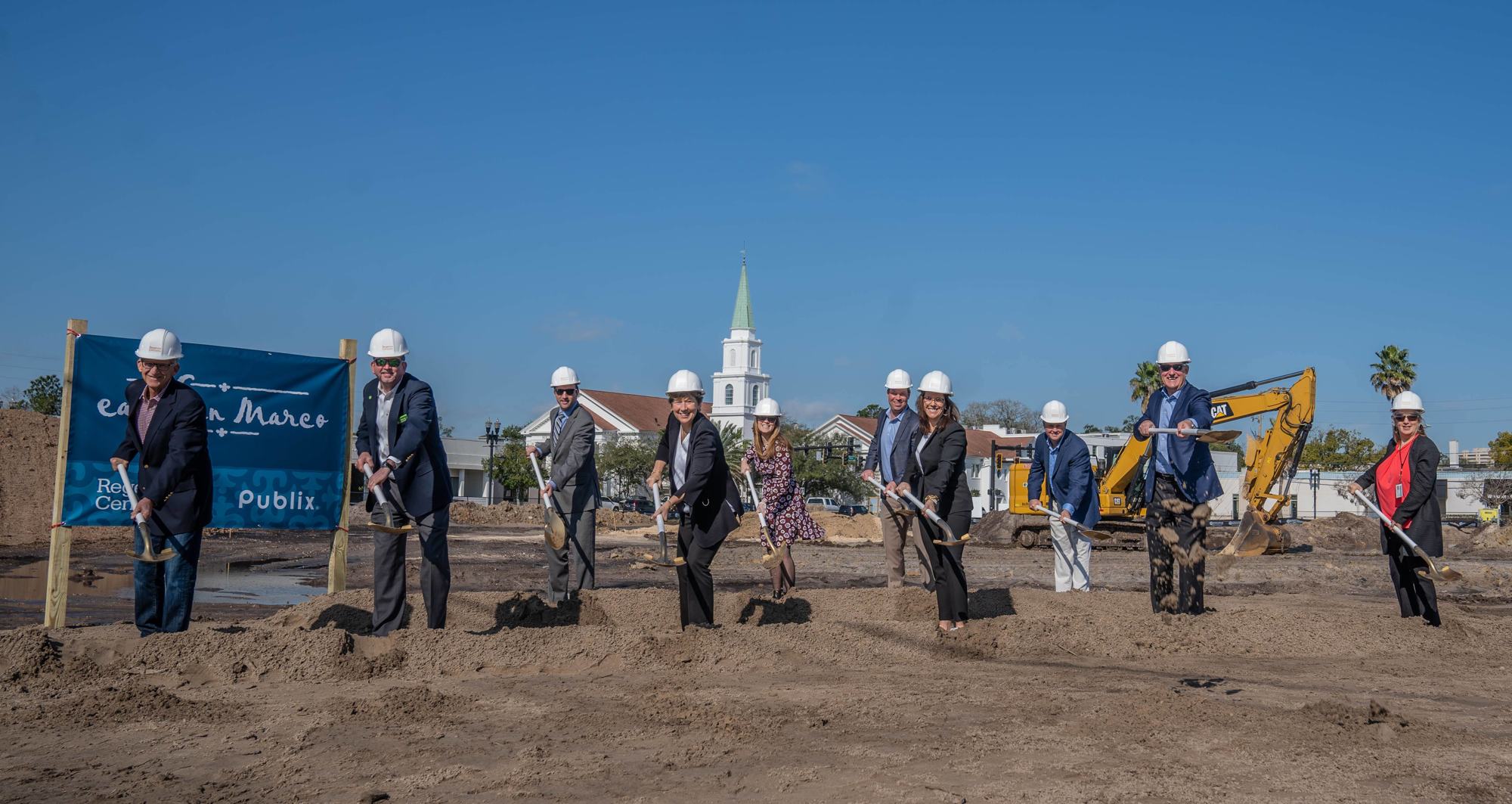 October 2019: Regency Centers unveils plans for East San Marco that include a two-level Publix building, with parking on the ground floor and the 40,000-square-foot supermarket on the top floor. Regency is close to a contract with a residential developer for the 35 town houses.
Oct. 16, 2020: Regency Centers applies for construction permits totaling 59,052 square feet of retail space, comprising a two-story building of 76,588 square feet, with a 39,000-square-foot Publix on the top floor and parking on the bottom; a two-story retail building totaling 8,665 square feet; a one-story retail building of 9,951 square feet; and a 1,436-square-foot Publix Liquors store.
Nov. 11, 2020: Regency Centers says construction on the Publix should be completed by summer 2022.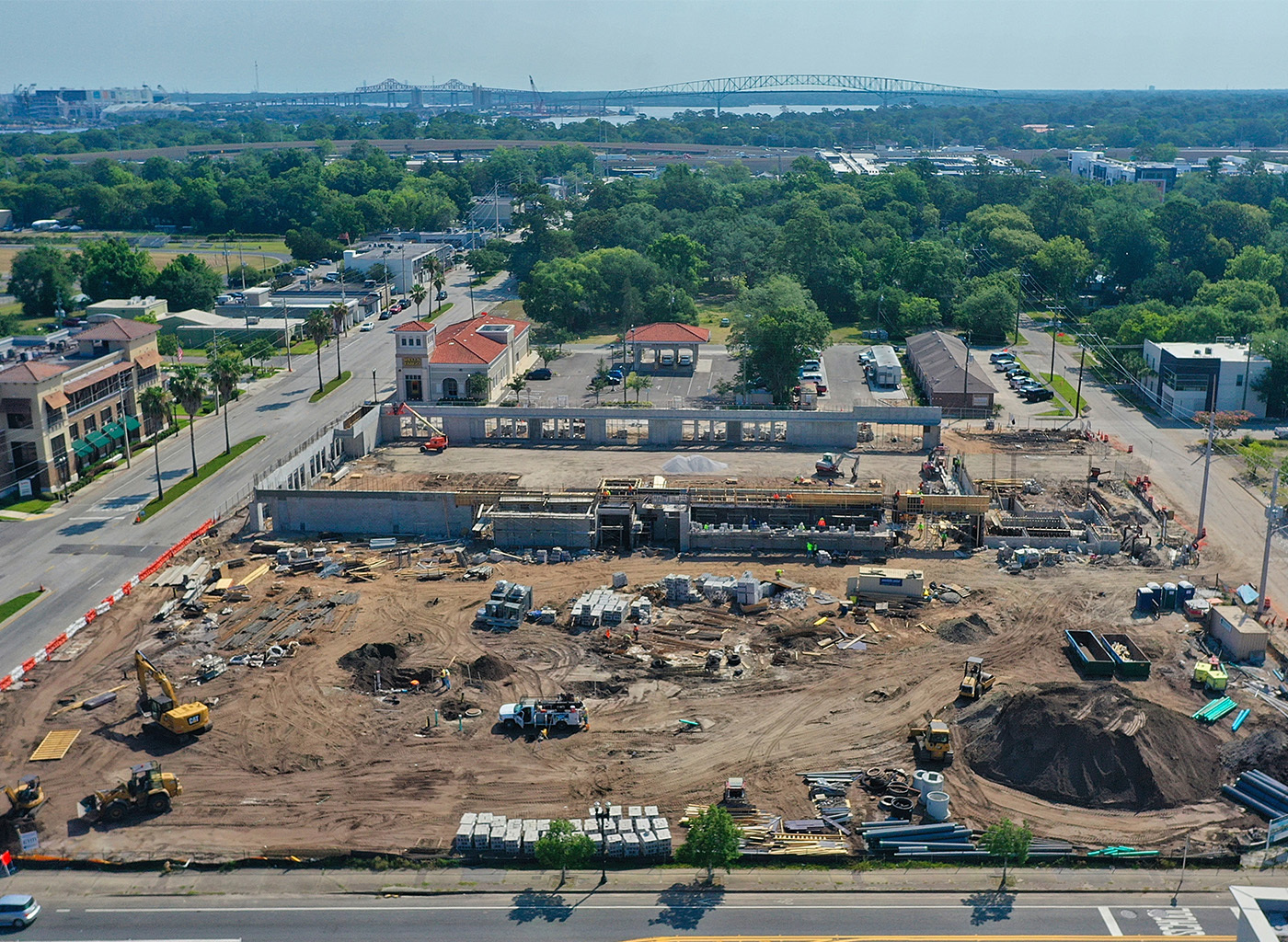 December 2020: The city issues a horizontal work permit for the 3.25-acre site at southeast Atlantic Boulevard and Hendricks Avenue.
Feb. 9, 2021: The city issues four permits for J. Raymond Construction Corp. to build the retail center at 2039 Hendricks Ave. at total construction costs of $9.7 million.
Feb. 9, 2021: Luxury builder Toll Brothers files plans for a 27-unit town house community on 1.03 acres one block east of the East San Marco shopping center development.
Feb. 16, 2021: Regency Centers ceremonially breaks ground on East San Marco.
Aug. 11, 2022: Publix Super Markets Inc. opens at East San Marco.