Mike Favo peered through plexiglass into a precision laser-cutter machine Aug. 3 on the factory floor at JinkoSolar (U.S.) Inc.'s only United States production facility.
The laser slices 158mm square solar cells in half. They are paper-thin and will be strung together and combined into one of the 1 million photovoltaic modules, which are solar panels, assembled and shipped from the advanced manufacturing facility in West Jacksonville every year.
Favo, Jinko's Jacksonville plant general manager, said artificial intelligence controls light and cameras on each robot and machine for quality assurance checks through what is a 90-minute process from individual cell to final packaging. 
"Partly, what this demonstrates is the skill of our programmers," Favo said.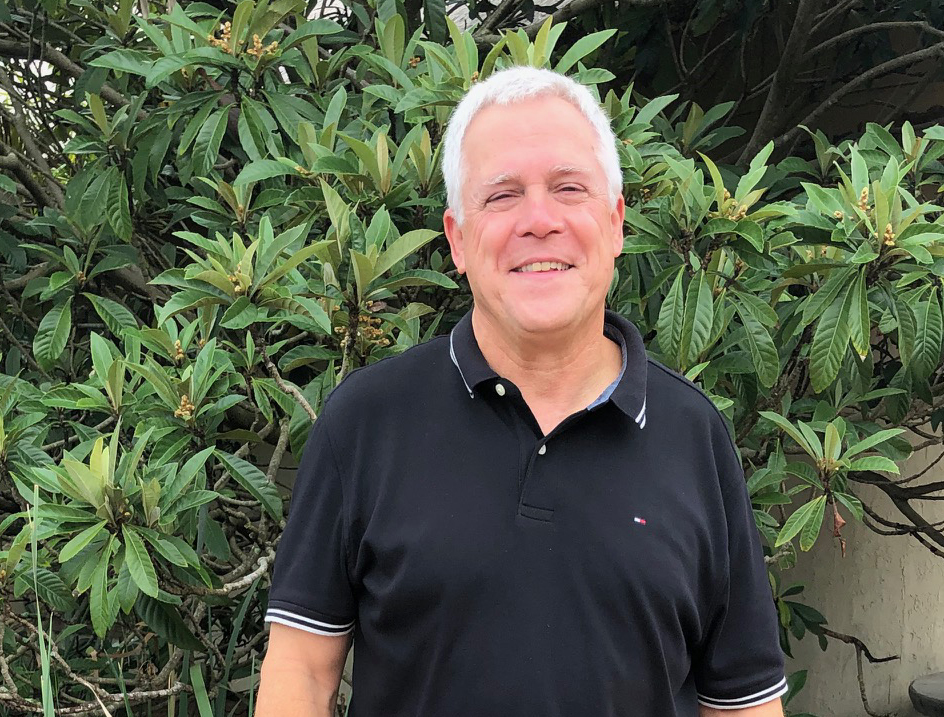 "We're working with more data than any other manufacturing plant I've ever walked into."
Since starting commercial operation in late 2018, the subsidiary of Shanghai-based JinkoSolar Holding Co. Ltd. has surpassed its 200-job target and today employs 280 people in Jacksonville. 
Jinko agreed to a 200-job threshold when it was awarded $4.2 million in a grant and tax refunds in March 2018 by the city and state for the $50.5 million facility.
The 283,652-square-foot facility is at 4660 POW-MIA Memorial Parkway in AllianceFlorida at Cecil Commerce Center.
Favo was named general manager of the plant one year ago after 15 years running U.S. Gypsum Co. in Jacksonville and more than 35 years in manufacturing.
During an Aug. 3 tour, Favo, U.S. General Manager Nigel Cockroft and U.S. Deputy General Manager Jeff Juger said the facility is preparing to transition to making an all-black solar panel usable for residential and commercial projects. 
Favo said in an Aug. 3 email that the shift will happen in October and will be the third type of solar panel Jinko has produced in Jacksonville.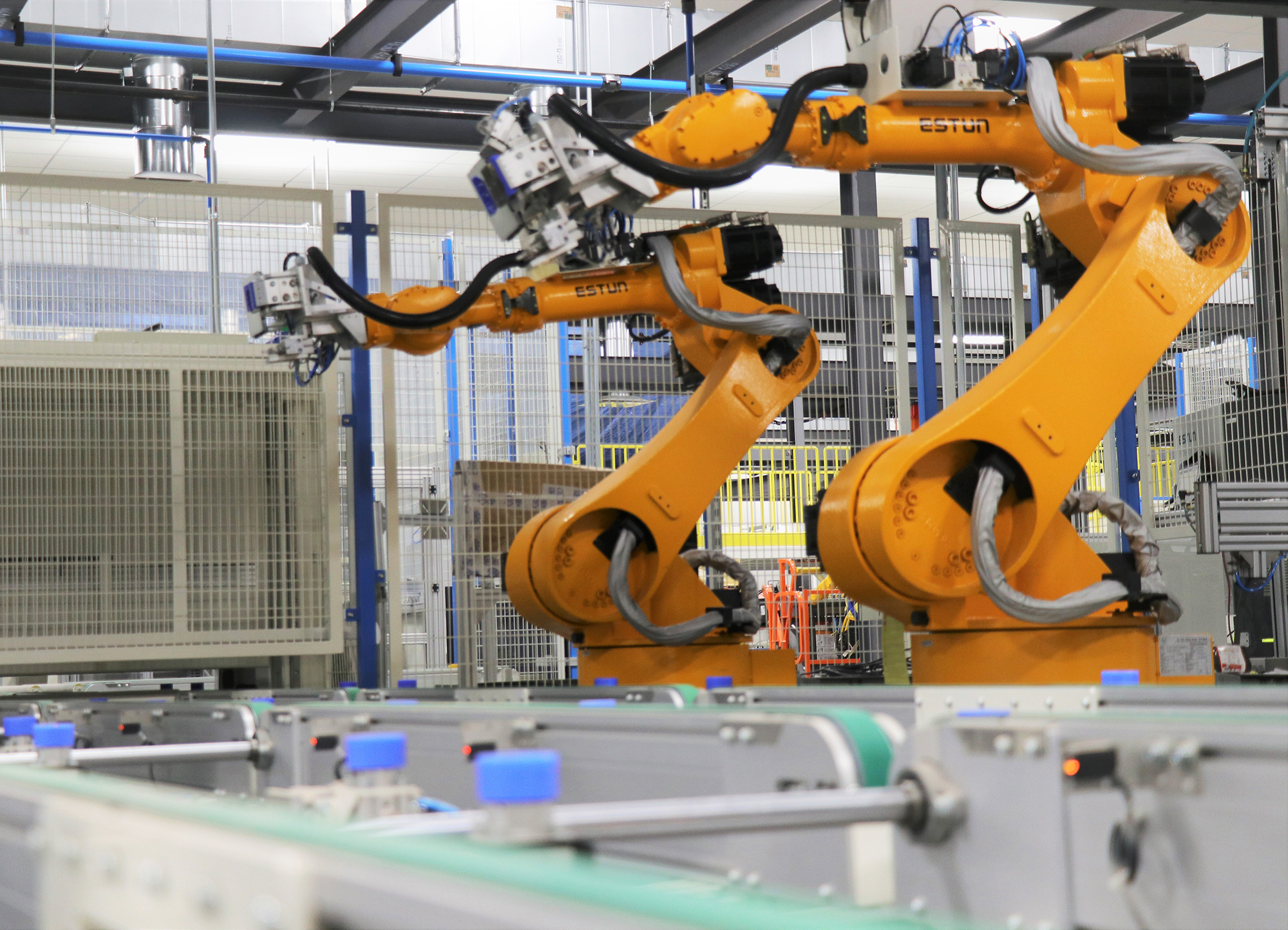 "We remain quite flexible in Jacksonville and stay attuned to market preferences," Favo said.
Over nearly four years in Jacksonville, Jinko has made all-black solar panels for homes and larger, silver-framed modules for utility and commercial scale projects.
Jinko, a publicly traded company, has sold more than 40 million photovoltaic panels in the U.S. in the past 10 years, Favo said. All panels built in Jacksonville are sold to domestic customers.
"With strong demand locally, there's no need to incur additional logistics charges sending them to other parts of the world," he said.
On a global scale, Jinko has more than 3,000 customers and its solar products are in more than 160 countries, according to the company's website.
The company says collectively its module shipments exceeded 100 gigawatts by March 2022.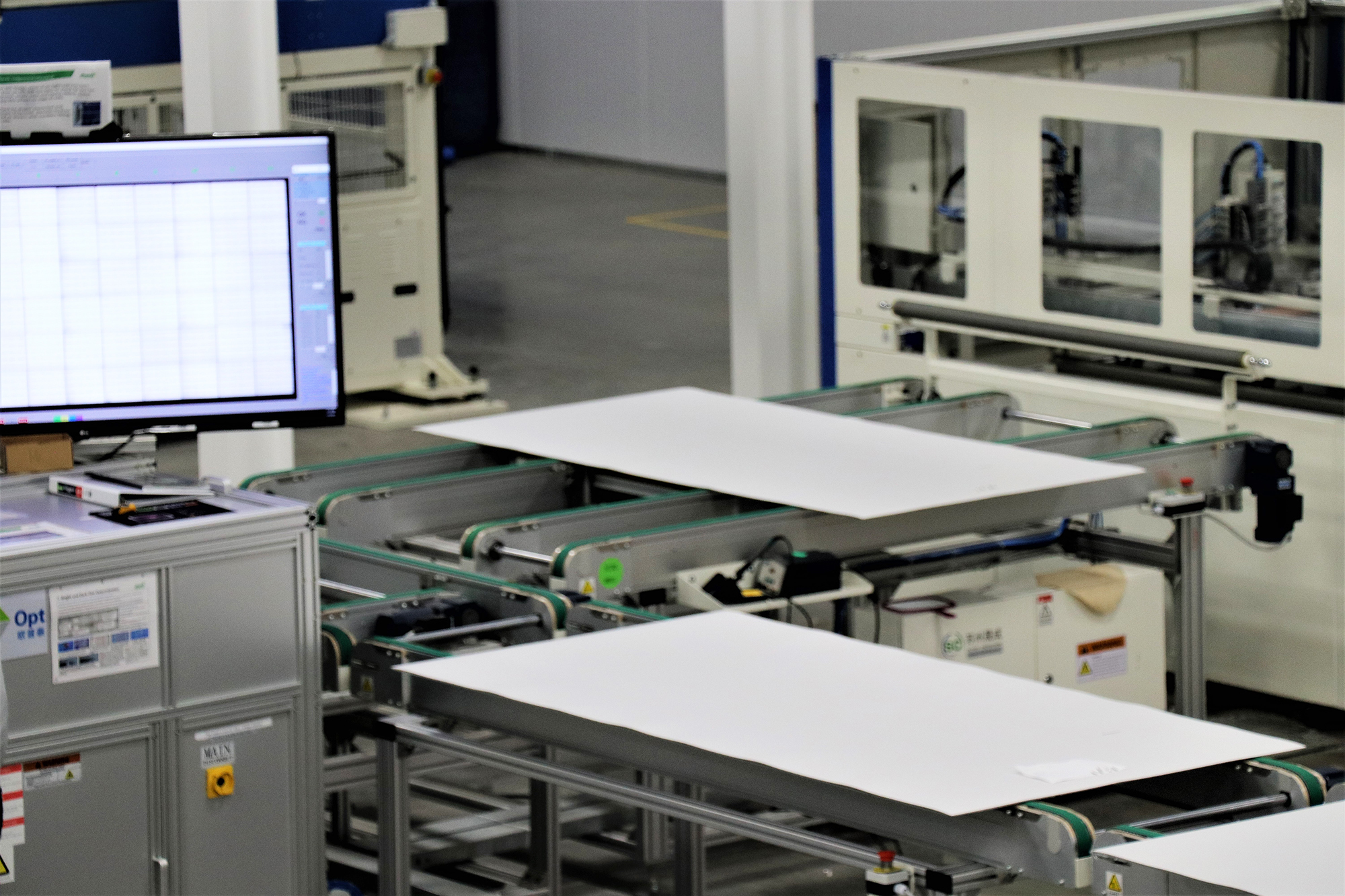 The factory floor
Fabricating about 100 solar panels an hour, Favo said the plant operates around the clock among four production shifts. 
Robotic arms and precision machines equip the solar cells with electric leads, solder them together and set the modules on a Tedlar film-based backsheet created by DuPont before they are encased together with glass.
The Tedlar film is used in jetliners and for applications on the International Space Station, the Jinko executives said. 
Technicians and engineers on the floor monitor the operation and efficiency of the equipment and robots on the assembly line and make adjustments as necessary.
Before the solar cells are fused into the panels, technicians shine light through them to ensure there are no cracks or imperfections. 
A machine blinks simulated sunlight one final time to record the panels' wattage capability, efficiency and other metrics, which are recorded on bar codes on every module.
"City and state officials who have seen our plant contend this is likely the most automated factory in Florida," Favo said by email.
"They would see a high level of advanced manufacturing at work."
Favo said solar technology and manufacturing always evolves.
The company was installing new equipment during the tour that will work with robotics in the plant that can be reprogrammed to assemble different products as needed.  
"(Jinko) doesn't sit on old equipment," Favo said. 
Robots are used in nearly every part of the manufacturing process including boxing the panels for shipment. Six to eight full semitrucks leave the Jinko plant daily, Monday through Friday.
The Jinko executives said the Jacksonville operation and San Francisco corporate headquarters are "sister offices" and share its front-office resources.
Favo said Jinko is focused on facility cleanliness as well as workforce diversity.
According to Favo, 10% of Jinko's Jacksonville employees are retired military veterans, and Jacksonville is home to many military personnel transitioning to civilian life.
In Jacksonville, Jinko has engineers, finance and customer relations and human resources personnel with duties locally and in the nationwide operation. 
Jinko's U.S. operations have about 340 people, or about 1.3% of its total 25,000-employee workforce.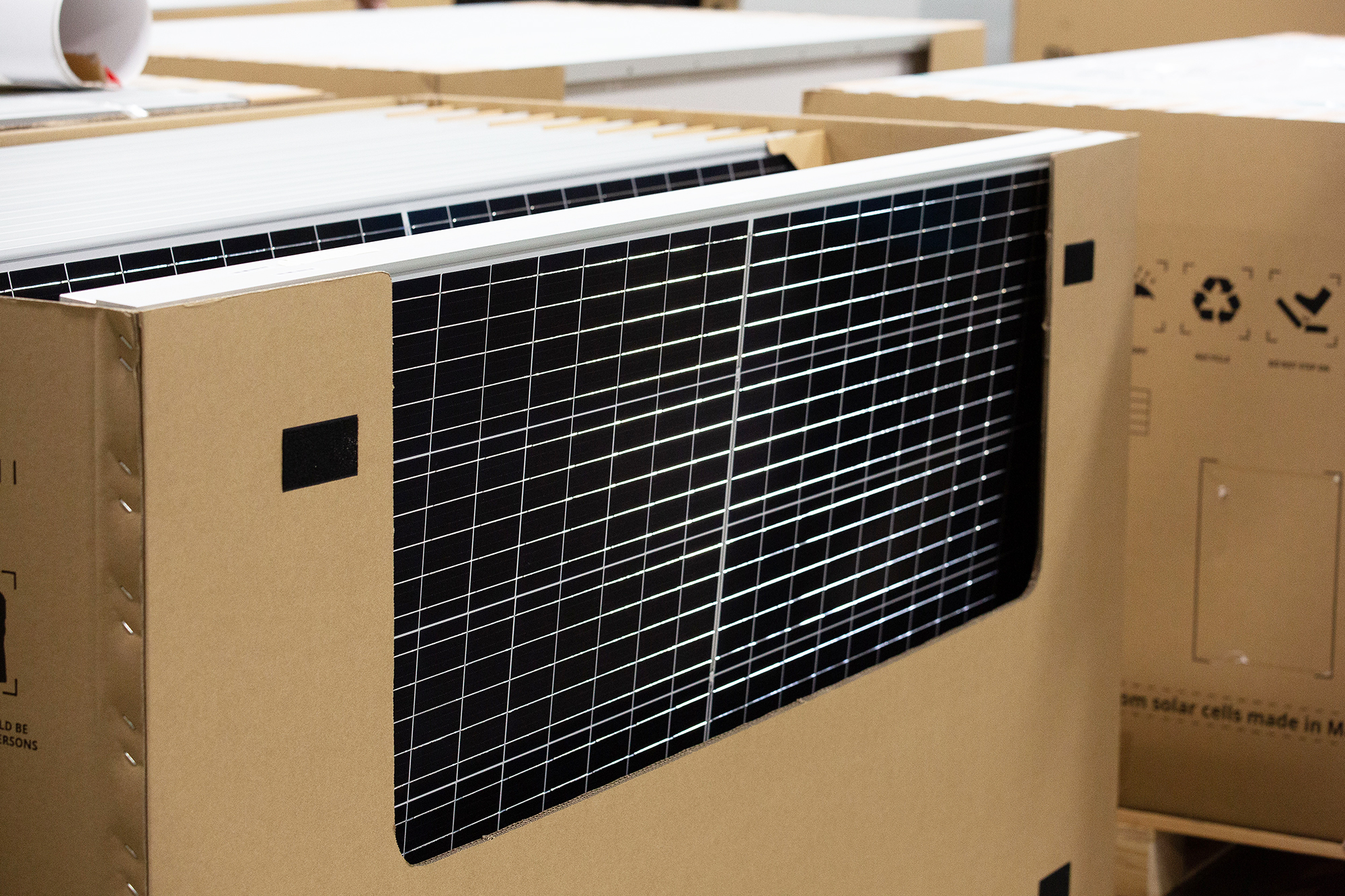 Growing demand 
Cockroft and Juger said solar demand in the U.S started in the West and Southwest and has extended into the Southeast, making Jacksonville a strategic logistics location. 
As land mass availability decreases for large utility-grade arrays, Favo said the challenge becomes fitting more solar panels into smaller spaces. 
"The industry has set a goal of 30% solar generation by 2030. This is ambitious, and policy headwinds may get in the way, but it is not as far away from a goal as it might have seemed just five years ago," Favo said by email. 
"As solar penetration increases, more energy storage will be needed as well, both to absorb excess energy produced during the middle of the day and to make solar a longer duration, more dispatchable asset," he said.
Jinko leadership is watching the Inflation Reduction Act as it moves through the U.S. Congress.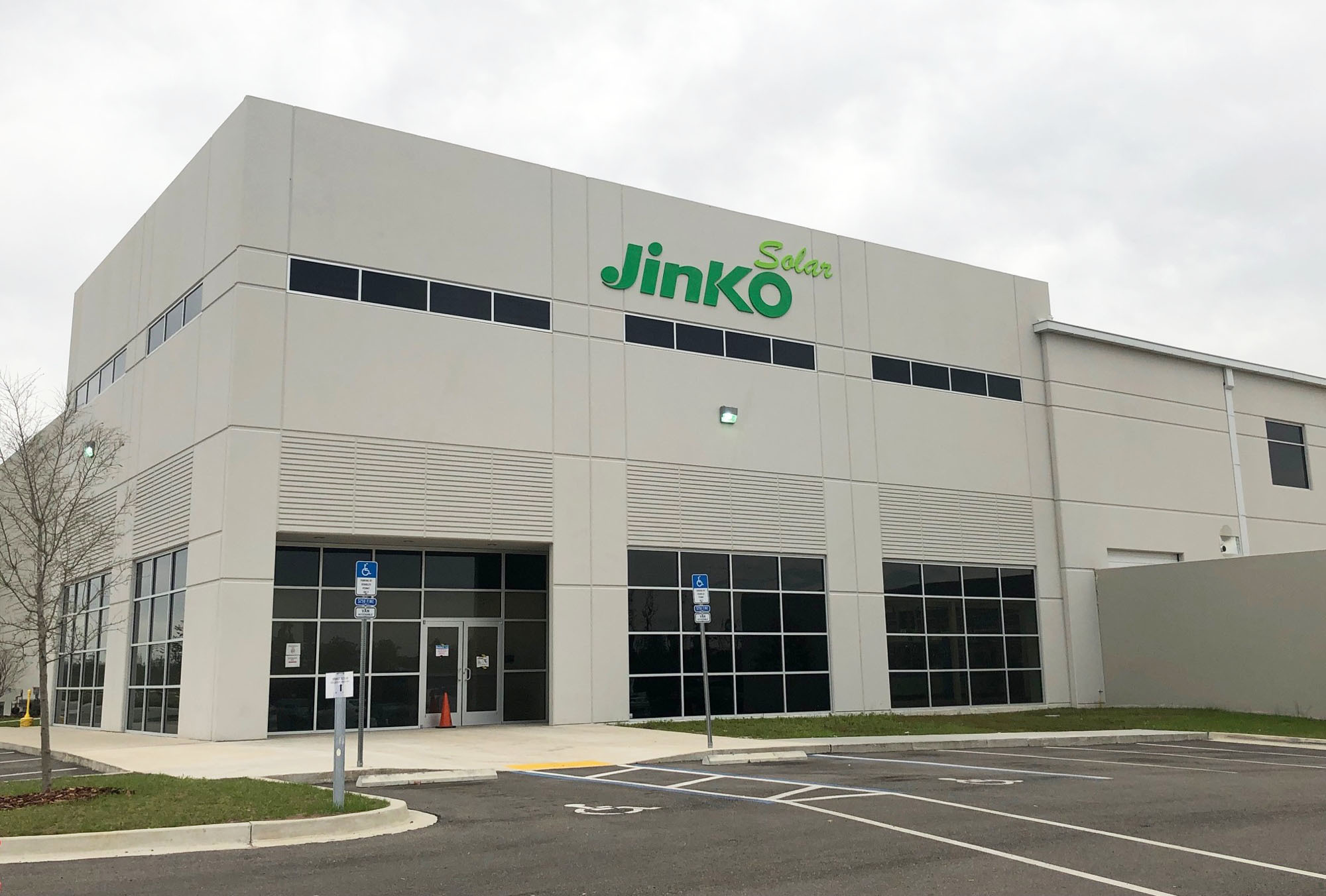 News site Forbes.com reported Aug. 4 the legislation includes tax credits for clean energy production, which could provide a boost to the solar market.
Favo said in the email that federal Section 301 tariffs have increased costs and made it more difficult for Jinko to source some materials.
Reuters reported in July that President Joe Biden is considering action on lifting tariffs "imposed in 2018 and 2019 by then-President Donald Trump on thousands of products valued at $370 billion at the time over China's alleged theft of U.S. intellectual property."
According to Juger, the solar components come from a Southeast Asian supplier. 
Juger and Favo said Jacksonville's "business-friendly" climate has provided Jinko access to a skilled labor pool, as well as a strategic location for shipping its solar panels and logistics. 
Favo said Jinko relies on cooperation with the Jacksonville Port Authority to import its manufacturing materials and is working closely with area schools and colleges on career opportunities.
"Local manufacturing keeps us closer to our U.S. customers, thus reducing logistics variability," Favo said.
"When the product is produced, it can go out the door right away to a customer's site. We can also now showcase the facility to customers who want to see how a solar panel factory operates but do not want to make the long and expensive trek to Asia."