Two companies proposing cold-storage and distribution facilities in North Jacksonville won a combined $5 million in property tax breaks from the city. 
City Council voted 17-0 on Aug. 24 on two bills approving the Recapture Enhanced Value Grants, property tax refunds, for unrelated facilities by third-party logistics company Arcadia Cold Jacksonville LLC and New Jersey-based cold-storage company FreezPak Logistics.
Arcadia plans to lease and invest $86.5 million in a refrigerated distribution facility to be built in Imeson International Industrial Park, according to a draft redevelopment agreement and July 6 project summary from the city Office of Economic Development.
Office Executive Director Kirk Wendland told the Council Finance Committee on Aug. 16 the company will lease the cold-storage space from the building owner and Arcadia affiliate Saxum Real Estate. 
FreezPak
FreezPak's project was detailed in a July 20 city summary that says the company will lease a $116 million warehouse at 8730 Somers Road.
Combined, the two companies plan to invest a combined $202.5 million in separate cold-storage facilities, a logistics use that's growing in Jacksonville. 
• Resolution 2022-0617 provides a five-year, 50% REV grant to Arcadia capped at $2 million. In exchange, the company says the facility would create 60 jobs at an average annual wage of $50,500 plus benefits by Dec. 31, 2027.
• Resolution 2022-0618 authorizes a REV grant capped at $3 million to FreezPak parent company BGFP Jacksonville LLC. The company told city officials its cold-storage and distribution facility would have at least 80 employees by year-end 2026.
Council members Randy DeFoor and Rory Diamond were absent for the votes. 
FreezPak would pay an average annual wage of $56,000 plus benefits, the city summary says.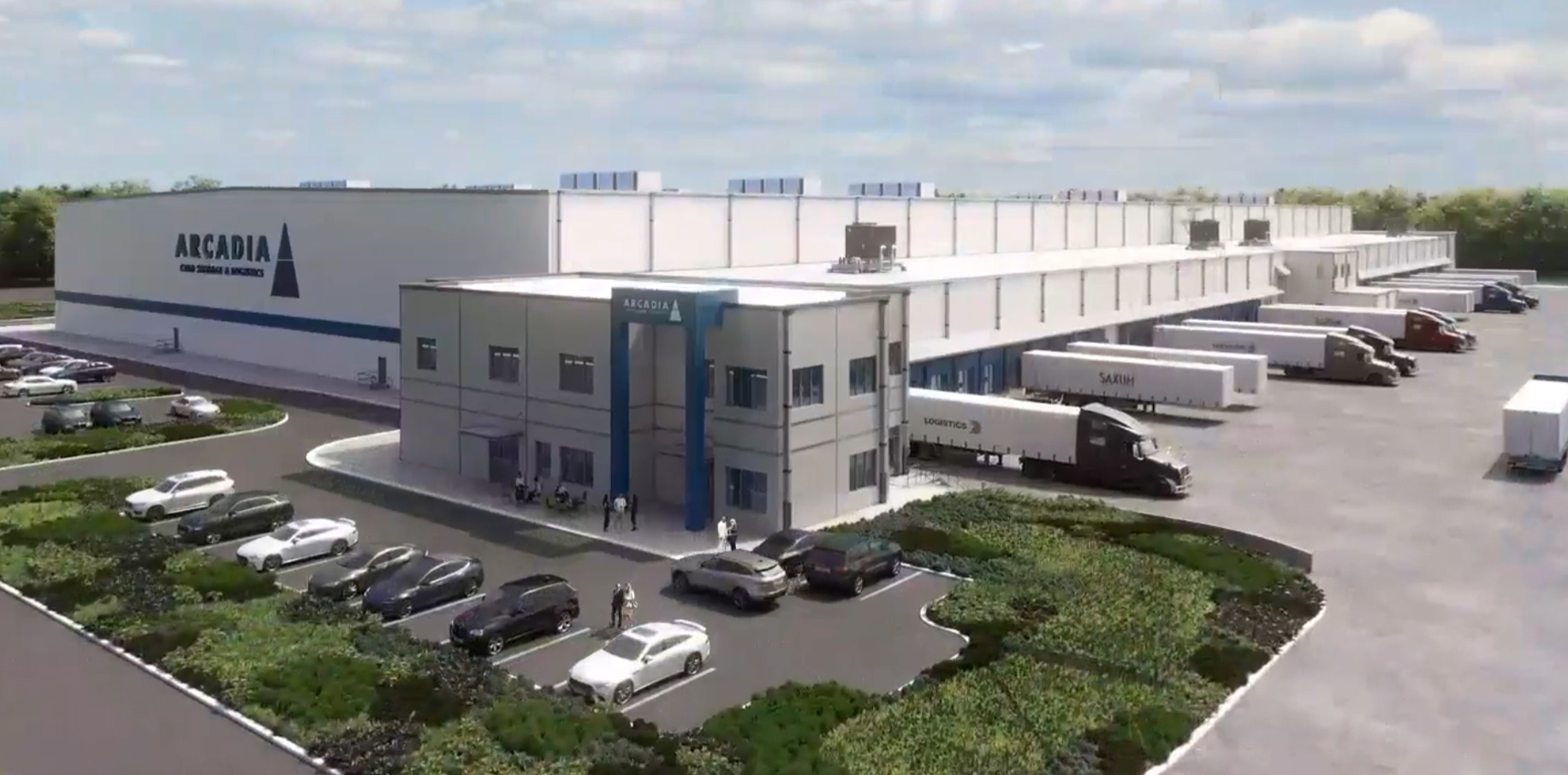 Saxum / Arcadia
Saxum Real Estate applied for a building permit Aug. 5 to construct a 334,022-square-foot food storage/distribution freezer facility on 32.37 acres at 250 Busch Drive E., No. 1, at a cost of $60.77 million. Primus Builders Inc. of Woodstock, Georgia, is the contractor.
The permit application says about a third of the facility will be a shell space for a future tenant, meaning two-thirds, or about 222,459 square feet, would be for an initial user.
An application and plans filed July 5 with the St. Johns River Water Management District shows Saxum Real Estate plans to develop the project at North Main Street and Van Dyck Road inside Imeson International Industrial Park.
Arcadia's draft redevelopment agreement with the city says it will lease about 216,963 square feet of space.
The building will have 32 loading docks, 62 trailer storage spaces and 109 parking spaces.
To qualify for the incentives, Arcadia promised the city an $86.5 million capital investment. 
The city summary says the company will spend $84 million in real estate improvements and $2.5 million in machinery/equipment, furniture and fixtures over the next two years. 
Arcadia will receive nothing from the city if capital investment drops below $65 million.
The city expects a $4.41 return on every $1 of public investment in the project.
Council had to approve waiving the salary baseline provision in the city's public investment policy to qualify Arcadia's project for the incentives. 
The $50,500 average salary does not meet the policy requirement that wages attached to the property tax incentive match or exceed the state average wage of $55,422.
More FreezPak investment
FreezPak is considering an $83 million investment in real estate and $33 million in machinery and equipment at the proposed facility in the next two years, the city summary says.
Economic development officials expect the city to receive $3.70 for every $1 invested in the project. 
The private capital investment would need to be at least $100 million and FreezPak would create at least 80 jobs by year-end 2026.
FreezPak would pay an average annual wage of $56,000, plus benefits.
The resolution did not require a public investment policy waiver.
According to Wendland, the FreezPak site is where Philadelphia-based BG Capital proposes a $101.2 million development on Somers Road.
BG Capital paid $11.175 million on July 15 for 20.5 acres to develop the 272,400-square-foot Jacksonville Cold Storage at 8730 Somers Road, near the JaxPort Talleyrand and Dames Point marine terminals.
BGFP Jacksonville LLC bought the property from Somers Road Jacksonville Propco LLC, which is InLight Real Estate Partners of Ponte Vedra Beach. BGFP could refer to BG Capital and FreezPak.