Mandola's Italian Kitchen, with roots in Texas and Florida, intends to open its first Jacksonville area restaurant in Claire Lane Center in Mandarin.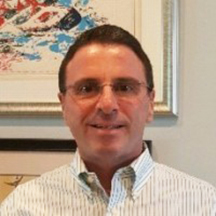 Area developer Dan Rainville, a joint venture partner, said Aug. 26 he hopes to open in February or March and hire 55-65 employees. Construction could start in November.
Founder Damian Mandola, a restaurateur since 1975, also co-founded Carrabba's Italian Grill.
Fast-casual Mandola's has a full Italian menu as well as pastries, cakes, specialty cakes, gelato and sorbetto. The Jacksonville location will have a full bar, Rainville said.
He said the food is "made-from-scratch original recipes" and the restaurant has an open kitchen and fresh bakery. 
The Mandolas.com site shows four restaurants open in Texas and two in Florida, with four more coming to the state, including Jacksonville.
Rainville said two have opened in Tampa with a third planned in that market next month.
"Then next will be Jacksonville and then Oldsmar and Maitland," he said.
"We are moving forward."
Rainville, the joint venture partner for Jacksonville and Orlando development, said he plans eight to 10 sites in those markets, with two on the books each for Jacksonville and Orlando.
He said he is in negotiations in the Beachwalk area in St. Johns County. A site plan for the community shows a lease pending for an Italian restaurant along County Road 210.
Rainville hopes to put at least four to six in the Jacksonville area.
The city is reviewing a permit application for Mandola's to build-out a 6,452-square-foot restaurant at the end space at Claire Lane Center at 11112 San Jose Blvd. at an estimated cost of $950,000.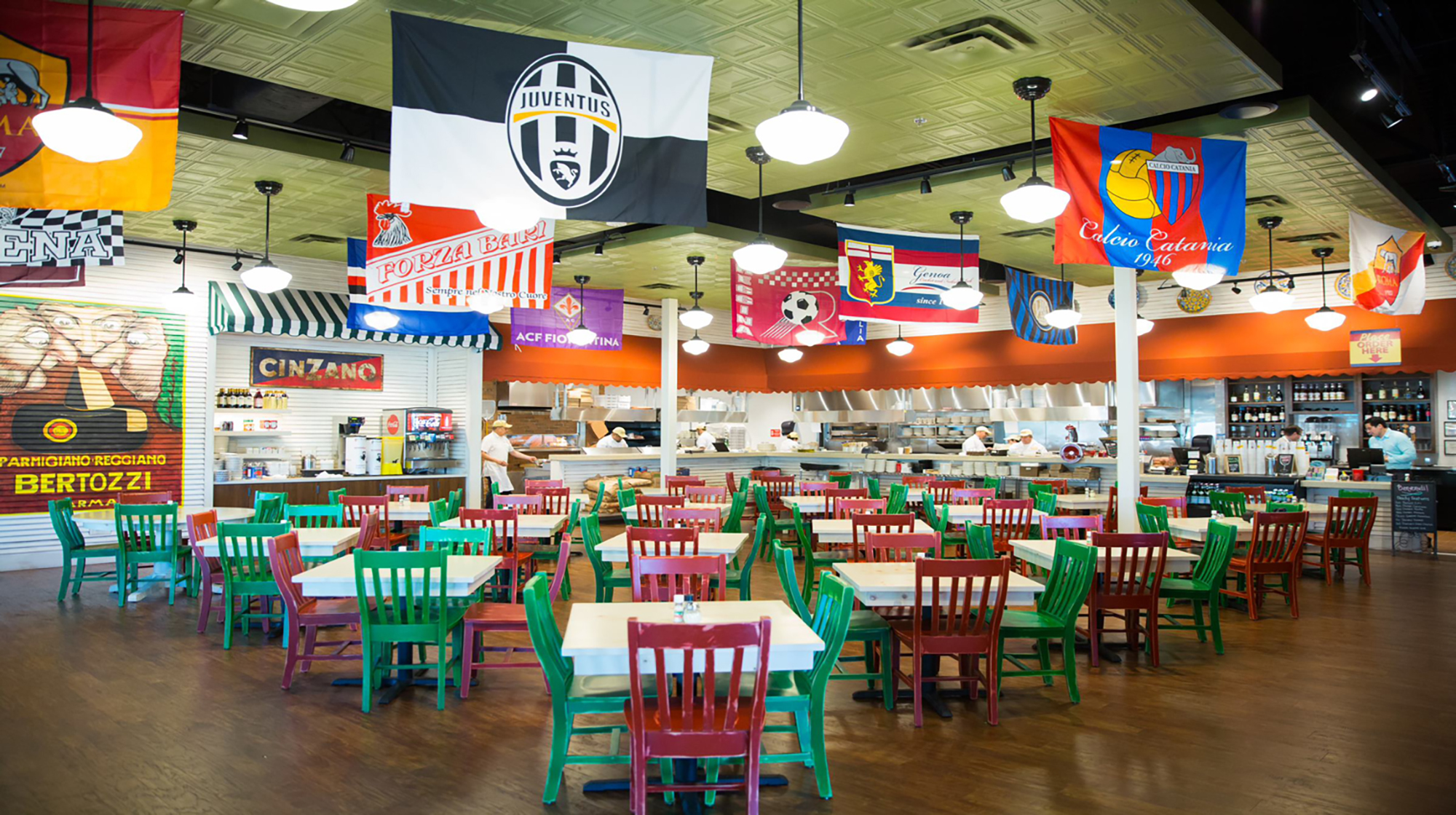 Rainville said it will seat about 180 customers inside and on the patio.
Jon W. Sammer of Fairfax, Virginia, is the architect. Rainville said a contractor has not been decided.
Mandolas.com shows separate menus for Florida and Texas.
The Florida menu offers dining, lunch, wine and beer, happy hour, family package meals and catering.
Rainville said it has a mobile pizza oven for catering.
The online Florida menu shows daily specials such as $16 linguine and clam sauce on Wednesday, $17 shrimp scampi on Friday and $14.50 baked ziti on Sunday.
The dining menu features pasta dishes, antipasti, chicken, soups, salads, pizza, sides and a children's menu.
Lunch items include soup and salad, pasta, pizza and paninis.
The bakery offers cookies, cakes and specialty cakes, and gelato and sorbetto.
Rainville said site selection is "based on income and demographics and future growth of that area." 
"It's very important."
He noted that Claire Lane Center has a Trader Joe's grocery store. Sleiman Enterprises is the landlord.
Rainville says on LinkedIn he is the Jacksonville/Orlando joint venture director of operations.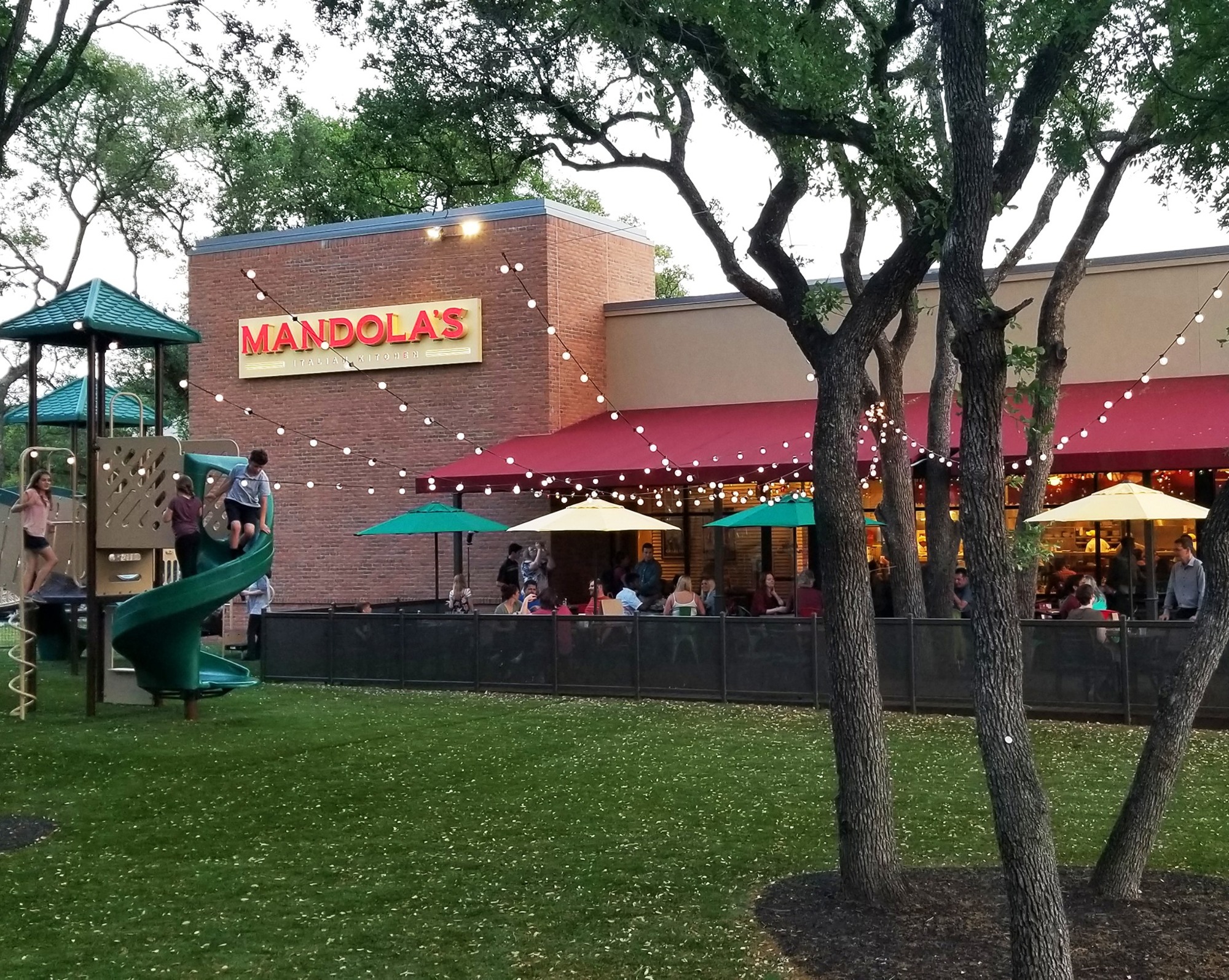 He also spent 18 years as joint venture partner and area developer for Carrabba's Italian Grill
Mandolas.com says Damian Mandola opened Damian's Fine Italian Food in 1975 at age 22 in Huntsville, Texas, as a college senior at Sam Houston State University. 
Mandola then became a fixture in Houston with D'Amico's and Damian's Cucina Italiana. 
He then founded Carabba's with his nephew, Johnny Carrabba, in 1986 in Houston.
Trina Mandola started in the restaurant industry in high school working for Swinging Door Bar-B-Que in her hometown of Richmond, Texas.
The Mandolas moved to the Austin area and opened Mandola's Italian Market.
Restaurantbusinessonline.com reported Sept. 28, 2020, that Damian Mandola started the initial plans for a fast-casual concept nearly two decades before while visiting Italian delis and bakeries on the East Coast.
The report said that experience became Mandola's Italian Kitchen, which opened its first unit in 2006 in Austin, Texas.
As of the time of the report, the concept had grown to four units with plans for more.
The report said Mandola presented the restaurant brand to Paul Avery, former president and COO of Outback Steakhouse. They had known each other since 1991, when Mandola still was with Carrabba's.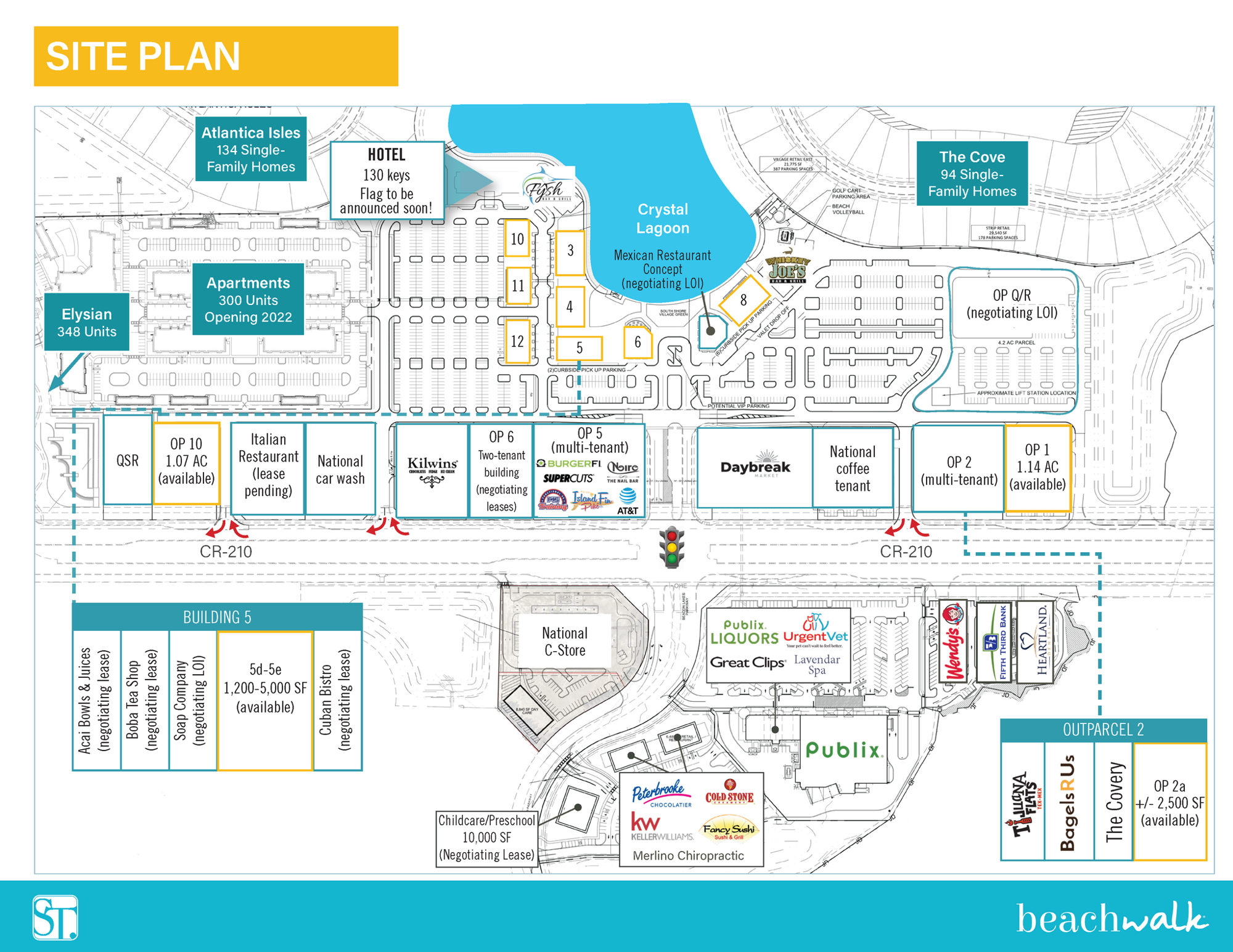 The first Mandola's Italian Kitchen of their partnership opened in Tampa, where Avery lives.
The report described the concept as fast-casual, but elevated. "Everything is made in-house, including sauces and breads and Italian baked goods," it said.
Avery also is president and CEO of World of Beer Franchising Inc. 
Each Mandola's Italian Kitchen has a managing partner. The restaurant started a managing partner program to provide general managers with the opportunity to earn equity.
Damian and Trina Mandola and Paul Avery partnered for the Florida expansion and across the U.S.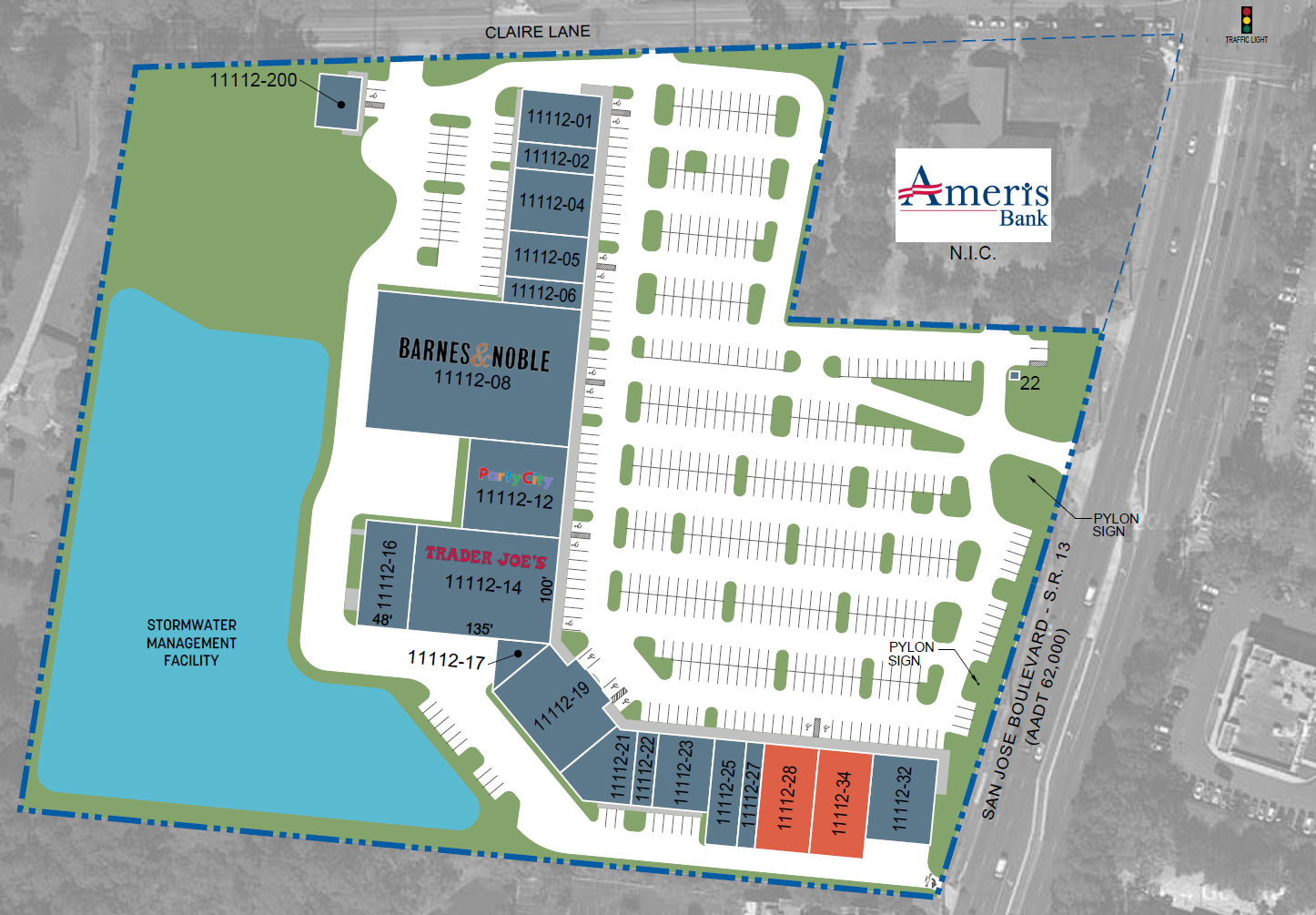 Restaurantbusinessonline said in 2020 that a pastry chef who had been with the brand for 16 years would travel to the new Florida location to teach employees how to make cannoli, tiramisu and more.
The trade industry site said Mandola's Italian Kitchen plans eventually expand outside of the state.
"There's a proven economic model here," Avery said. "This is not an exploratory new concept."
The damianmandola.com site says "the third-generation Texan of Sicilian ancestry has been in the restaurant business since he was a senior at Sam Houston State University". 
His site also has recipes, including one that yields 160 meatballs.
Carrabba's is part of Tampa-based Bloomin' Brands Inc., which began as Outback Steakhouse in 1988 in Tampa. A company history said Outback began to test a second restaurant concept in March 1993, entering into a joint venture with the Houston restaurant group to develop Carrabba's Italian Grill restaurants.
Bloomin' Brands also includes Bonefish Grill, Fleming's Prime Steakhouse & Wine Bar and Aussie Grill by Outback.