Fidelity National Information Services Inc.'s stock dropped sharply last month after a disappointing third-quarter earnings report, with some analysts looking at its $48 billion acquisition of Worldpay Inc. in 2019 as a drag on the company.
One analyst is suggesting the lagging stock price could make the company known as FIS a target for activist investors.
Bernstein analyst Harshita Rawat's report on FIS saying an outside investor could force changes actually sparked a rally in the stock, making it one of the best performing companies in the S&P 500 in the week after Thanksgiving.
However, Jefferies analyst Trevor Williams downgraded FIS from "buy" to "hold" on Dec. 9, saying he doesn't expect big moves to help the stock without an activist investor coming in.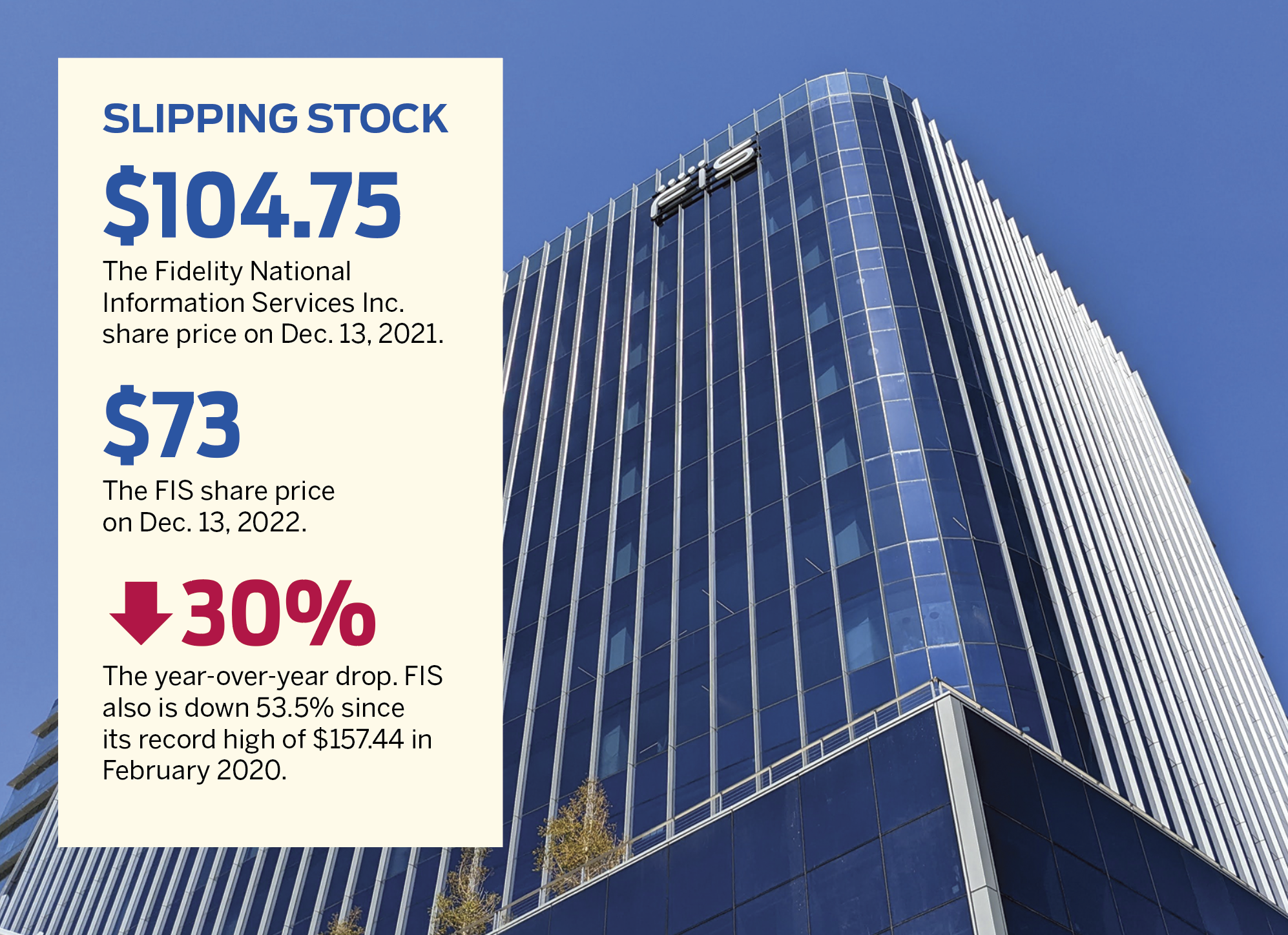 Rawat did not respond to requests for her report on FIS but according to investing website Motley Fool, Rawat wrote "the FIS-Worldpay merger has been underwhelming."
Jacksonville-based FIS is one of the largest providers of technology to banks, but the company sought to widen its reach with the acquisition of Cincinnati-based Worldpay and its technology services for merchants.
"Worldpay has turned out to be a less attractive asset than originally perceived and has added more earnings volatility and valuation discount to an otherwise steady-ish FIS business," Rawat said, according to Motley Fool.
She thinks FIS would be better off selling its merchant technology division.
"We see value creation opportunity through divestiture of underwhelming merchant business, better company operation, better guidance management and improved earnings quality," she said.
Williams also said the merchant business has been affecting the stock.
"FIS' Merchant segment currently represents about 33% of total revenue, but has dominated the narrative around the stock, and been a primary driver of the significant multiple compression over the past 2-plus years," Williams said in his research note.
He did not mention Stephanie Ferris, who will take over as chief executive of FIS on Jan. 1, but Ferris was chief financial officer of Worldpay before it was acquired by FIS.
She led the integration of Worldpay into FIS after the deal was completed and then briefly left the merged company. She rejoined FIS in September 2021.
Williams did say FIS management remains committed to the merchant business it acquired from Worldpay.
"Absent an activist, we see few avenues for multiple expansion with Street numbers at risk in the first half of 2023 on continued margin pressure, our expectation for Banking growth to undershoot, and Merchant growth likely to lag legacy peers over the next few years," he said.
FIS' stock plunged as much as $22.40 to $56.53 on Nov. 3 after the company reported third-quarter earnings slightly below analysts' projections and lowered its own forecast for the rest of this year.
In the company's conference call that day, Ferris said FIS is taking action to improve results, including at least $500 million in cost cuts.
The stock rebounded after Rawat's Nov. 29 report. FIS gained 12% during the week after Thanksgiving, the fifth best performance of all S&P 500 stocks, according to investing website Seeking Alpha.
Cadrenal downsizes IPO to 1.4 million shares
Cadrenal Therapeutics Inc.'s initial public offering is targeted to hit the market Dec. 16 but with fewer shares than the Ponte Vedra Beach-based company originally anticipated.
The biopharmaceutical startup company said in updated registration statements Dec. 6 and Dec. 8 that it intends to sell 1.4 million shares of stock at $5 each in the IPO.
Cadrenal's first public filings with the Securities and Exchange Commission in September and October said it was planning to sell 2 million new shares.
Besides the new shares, existing investors are seeking to sell 1.7 million of their shares.
Cadrenal was formed in January and in April acquired the rights to a drug under development called tecarfarin to treat cardiorenal diseases.
CEO Quang Pham owns 61.3% of the stock and would own 53.9% after the IPO. Pham did not file to sell any of his shares.
Cadrenal has not given a date for the stock sale but financial website MarketBeat said it is expected to be completed Dec. 16.
Cadrenal expects net proceeds of $6.5 million from the IPO, after expenses. It had been anticipating $9.3 million if it sold 2 million shares.
The company applied to list the stock on the Nasdaq Capital Market under the ticker symbol "CVKD."
Patriot earnings rise to 13 cents a share
Patriot Transportation Holding Inc. reported earnings of $470,000, or 13 cents a share, for its fourth quarter ended Sept. 30, up from $40,000, or 1 cent, the previous year.
The Jacksonville-based trucking company, which transports mainly fuel products, said revenue rose 12% to $22.9 million.
"We have the same challenge as everyone battling inflation pressures and supply chain delays in many areas, including repair parts, tires and labor," CEO Rob Sandlin said in Patriot's quarterly conference call Dec. 6.
Rising insurance costs are affecting the company, he said.
"The insurance markets are still very tight, particularly in the excess layers of coverage. To cover this cost, along with driver pay increases, we have been successful raising freight rates and we are partnering with customers who understand the challenges we face along with our need to cover the added cost and to make an acceptable return on our investment."
Sandlin said large pay increases starting in April 2021 and continuing through fiscal 2022 have kept the company's driver count steady.
He also said Patriot is attracting new drivers through a program to help veterans transition from their military careers.
Patriot also said in a Dec. 9 SEC filing that Eric Mann has been appointed to its board of directors.
Mann has been president and CEO of YMCA of Florida's First Coast since 2011 and has been with the YMCA for more than 40 years.
Landstar again paying special dividend
In what has become a holiday season tradition, Landstar System Inc. announced Dec. 7 it will pay a one-time special $2-a-share dividend on its common stock.
This is the fourth straight December the Jacksonville-based trucking company has declared a $2 dividend. The special dividend is in addition to its quarterly dividend, which was increased in August from 25 cents a share to 30 cents.
Landstar announced the dividend along with an increase in the amount of shares it may buy under its stock repurchase program.
Stocks buybacks benefit shareholders by reducing the number of shares outstanding, making the value of shares on the market more valuable.
"Landstar's strong balance sheet and free cash flow generation enables us to continue to return value to our stockholders through a significant increase to our stock purchase program coupled with a special dividend," CEO Jim Gattoni said in a news release.
Gattoni said Landstar paid $115.7 million in cash dividends in 2022 and still had $228 million in cash and short-term investments on its balance sheet at the end of the third quarter.
The special $2 dividend will be paid in January.
Kaman closing Orlando facility
Kaman Corp. said in a Dec. 8 news release it plans to close its Orlando facility as part of a restructuring plan that included "consolidation operations" at its Jacksonville facility.
However, a spokeswoman for the Connecticut-based aerospace company said by email the announcement does not affect its business in Jacksonville, without giving further details.
Kaman produces helicopters and other aerospace products at its Jacksonville facility.
The company said the Orlando facility produces devices for bomb fuzes, but the U.S. Air Force has announced plans to use a different type of fuze.
As a result of the reduction in demand, Kaman will close the Orlando site by the end of 2024 and consolidate its work into a plant in Connecticut.
The closure is one of several actions which Kaman expects to cut expenses by $12 million to $15 million annually.
Kaman reported sales fell 8% in the first nine months of 2022 to $490.8 million, with adjusted earnings dropping 47% to $21.5 million, or 77 cents per share.
"We know there is more work to do, and as we continue to transform Kaman, we are focusing our investments on the highest growth and highest margin businesses," CEO Ian Walsh said in the news release.
"Our goal is to position Kaman to deliver consistent revenue growth, EBITDA margin expansion, enhanced free cash flow generation and improved return on invested capital, which we believe will drive sustainable, profitable growth and superior shareholder returns."
Analyst downgrades Adecco Group on stagnant growth
Morgan Stanley analyst Anvesh Agrawal downgraded The Adecco Group from "equal weight" to "underweight," because of the staffing company's stagnant growth since the coronavirus pandemic.
In a Dec. 5 research note, Agrawal said Adecco's organic revenue is 2% below its 2019 pre-pandemic level while competitor Randstad is up 11%.
"Adecco's underperformance on organic growth stems from past challenges such as low initial investment to capture post covid recovery and execution," he said.
New CEO Denis Machuel, who took over July 1, is trying to address the company's problems, Agrawal said.
"Under the new CEO, sales capacity is already ramping up this year, and the focus is firmly on execution. However, this comes at a time when, at least from a volume perspective, organic growth is stagnating/slowing," he said.
Adecco has been in Jacksonville since acquiring MPS Group Inc. for $1.3 billion in 2010.
The Zurich-based company had maintained its North American headquarters in Jacksonville but announced last year those functions would be moved to Atlanta.
Adecco opened a new business center for its 500 employees in Jacksonville in November at the Florida Blue campus on Jacksonville's Southside.