JEA is targeting a 2.72% base rate increase in April for residential electric customers but the city's utility still expects many overall monthly bills to drop. 
Utility officials detailed a strategy Dec. 16 to raise the basic monthly charge portion of its bill from $5.50 per month to $15. That covers customer service-related costs, including billing, call center services and meter reading.  
JEA says it is an effort to reverse a projected fiscal year 2023 revenue shortfall for its electric system, 
Simultaneously, the plan targets a reduction in the base rate's energy charge that also calls for eliminating the environmental and conservation charges.
The board's Finance and Operations Committee voted Dec. 16 to advance the plan.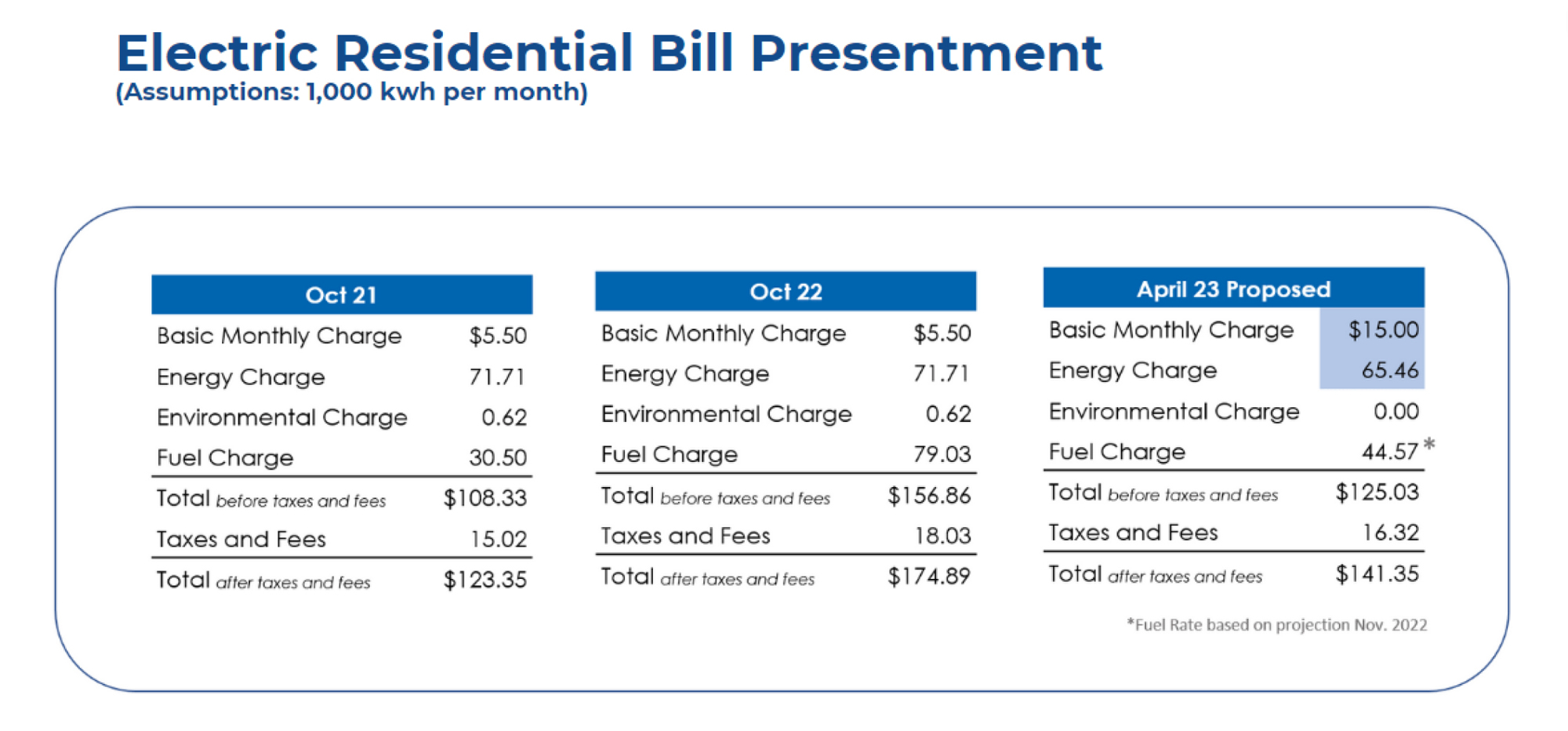 Including the increased basic monthly charge, JEA estimates an average residential customer using 1,000 kilowatt hours of electricity per month will pay $141.35 after taxes and fees in April 2023. 
That compares to a recent peak of $174.89 in October 2022. A chart displayed during the committee meeting shows the reduced energy charge would bill a 1,000-kilowatt user an estimated $65.46 in April 2023 compared with $71.71 in October 2022.
The biggest difference comes from what JEA pays for fuel. As global energy prices start to stabilize, JEA's payment for fuel like natural gas, coal and petroleum coke also drops.
The average full charge on a residential customer's bill in October 2022 was $79.03 compared with an estimated $44.57 in April 2023. That is based on projections made in November.
It still is higher than October 2021 when customers were paying $30.50 for fuel. The average overall customer bill at that time was $123.35. 
That's because of a change JEA made last year to pass on what it is paying for fuel directly to ratepayers instead of artificially stabilizing the rates.
If market conditions change and the price for fuel rises, so will JEA electric bills.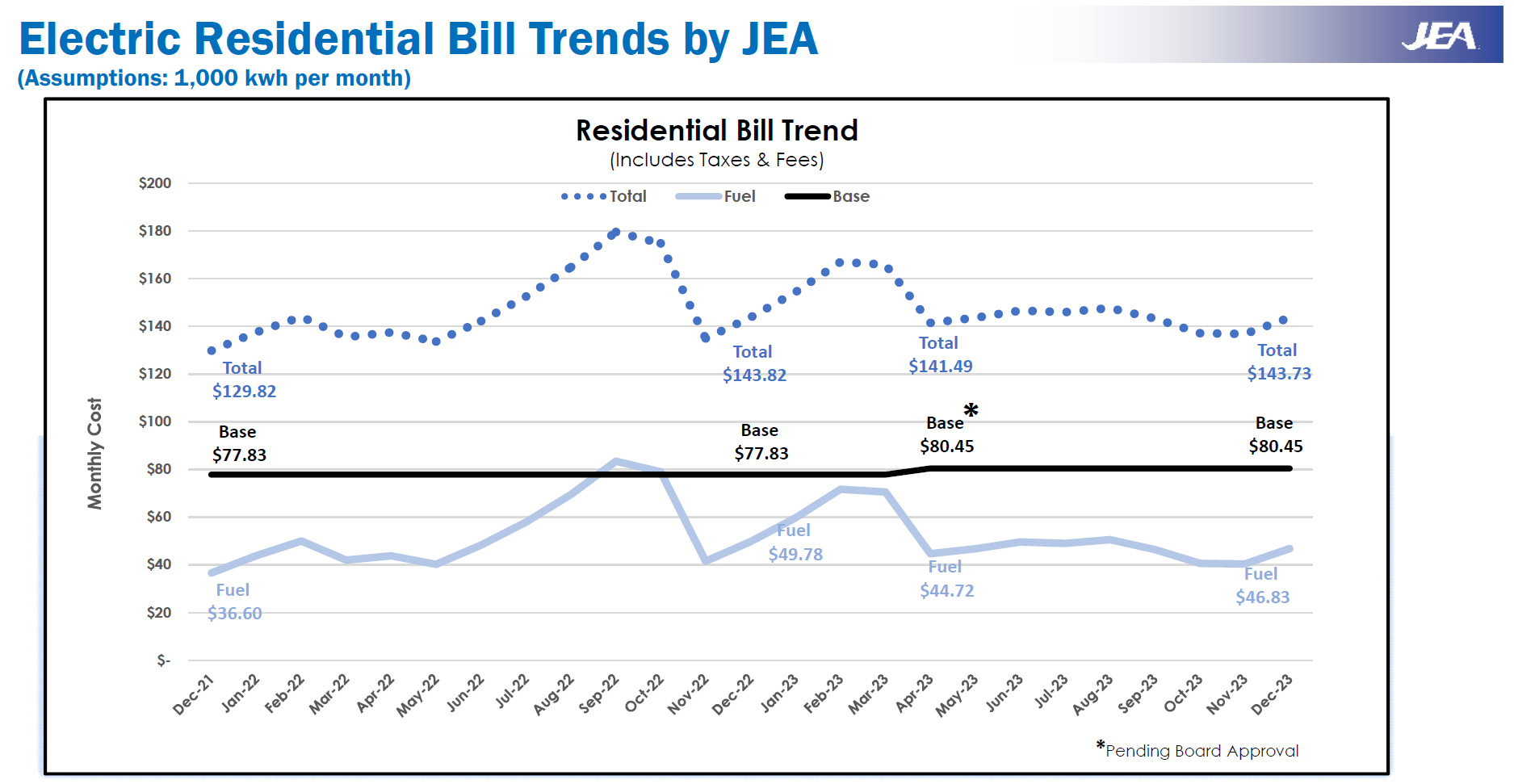 The rate increase is expected to bring in $11.9 million in additional revenue  for JEA's electric system, according to the board chart. 
The utility is also considering rate adjustments for its largest industrial and commercial users and other efficiencies to make up the remaining revenue deficit. 
The board will vote Jan. 24 to set a rate hearing before the increase can take effect. The public hearing would be in February and the rate change would take effect in April. 
The cost for service analysis showed that JEA's residential electric system will bring in $438.2 million in fiscal year 2023 —Oct. 1,  2022 to Sept. 30, 2023 —without rate changes. That is $39 million, or 8.2% ,below what it needs to generate to be revenue neutral.
With a base rate increase, board member Marty Lanahan said the utility leadership needs to make an effort to show its customers that it is trying to reduce costs.  
She noted that JEA had always planned to raise rates in 2023. 
In May, utility officials predicted JEA would need to raise its base rate by 1.5% in April 2023. 
The final decision came after JEA completed its cost-of-service study to determine if different customer classes — residential, industrial and commercial — should have a smaller or larger hike. 
"Obviously, if we save money we don't have to ask our ratepayers to pay for our expenses. … Not on the O&M (operations and maintenance) side but how we bill and how we get efficient," Lanahan said.