The city issued permits Feb. 3 for the $65 million construction of The Station at San Marco apartments in the Southbank/San Marco area. 
The FaverGray Co. is the contractor for the project at 1230 Hendricks Ave.
Block One Ventures is developing the five-story, 345-unit project and a six-story parking structure with a pool and fitness center on top of the parking deck. 
There will be 5,000 square feet for a retail space on the ground floor.
There also is a pool courtyard and garden courtyard on the ground level. 
The project is on 3.43 acres.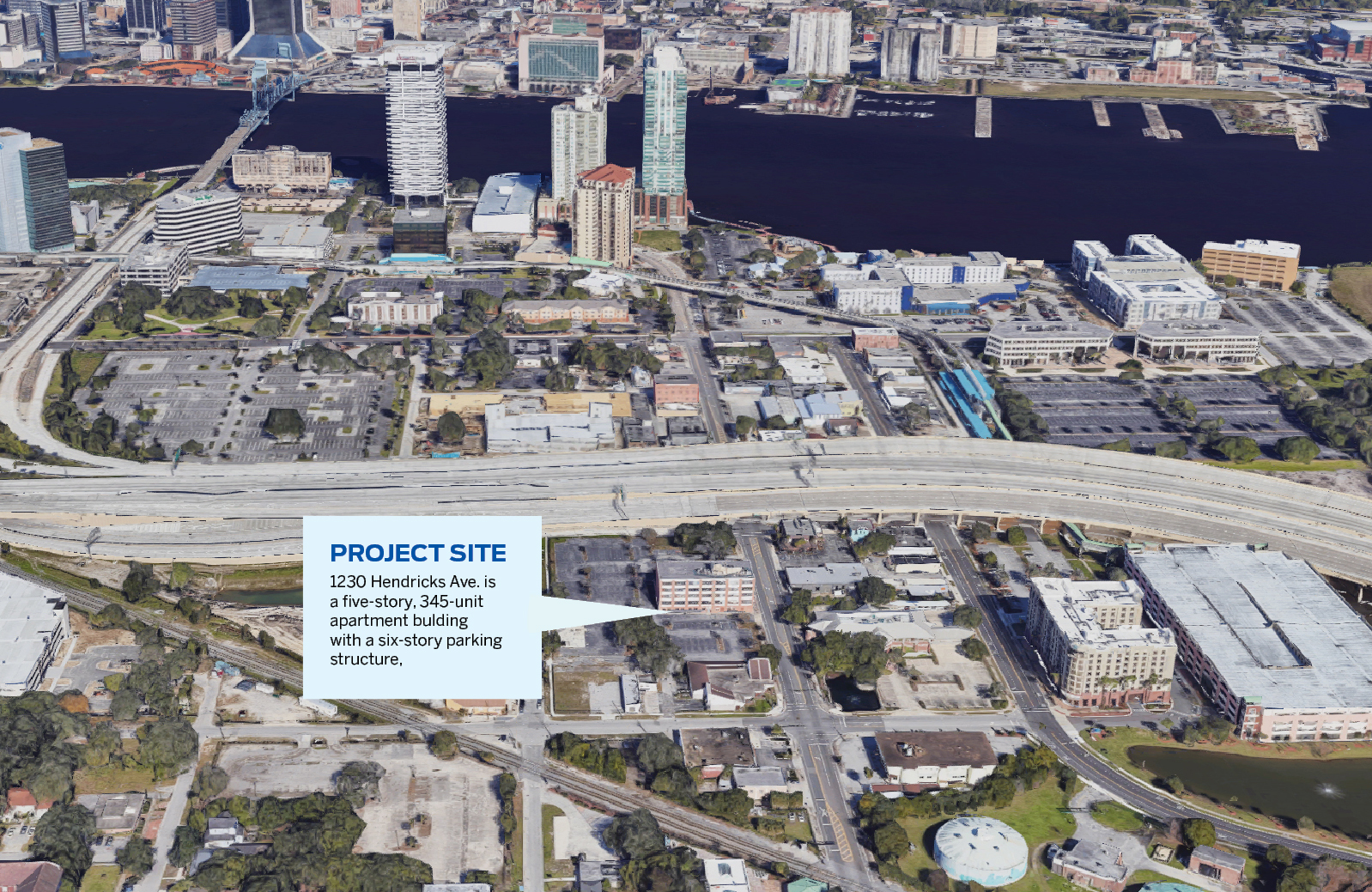 The developer said when site clearing began in August that the studio, one- and two-bedroom apartments will range in size from 557 to 1,414 square feet.
Pre-leasing starts in 2022. Rental rates will average more than $2 per square foot, indicating at least $1,114 to $2,828 a month, depending on the unit size.
Block One Ventures is part of an affiliated group of privately held real estate investment and development companies based in Jacksonville. Jacksonville Beach-based Trevato Development Group is part of that group.
Dynamik Design Partners LLC of Atlanta is the architect. 
The development group said in August it started clearing the site and anticipated completion in the second quarter of 2023. 

The site is the former Florida Baptist Convention Inc. property bordered by Hendricks and Naldo avenues, Nira Street and the Interstate 95 ramp. 
Florida Baptist Convention sold the property to Chadbourne II LLC in June 2017 for $6.15 million. Chadbourne is affiliated with Trevato.
Dynamik Design describes the project as an urban infill development designed to encourage walkability and bicycle access.
"This project provides a key connection near the growing medical center to the east and the shops and nightlife along Hendricks Avenue to the south," it says.
"Residents enjoy multiple amenity options including an expansive fitness center, bike storage, pet spa, clubroom with gaming, lounging and remote work areas, spacious pool courtyard, lush garden courtyard, and views across the river to downtown Jacksonville from the rooftop pool and sky lounge topping the sixth floor of the parking deck."
The apartments are near V Pizza, Panera, La Nopalera and Mayday Ice Cream. 
It also is near the Baptist Health campus as well as the San Marco Square shopping and entertainment area.
It is accessible to the Downtown Northbank over the bridges crossing the St. Johns River.