By Karen Brune Mathis & Mike Mendenhall • Staff Writers
Park Street in the Brooklyn area of Downtown could be on the verge of a transformation that would turn vacant parcels and dated buildings into a center of multifamily and commercial uses.
The primary developer appears to be Jacksonville Beach-based Trevato Development Group, which is affiliated with several large mixed-use and residential projects in Duval County.
Trevato Development's website, trevatogroup.com, features renderings of large multifamily and retail developments called Block Five and Block Nine, which coincide with the names of two of the limited liability companies that have been buying land in the Park Street area. 
Also, Downtown Investment Authority emails about the Park Street Road Diet project allude to a larger development in that area.
Trevato Development said through a spokesperson that it is preliminary to confirm any details, but provided a statement from its attorney.
"The Park Street corridor is a vital conduit between downtown and the greater urban core of Jacksonville," said Steve Diebenow, the attorney representing Trevato Development Group.
"Trevato looks forward to reviewing the outcomes of the work currently underway by DIA and JEA, and identifying opportunities to contribute to the growing city center," said Diebenow, a land-use lawyer and a partner with Jacksonville-based Driver, McAfee, Hawthorne & Diebenow. 
JEA records indicate a multiblock development is envisioned, although it does not identify the company or companies behind the plans.
Jacksonville-based civil engineering firm England, Thims & Miller Inc. applied Oct. 28 with city utility JEA to review the service availability for the "Brooklyn Riverside Mixed Use" project.
"The project consists of redevelopment of 4 blocks and proposes 1,350 apartment units and approximately 40,000 square feet of commercial development," says the JEA application.
The project area
The real estate property numbers show it would be about 6.85 acres along Park Street and Chelsea, Dora, Jackson and Oak streets.
The JEA application specified the primary area as Park, Dora, Jackson and Stonewall streets.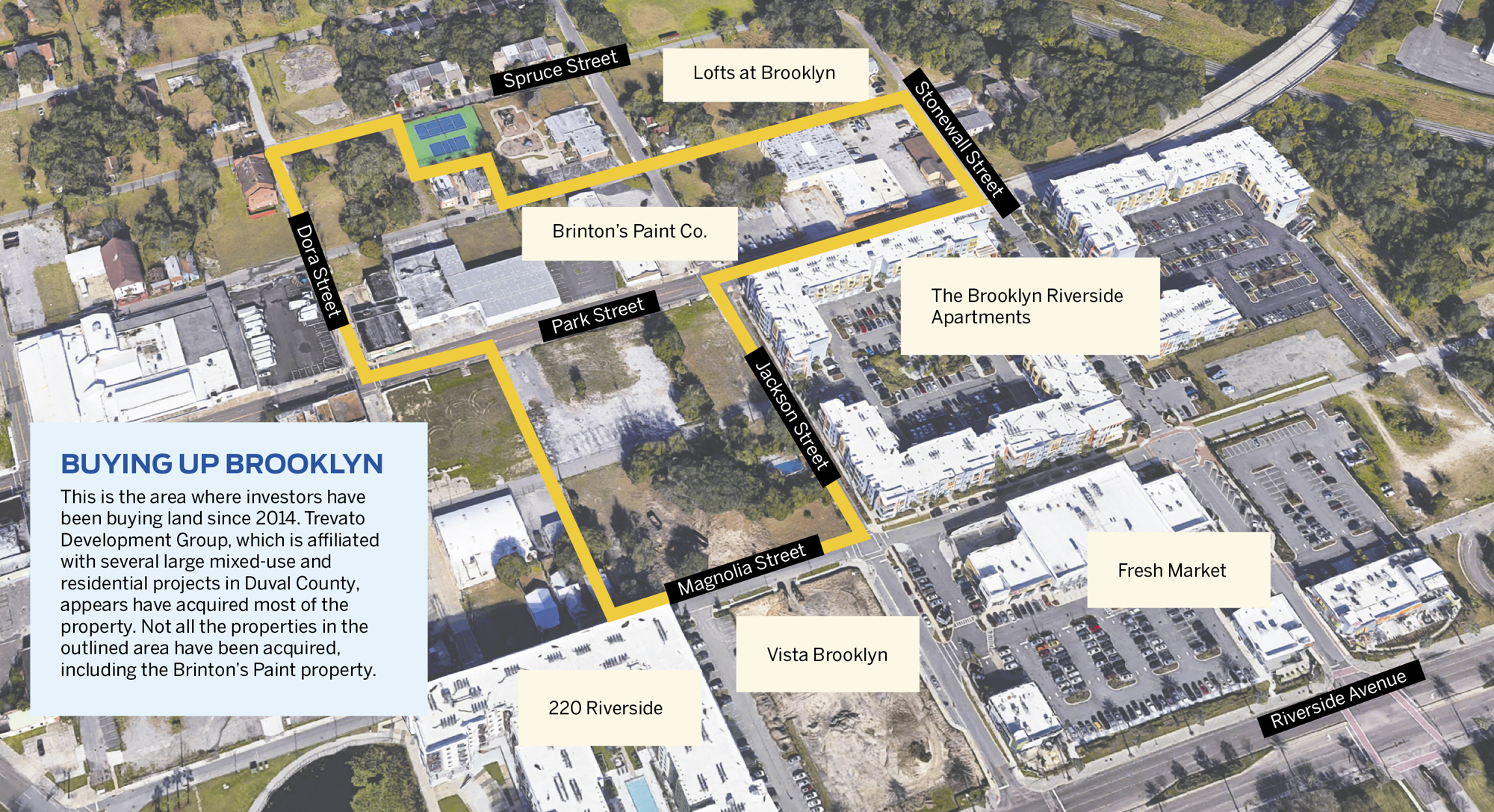 The primary project address on the JEA review is 227 Park St., a 0.8-acre vacant site that Block Five LLC bought in 2016.
JEA responded to England, Thims & Miller on Nov. 4, 2021, noting the property's utility connection points. It is a preliminary step in a series of necessary approvals.
The scope fits with renderings and information at TrevatoGroup.com.
The site has renderings of "Block Nine" and "Block Five" apartment/retail developments, which appear to be along a roadway that looks like Park Street. 
Block Nine LLC and Block Five LLC are among the entities buying the land.
The company's site refers to one of Trevato's projects as "a 20-year large multi-block urban assemblage to include midrise multi-family and new-age offices with street-level retail and restaurants."
The Driver, McAfee, Hawthorne & Diebenow firm is assisting LLCs that were formed starting in 2014 and began to buy the Park Street area land identified in the JEA service review. 
The LLCs' principal addresses are at the law firm in the Wells Fargo Center at One Independent Drive,  Suite 1200.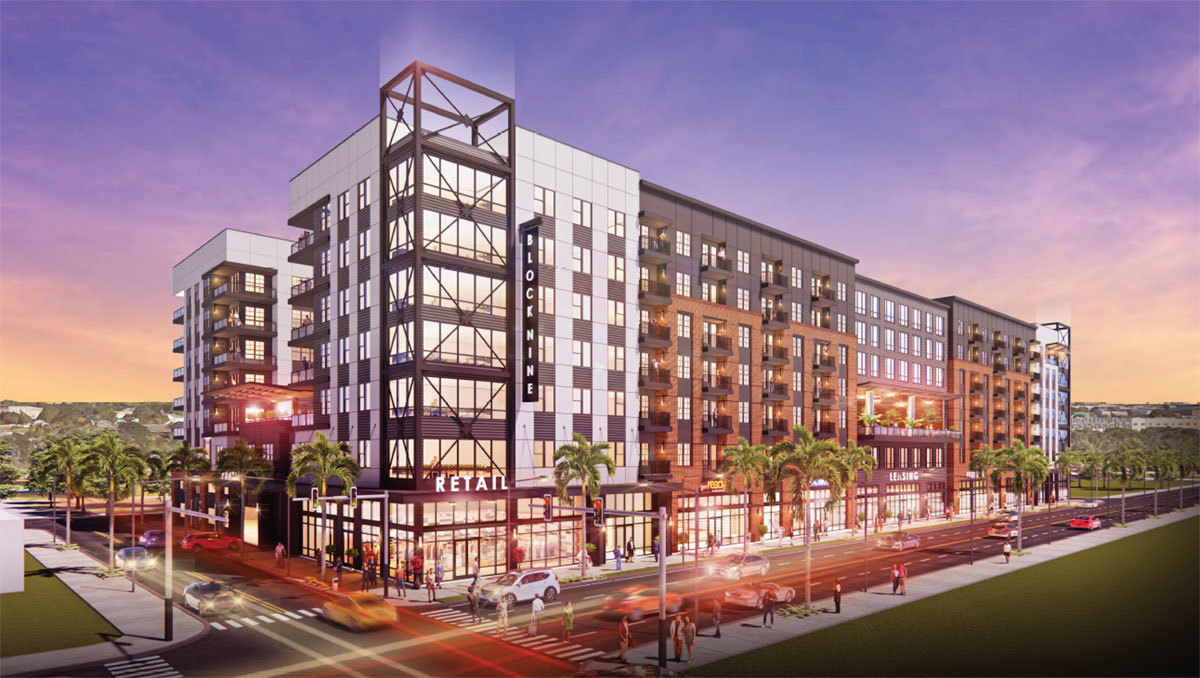 State corporate records show that Park Street area investors Block Five LLC, Block Eight LLC and Block Nine LLC and other associated LLCs share the same Jacksonville Beach mailing address as Trevato Development Group and Block One Ventures.
The Jacksonville Beach building is owned by Jax Beach AF LLC, also at that mailing address but whose principal address, like the others, is with the Driver, McAfee firm.
DIA CEO Lori Boyer said Feb. 14 that she and the agency's staff have been in talks with a developer represented by Diebenow on a multiphase development project on Park Street.
Boyer said Feb. 14 she met with the developers, who she did not identify, as recently as two weeks ago and that plans are underway. 
"They're working on designs and engineering for the first phase. They're not to DDRB (Downtown Development Review Board) submission yet," she said.
Boyer said the developer also has preliminary concepts for future phases. 
There are a few other landowners in the Brooklyn Riverside Mixed-Use Project area.
One, 250 Park Street LLC, paid $3.25 million in October 2021 for five parcels totaling 1.18 acres along Park and Chelsea streets.
The company is based at 650 Talleyrand Ave., the address of KC Petroleum. President Kevin Cormier is the agent and manager of the LLC. He could not be reached for comment.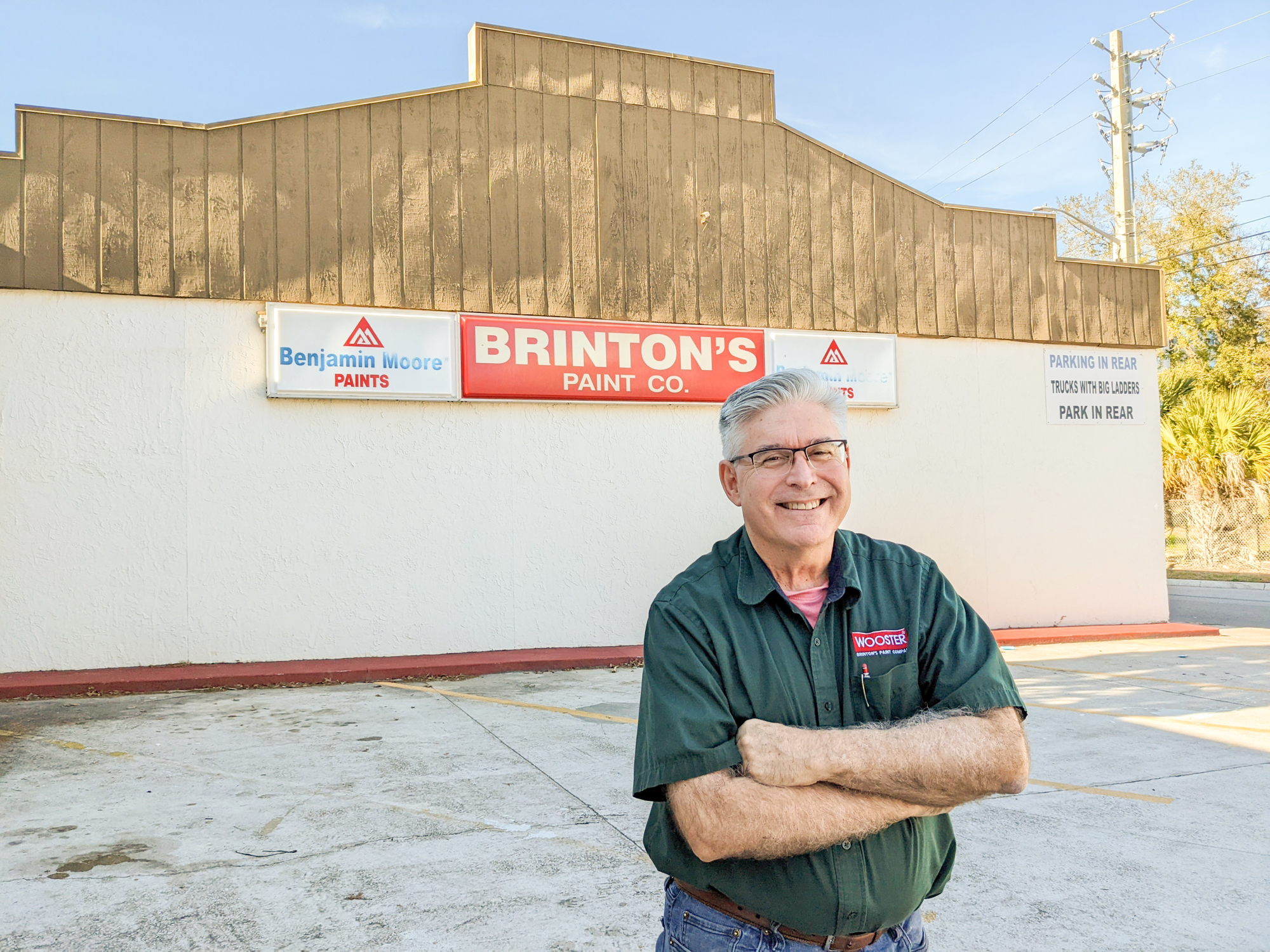 Landowners see value
The plans would be a continuation of Brooklyn's resurgence. 
Brothers Robert and Thomas Brinton sold a 0.04-acre parcel at 1017 Jackson St. to Block Nine LLC for $85,000 on Dec. 23. The deed was recorded Jan. 4 with the Duval County Clerk of Courts.
Robert Brinton said the sale completed the buyer's purchase of a full city block. 
Brinton said Feb. 14 that he was approached by Tripp Gulliford to sell the property, and the sale contracts were drafted by attorneys at Driver, McAfee.
Gulliford is CBRE Florida region executive managing director, but he said Feb. 15 that the real estate firm is not associated with that land deal.
"My involvement with the Park Street corridor is a personal investment," Gulliford said in a statement emailed Feb.  16.
He declined to comment further.
 Gulliford emailed DIA Operations Manager Guy Parola beginning Aug. 18, 2021, about interest in acquiring two connected city-owned parcels at 1212 Dora and 0 Spruce streets.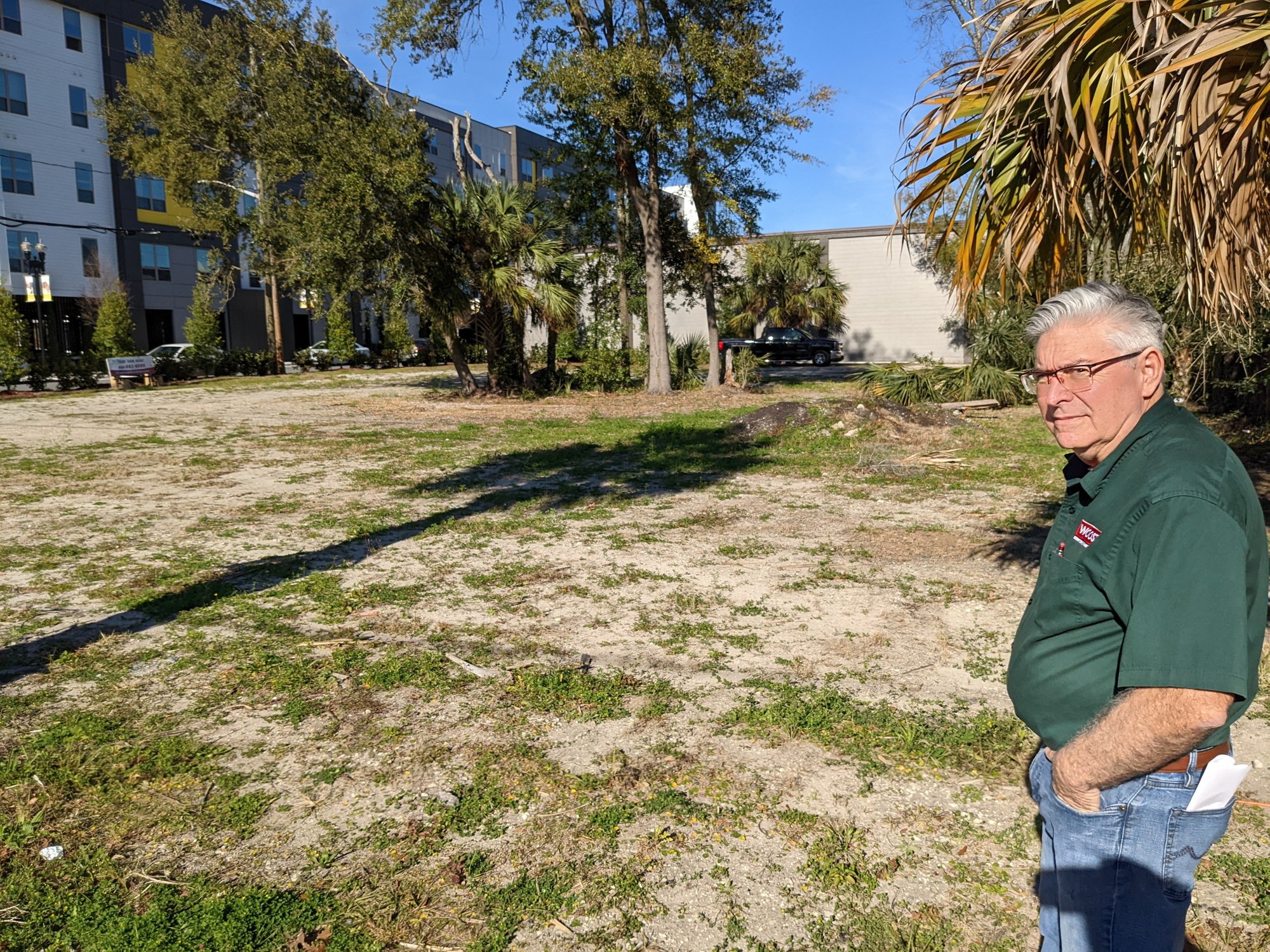 Online property records show the parcels are northwest of the Block Nine properties and four properties owned by Block Thirteen LLC. 
Brinton said he and Gulliford had several conversations in late 2021 about buying Brinton's property at 200 Park St., home to Brinton's Paint Co. since 1976. 
Brinton and his father, Burk Brinton, operated the family-owned paint-supply business for more than 40 years until Burk Brinton's death in 2018. 
Until recently, Brinton was not interested in selling the paint store property, but he said the land purchases around it could affect its value and he is reconsidering.
The 0.54-acre property is one of the parcels included in the JEA service-availability request.
'We have a lot going on'
Park Street connects the LaVilla neighborhood to Brooklyn and to Riverside.
The DIA is considering the "Park Street Road Diet" to redevelop the corridor between Forest and Stonewall streets.
Diebenow has been discussing a Park Street and Brooklyn redevelopment project with JEA and DIA officials since at least October.
In an email chain from Oct. 19-Nov. 4, 2021, Diebenow and Parola were trying to arrange a meeting among JEA, city officials and project engineers about the road diet "future needs" of developers related to Brooklyn. 
The emails do not identify the developer.
"Jordan, as we spoke about yesterday morning on our Webex (might have [been] Teams) meeting, we have a lot going on in Brooklyn in addition to the Park Street reconstruction," Parola wrote Nov. 4 to JEA Vice President of Corporate Strategy Jordan Pope.
"In addition to the desire to underground utilities as part of the Park Street reconstruction, a broader discussion on future needs of the City, the Developer(s) and JEA as they relate to Brooklyn is timely," he wrote, using "underground" to mean bury.
Diebenow said in a Nov. 4 email that he and Boyer had discussed the subject with JEA CEO Jay Stowe and Chief Administrative Officer Jody Brooks conceptually with "no details."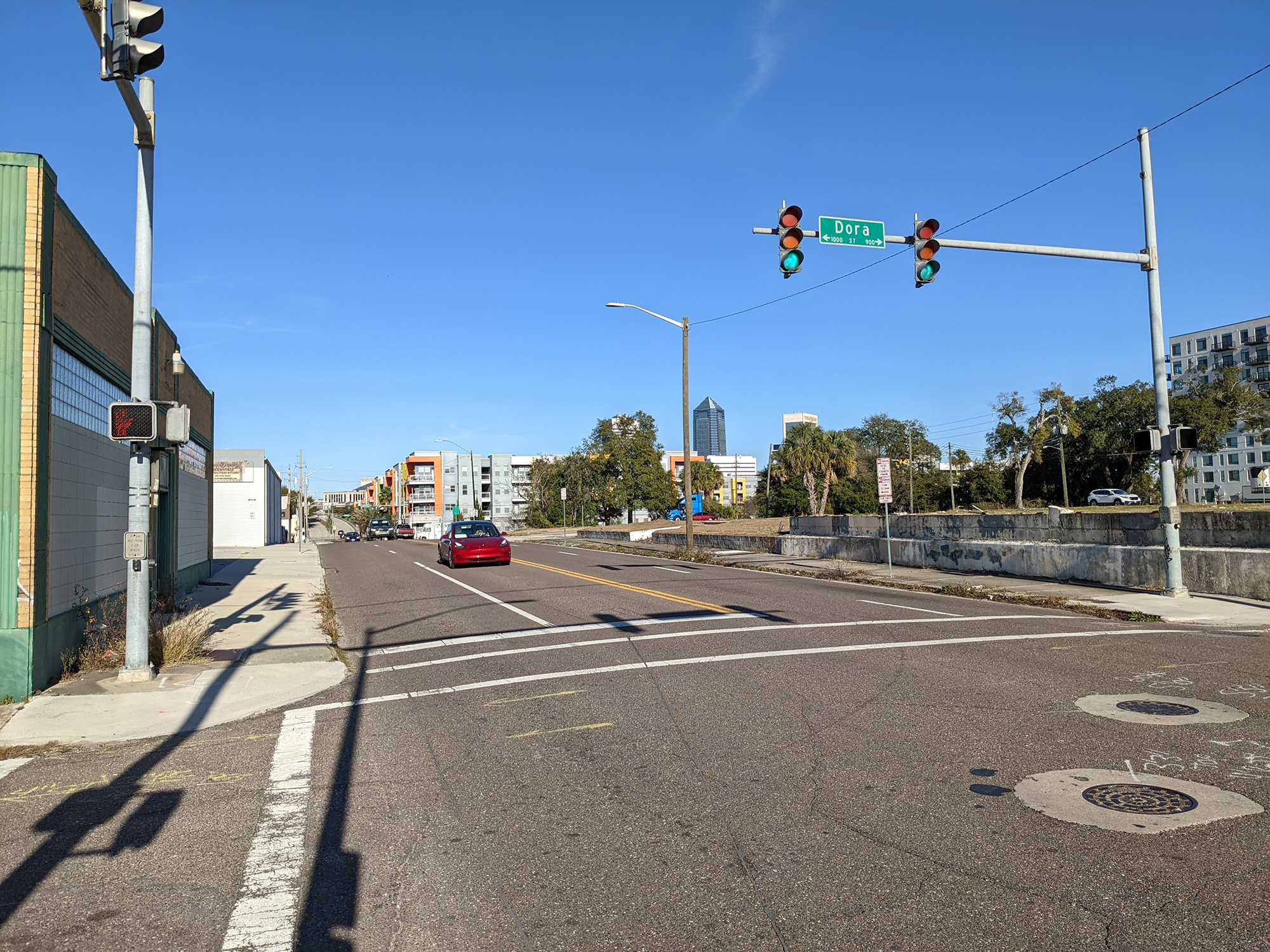 On Oct. 19, Diebenow emailed Boyer and Parola about arranging an "all hands meeting" after the city Park Street Road Diet bids opening where he said his team would discuss a project scope and costs.
Gulliford also sent emails Feb. 25, 2021, to Parola that included Diebenow and Boyer about the Park Street improvements.
Emails exchanged between April 20 and Aug. 17, 2021, added city Project Engineer Kelsey Cox to the road diet conversation. 
To date, the DIA's primary involvement has been helping the developer coordinate the proposed project with road diet plans.
Boyer said Feb. 14 that Park Street's reconstruction will affect the timing of the private development.
The city's plans for Park Street in Brooklyn would narrow lanes and widen sidewalks to make it more friendly to pedestrians and ease access to ground-floor retail. 
Boyer said the project will allow Park Street to support outdoor dining and connect to McCoys Creek and LaVilla via the Emerald Trail network of parks and paths.
She said the developer is talking with JEA about possibly burying utility lines. 
According to Boyer, the developer and city want to coordinate that effort so the private developers will not need to re-excavate sections of Park Street after the road diet work is complete.
Boyer said the city has not awarded a construction contract for the road diet project. Bids were opened in October, according to Diebenow and the DIA's email exchange. 
The DIA CEO said that to her knowledge, the bids were over budget. She said city officials are trying to determine if the bids will expire at the end of February or if there is more time to select a firm.
Trevato portfolio
Trevato Development Group LLC registered its name with the state in October 2018. It and its manager are LLCs who listed their addresses with the Driver, McAfee firm.
On its website, Trevato Development Group says it is part of an affiliated group – including Block One Ventures – of privately held real estate investment and development companies in Jacksonville.
Block One Ventures registered with the state in November 2015, also with the Driver, McAfee firm affiliated with the manager and agent.
"Our objective is to produce high quality projects, importing features from successful comparables in larger up-and-coming cities. Trevato embraces local character while creating new and innovative experiences allowing for walkability and sense of place," says the Trevato Development site.
The site says Trevato Development Group was founded in 2016.
It does not identify them by name, but the site lists projects underway to include:
• "A 20-year large multi-block urban assemblage to include midrise multi-family and new-age office with street-level retail and restaurants."
 That appears to include the Block Five and Block Nine project.
• "A 40-acre mixed-use development in a prime medical corridor including multifamily, hotel and a pedestrian-friendly retail/lifestyle village."
That appears to be along San Pablo Parkway near Mayo Clinic.
Trevato Development Group announced July 9 it started work on a mixed-use development there comprising an apartment community, retail, office space, interactive park area and a future hotel.
The 40-acre property, about a mile north of Mayo Clinic, is bounded by San Pablo Parkway, San Pablo Road and Sam Yepez Road.
The 304 apartments are part of the first phase of the project, expected to be completed in 2022. The second phase includes 59,000 square feet of office and retail space. 
• "A class A multi-family beaches area site redevelopment/repurpose designed to attract tenants with the highest disposable incomes market-wide."
That appears to match the Adventure Landing property in Jacksonville Beach.
On Feb. 21, 2021, a Jacksonville Beach investment group affiliated with Trevato Development bought the property for $7.87 million. 
Trevato Development Group anticipates redeveloping it into a 427-unit, full-service, market-rate, apartment project. Diebenow previously estimated the project at $80 million.
The 53.8-acre site includes the 22.2-acre property where Adventure Landing has operated for 27 years at 1944 Beach Blvd. 
• "A midrise multi-family/mixed-use development located a few minutes from Downtown, having A+ amenities and walkable to fine dining and distinctive boutiques in one of Jacksonville's most historic neighborhoods."
 That appears to be The Station at San Marco. The city issued permits Feb. 3 for the $65 million construction of the apartments at 1230 Hendricks Ave. in the Southbank and San Marco area.
Block One Ventures is the developer.
The five-story, 345-unit project and a six-story parking structure with a pool and fitness center on top of the parking deck are under development on 3.3 acres.
 The site is the former Florida Baptist Convention Inc. property bordered by Hendricks and Naldo avenues, Nira Street and the Interstate 95 ramp.
Florida Baptist Convention sold the property to Chadbourne II LLC in June 2017 for $6.15 million. Chadbourne is affiliated with Trevato.
• "An assemblage of small parcels in the beaches area focused on redevelopment to restaurants and office, proximate to burgeoning top of the market hotels."
That could include the Dolphin Depot site in Jacksonville Beach.
Trevato Development Group announced Oct. 8 it plans to transform the site into a mixed-use development with 180 parking spaces. It said it purchased the property for $8.5 million.
The 1.36-acre vacant property at 704 First St. N. is between Sixth and Seventh avenues, across from the Margaritaville Beach Hotel. 
Jax Beach AF LLC, another related company,  bought 502 First St. N. and 0 Fourth Ave. N. from East View Inc. of Ponte Vedra for $700,000 on Oct. 10, 2016. 
That's where O-Ku restaurant opened at 502 First St. N. 
Brooklyn connections
The Daily Record began reporting about the Brooklyn property purchases in 2018.
A report published Jan. 28, 2018, said that since 2014, a group of companies amassed property along Park Street, between Forest Street and Myrtle Avenue, totaling at least 11.6 acres.
At that time, 13 companies invested in Brooklyn. All share an address with the Driver, McAfee firm. Some are included in the JEA availability area.
At that time, DIA CEO Aundra Wallace, who preceded Boyer, said the group was "looking to do mixed-use development similar to what's started in Brooklyn already," meaning more residential, retail and office space.
He declined to say who was behind the group, other than they are being represented by Diebenow's law firm.
Brooklyn was a residential neighborhood when it was settled in 1801 as Dell's Bluff. The area once was home to Civil War soldiers, specifically African American or buffalo soldiers.
It was annexed by the city of Jacksonville in 1887.
The neighborhood is bound on the east by the St. Johns River, on the west by Interstate 95, and on the north by McCoys Creek. The interstate also represents the southern boundary.
In the early 20th century the area started to transform from a mainly residential neighborhood to one with commercial, office and industrial properties.
Brooklyn has become a mix of office, industrial and residential properties.
Brooklyn falls under the umbrella of the DIA, which oversees community redevelopment areas that span the Southbank, the Northbank and the urban core.
In addition to City Council, the nine-member DIA board has oversight on the sale of city-owned property, and the development and long-term strategy for Downtown.
Trevato Development Group's site says it "creates innovative places where residents and visitors alike love to work, relax, stay and play."