Restaurant Brands International Inc. bought Firehouse Subs just two weeks before the end of 2021.
But as the Toronto-based restaurant company reported its year-end results, it included full-year sales data showing Firehouse had a big pandemic recovery in 2021.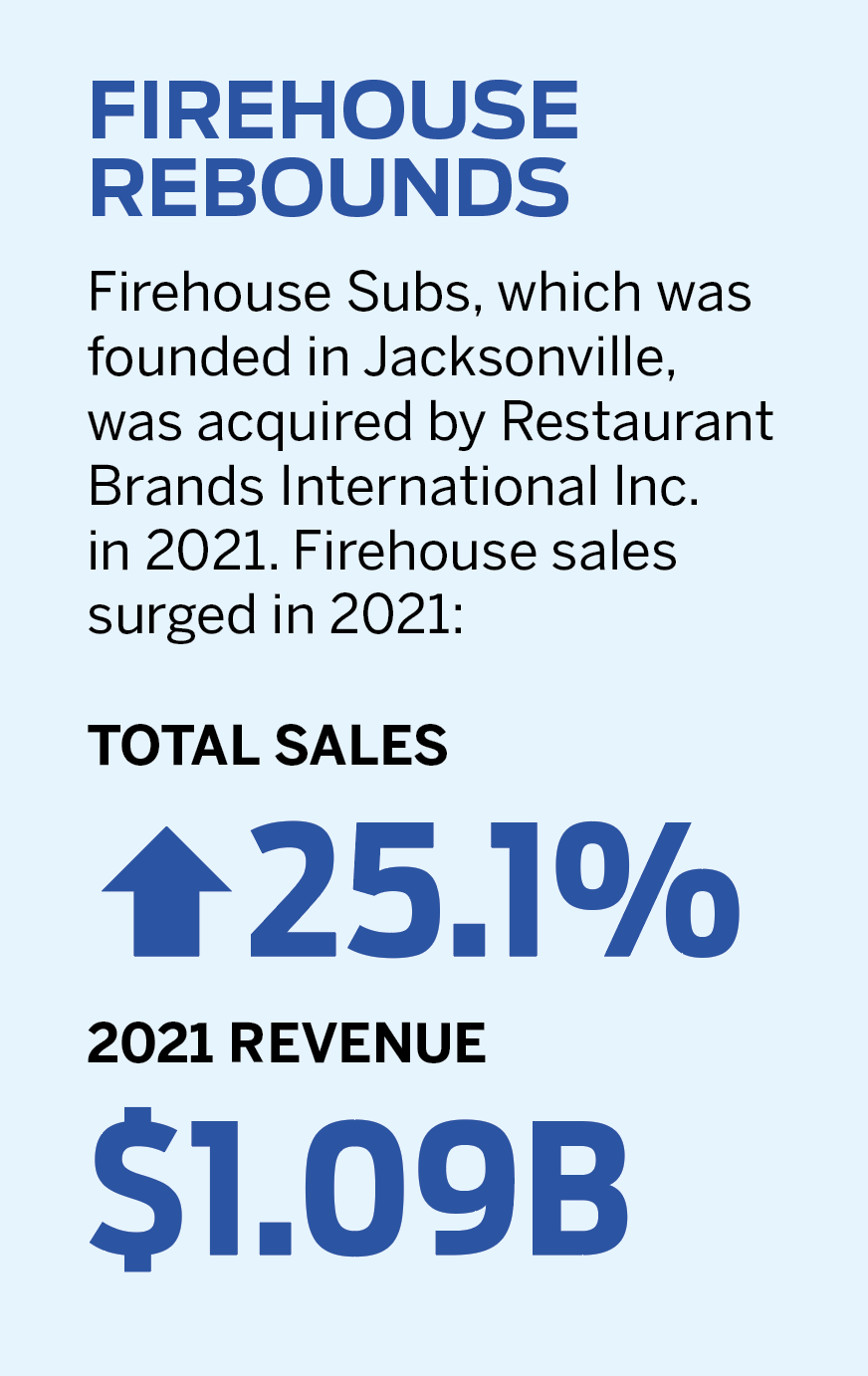 Jacksonville-based Firehouse's total sales rose 25.1% last year to $1.09 billion and sales at restaurants open for more than one year rose 20.9%.
"These impressive results are a testament to the strength of the brand, its unique menu offering, its purpose-led public safety commitment and its seasoned management team," RBI Chief Executive Jose Cil said in the company's Feb. 15 conference call with analysts.
Sales at many restaurant chains recovered strongly in 2021 after some had to close for long periods of 2020 during the coronavirus pandemic. Firehouse outperformed RBI's other three brands: Burger King, Tim Hortons and Popeyes.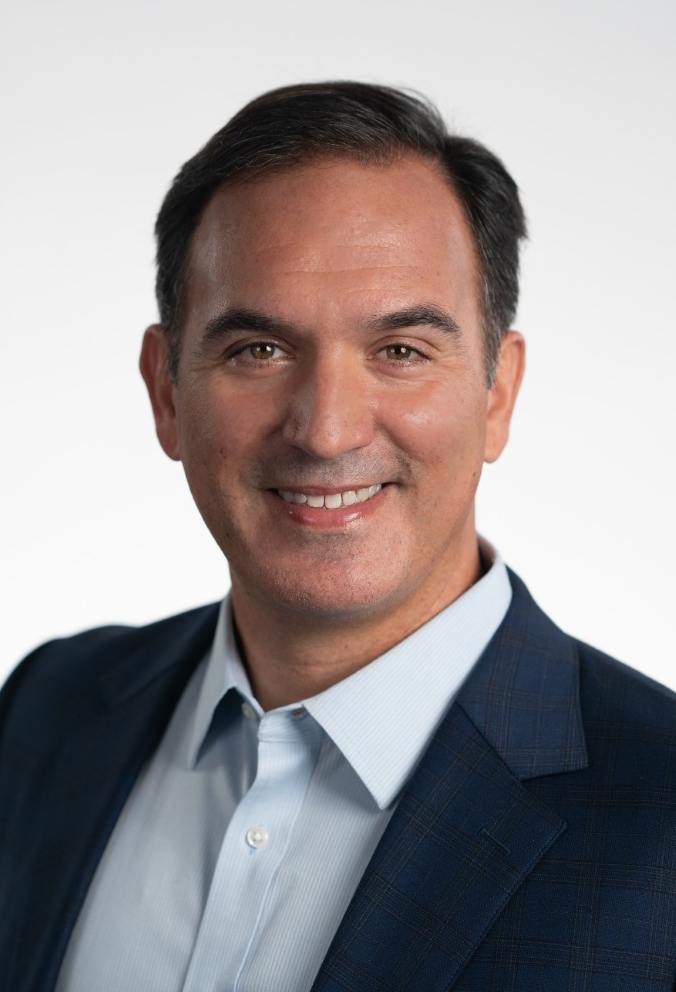 Those three chains combined grew sales by 13.8% to $35.5 billion.
RBI completed its $1 billion acquisition of Firehouse Restaurant Group Inc. on Dec. 15.
Firehouse ended 2021 with 1,164 restaurants in the U.S. and Puerto Rico and 49 in Canada. Cil has said he expects more opportunities for international growth of the brand. 
He also said in the conference call he expects Firehouse to increase online sales.
"While Firehouse Subs already has a growing digital presence, we see further opportunities to add more guest options and benefits and transport the brand's digital experience across borders," he said.
RBI reported adjusted 2021 earnings of $2.82 a share, up from $2.03 in 2020.
Thornton leaving duPont Trust
Winfred Thornton, who has served as a trustee of the Alfred I. duPont Charitable Trust for 54 years, is leaving his formal role, the trust said Feb. 21.
Thornton was CEO of The St. Joe Co. from 1991 through 1996. The company, then based in Jacksonville, was the major financial holding of the duPont Trust, which uses its income to support The Nemours Foundation.
Thornton left as CEO of St. Joe as the company transitioned from an industrial conglomerate to a focus on real estate development in the Florida Panhandle, where the company now is headquartered.
The trust sold its majority stake in St. Joe in the early 2000s.
Thornton will continue to serve the duPont trust in an advisory role, it said.
Robert Riney, chief operating officer of the Henry Ford Health System, will succeed Thornton as one of five trustees of the duPont Trust.
Black Knight, D&B loosening ties
For the past three years, Black Knight Inc. and Dun & Bradstreet Holdings Inc. have maintained close ties, including sharing a CEO.
As Black Knight announced Feb. 15 that Anthony Jabbour was giving up its CEO spot, the Jacksonville-based mortgage technology company also announced a transaction that loosens its ties further with Dun & Bradstreet.
Black Knight said it would use a large chunk of its Dun & Bradstreet stock to buy the remaining shares of mortgage data firm Optimal Blue it does not already own.
Black Knight teamed with Cannae Holdings Inc. and Thomas H. Lee Partners L.P. to buy Optimal Blue for $1.8 billion in July 2020, with Black Knight ending up with 60% of the stock.
Cannae is an investment company that, like Black Knight, was spun off from Jacksonville-based title insurance company Fidelity National Financial Inc.
Cannae also partnered with Black Knight and other investors to buy Dun & Bradstreet in 2019, with Black Knight CEO Jabbour taking on the additional role of Dun & Bradstreet chief executive after the buyout.
The business data firm then moved its headquarters to Jacksonville in 2021.
Black Knight said it bought the rest of Optimal Blue from Cannae and Thomas H. Lee for $1.156 billion, including $433.5 million in cash and Dun & Bradstreet shares valued at $722.5 million.
The deal reduces Black Knight's stake in Dun & Bradstreet from 12.7% to about 4.3%, and Black Knight said it will "continue to evaluate its remaining holdings" of 18.5 million shares of Dun & Bradstreet.
"With the value of our Dun & Bradstreet investment more than doubling (since 2019), we are taking part of those gains and investing them in this transaction, which is strategically important to Black Knight," Jabbour said in Black Knight's Feb. 15 conference call with analysts.
"When we and our co-investors acquired Optimal Blue in 2020, we had high expectations for how the company would perform, how we could build on that strong performance by tightly integrating their solutions into the Black Knight ecosystem and for the potential to cross-sell these solutions to our client base," he said.
"Our ability to integrate and sell their solutions has met our high expectations."
Black Knight also announced that day that Jabbour will move into the role of executive chairman May 16, with President Joe Nackashi succeeding him as CEO.
Jabbour said more about those changes in Dun & Bradstreet's Feb. 16 conference call than in Black Knight's call.
"We looked at Black Knight and how the company continues to perform exceptionally well, with a great pace of innovation, and the future is very bright there. The board and I thought it was the right time," he said.
He did say in Black Knight's call that he will continue to be involved in the company's business as executive chairman.
"I'm not leaving. I'm transitioning," he said.
"These guys won't get rid of me that easily," he said.
Jabbour: Optimal Blue deal benefits Dun & Bradstreet
Jabbour said in Dun & Bradstreet's call that the shares exchanged in Black Knight's Optimal Blue deal will benefit the company.
"We're excited that a couple of our key shareholders here with Cannae and THL have gone deeper into Dun & Bradstreet through the transaction from Black Knight and they've got a lot of confidence in the future here, as do I," he said.
The transfer of shares removes "selling pressure in the open market, which was positive for Dun & Bradstreet, positive for Black Knight, and positive for Cannae and THL, who are excited to be bigger shareholders of Dun & Bradstreet," Jabbour said.
Cannae Chairman Bill Foley also touted the deal in Cannae's Feb. 17 conference call.
"We were fortunate to increase our shares of D&B through the sale of our interest in Optimal Blue to Black Knight this week," he said.
Las Vegas-based Cannae, which holds investment stakes in a variety of businesses, now owns 20.5% of Dun & Bradstreet, Foley said.
"Our approach to active management can be seen in Dun & Bradstreet's results in Q4 where organic growth continued to accelerate to 4.8%," he said.
Dun & Bradstreet reported adjusted earnings of 33 cents a share in the fourth quarter, 6 cents higher than the previous year.
FIS deal to sell capital markets business appears off
Fidelity National Information Services Inc., or FIS, was one of the worst-performing stocks in the S&P 500 after a disappointing first-quarter earnings forecast Feb. 15.
FIS, another Jacksonville-based company spun off from Fidelity National Financial, also appears to have backed off plans for a major deal.
Several financial news outlets reported in the fall of 2021 that the financial technology company was nearing a deal to sell its capital markets business to Symphony Technology Group for $2 billion.
However, recent reports, including a Feb. 18 story by Barron's newspaper, said the deal is off.
FIS provides technology in three segments: banking, merchants and capital markets, with capital markets by far the smallest part of the business.
The capital markets division produced $2.6 billion in 2021 revenue, compared with $6.4 billion for banking and $4.5 billion for merchants.
Although FIS was said to have put the capital markets business up for sale last year, CEO Gary Norcross touted its performance in the company's Feb. 15 conference call.
He said the company signed a deal to provide services for Franklin Templeton, which is the largest ever for that business.
"This anchor client establishes us as a leading global player with a differentiated international transfer agency solution that will provide a new leg of growth for capital markets," Norcross said.
"We could not be more pleased with the structural transformation that has occurred within our capital markets business," he said.
"Like our other segments, capital markets had a record year in sales and organic growth with new sales increasing more than 40% for the year."
FIS reported fourth-quarter adjusted earnings of $1.92 a share, up from $1.62 the previous year. That was 3 cents higher than the average forecast of analysts surveyed by Zacks Investment Research.
However, FIS' first-quarter earnings forecast of $1.44 to $1.47 a share was lower than the Zacks average forecast of $1.55.
The company's stock fell 14.5% in the week ending Feb. 18, the third-worst performance of all stocks in the S&P 500 index, according to investing website Seeking Alpha.
International Baler sales increase
International Baler Corp. said sales in the fiscal year ended Oct. 31 rose 11.3% to $10 million as economic conditions improved.
However, the Jacksonville-based company, which makes balers used for recycling and waste disposal, said in its annual report that higher expenses led to a net loss of $130,814, or 3 cents a share.
International Baler filed its report with the Securities and Exchange Commission on Feb. 15, two weeks later than scheduled, after saying in a previous SEC filing it needed more time.