City leaders say it could be a decade before Jacksonville is ready to build and support a new Downtown convention center.
Downtown Investment Authority CEO Lori Boyer gave the projection Jan. 6 to the City Council Special Committee on Downtown Development.
The committee was hearing an unsolicited proposal from Jacobs Development to build a convention center at The Ford on Bay at 330 and 220 E. Bay Street.
Boyer said there needs to be more restaurant, entertainment and retail options Downtown before the city can attract enough convention business to support a new facility.
She said that timeline could have accelerated had Council approved the Lot J mixed-used entertainment complex in 2021. Jacksonville Jaguars owner Shad Khan proposed that project near TIAA Bank Field.
When asked by Council member and committee Chair Reggie Gaffney when the city might be ready for a new convention center, Boyer said, "with the time frame that we're on, I certainly think within the next five to 10 years."
Gaffney's district includes Downtown.
The Jacobs team, led locally by KBJ Architects and Signature Land Inc., has been trying to convince city leaders since 2018 to build its convention center concept.
KBJ President Thomas Rensing said in July 2020 that the $550 million proposal would be an 843,000-square-foot convention center and 190,000-square-foot covered civic plaza with a marina. He told the committee Jan 6 the facility would create 1,400 permanent jobs and 4,600 construction jobs.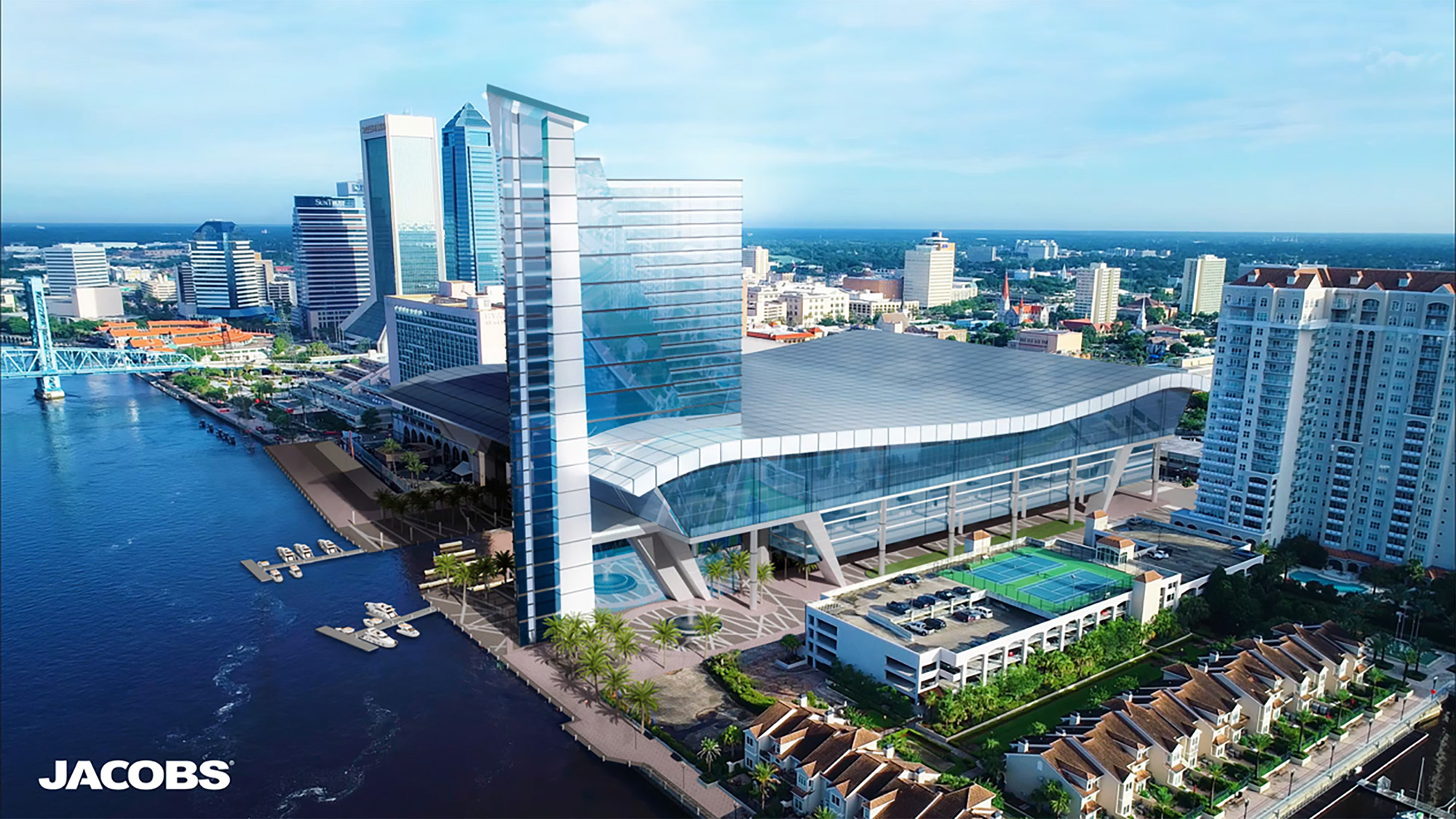 Gaffney said after the meeting that he hoped hearing the Jacobs proposal would generate more Council support to push the DIA to vet the plan further.
"I think this project, given what I'm understanding now, is probably dead in my committee and is probably going to be dead in front of my colleagues," Gaffney said.
Council President Sam Newby, Vice President Terrance Freeman and committee members Aaron Bowman, LeAnna Cumber, Ju'Coby Pittman, Michael Boylan and Kevin Carrico participated in the discussion.
Bowman said Council should defer to Boyer and the DIA's expertise about a convention center fitting into Downtown's master plan.
This is Jacobs' third pitch to build a convention center at the Northbank site.
The company's bid scored the highest among three convention center proposals in September 2018, the DIA's first attempt to redevelop the East Bay Street property.
The land is the site of the former City Hall and Duval County Courthouse.
The DIA halted those plans after resistance from Mayor Lenny Curry, who said a Strategic Advisory Group study in 2017 indicated Jacksonville was not ready to build a convention center.
In July 2020, the DIA board rejected an unsolicited pitch from Jacobs because it was negotiating with New York-based Spandrel Development Partners LLC after the company was awarded the land for a $136 million, mixed-use residential project.
That deal fell through.
Jacobs' push for Council support Jan. 6 came during another active request for proposals on the 2.4-acre former Duval County Courthouse parcel of The Ford on Bay at 330 E. Bay St.
A DIA Review Committee is expected to choose one of six proposals Jan. 18.
Local and regional developers presented plans Jan. 5 that include apartment, hotel, restaurant, entertainment and retail uses.
Boyer urged Council to not take action on the Jacobs pitch because it could undermine the active Ford on Bay request for proposals.
"I think it would be very detrimental to all of those, just like this team, who have spent a lot of money preparing bids, complied with the procurement process and submitted those," Boyer said.
"I think it's only fair to them that we follow through that process."
Boyer also advised the committee to have the Council Auditor's Office analyze Jacobs' proposed financing for the convention facility.
She said the structure appears similar to the city's 18-year-old agreement with Metropolitan Parking Solutions which covers the company's operating losses to build and operate three public parking garages at the new Duval County Courthouse and near VyStar Veterans Memorial Arena.
That deal cost the city more than $71 million in development loans and interest over 18 years. It is the subject of a mediated arbitration between the city and MPS.